February 7, 2012
Alice Falls: 44 45'.66S 167 26'.44E
We spent one night in Milford Sound and woke early to continue our voyage. As we rounded the bend from Deepwater Basin a large cruise ship loomed in the center of the fiord shrouded in fog. It's a pity the passengers could not see the spectacular scenery all around them.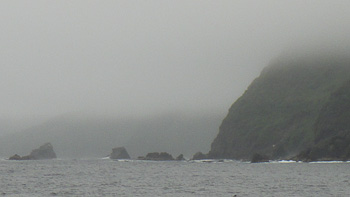 It was still foggy when we reached the entrance to George Sound 25 miles south of Milford Sound. The sky gradually cleared as we moved further into the sound.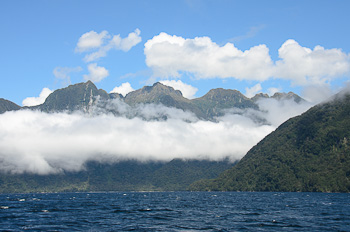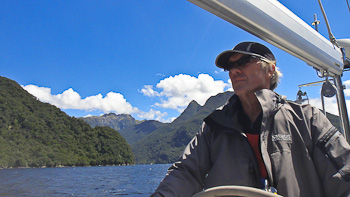 George Sound is much wider than Milford Sound so did not seem quite so impressive though it was beautiful nonetheless. Day breezes blow into the sounds each day beginning about 1000 but are less noticeable the further inside.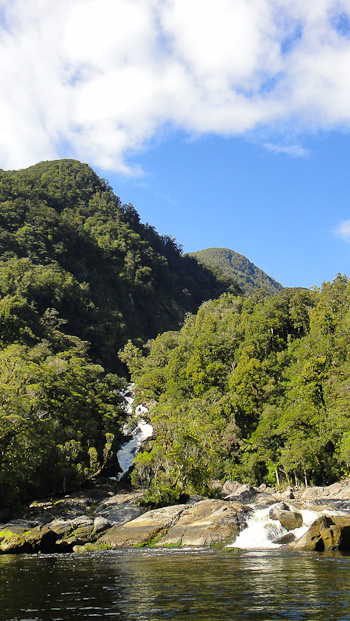 George Sound is 21.2 km long and there is a snug all-weather anchorage at the head next to Alice Falls. Yachts drop the anchor in about 10 meters and then back to tie two sternlines to a line strung across the head of the tiny cove. Care must be taken not to get too close as it shallows quickly and the surge from the waterfall pushes the yacht to the far side.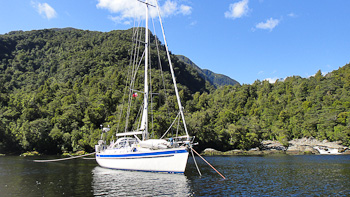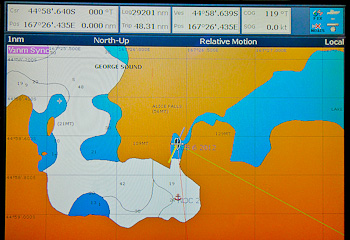 Once Tenaya was secured we paddled the kayak around the bay to have a look. At one point we went around a submerged branch to see it was full of mussels. Hmm... we had no plans for dinner. Why not? We picked off about a dozen and Jim cooked them up in the wok with onions, garlic, ginger and a little soy. They were delicious.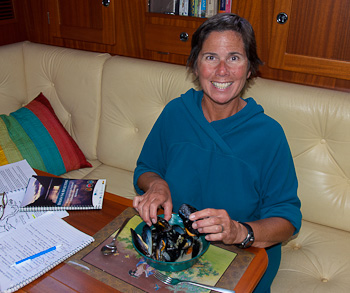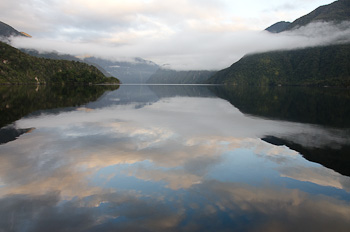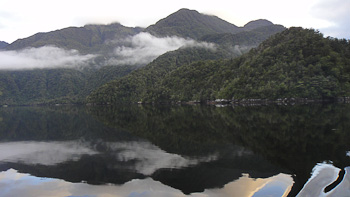 The reflections of the mountains and early morning sky on the glassy water were absolutely magical. As we marveled that it could not be better than this, something splashed in the water. Dolphins were coming to visit!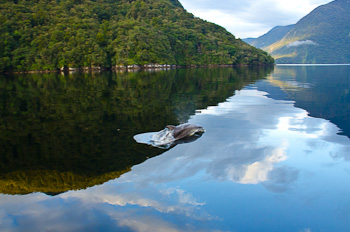 Four bottlenose dolphins frolicked at our bow for more than half an hour. They darted back and forth from port to starboard and back to port, gliding close to the surface and arching out of the water.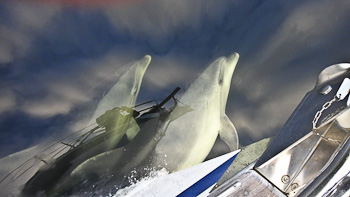 A young one was exceptionally adorable. Numerous times it rolled over on its back to reveal its white belly and several times it rubbed its small body on the bow while gliding on its back. Each one turned sideways and looked me in the eye when I talked to it.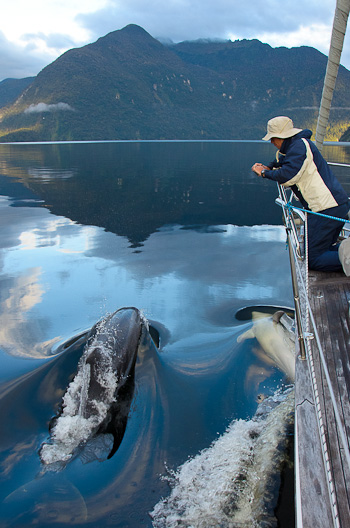 When I reached my arm over the side they seemed to approach higher to reach my hand. They only left when the water began to ripple. It was the most amazing dolphin encounter we've ever had.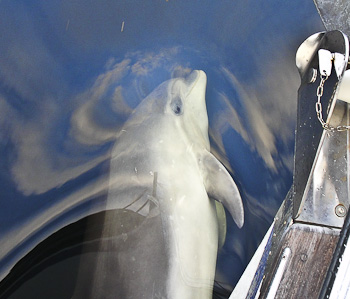 Go to February Part Three: Thompson and Bradshaw Sounds
See Photo Gallery: Fiordland Reflections