December 31, 2013
18 days seemed like the right amount of time to be away from Tenaya. We wanted to see family, especially 16 month old Drake for Christmas, and needed to take care of a few things so we bought airline tickets from Brisbane to San Francisco.
Clearly not one of our brighter moves. 18 days is barely enough time to cover our loop from the Bay area across the Sierra, down to San Diego, up to Malibu and Santa Barbara and back to the Bay. We were on the road every couple of days! This travelling by car thing sucks.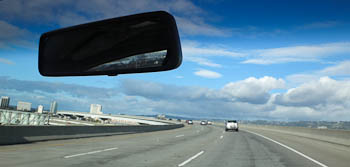 Often I am writing about sailing and the beautiful places we anchor and spend time. It must seem like a fabulous life, like one long vacation. In a way it is. But our lives are the opposite of the rest of our family and most of our friends. We must travel half way around the world to see them; they are not in our daily lives.
So, this page will not be interesting to anyone except us and perhaps a family member or two. But because this is our only journal, photo album and record of what we do, I've put it together.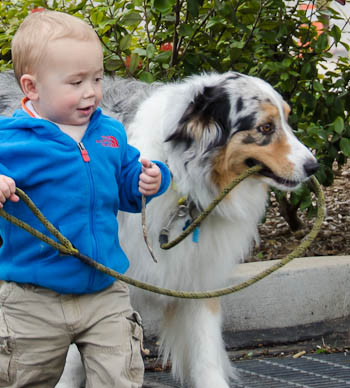 Our first stop was the Bay area to see Scott, Amy and our grandson, Drake. What fun! Drake is in constant motion and a really smart and sweet little boy.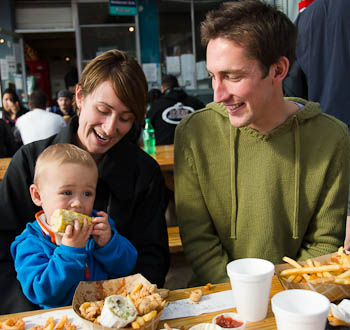 Practical matters included a trip to the dermatologist to have a funky thing cut off my leg and checked and a trip to Cal Berkeley Eye Clinic to deal with broken glasses. We each had a pair. Mine were still covered under warranty but Jim's were not. We also had many boxes to open and inspect. A new membrane for the Spectra Watermaker was important, but Jim's new Kindle and my new Sony P&S were most exciting. They replaced old ones that recently broke.
I have to give Amazon a plug here. The camera did not work properly so Jim went to their site, to the return section. There he found a list of everything we've bought with a box next to each item. He checked the camera and was given a choice of a refund or replacement. He checked replacement. It issued a return authorization and a shipping label to print out. They sent a new one out the same day and would not bill us unless they did not receive the original back in 30 days. They even refunded us our shipping cost for the return. What fabulous customer service! And the purchase price was less than anywhere else.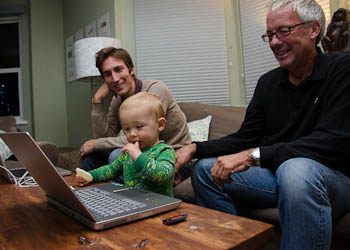 Next stop: Mammoth. "I love you but I am NOT going out in this" was Marianne's comment when I called her to go skiing one morning. Understandable. The visibility was nil and the snow was blowing sideways.
Jim's sentiments were pretty much the same but Steve went out with me. We ended up having more fun than expected in the light, fluffy snow. At dinner that night at Marianne's, Gary, a good friend who's been on ski school forever, validated my decision by saying days like these were his favorites, "you've just gotta stay in the trees!"
On our way down south we stopped for lunch at Amigos in Bishop with Steve and his lovely wife, Cheryl. Mexican food is something we usually crave so load up on it when we're in California. That and In-n-Out.
The weather was better in Southern California when we stayed the night in Redlands with my brother, Dwight. It was a nice visit but too short. We were happy to finally meet his good friend and cycling pal we've heard about over the years. She's really, really nice.
We'd planned one night in San Diego but when the dentist said Jim had a cavity beneath a broken filling and needed a crown, our plans changed so a temporary could be fitted. Guess we're coming back in April!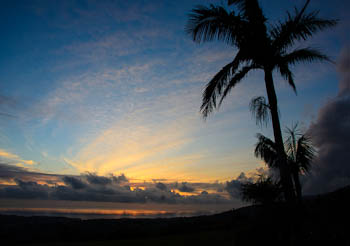 As usual, our stay with Jim's brother, Greg, and his family in Malibu was a treat. The view from their home is fabulous and we appreciate relaxing in their beautiful backyard watching the clouds roll over the Pacific while Tenaya is safe at the far side of this vast ocean.
With help from daughters Lauren and Claire, Greg and Allison hosted a lovely dinner party where we saw a few old friends and met some of theirs. Check out www.richardbangs.com for incredible adventure travel stories and www.hansrey.com for the most amazing mountain bike and trials action.
Greg's friend, Chris, recently bought a super clean Beneteau and took us all out for a sunset cruise around Marina Del Rey before dinner at his yacht club. We see so many boats just sitting in slips, it was great to hear that Chris has already sailed around Catalina, to the Channel Islands and down to San Diego and back. Often he goes out by himself. Good on ya, Chris!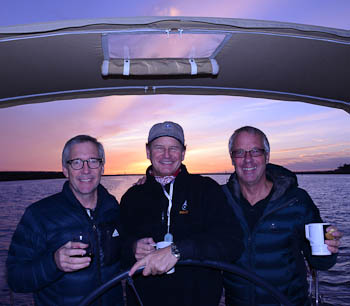 We met Scott, Amy, Drake and Amy's parents, Cindy and Orrin at Neptune's Net in Malibu. While we were there, Jim's friend, Chris, brought over an old climbing rope for us to use as a anchor snubber. Many thanks and I love that it is bright pink!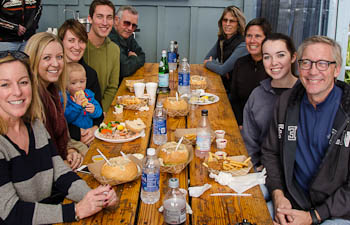 For those of you who don't know Greg, just go ahead and imagine the guy on the right is Jim
On our way up to Santa Barbara for Christmas we stopped to see Lori Lynn and Dan in Encino. We had photos from our time together in Tanna and LL had a bag of baskets and feathers she brought back for us. When Dan heard we were looking for old climbing ropes he disappeared for a few minutes and returned with a nice one. Now we're set for a long time. Cheers, mate!
Christmas Eve and Christmas Day were fun at Amy's parents' house and boy did they prepare some delicious meals! Scott's mom and grandma were there too, but we missed Corinne and Eric who are still teaching in Korea. Shasta was much better at opening his presents than Drake. He's definitely the best shredder in the family if you don't include snowboarding, that is. Balls were big hits with both boys. It's pretty cool how Shasta understands which toys are his and which are Drake's ... most of the time.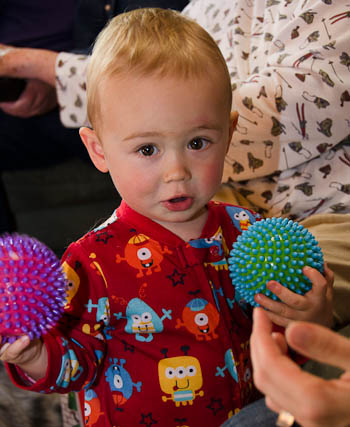 Reading mail and filing the important papers is always a pain as I only do it once or twice a year. This time I happened to notice our storage locker fee was being raised to about $340 per month. That's a lot of money! I went online to see what our options were and discovered that the exact same size (10'x20') is renting for $190 per month. So, I reserved the one next to ours and we moved all our stuff over the following day. Perhaps we could have spoken with someone higher up in the company about staying put and having the price adjusted, but this gave us a chance to look, weed and organize.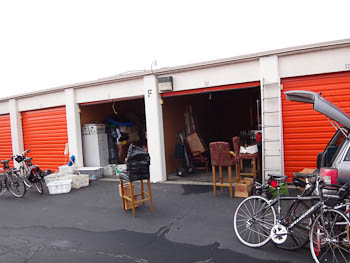 Being the thrifty retirees we are now, we saved about $500 on our airline tickets by leaving SFO on Dec. 30 and arriving in Brisbane on Jan. 1. The new year began with us high over the Pacific Ocean watching movies on a Quantas 747-800.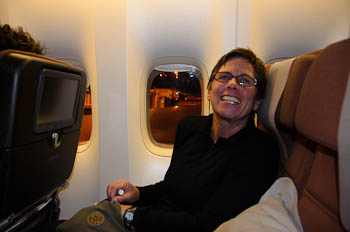 Happy New Year!
Go to January 2013 part One - Koalas and Kangaroos, Scarborough Marina, QLD