October 10, 2012
Aore Resort: 15 32'.29S 167 10'.71E
As all yachties know, a visiting friend means an opportunity to replenish supplies. Along with his own duffel, Steve brought an old Samsonite suitcase filled with all sorts of things Jim ordered and had sent to his house. He scored points for fitting in two Costco tubs of cashews too!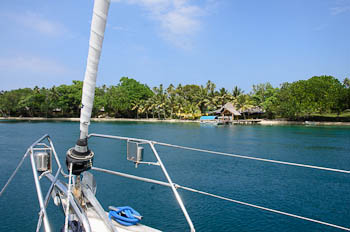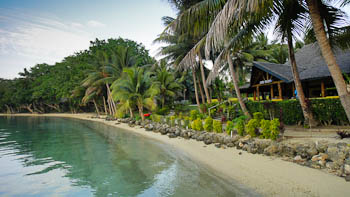 On October 1st our friend, Steve Mureau, arrived at the Luganville airport on Espiritu Santo (Santo for short) from Bishop, California via Sydney and Port Vila to sail to Australia with us. Tenaya was tied to the cyclone mooring ball in front of the Aore Resort on Aore Island across the channel from Luganville. It's a lovely spot for his first time in the South Pacific.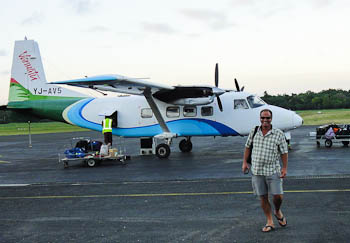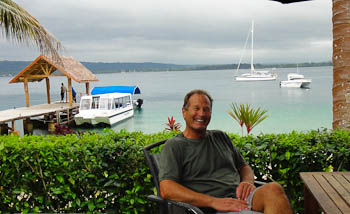 After his long flight on an Airbus A380 Steve took advantage of our location in front of the elite resort and rented a bungalow. It would be his last long shower and chance to sleep on a stable bed for six weeks.
Jim and I had been enjoying the Aore Resort by eating at least one meal each day in the restaurant. As much as we like sweet potatoes, yams, taro, snake beans and chocko, it was absolutely wonderful to order a Thai beef salad, a tenderloin, lamb chops, a big chicken breast, and even a burger and fries.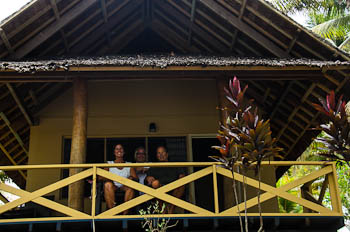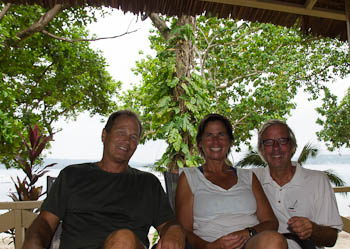 After a delicious dinner we all went back to the bungalow. Opening up the suitcase was like Christmas morning for Jim, but when Steve began to snore we figured it was time to leave.
The next day he gave the suitcase to Annie in the office and we made a few trips paddling stuff out to Tenaya. It's nice to know our two person inflatable kayak will actually hold three people and our daypacks. The dinghy remained tied to the coach roof creating sun and rain protection for Steve's forward cabin.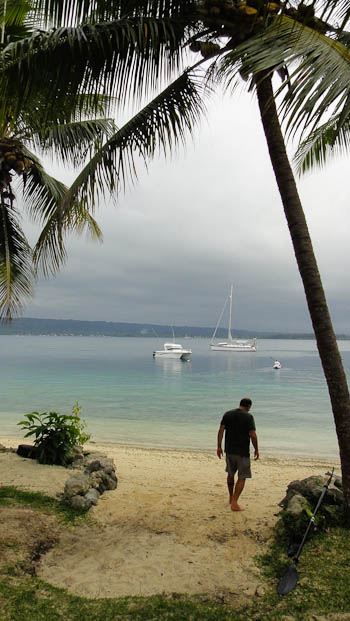 Steve cautiously climbed up out of the kayak to balance on the narrow rub rail before stepping up to the toe rail and over the lifelines to the deck. Next he folded himself nearly in half to duck under the bimini and into the cockpit where he could not fully stand up. Then he stepped over the bottom companionway door, which we always leave in, and descended backwards into the main saloon. As he stood and looked around, his first words were, "It looks bigger in the pictures."
Welcome to Tenaya! He moved into the forward cabin and we had a leisurely day snorkeling and catching up. The following day Jim had all the parts organized and the two of them started on projects. Here's what they did:
Replaced a valve on the watermaker.
Took apart the mag pump on the watermaker, adjusted the bushings, made sure it was running fine and put it back together again.
Bypassed the computer control for the mag pump.
Gave up on the watermaker.
Bought two 20 liter water jugs.
Added a Racor fuel filter and an auxiliary fuel pump, requiring running a power line, to the generator. Now it works better than it ever has!
Replaced the solenoid for the propane tank.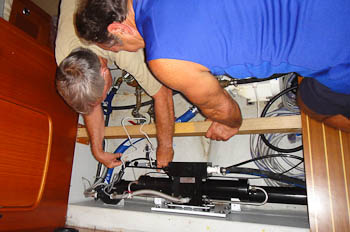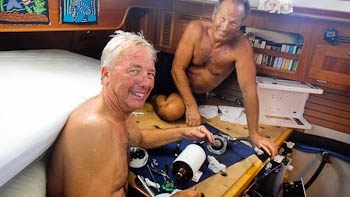 One day this tender-you-can-drive-on-land zipped up to Tenaya. Fritz introduced himself as a one-time cruiser and offered his house if we needed a break from the boat. He understands what life on a small boat is like. He also offered to take our laundry and wash it. While they all chatted I went below and quickly filled a bag and handed it over to his wife. Wow, how nice was that?!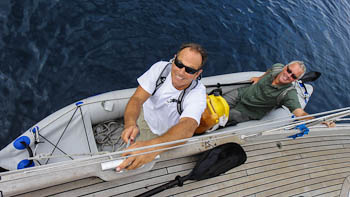 Filling the fuel tanks was another project on the list. Normally we drive Tenaya up to a fuel dock but there are no fuel docks on Santo. To accomplish this task, several trips to the service station are necessary.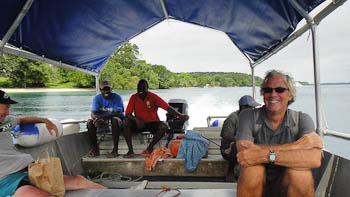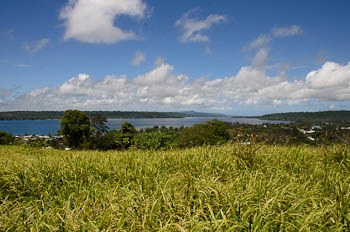 It's a long, bumpy ride across the channel in the dinghy (which we didn't want to launch) so we asked about transporting four cans of fuel on the ferry. Fine, said George, on the 0700 ferry only. So that's what Jim and Steve did each morning for several days in a row. The 20 liter cans were too heavy and took up too much room to load together in the kayak so they had to make two trips to get them out to Tenaya. Then they slowly emptied them through the filter and into the tank. I am so pleased that Jim has another helper!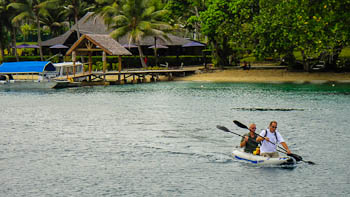 The output from the watermaker continued to decline until it finally stopped. There was nothing more to be done here to fix it so Jim and Steve turned to Plan B: a water catchment system.
They looked at what the other boats here had and finally decided to incorporate one into the bimini we already have. It is on its last legs so not much harm could be done experimenting on it. I say experimenting because we have no idea if it actually works or not. It has not rained since.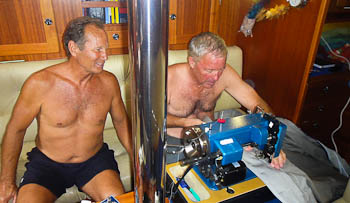 Jim and Steve had been working so hard that I thought they deserved a special dinner. I went to the open air market and was lucky enough to find a local delicacy. Fruit bats! Not surprisingly, the next night they both suggested eating in the restaurant at the resort. Good timing, there was a local band playing and they were great!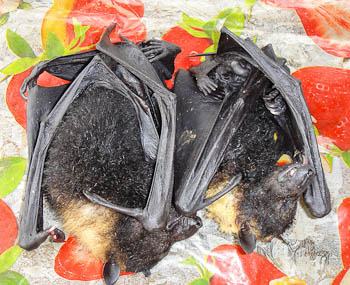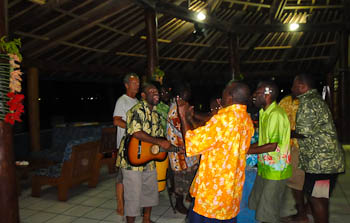 Steve liked their colorful shirts. When I mentioned that ladies in town make them and they are sold in several shops, his eyes lit up. The next day he and Jim took the ferry over to investigate. He tried a few on (check out the mirror) but none fit well. The lady took his measurements and then took him down the street to the fabric store and helped him choose two fabrics. Three days later he was sporting two new custom shirts!
Jim has no room in his closet for another shirt but took the opportunity, with me not around, to purchase a large, traditional bow and arrow. He usually does not care to buy souvenirs but something about the killing objects in this country intrigue him. Now he's got another weapon to add to his arsenal. It lies next to the pig killing club behind the settee.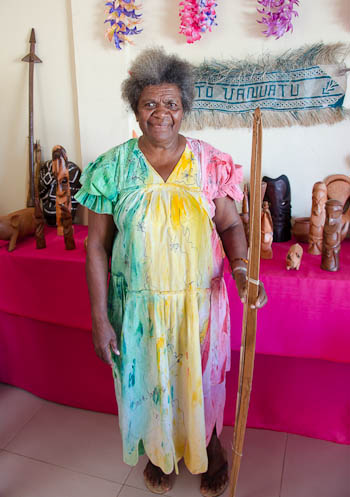 Steve is great crew! He had good ideas for fixing things, is always ready to help, actually likes to clean and is good at it, and will scrub the bottom between other chores.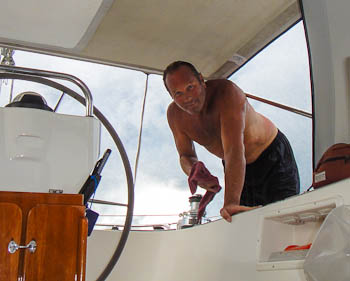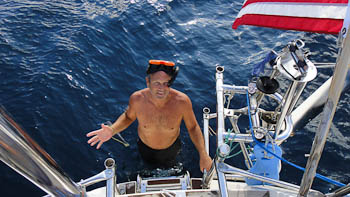 Besides working on projects, we wandered and snorkeled at Aore Island, dove the Coolidge which is an amazing wreck dive, and Tutuba Point with beautiful corals, lots of fish and a few exciting tunnels, fossicked and dove Million Dollar Point where the Americans shoved off acres of equipment at the end of WWII, visited a kastom village, sailed to a beautiful island, and dinghied up to a swimming hole filled with incredibly blue water. More stories about those adventures soon...
Go to October 2012 Part Two - Banks Island Village, Luganville, Santo, Vanuatu