September 23, 2011
19 31'.52S 169 29'.74E
Wispy white columns of steam rise above the steep, densely forested hillside. Hundreds of huge bats fly across the anchorage each day at dawn and dusk, their scalloped wings pumping completely unlike any bird. Villages of bamboo huts are nestled at either end of the bay. More are hidden in the bush. It all feels very primordial.
Sailing into Port Resolution, on the island of Tanna, is like sailing back into time. Mt. Yasur rises above just beyond the northern portion of the anchorage. During the day clouds of ash can be seen escaping the volcano. At night the explosions paint the sky above a reddish hue.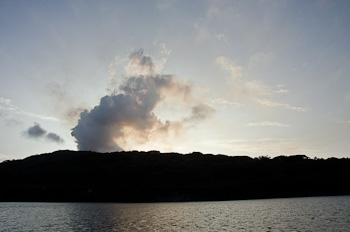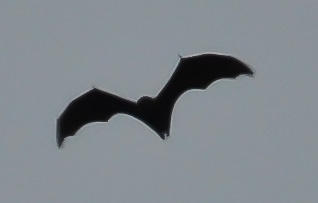 Captain Cook arrived in these islands during his second voyage. He named them the New Hebrides, a name which stuck until independence in 1980.
Cook sailed to Tanna in August 1774 from Erromango. Some excerpts from his journal sound like he made the voyage yesterday:
"...being guided by a great fire we saw upon it ... we now found that what we had taken for a common fire in the night was a volcano which threw up vast quantities of fire and smoak (sic) and made a rumbling noise which was heard at a good distance... On the east point were a great number of people hutts (sic) and canoes..."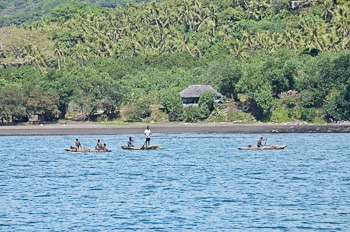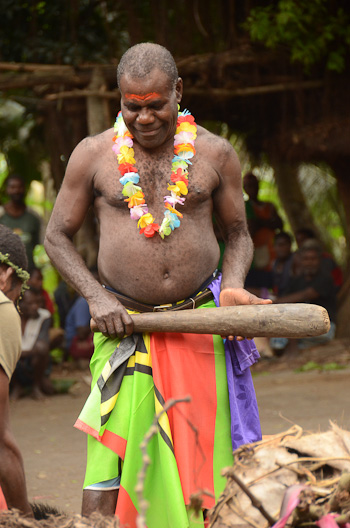 Worried by the lines of natives on shore and the pile of bananas, yams and taro he perceived as a trap, Cook had a musket fired over their heads. He writes, "...the alarm it gave them was only momentary, in an instant they recovered themselves and began to display their weapons, one fellow shewed (sic) us his back side in such a manner that it was not necessary to have an interpreter to explain his meaning." Cook was mooned!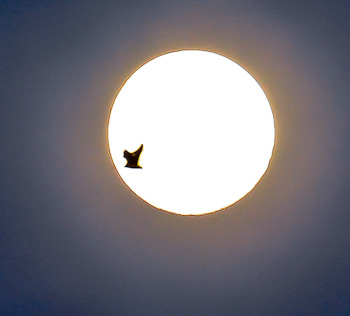 He did manage to get ashore and spend time on Tanna without being eaten. He was so smitten with the place that he named the harbor after his boat, the Resolution. The bay is still not charted.
"The word "tanna" means ground or earth; Mr. Forster had pointed at the ground when asking what the island was called." Accounts claim the proper name for the island is Ipari, but when we asked a local friend, he said the name of the island is Tanna in all the local languages, and tanna is the word for ground. So if it was ever called something else, that name appears to be lost now.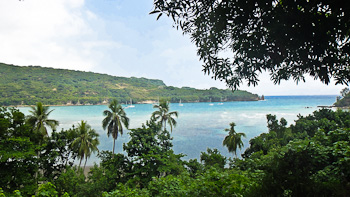 Before we had the anchor set, several men paddled up to Tenaya, curious about the black man on board with the white couple. Where was he from? Why was he here? The African refugee told them he needed to get across the island to Lenakel so he could get to Vila, on the island of Efate, 120 miles north.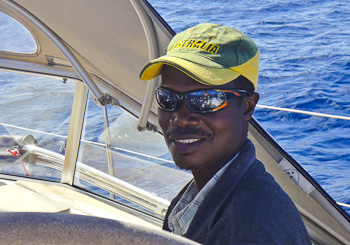 We lowered the dinghy and loaded Anthony and his belongings, including a rather large propane tank. Jim squeezed in and headed off to shore amongst a parade of canoes. It was low water and they guided him through the reef and bommies to land near the small river.
The next day Tom paddled out to tell us that Anthony had gotten a ride to Lenakel. His village beyond the shore had welcomed him for the night, fed him, gave him a place to sleep, and arranged his transport.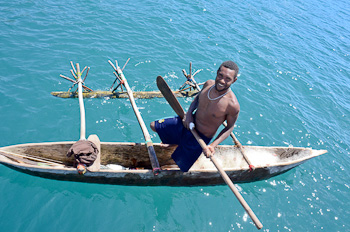 Tanna is a young, mountainous island mostly covered in lush forest except near Mt. Yasur where it is barren and covered in dark ash. The Ash Plain reminds you that Mt. Yasur is alive and kicking. It has been active for 800 years.
Until eleven years ago, a large lake stood at the base of the volcano. People would gather there to picnic, swim and fish. In the wet season when it overtook the road, trucks would drive people to the water's edge, then boats would carry them across to a waiting truck on the opposite shore to continue their journey across island to the main town of Lenakel. In the summer of 2000 it rained for thirty days causing massive flooding. The natural dam burst and the lake washed away along with roads, portions of hillsides and all the crops. Harsh is an understated word to describe the environment on Tanna.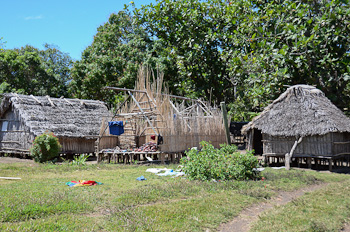 There are several villages around Port Resolution. The one closest to the dinghy beach is Yatukuri with a population of 338. By local standards, Yatukuri is well-off. The people have water, fine gardens, three pick-up trucks and a primary school including grades 7 and 8. A small community store sells local produce and a few arts and crafts, and there are three restaurants, including Port Resolution Yacht Club which also rents bungalows. A few more bungalows are nearby. The village is set on a fertile, wooded, narrow, bit of land between Port Resolution and the sea.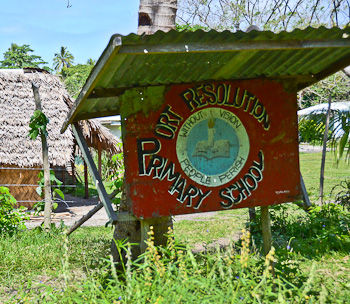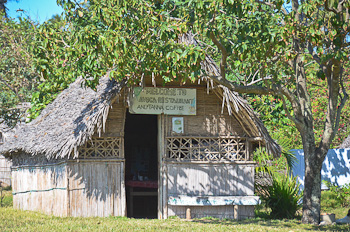 A masonry dispensary provides medical attention. People walk many miles in from the bush for help. Johnson is one of the two nurses. He speaks English, French, Bislama and the five local languages of the island. This soft spoken young man is bright, kind and genuine. Being a kastom follower, he uses both tradition medicinal plants from the bush and European medicines, depending on what is needed. People believe in magical and supernatural powers, easy to understand in this setting. He was devastated because he was away at school in Vila during the two cyclones that hit the island in January and February of this year. People died. He believes he could have stopped the cyclones' fury. He has powers and communicates with the natural and spiritual world. As we parted after our first meeting, he gave me seven eggs, the only food we desperately needed. I hadn't mentioned it. Somehow he knew.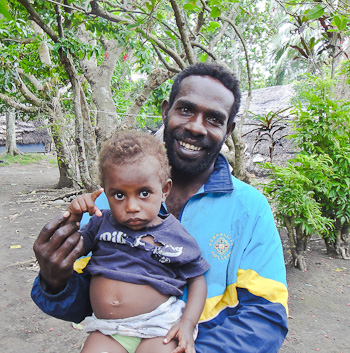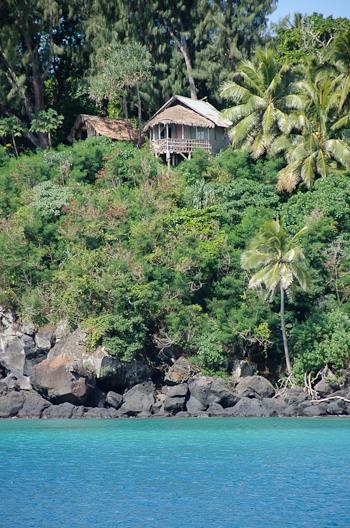 As I was preparing porridge and Jim was indisposed one morning I heard yet another "hello" from outside. Opting to ignore it as I was busy, I went about my business. The "hellos" continued and turned into calls for "Katie". Hmm, they know me, better go up. In the throes of a migraine I am not at my best. "What" I said rather harshly, not at all the way to greet the kind Ni-Vans. There was a local guy in Manu-o-ku's dinghy with Jessica on the oars. She had been on shore for a church service when he commandeered her for a ride out to our boat.
He held up his mobile phone. "Did you bring in a man from Aneityum?" "Yes," still a bit curt. "You have a phone call". Uh oh, we're in trouble now. A minute later Winnie, our friend from Aneityum called. "When are you coming to Lenakel?" she asked. I told her Monday or Tuesday, depending on when we could go to the volcano. Stanley overheard my end of the conversation and offered suggestions. "Oh, you're Stanley, nice to meet you," I said with an embarrassed smile and I bent to shake his hand. Great. I had just been rude to the man who arranged rides and anything else necessary for yachties.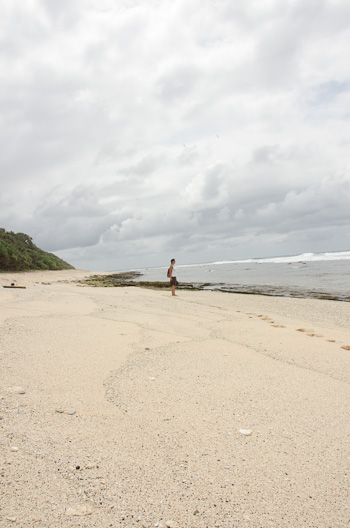 We spent a few days exploring the area and settling in. This is a very nice place and we are comfortable here. Resolution Bay is large, pretty and protected. A short walk through the village leads to a long, sandy beach that ends at a rocky point. Mass quantities of coral bits blanket the shore.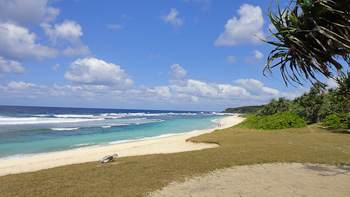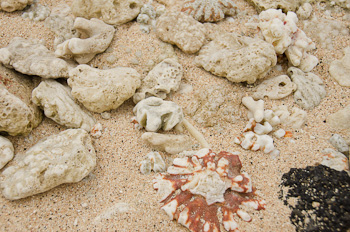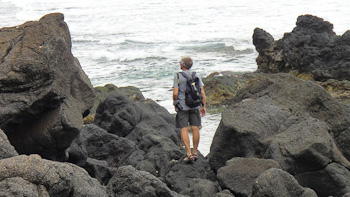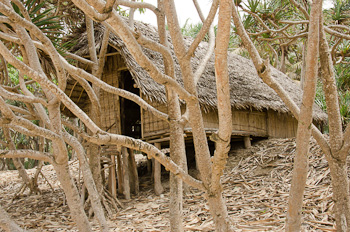 Two other boats in the anchorage have French crews, Julo sailed from France when we left Holland 5 years ago, and Maestro is from New Caledonia. We shared a couple of tasty traditional meals with them at two of the restaurants as I struggled with my tenuous grasp of their language.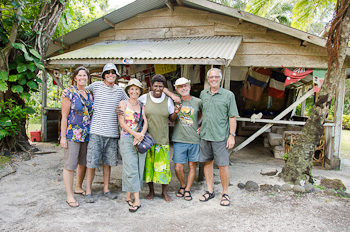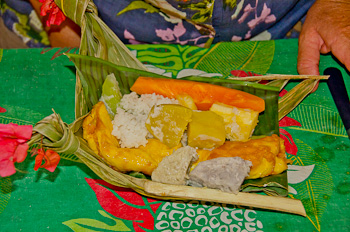 It was not long before word got out that Tenaya would charge mobile phones and Jim could fix electrical and electronic devices.
Esther at the yacht club asked him to fix an amplifier/speaker, which he did. Stanley asked him to fix his DVD player, which he did. A man paddled up with a huge underwater flashlight in need of more than just batteries. Jim fixed that and loaded it with batteries.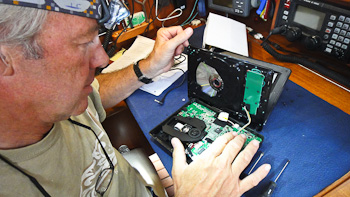 Guys paddle up with MP3 players and phones that are beat to shit and held together with layers of tape. Sometimes he can fix or charge them, other times the batteries are dead or the chargers don't work. If the phone is a Nokia, which most are, we use our charger.
Tenaya is 220V and has European plugs. Most of their chargers have Aussie/NZ or American plugs, but Jim makes a series of connections and manages to charge them with strict instructions for me not to touch any of it. My honey, the electronics geek!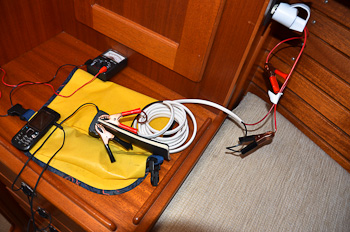 Notes to yachties:
The anchorage at Port Resolution can be a little daunting. It is basically uncharted and once you get past the reefs at either side of the entrance, the bay is fairly shallow, about 4-5 meters in the middle. Bommies line the edges and form an obstacle course into the beach below the yacht club. It is on the east side of the island and the prevailing winds are SE. Fortunately it is open to the N. Generally there is some swell but a stern anchor kept us comfortable for three weeks. There is room for a dozen boats, more if all use stern anchors or if many are French.
Stanley is the yachtie liaison in Pt. Resolution. He will arrange trucks to the volcano, across to Lenakel, to the Jon Frum Cargo Cult village, and anything else you may need. He looks out for our interests.
A local friend told me the chief of Yatukuri, the village in which Stanley lives, and there are a few around the bay, died recently. There are three assistant chiefs, Stanley, Johnson and the son of the deceased chief. I am not sure how they decide who becomes the head chief here.
People on Tanna are friendly, polite, humble, helpful, genuine and exceedingly generous. Most speak some English as it is taught in middle school here and in secondary school in Lenakel where kids from outer villages board.
In their culture it is polite for visitors to speak first and for locals and visitors alike to stop and greet others along the road. Where you are going, and where you are from are welcome bits of information. They will love that you live and travel on a yacht! Both men and women shake hands very gently. A cheery "Hello" will bring a smiling response.
Even when Capt. Cook was here, a visitor was assigned a guide. Now visitors can roam freely on the main roads and paths around Pt. Resolution, but if you venture away you will be accompanied by a guide. They insure you will not get lost, not go anywhere tabu, announce your arrival in private places, make appropriate arrangements and be your interpreter. Mostly there is no charge for this as it is part of their cordial way. A small gift for their effort is always appreciated. Talking with your guide is a great way to learn more about their culture. They are eager to enlighten us.
A small store in Yatukuri allows villagers to sell fruit and veggies from their garden. Prices are very reasonable. It's best to have exact change as they usually do not. Be careful buying produce from guys in canoes, sometimes they charge much more than the store. Never help yourself to produce, regardless of how remote the location seems. It belongs to someone.
When getting cash at the bank in Lenakel, or bringing it from Aneityum, try to get small notes and 100 vatu coins. Keeping money for change seems to be an unknown concept here.
Often men and boys in canoes will paddle up to trade coconuts, papaya or limes for batteries, fishing line and hooks, movies on memory sticks or rope. Many just want their mobile phones charged.
If you can fix petrol generators you will be very popular!
Secondary school costs a lot of money. There are not many ways of earning money so people charge for some things like the guided walk to the hot springs and specially prepared meals at homes and on the beach. Sam, a man from the village of Yagoben halfway around the beach, has light coloring and a broad chest. He and his wife prepare a mean lobster feast on short notice. All the money stays on the island.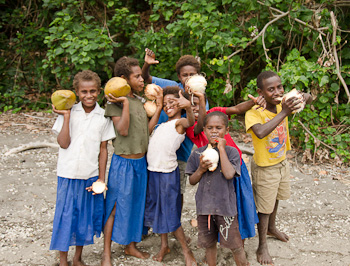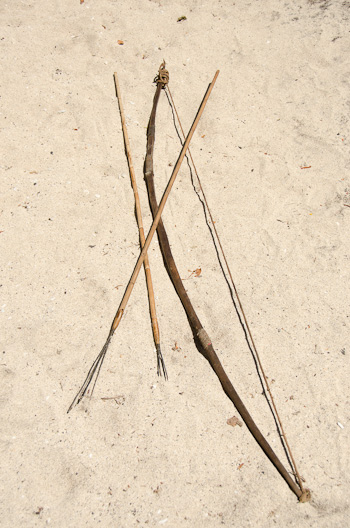 After visiting several locations that Cook "discovered" including Tahiti, Tonga and New Zealand, it is amazing to read his impressions of the bay we are currently anchored in nearly 2 1/2 centuries later and realize it remains largely unchanged. An active volcano still looms nearby, there are still hot springs on one side of the bay and a lake still rests behind the beach with native people living there in bamboo and pandanus huts. Men still paddle hand-hewn dugout canoes and fish with homemade bows and arrows. We look forward to exploring Tanna and meeting these fascinating, simple-living people.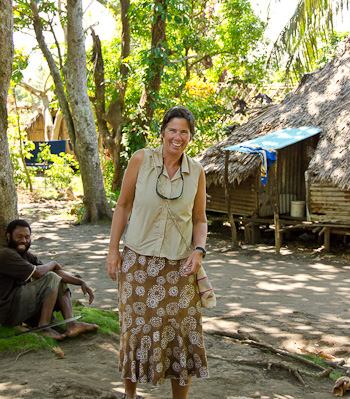 Go to September 2011 Part Four - Mt Yasur volcano
Photo Gallery: Vanuatu Children