September 22, 2011
20 14'.29S 169 46'.49E
Soft, powdery white sand with palm trees swaying in the gentle breeze give way to dense grass and bush. Verdant mountains rise steeply inland and a low, narrow atoll hovers just offshore. Narrow paths wind through the village which is hidden beneath a vast canopy. What little electricity available is created by solar power or generators. There are no cars. Tenaya floats peacefully at anchor in the protection of Analcauhat Bay at Aneityum (Anatom in French), Vanuatu.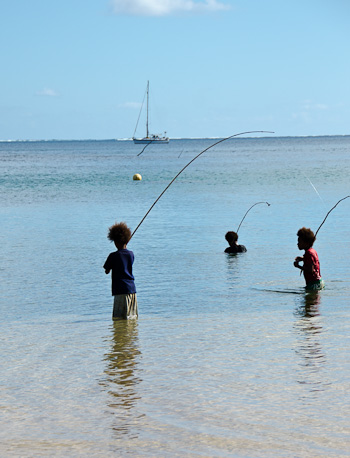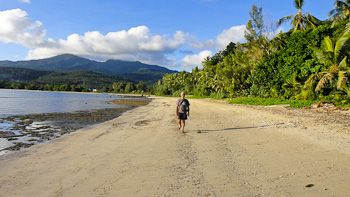 With light SE winds and slight seas we sailed NE from Ile des Pins in New Caledonia to Aneityum, Vanuatu. Leaving at 1100 on August 29, Tenaya arrived at Aneityum at 1045 on August 31, greeted by a humpback whale frolicking just outside the pass. We were happy to be here at the southernmost island of Vanuatu.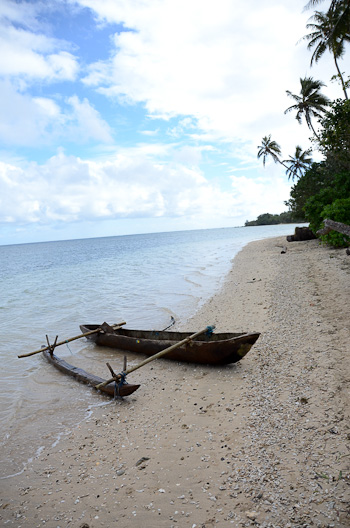 No sooner had we settled in than a man in a yellow outrigger canoe paddled up announcing he was the customs agent. Wearing a faded t-shirt, well-worn board shorts and trendy sunglasses, Colin climbed aboard. Did we have guns aboard? No. He seemed surprised. How much alcohol? Too much, apparently. Plenty was left available, but most was sealed in the bilge to be opened when we clear out. Colin pointed out good snorkeling spots and places of interest while he drank a coke and gingerly picked clean the bowl of nuts and craisins.
For any yachties coming this way, there is nice snorkeling in the anchorage along the reef below the two range markers. Look for a sunken boat and lots of anenomefish. Another good spot is the reef between the islands. Pick your way east until you are past the tip of Aneityum and see the length of the reef in front of you. Have a long anchor line or leave someone in the dinghy. The water is exceptionally clear.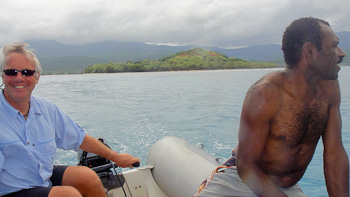 Another day Colin was on board and noticed my little Sony camera. I said it takes great pictures and is waterproof to 3 meters. Waterproof? He'd never heard of such a thing and decided, at that moment, that he wanted one to take pictures of the snorkelling spots for an advertisement on Mystery Island. No need to buy one, we said, we'll use ours. Ten minutes later we were in the dinghy. Colin used Jim's gear and we passed the camera back and forth to get lots of pictures. Later that afternoon he was thrilled when we handed him a dozen underwater photos at the nakamal.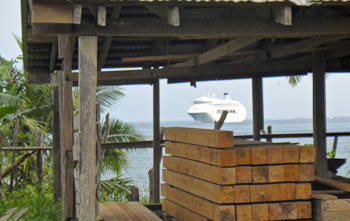 Because so many cruise ships visit Mystery Island this time of year, Quarantine and Immigration officials are here from Vila so we were able to clear into the country. The cost was 4000 vatu for Immigration and 3000 for Quarantine. Customs must be paid in Pt. Vila but Colin issued us a cruising permit to visit islands on the way.
We were invited to a kava bar the first night by Yassi, the Immigration official. It is customary in their culture to welcome visitors with kava. The nakamal was closed so we followed him in search of an alternative. We ended up deep in the village at the head of the bay, in a clearing with more than a dozen young men. I certainly felt out of place! We watched and chatted as the kava was prepared. I was offered the first shell, a small one, with instructions to down it in one gulp. Okay. They cheered me on and clapped when I finished. Jim went next and received applause as well. Aahh... it was a nice, mellow, barely perceptible, change in attitude. Our lips went a little numb and our brains floated in contentment.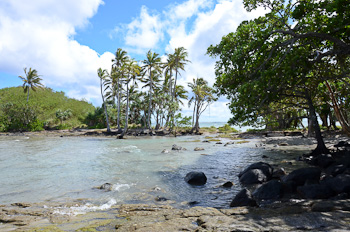 Winnie and Annies were walking along the beach when our paths crossed. As Annies cradled her young son, Kally, on her hip, I ogled him and asked to take his picture. After a brief conversation we learned they are from Tanna and married to men from Aneityum. Winnie was going back to Tanna and made us promise to call her when we reached Pt. Resolution.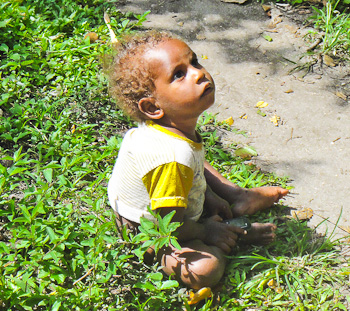 The next day brought a cruise ship so we went to Mystery Island for a look and to see our new friends. Winnie had a basket and a grass skirt for me. How nice! Later that evening they visited us on Tenaya. Norman brought an old whiskey bottle filled with kava.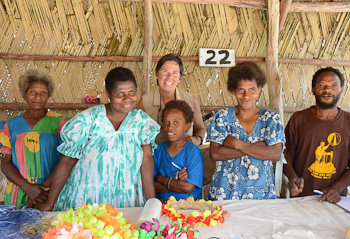 Australian cruise ships visit Mystery Island on a regular basis. It is a boon for the economy with men offering snorkeling trips, hiking on Aneityum, freshly prepared lobster and kava while women braid Aussie gals' hair into narrow corn rows and sell baskets, leis, clothing and trinkets. Various church groups sing for donations. The tourists are confined to Mystery Island unless accompanied by a guide.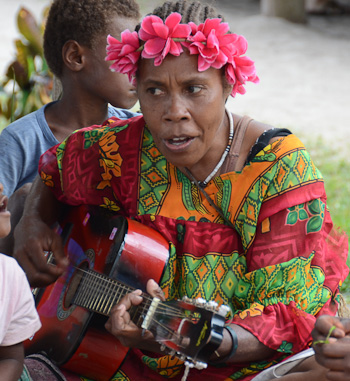 We looked up one morning to see a yacht very similar to our own motoring into the bay. Same blue stripe. Same style radar pole in the back. Dinghy tied upside down on deck in the same fashion as ours. It was a bit bigger though. As they grew closer I realized it was our friends, John and Amanda of Mahina Tiare and their crew. How exciting to see them! Amanda broke into her haka, complete with horned viking hat, much to the delight of the entire anchorage.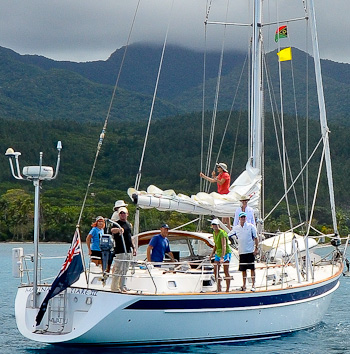 They stayed on board almost all day as Colin, Yassi and Morris, the officials, were on Mystery Island and did not clear them in until later in the afternoon. Early the next morning they were off to Tanna. They cover a lot more sea than we do each season!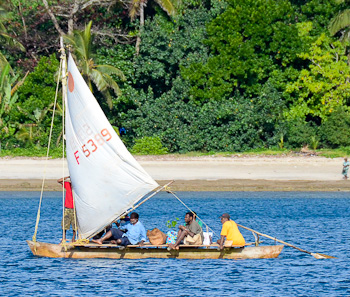 Norman and Annies gave us a tour of the northern part of the anchorage. They showed us the pools in the stream where women do laundry and where the villagers can get fresh water from a spring chiseled square out of the rock just above the high water line along the shore. Below the spring were two larger tubs for bathing. The village also has piped water so it is not necessary to carry water this far. Norman's father's grandfather carved the square basin for the spring many years ago.
Each family has a garden where they grown their food. Taro, yams, sweet potatoes, carrots, lettuce, green onions, bananas, papaya, grapefruit and a bounty of coconuts grow well in the rich soil. Because money is to be made off the cruise ships, some people work less in the gardens so the food is not plentiful. We were extremely grateful for the yams, grapefruit and coconuts Norman gave us.
Yachties must be careful with how much we give islanders as it is their custom to reciprocate. They do not have much but will willingly give their last item of produce or a treasured belonging.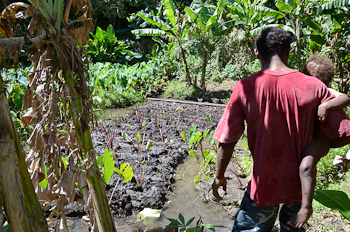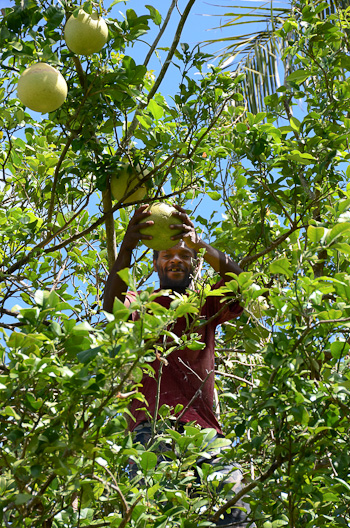 People are very friendly here on Aneityum. If we smile, they smile. It is customary for visitors to speak first so we do. Most people speak English here as that is what is taught in school.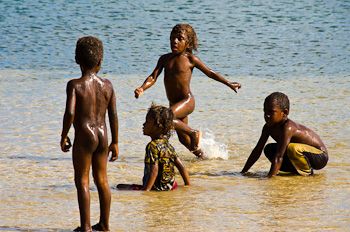 At first glance Analcauhat seems primitive with bamboo huts, paths through the bush, no roads or cars, few battered masonry buildings. But upon closer inspection one notices solar panels on the houses and water faucets in the gardens. A tiny bank changes several types of currency and there are a couple of stores where extra food items can be bought. There is a dispensary, a primary and middle school and three churches.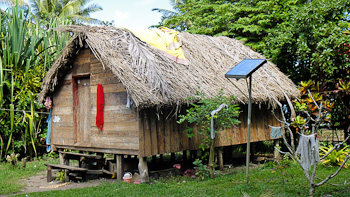 There is a lumber yard on Aneityum so some houses are made of sturdy planks while others are from woven bamboo or pandanus. All are topped with dried palm leaves.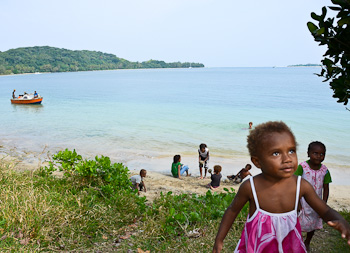 People are very religious here, proud of the fact that Aneityum was the first place in Vanuatu where Presbyterian missionaries were welcomed. The remains of the first and largest missionary church in the southern hemisphere stand in a peaceful setting not far from the head of the bay.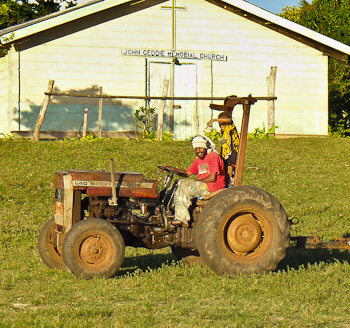 Children appear to be carried continuously for the first couple years of life, and then put down, ignored, and free to roam near and far, including out to sea. In reality, the older children look after the younger ones. They all play well together.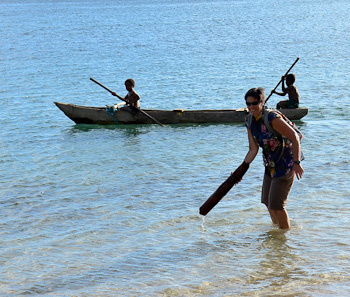 We love taking photos of kids and kids love seeing themselves on the screen so everyone is happy.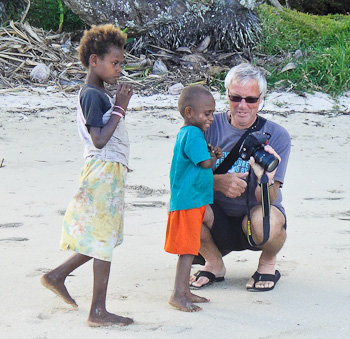 One small jar of bubbles creates an afternoon of fun.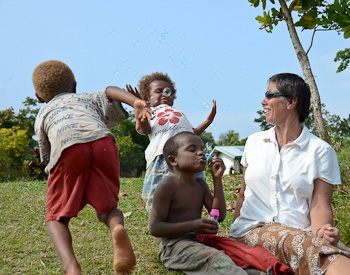 Colin's brothers, Morris and Wesley, run a nakamal which is open most evenings. If we were on shore about kava time, Yassi always seemed to appear with a smile and a quiet "kava?" How could we resist?
On Aneityum the kava root is chopped up then ground in a meat grinder. The pulp is mixed with water and strained through fabric into a bucket. They make a little extra when yachts are in the anchorage to accommodate guests.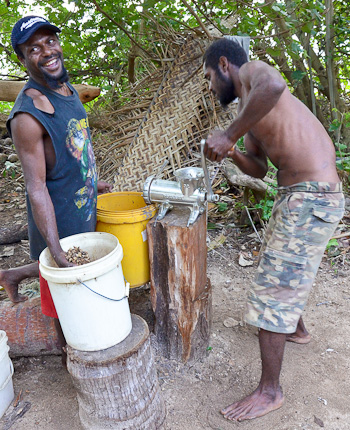 Kava with Yassi, Steve and Jessica on Manu-O-Ku, and Peter and Evelyn on Renegade.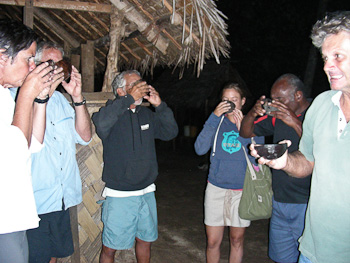 A police post has recently been built and the official opening ceremony happened while we were there. Richard, the policeman, invited us to attend.
Officials from Vila flew down to the tiny grass airstrip on Mystery Island and were brought over in several boats. As they came ashore they were welcomed with a traditional dance.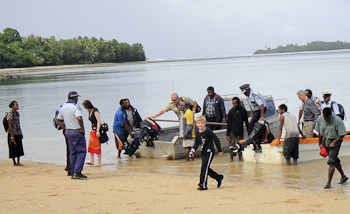 The entourage was given a tour through town to see how modern and efficient Aneityum is and prove the citizens are worthy of the government's consideration.
Stops included the dispensary, churches, schools and grave of the recently deceased chief before another dance and a huge feast.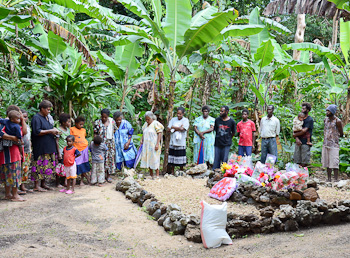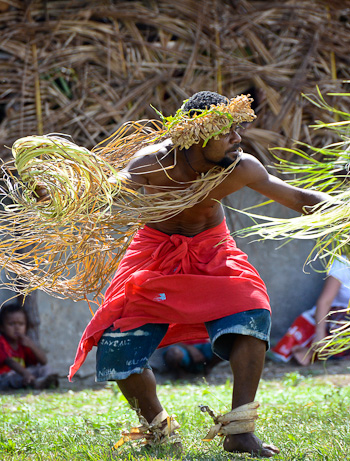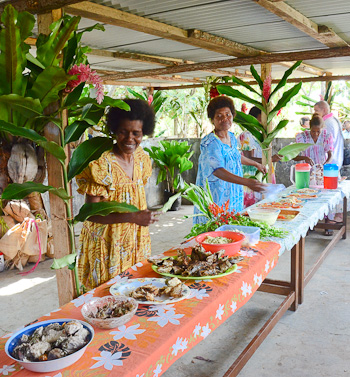 After the guests finished their meals countless speeches were given. As the project was a joint effort with the Vanuatu and Australian governments, officials of both nationalities spoke, all in Bislama. The opening of the police posts paves the way for more yachts to clear in and out here and there were maritime officials present as well.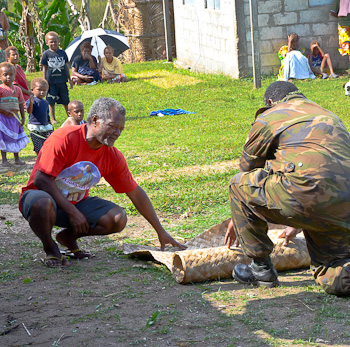 An interesting part of the ceremony was when a man, obviously not an official but with the group from Vila, was presented a mat. We learned his family is from Aneityum and relatives had lost track of him. Once found, he was reminded that he is always part of this family and will always be welcome. This is his home regardless of where he happens to live. The mat symbolizes the family connection.
After two weeks on Aneityum it was time to move on. We took Anthony, a refugee from Africa and living in Vanuatu, with us. He said he had a few small packages and showed up on the beach promptly at 0600 with them. They included a rather large propane tank. Off we went for a daysail to Tanna.
Go to September 2011 Part Three- Port Resolution
Photo Gallery: Vanuatu Children