August 12, 2011
What was supposed to be a short stop in Opua to pick up new chain and clear out of the country ended up lasting 2 1/2 months.
On our way from Gulf Harbour to Opua the motor on our in-mast furling system quit working. It took nearly a month to identify the problem, order a new one from Sweden, and have it installed.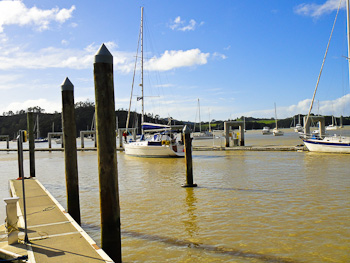 Dozens boats left for Tonga and Fiji as we waited for the motor. Finally, on June 20, we were ready to leave once a weather window opened up.
Storm after storm barrelled across the area and we could not make it far enough north between each one. At one point Brynn, at Commander's Weather, wrote "forecast models agree on more evil weather for your route."
Ten weeks later we were still waiting. Must we go to Tonga? No. At this point we just had to get out of New Zealand. We told Commander's we would be willing to go anywhere - Fiji, New Caledonia, even Tahiti. They said New Cal should be easier to reach.
A few days later we were told to leave as soon as possible. A high was coming across the Tasman Sea that would shoot us north. Perfect! Except that was on a Sunday in the low season and the Customs and Immigration office was closed. We left on Monday, August 1.
Keys for Gerty were taken to Phillip at Cars for Cruisers. The plan was for him to store our trusty and much loved campervan until we return in November. He offered to buy her back. It is an agreement he makes with everyone who purchases a car from him.
Because our plans have not worked out the way we assumed, it seemed a good idea to sell her now rather than next year. Also, the currency exchange was in our favor. So, now Gerty is another happy memory from eight marvelous months in New Zealand. Our plan is still to return to New Zealand in November, but those plans may change.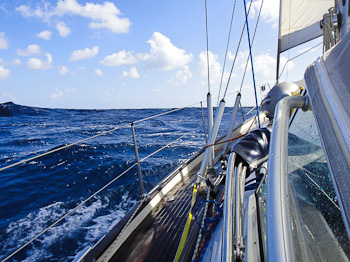 Our passage from New Zealand to New Caledonia was a good one. In an area known for volatile and changeable winds during the voyage, we were lucky. The wind blew consistently from the S-SE the entire trip. Some days stronger than others, but we only motored a few hours in the beginning and a few more as we approached Noumea. We had no lightning whatsoever. Lightning scares us.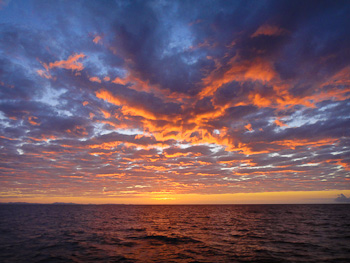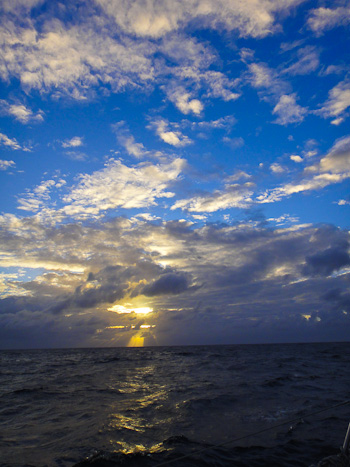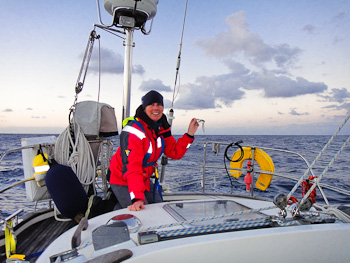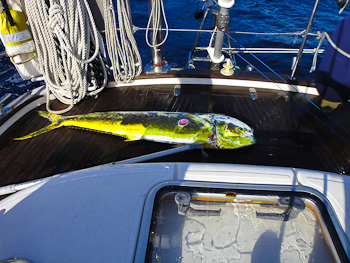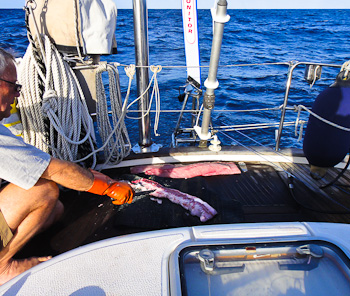 Here is our log in a nutshell:
August 1 - Left Opua at noon. Beautiful day! So good to be on the water again. Motorsailed in 7-10 knots with wind from SE until a noise from the prop became worrisome. Turned off engine. Pretty sunset. Tested generator which quickly died. Attempts at revival were unsuccessful. Wind increased to 12-18 during the night. I was on watch at 8:00 pm when suddenly a roar bellowed from below like a jet engine. All the instruments flashed erratically in the cockpit. Jim stumbled out of slumber to the companionway and we hollered to each other, "what is that?" He killed the master battery connection and all was silent again. The bowthruster had gone mad. Not sure why. Put it on the list to check when we arrive along with the generator and prop noise.
August 2 - Winds picked up from 14-21 knots to 21-28 from the ESE-SE. Seas increased to 3 meters. I wrote in the log "pretty darn nice for cold, windy and rough" conditions. Rain squalls and gusts to 37 knots. We made 175 miles from noon to noon on Day 1.
August 3 & 4 - Two days of the same. 25-32 knot winds, gusts 40+ from the SSW-SSE. Squalls. Rough seas of 4 meters. Sails reefed very small. Still waiting for the sea legs to return. An albatross soared around Tenaya for several minutes. We made 191 miles on Day 2, our best ever, and 167 miles on Day 3.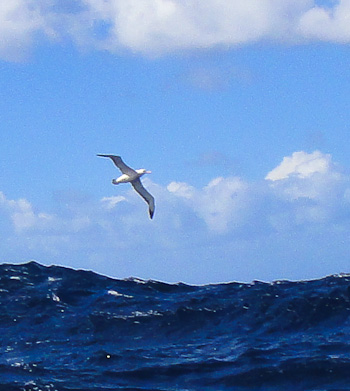 August 5 - Winds eased from 25-29 knots to 14-20 from S-SSE. Only one squall. Seas dropped to 2-3 meters. 2 flying fish on deck at dawn. Propane ran out at dinnertime with unmicrowaveable friendly meal being prepared. Sometimes life just sucks. Made 176 miles on Day 4.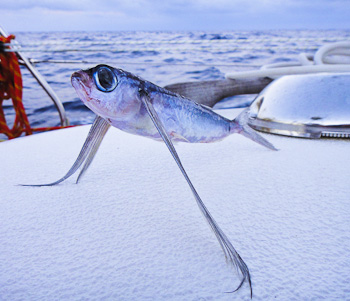 August 6 - Winds 18-22 eased to 14-18 knots from SSE- SE. Moderate seas. Bolt worked loose on windvane. Jim hung over the stern to retrieve bolt but nut and lock washer had vanished. Hung over again to repair it. Glad this didn't happen a couple of days ago! Made 155 miles on Day 5.
August 7 - Beautiful day! Winds 13-18 knots from the ESE-SE. Full sails. Took showers inside. Caught a female dorado 150 cm from tip to tip. Sushi for dinner! Made 170 miles on Day 6.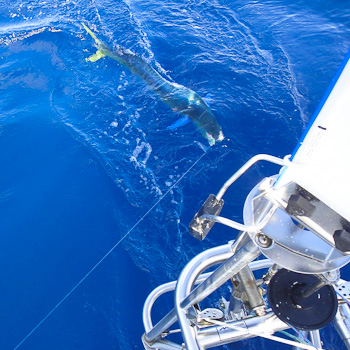 August 8 - Mostly cloudy with winds 12-20 knots. Slowed the boat down to arrive at dawn tomorrow. Put engine into gear hoping the screech had vanished. It hadn't. Jim remembered a solution from a noise back in Spain. He crawled into the engine room and pulled back the metal brush that rubs the prop shaft to keep it grounded, avoiding electrolysis. Voila, silence! Made 134 miles on Day 7.
August 9 - After a calm and peaceful night we were slowly approaching the reef and entrance to Noumea at dawn. I was on watch enjoying the last hours of our passage and listening to my iTouch with one earplug. Through my other ear I heard water pumping out of the bilge. It didn't stop. OMG we're filling up with water! I woke Jim and went back on watch while he pulled up floor boards. Yep, water in the bilge. Fortunately it was fresh. A hose to the hot water heater had sprung a leak and nearly all the water in our tank had flowed from the cockpit locker, where it is installed, into the bilge. A good reminder of why we carry bottled water on passages. We made 106 miles on Day 8.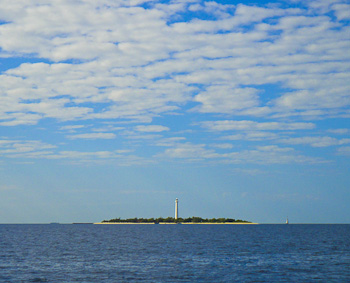 Once we were inside the reef, it took a couple of hours to reach Port Moselle. By 12:48 pm we were tied up on the Visitor's Dock. We had traveled 1264 miles in 8 days.
After a few days of tackling repairs and cleaning up Tenaya we will sail down to Ile des Pins to relax in a nice anchorage and enjoy snorkeling in warm water.
Go to August 2011 Part Two - New Caledonia