May 28, 2011
A quick haul-out to clean Tenaya's bottom and give her a fresh coat of anti-fouling paint was all that was keeping us from sailing out of Gulf Harbour immediately upon our return from California.
Once she was back in the water we would leave for a three day trip up to Opua to pick up new, longer, larger diameter chain and then check out of New Zealand to be on our way back to Niue or Tonga. That was the plan.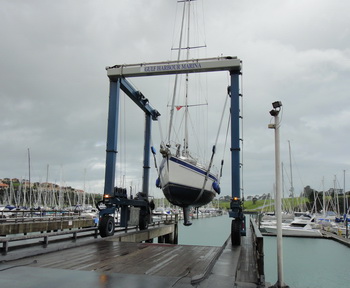 The yard called the morning after we returned with news that they could haul Tenaya that afternoon instead of the following morning. Great! We cleared off the deck and readied her to move, something she hadn't done since January.
In no time her hull was sprayed off and the grass, barnacles and other sea creatures in residence were gone. Soon the bottom was painted with Micron 66 and Desmond had her sides shiny and clean, no easy feat with the melted fender marks from the swirling, rapidly rising and falling waters that occurred during the tsunami.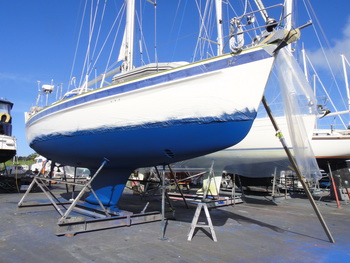 As usual when she is out of the water, Jim and I inspected everything below the waterline. We replaced the anodes and checked all the through-hull fittings. Jim gave the rudder a jiggle and it wiggled. That's not supposed to happen! So instead of greasing it he called Brin Wilson, the local boat builders to have a look.
John and Nick didn't like the feel of it either and suggested opening it up to have a look. They thought it needed a plastic sleeve over the rudder shaft to snug up the fit.
John scraped the fiberglass off the skeg to reveal the brass boot which connects it to the rudder shaft. He sent both sides of the boot off to a precision machinist for the gap to be slightly enlarged so a plastic sleeve could be mounted on the rudder shaft to create a snug fit.
That took several days. When John tried to install the boot over the shim it would not close completely. Back to the shop everything went. Eventually John got it on, snug as a bug in a rug. He seems to be a perfectionist and are very happy for that.
More time was spent waiting for Mother Nature to co-operate and refrain from raining so John could glass over the repair, let it set, and paint it.
Finally, after two weeks on the hard, we were ready to go back in the water.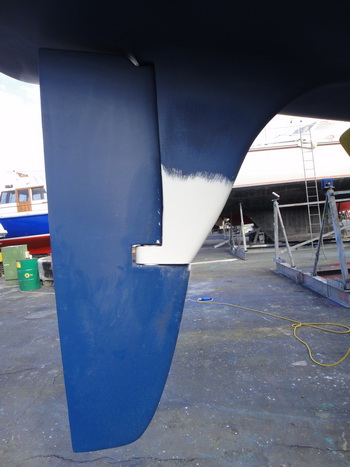 During the time Tenaya was on the hard we checked off nearly everything on our "to-do" lists including having Calibre Sails in Whangarei make a trysail and Jim sewing up a bag to cover our hanked on storm jib. Okay King Neptune and the nasty weather gods, we're ready for you now!
Thanks to Gram on Visions of Johanna who lent us some tools. Imagining what he and his family are going through dealing with their beautiful boat after an engine room fire makes us feel pretty lame complaining about our delays.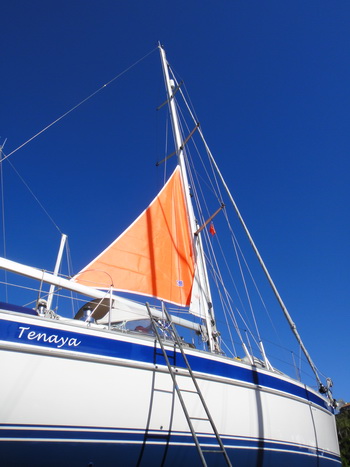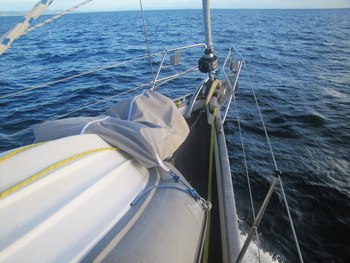 Normally when Tenaya is on the hard we stay on her but since we still have Gerty we stayed in her instead.
A sailboat just does not feel right when it is on land and we can't use the head or the fridge as they both require salt water. The steep ladder of welded rebar wasn't too fun to climb in the wind and rain either.
Gerty, on the other hand, had a comfy bed, a fridge, a sink, a stove and plenty of food. Best of all, she could be parked close to the facilities!
On rainy days we dined inside but on nice evenings we took our dinner out to the bench behind her at the marina. It was kind of fun, like an extension of our tour around the South Island. Some people looked at us with pity or suspicion but we were quite happy living like hobos in our little van.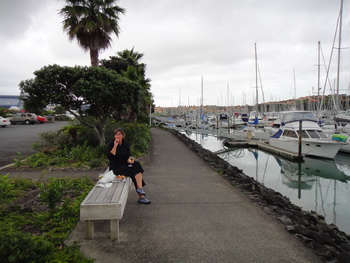 After not sailing for four months we thought it prudent to do a few day sails and anchor a couple of times to clear the cobwebs and make sure everything worked. That turned out to be a good call!
As we left the marina the wind was blowing 15 kts on the beam. Anticipating a fun sail, Jim pushed the button to roll out the main. Nothing. Well, not nothing. There was a short hum from the motor of the in-mast furler when directed to pull out but there was no movement. He tried again and again. The sail didn't budge.
When he went to the mast to have a look I took over the helm and we tried to coax the sail out. It wouldn't go anywhere. So we motored 3 hours and 20 miles to Mansion Bay on the pretty island of Kawau to anchor for the night.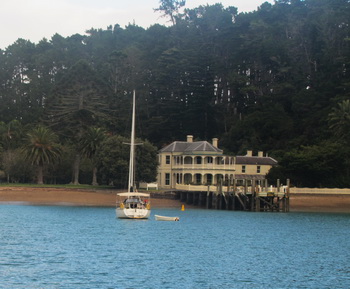 We tried to get it to work again with no luck so Jim pulled off the binnacle to check the wiring of the switch. No wires were attached to the Out button. He must have knocked them off while wiring in the new engine room fire extinguisher.
Yippee, that should solve it! Nope. The motor just made noise when both the In and Out buttons were pushed now. Still no movement of the sail.
We awoke the following morning to calm seas and little wind which was fine as we were destined to motor the next two days to reach Opua in the Bay of Islands.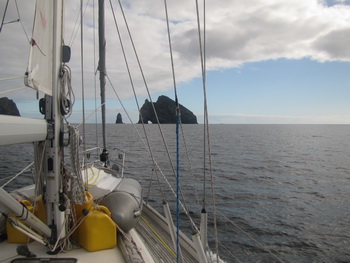 We rounded Cape Brett with Hole in the Rock to our starboard side in the early afternoon last Saturday. Under the brilliant blue sky the Bay of Islands was as beautiful as we remembered it.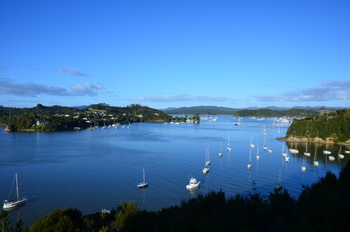 Paul from Northland Spars and Rigging came to have a look at the motor first thing Monday morning. Nothing seemed obvious. After a few more visits and eliminating all the easy possibilities he and his colleagues could think of, they pulled the motor out, carried it back to the shop and took it apart.
Not really designed to come apart, this wasn't a fun task but once they had it dissected they found it was seized. Although it broke loose, the general consensus is to replace the motor rather than try to salvage it.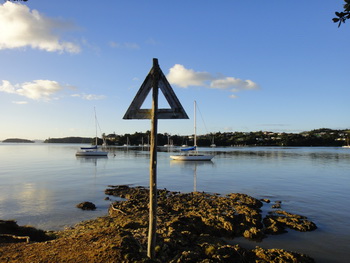 That was a week ago. It took several days to reach Selden, the manufacturer in Sweden. First they needed the serial number of the mast. Then they wanted a picture of the motor. Apparently there are two motors that may work, the original and a newer, cheaper one. They are trying to decide which one will be best. When the decision is made, a new motor will be shipped from Sweden.
Looks like we're not going anywhere for a while! Well, there are worse places to be stuck...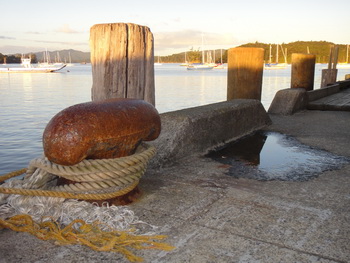 We had ordered 100 meters of 10mm chain and Bob at Cater Marine said we could measure and mark it outside their shop. Very convenient! Jim pulled the chain out of a big drum as I laid it in five 20 meter sections. It only reached 4 1/2 sections. The chain was 10 meters short.
So back in the drum it went and we began pulling the same size chain out of another drum. That chain only stretched to 70 meters. So back in the drum it went. After a good upper body workout we returned to the boat empty-handed.
Apologetically, Bob said they would have another shipment sent at once. It arrived the next morning and we measured out and marked 100 meters.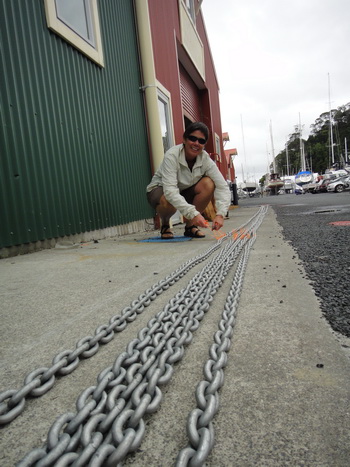 Now that our only remaining project has been completed and the motor is a "work in progress" we have time on our hands.
After a couple of days of torrential downpours we emerged from our GRP cocoon yesterday craving exercise. Let's go for a hike!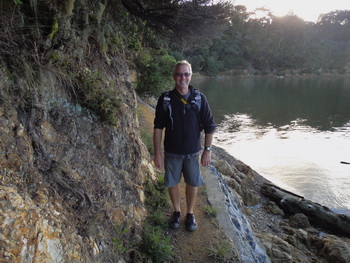 There is a pretty and well-maintained track from Opua to Paihia, the closest town. It is about 6 km in length following the winding coastline. It felt good to move our bodies continuously for a while.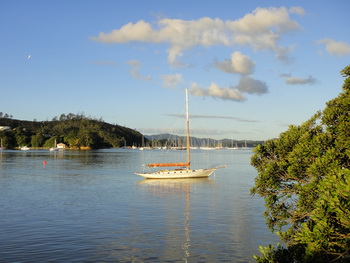 After a quick and delicious sandwich and latte from Get Fudged in Paihia we hurried back to cross the first section of the trail before the tide rose too much. Although we wore shorts and our new Merrell barefoot runners we were happy not scrambling over the rocks in the chilly water.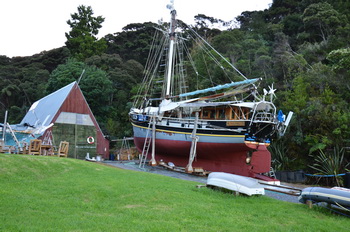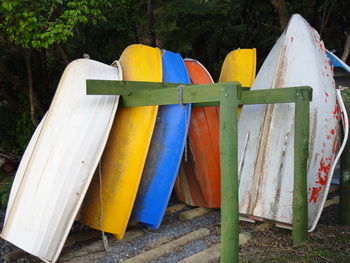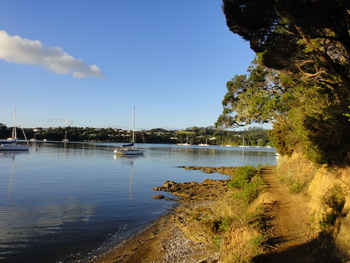 So here we are. In a marina again. Fortunately the kind folks in the office gave us my favorite berth. It is at the end of the quay so we have a nice view of the anchorage and are not sandwiched between boats.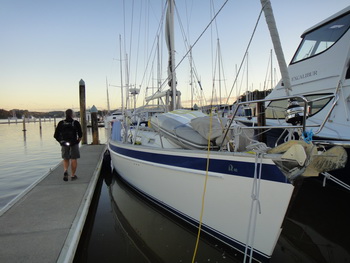 When we are ready to depart New Zealand we'll post it on Sailblogs and Facebook. Who knows, our destination may have changed by then!
Go to June 2011 - Killing time in New Zealand