April 30, 2011
A vast selection of movies made the 13 hour non-stop flight from Auckland to San Francisco quite bearable. Jim managed to watch four and didn't sleep a wink during the entire red-eye flight.
Sunshine greeted us as our BART car trundled out of the airport. A clear blue sky shone over the calm bay in what promised to be a lovely day. In a little over an hour we were settling into our room at Scott and Amy's home in Pinole. How inviting our own bed looked!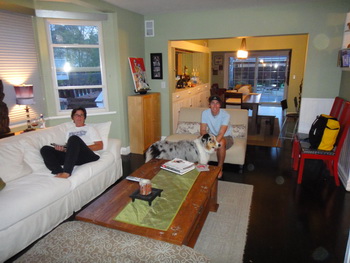 A week passed quickly visiting with Scott, Amy and furry friend, Shasta. Eyes were checked and new glasses ordered while loads of essential stuff from Costco, West Marine and REI piled up in the garage to be taken back to Tenaya.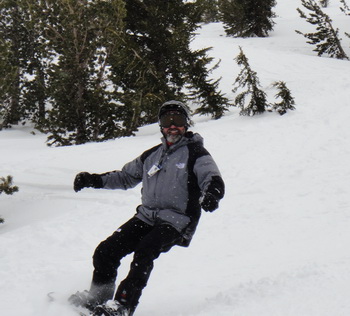 Mammoth has received copious amounts of snow this year, over 600 inches, and we were eager to get up there. No longer season pass holders, we finagled ways to get cheaper lift tickets by test-driving a Ford and accepting friends' "buddy" passes. Thanks guys!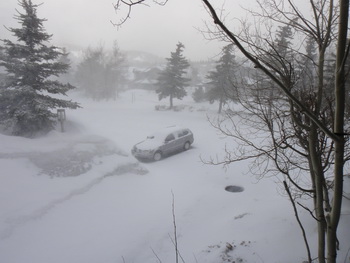 The wind was howling and snow was spitting sideways when we awoke the first morning but we had free tickets for that day so we loaded the car and drove up to Main Lodge.
Maybe because it was Jim's birthday or maybe he was just a nice guy, but the kid at the ticket counter asked if we really wanted to go out. No, not really, but we'd have some fun regardless. He asked if we'd rather go out the next day which was forecast to be nicer. Of course! So we went back to Amy's parents spacious condo and worked on our taxes.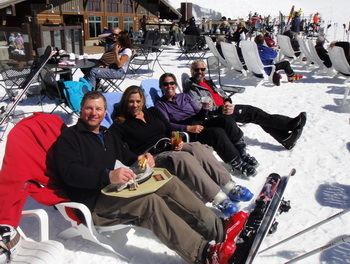 The next day was still snowy but not windy. After that were beautiful bluebird days with cold, winter snow before it warmed and corned up nicely. Each day we met up with friends and had a blast. Nights were spent dining with friends.
My brother, Dwight, drove up so we got to ski and go to dinner with him too which was really nice.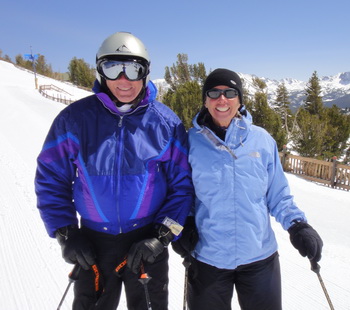 While in Mammoth Jim finally shaved and sprung for a haircut, but no new clothes, as can be seen in these photos as we enjoyed some much-missed Mexican meals and margaritas.
As the crow flies Yosemite Valley is only about 30 miles from Mammoth but Hwy. 120 is closed through Tuolumne during the winter so it takes about 8 hours to drive around via Reno and Stockton. Honestly, even in our poor condition, we could have skied there faster!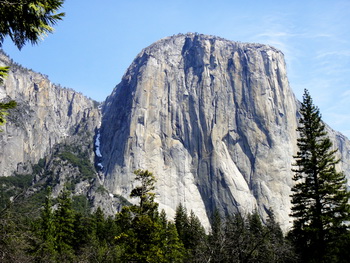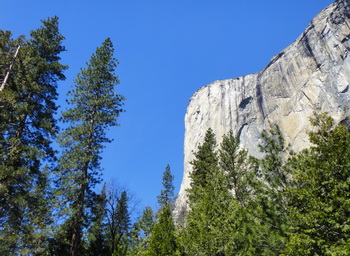 We met Greg, Allison and Claire, Jim's brother, sister-in-law and niece in Yosemite on our way back to the Bay. Amy drove Shasta up to join us for a day in the Valley. The rest of us stayed the night in tents at Curry Village after a delicious meal at the impressive Ahwahnee Hotel.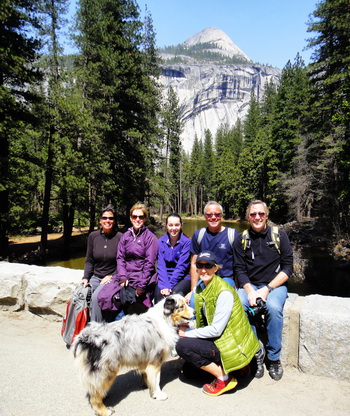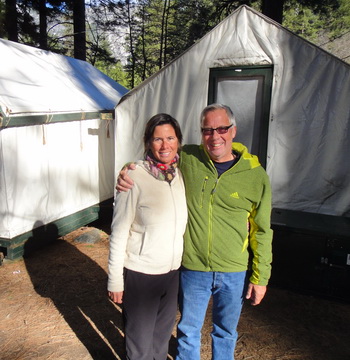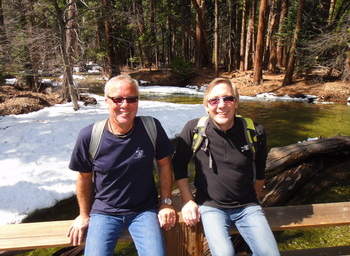 All the snow in the Sierra is making Yosemite's waterfalls spectacular this year!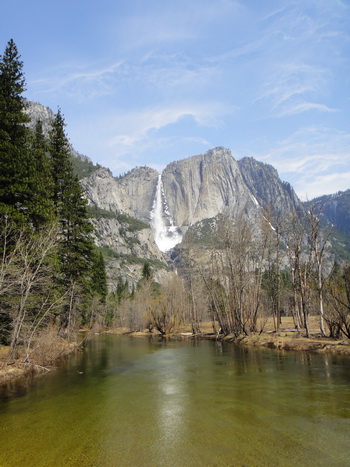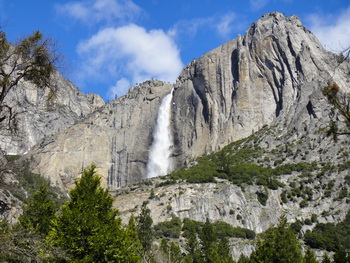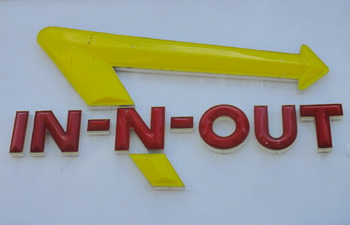 Once a year we treat ourselves to fast-food we can't get anywhere else in the world. How many times did we stop at In-N-Out or Rubio's while we were in California? We've lost count.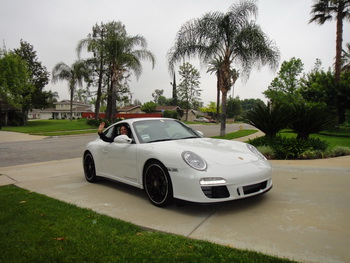 During our month stay we drove from the Bay to Mammoth and Yosemite and back, and then to Redlands, San Diego and Borrego Springs and back. Lots of miles to be sure!
We would have much rather driven those miles in Dwight's newest Porsche, a clean GTS, than our roomy but pokey VW Passat wagon. We stopped for the night at his home where he treated us to hair-raising spins around his neighborhood before we enjoyed a yummy dinner together nearby.
In Mammoth we'd seen people skiing with tiny video cameras mounted on their helmets and Dwight had the same camera mounted in his GTS. As we watched footage of him driving the track we wondered if it would work on Tenaya. We all agreed it should so I bought it off him. Now maybe we will get some good weather footage.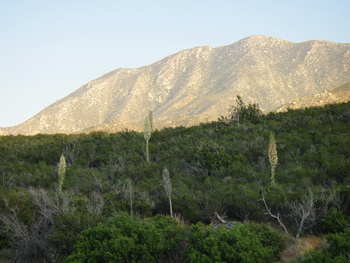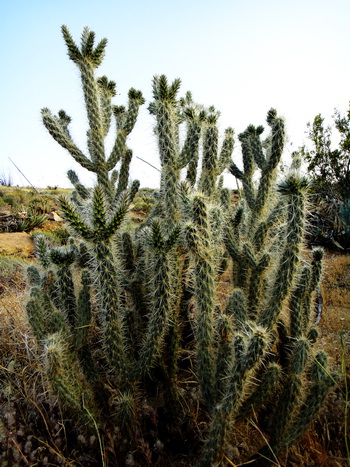 Jim's kids' mom, Sandy, recently bought a house in Borrego Springs in the Anza Borrego desert of southern California. Basically in good shape, it needed paint and had unsightly carpet, which she intensely disliked and promptly ripped out. Happy with painting the plywood floor for the time being, we all convinced her to lay tile at once. Jim and I volunteered to help and enlisted Scott and Amy too.
Well, Amy is pregnant (yes, happened just after finishing an Ironman) and I threw my back out the second morning which left my painting project partially completed, but Jim and Scott did an excellent job helping Sandy lay the backboard and then the tile so that it was ready to grout.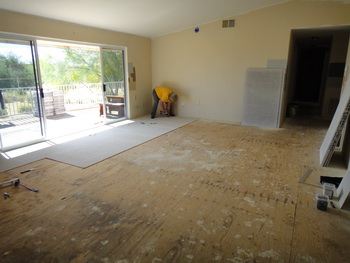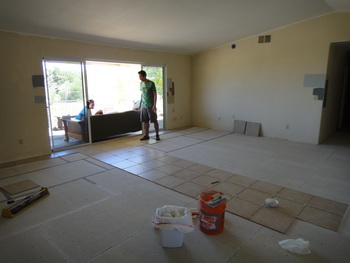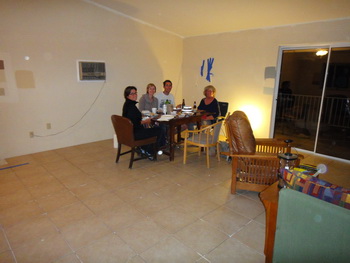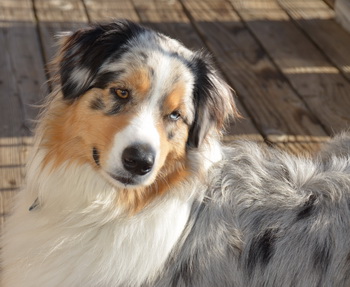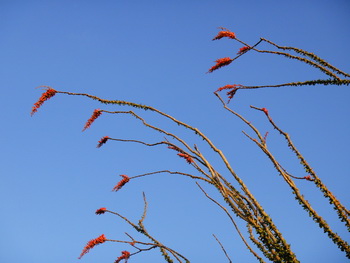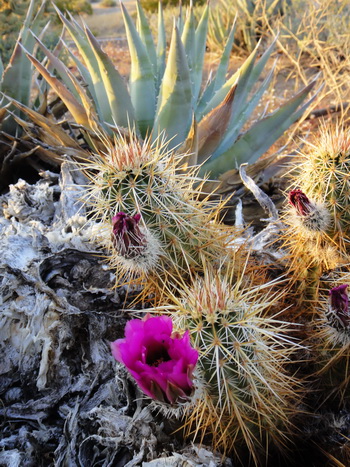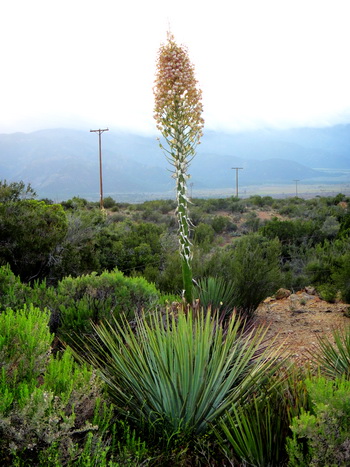 Our friends, John and Amanda Swan Neal from Mahina Expeditions, run seminars preparing folks for offshore sailing. We took the seminar in Seattle in 2006 before signing up for a training expedition aboard Mahina in Norway. We found both extremely helpful before we began our sailing adventure.
They had a seminar scheduled at the Strictly Sail boat show in Oakland so we contacted them to see if we could get together. John asked if we would mind speaking a little as people could relate to us, having been in their seats not too long ago.
It was fun and we're glad we did it, not only to see Amanda and John again and meet some nice people, but to get some more useful hints that hadn't sunk in before.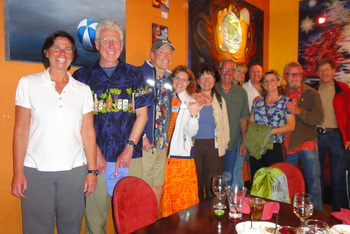 We are getting quite used to travelling with our recycled hard luggage and the looks we receive at the airport dragging the ancient, unstylish and usually dilapidated bags.
We buy suitcases at thrift shops and then give them away upon arrival. Our fragile items always arrive unscathed. Who would guess there are thousands of dollars worth of boat goodies in these things?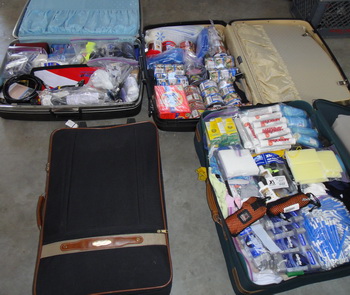 All my bags are packed, I'm ready to go...
I'm leaving on a jet plane, I don't know when I'll be back again...
Go to May 28, 2011 Preparing to leave New Zealand