December 31, 2011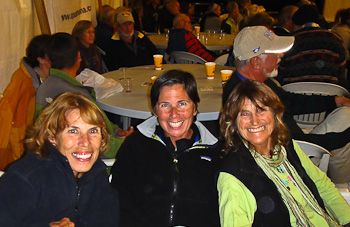 November flew by with yachts arriving from Tonga, Fiji and New Caledonia daily. It was fun to catch up with people we hadn't seen for some time.
Our friends, Larry and Kim on Magenta, were in Tonga when we decided to buy dozens of t-shirts for Christmas presents from Tonga Tease in Vava'u. Cindy and her terrific crew printed them up quickly and shipped them off on Magenta.
The weather was cool but dry so several times a week we walked up the pretty trail to Paihia for some fresh air and a little exercise. Because we usually had lunch, an ice cream and a latte, I don't think any weight was lost but it was a nice way to spend the days.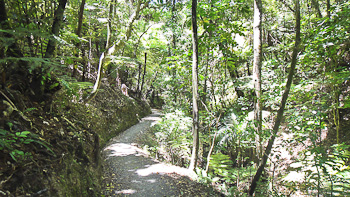 December 8th was a really, really long day. Up early to prepare Tenaya for three weeks alone in the Opua Marina, we were dropped off at noon in front of the bus station in Paihia for the 4.5 hour ride to Auckland. Next we took a sixty minute shuttle ride to the airport, arriving in plenty of time for our 10:45 pm flight to San Francisco.
The days of our having access to the comfortable lounges and nice clubs in airports are over so we camped out at the gate, glued to our kindles for hours, until our section was finally called to board. Shuffling to the back of the 777, we plopped down amongst the hoards of holiday travelers and settled in for the 12 hour flight.
A considerate man in the center bulkhead seats traveling with his wife and two babies apologized in advance for any annoying noises his kids might make during the flight. He produced a large bag of earplugs and received a round of applause.
Jim was in heaven with the individual touch screen monitors. He watched four movies and a few TV episodes. I watched a couple of movies but spent most of the flight in a quiet, sleep eluded state.
After changing planes in LA we eventually arrived in San Francisco at 5:30 pm on December 8th. Gotta love that dateline thing. Scott and Amy met us at the curb with their precious cargo - Drake. Drake is the main reason we've made this trip. Our first grandbaby is four months old and it was high time we met him!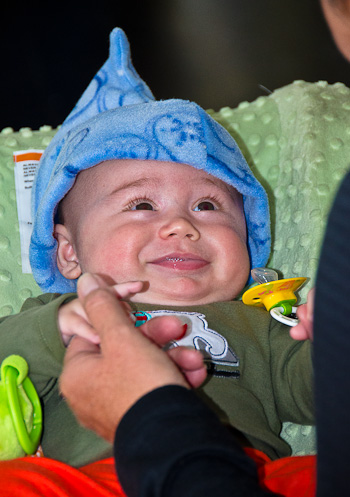 What a little bundle of joy!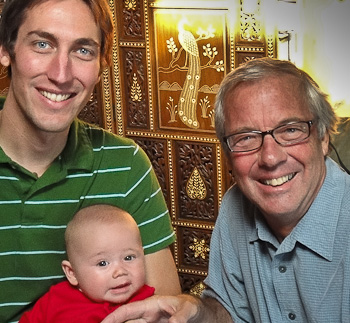 Three generations of Thomsens.
Shopping for a Christmas tree.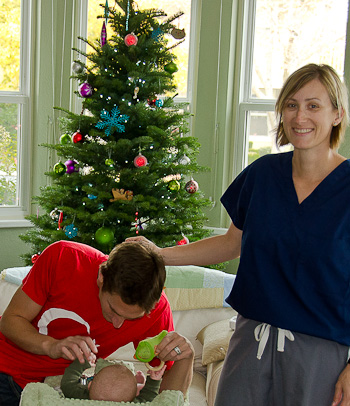 Amy's off to work in the ER so Scott's on baby duty.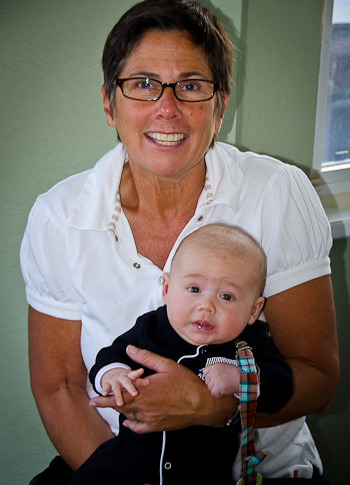 I've never been around babies much or shown an overwhelming fondness for kids, so it came as a complete surprise to all of us that I fell hopelessly head-over-heels for this little guy.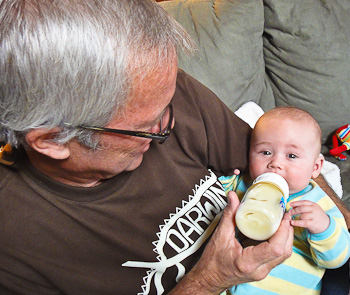 Jim fell right back into "baby" mode, remembering times with Scott and Corinne.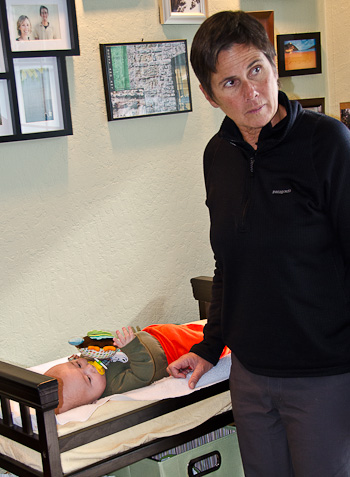 I, on the other hand, had no clue what to do.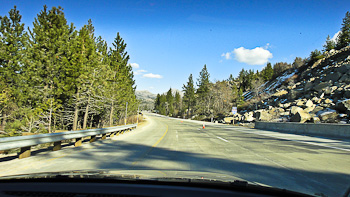 After a few days in the Bay Area we drove over to Mammoth to meet up with my brother and a few other friends. We enjoyed a delicious dinner at Marianne's and wonderful hospitality and meals at the Sage's. And I took a bath! For women living on sailboats, soaking in a bathtub is the most decadent thing there is!
Although Mother Nature dumped a bit of snow early in the season, she's come to a complete halt. We had clear, crisp days and cold nights which are perfect for snowmaking. I skied three days with my brother and friends on nice corduroy while Jim hiked around various lakes and took pictures.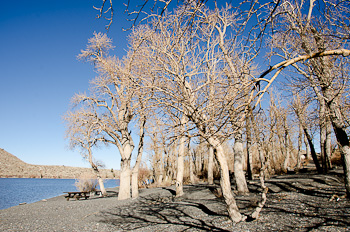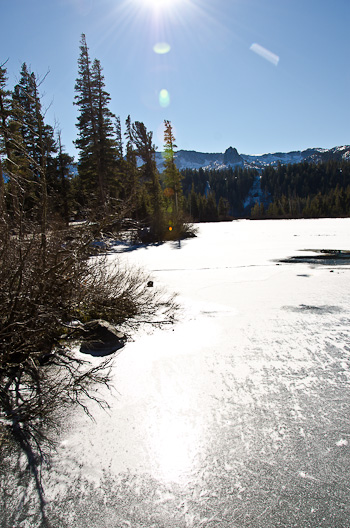 It is always hard to leave Mammoth. I still think of it as home even though we left the US almost 12 years ago.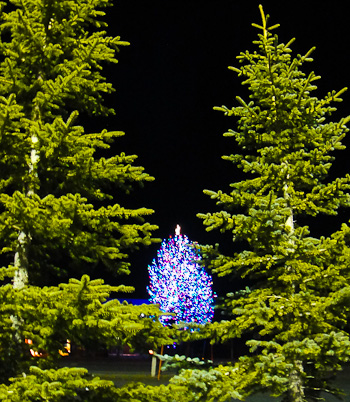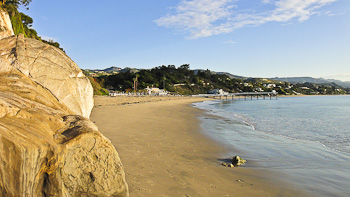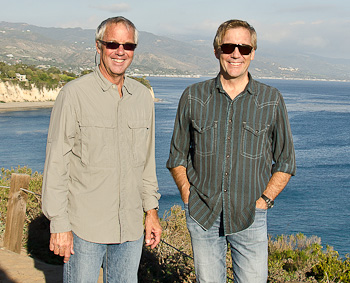 Our next stop was Malibu to visit Jim's brother and his family. Their amazing home is in the hills above Paradise Cove and it was nice to walk down there and get an ocean fix.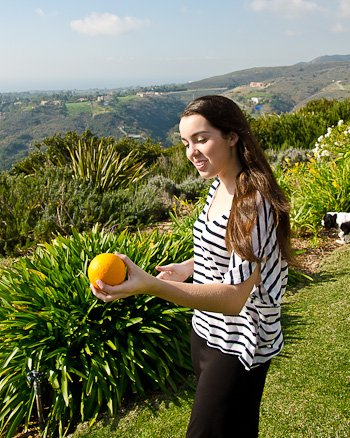 After living on a small sailboat we were overwhelmed by all the space in their Mediterranean style house. I'm pretty sure we could stand Tenaya up on her stern, prop her up in the corner of the entryway, and she would not crowd the area!
Their backyard is a peaceful oasis with a pool, gas fire pit, fruit trees and an incredible view of the sea with wonderful seating areas to take it all in. Okay, maybe I could give up Mammoth to live here. Jim would just have to add "bank robber" to his list of acquired skills.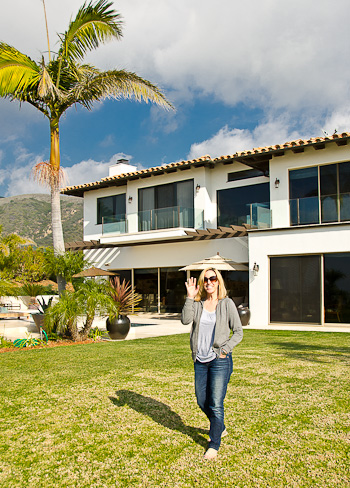 Because we had such a short time in Southern California, Greg and Allison offered to have a party so we could see many friends at once. It was a blast! The early group took a walk around Point Dume in the nice weather and later everyone gathered in the backyard to watch the sunset before a yummy dinner.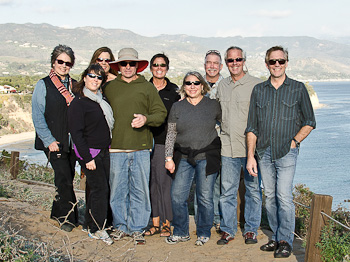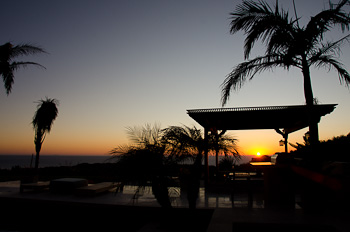 As we settled into daily life with them it was soon apparent that we had no idea of popular culture or what was going on in the US and LA in particular. Lauren, home for the holidays from university in Oregon, and Claire who attends Malibu High School, were aghast at our ignorance.
It became their mission to educate us. Allison handed over a Time year-in-review and bought us the December People magazine (delivered with a chuckle) to help educate us. They scrolled through stored TV shows and movies to play favorite episodes for us on their giant screen. Beverly Hills Housewives was a real eye-opener. Wow, the things we miss in our nomadic life! Still, regardless of their insistence that we had to have one, we left LA without a talking iPhone.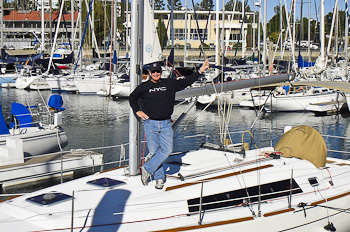 Greg's good friend, Chris, is in the process of buying a sailboat. We met him in Marina del Rey to have a look at his lovely new girl. How nice it was to be surrounded by boats again! He treated us to lunch at his yacht club. The extensive and varied menu and luxurious but understated decor is in stark contrast to the simple clubs catering to thrifty cruisers in other parts of the world. I must say we felt very special and a bit out of our element.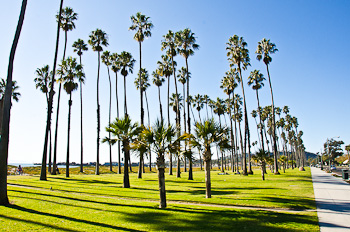 A couple of days before Christmas we drove north to Amy's parents' home in Santa Barbara. That night we ate at an authentic seafood restaurant on the dock overlooking the small marina and packed fishing harbor. No room for visiting boats here!
Their charming home is only two blocks from the beach so each day we walked over to enjoy the glorious weather. On Christmas Eve Scott, Amy, Drake and Shasta arrived. Cindy prepared a fabulous traditional dinner of turkey and so many courses we lost count, and her friend, Debbie, brought two delicious homemade desserts. That night we crawled into our comfortable bed completely stuffed.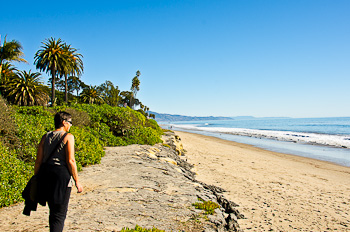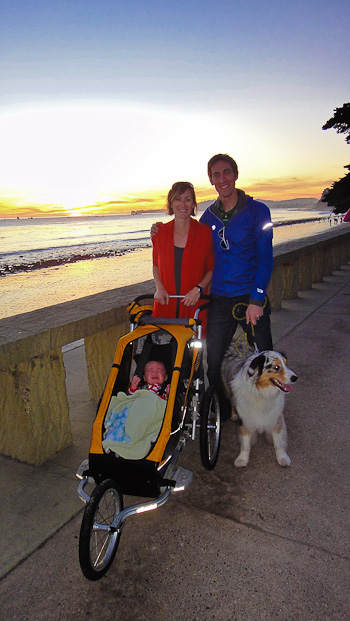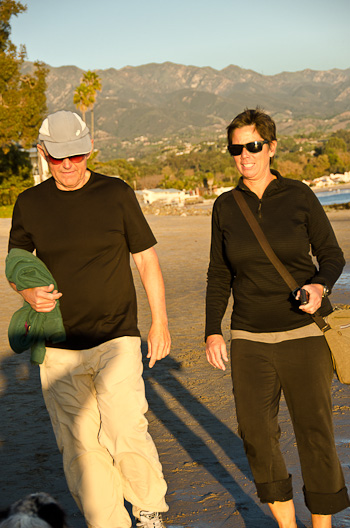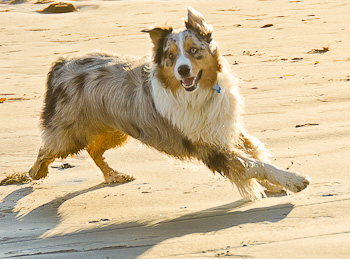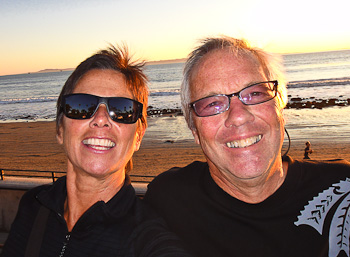 On Christmas morning Scott's mom and grandma arrived to celebrate Drake's first Christmas. Once all the presents were opened, which took hours, we walked down to the wall by the Biltmore and watched the sunset. It seems this is a tradition for the Montecito locals.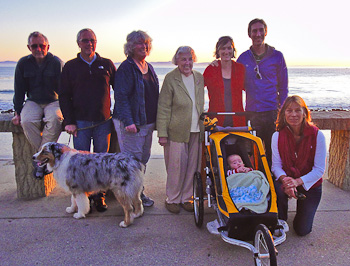 We arrived back in New Zealand on December 31st. The generator is fixed and we are waiting for one last project to be completed. Once the bracket that connects the forestay to the mast has been replaced under warranty, we will be ready to leave on our circumnavigation of New Zealand.
We will not have wifi during our trip so will update our progress on our Facebook page.
HAPPY NEW YEAR!
Go to 2012: Sailing to Fiordland