October 31, 2011
Why, of all times, was Jim not here? I had just lit the boat on fire and he was not here to help. Instead of remaining calm, cool and collected and grabbing the fire extinguisher, I panicked.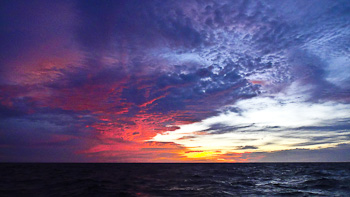 The weather forecast was favorable to sail from New Caledonia to New Zealand and we planned to leave the marina in Noumea the following morning, October 20. I was preparing meals and organizing Tenaya for the passage while Jim walked to the supermarket to buy a few things.
The cooling racks for baking were in their normal position against the wooden frame of the deep storage space below my side of the bed in the aft cabin. I wedged extra tupperware containers and some backstock t-shirts down low so I could have the bags of gloves, hats and warm things handy. As I juggled everything around to make it all fit snugly I shifted the cooling racks.
Sniff, sniff, what's that smell? The guy on the boat next to us must be working on something, I thought. I popped my head out of the companionway. Sniff, sniff. Nothing. Back down to the aft cabin. Oh my God! An intense burning smell accompanied the smoke wafting up from the storage space. I am not proud of what happens next. I ran up to the cockpit and, seeing Gary from Champagne on the quay, hollered "Can you help me? Please come, please. Quickly!" Hearing this, the guy next door appeared. I beckoned him to come as well.
While they were in the back I got the fire extinguisher from the saloon, switched the main shut-off for the house batteries, turned off shore power and unplugged the cord for good measure. When Gary saw flames he grabbed another fire extinguisher, which was right there, and put it out.
Turns out there is an exposed bolt at the bottom of the locker that connects the starter battery to a switch. When the cooling racks were sitting on the bolt and I angled them to stuff something in, I leaned them against the grounded air conditioner housing. After 5.5 years you would think I would know that bolt was there!
I was still shaken when Jim returned. He was calm and if he was upset that the boat, which was ready to sail before he left now had a portion blanketed under a layer of corrosive powder, he did not show it. He was only baffled as to why I did not act rationally. That makes two of us. Because my finger was still sore and a bandage protected the antibiotic ointment, he cleaned up the mess. He is the ideal partner in so many ways!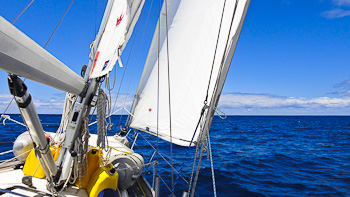 Day 1: 22 16'.61S 166 26'.41E
We left the fuel dock at 1030 and motored into the wind until clear of the pass at 1500. Up went the sails with reefs in both. SE winds 18-24 knots. Course required: 140 / Course steered: 175-190. Speed over Ground (SOG): 4-5.5 knots. 4 meter seas. Mostly cloudy. Our bodies were not happy with all the motion and I got sea sick for the first time in more than 5 years. Miles sailed Day 1: 141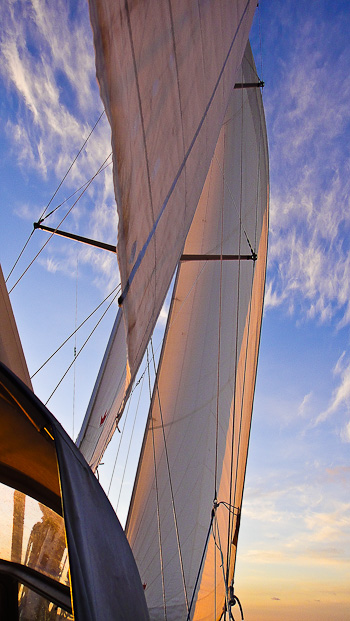 Day 2: 24 07'.03S 165 46'.62E
ESE winds 18-20 knots. Course required: 136 / Course steered: 170-185. SOG: 6.0-6.5 knots until another reef slowed us to 4.5-5.5. 3-4 meter seas. Mostly sunny. Still looking for our sea legs. Happy for pre-made meals and crackers. Miles sailed Day 2: 151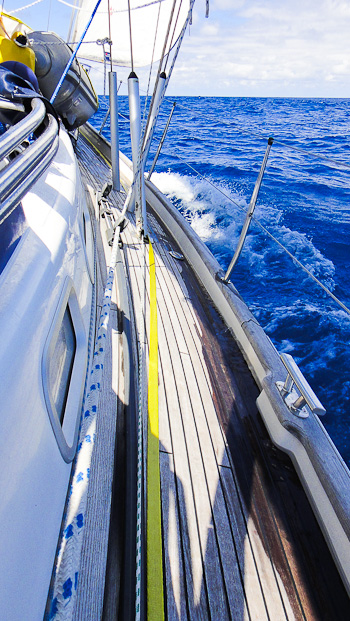 Day 3: 26 08'.61S 165 08'.03E
ESE winds 16-22 knots. Course required: 128-112 / Course steered: 160-180. SOG: 5.5-6.5 knots, faster than the boat speed. Nice to have the current with us! 2.5-3.5 meter seas. Mostly cloudy. Miles sailed Day 3: 144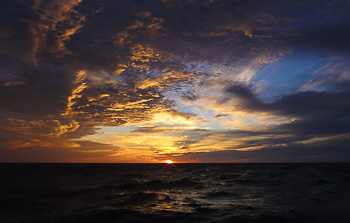 Day 4: 28 20'.88S 164 56'.78E
ESE winds 9-14 knots. Course required: 118-107 / Course steered: 185-135. SOG: 5.3-5.8 knots. 1.5-2.5 meter seas. Mostly cloudy. Easy, comfortable sailing. At 1900 several dolphins rode the bow wake for a few minutes before continuing on their way. Miles sailed Day 4: 160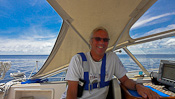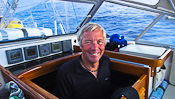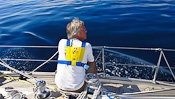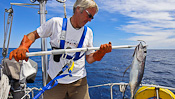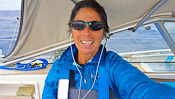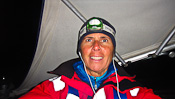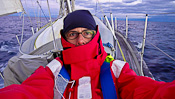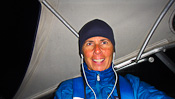 Day 5: 30 24'.95S 165 17'.77E
NE winds 6-12 knots. Course required: 106 / Course steered: 105-095. Half to 1.25 meter seas. Sunny, warm and clear. It's much easier to stay on course when motoring! Very comfortable conditions. Warm showers for both of us. Green flash at sunset. Miles sailed Day 5: 135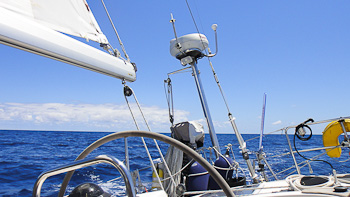 Day 6: 31 15'.74S 167 19'.60E
NE winds 1-8 knots. Course required: 106 / Course steered: 094-104. SOG: 5.8-7.7. Half to 1.25 meter seas. Sunny and warm. Turned off engine at 1758 and sailed nicely under full sail all through the night. Beautiful! Miles sailed Day 6: 128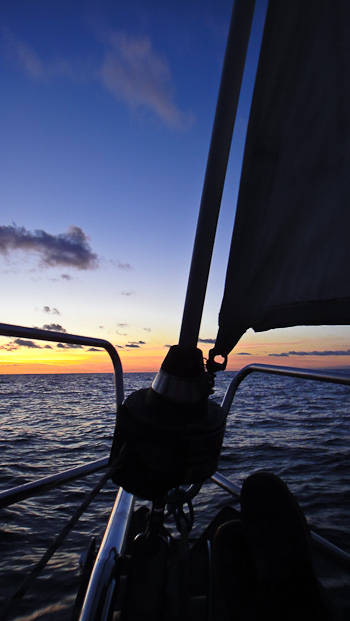 Day 7: 32 17'.15S 169 32'.73E
N to Variable winds 1-6 knots. Course required: 106 / Course steered: 106. SOG 4.5-5.5 at 1500 rpms which keeps our fuel usage under 2 liters per hour. Smooth sea. Sunny and warm. Miles sailed Day 7: 134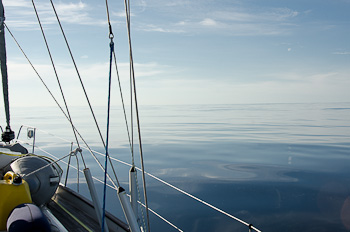 As Jim came up on watch in the early afternoon I said that I would like fish for dinner. "Okay," he replied. He got out the box, tied on a lure and tossed the hand line off the back. I laid down for a nap. A short while later he hollered "We've got a fish." Out of the bunk I rolled and grabbed my gloves and the spike. There was a nice little tuna. Because he didn't feel like rolling up the line he threw it back over the side. While he was cleaning the fish he caught another one.
We don't know much about fishing and were happy to catch anything. These tuna were only about 60 cm long. Looking back, we should have let them go, especially if they are Big Eye. We will learn more before we throw a line over again so we will fish responsibly.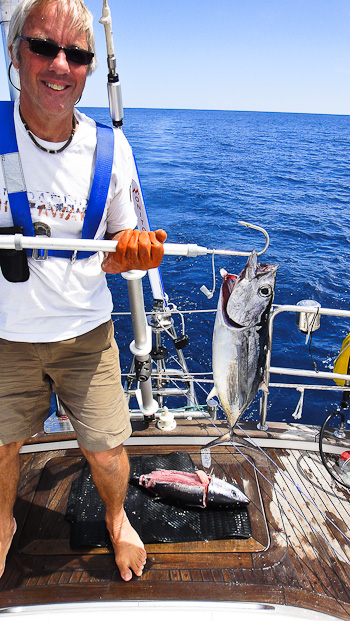 Day 8: 33 12'.90S 171 29'.18E
Variable to NE winds 3-9 knots. Course required: 107 / Course steered: 107. SOG: 4.2-5.2 knots. Slight seas of half to 1.25 meters. Sunny and warm with a cool breeze. Can see New Zealand! An albatross flew by. Miles sailed Day 8: 139
Day 9: 34 18'.12S 173 15'.61E
ENE winds 12-16 knots. Course required: 105-074 / Course steered: 119-131, 052-033. SOG: 3.6-5.6. Moderate seas of 1.25-2.5 meters. Mostly sunny. Motorsailing into the wind and waves. 0700 - inside the Bay of Islands. 0950 tied up on the Quarantine Dock. Miles sailed Day 9: 111
Total sailing miles Noumea, New Caledonia to Opua, New Zealand: 1243
Direct, as the crow flies: 899 miles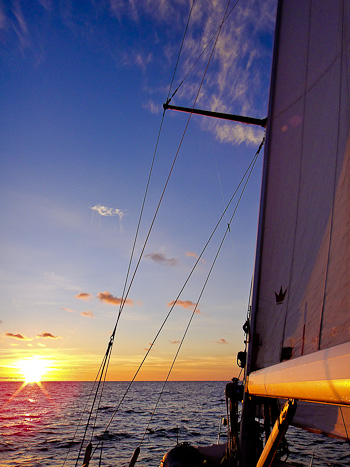 Each morning was magical as the darkness and stars faded away to reveal the sun slowly emerging beneath an orange glow. As we ghosted along one morning I shuffled up to the bow and planted myself there for an unobstructed view. There I sat in utter contentment until the need for sunglasses drove me back to the cockpit.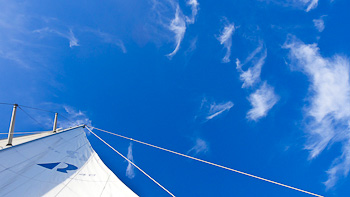 I was fortunate as I had the 1800-2100 watch and the 0200-0700 watch. The sun set during the first and rose during the second. Jim is happy to sleep any time, any hour of the day, so I got my choice of times.
Music, podcasts and my camera keep me company on watch. Except for brief breaks to use the head or grab something from the galley, we always spend our entire watch in the cockpit regardless of conditions.
Each evening Venus glowed above the setting sun. During the night Jupiter migrated across the sky. With no moon and very little cloud cover, the stars sparkled like billions of brilliant diamonds scattered across the black sky. There was no other place I would rather have been.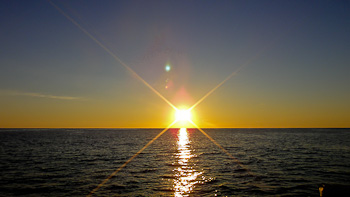 We love being at sea, even when it is not comfortable. It is difficult to describe being in rough seas or scary weather and the feeling one has of all the senses honed and electrified, and wondering if the boat and bodies will survive the ordeal intact. But I believe these tough moments make the beautiful, peaceful, calm moments all the more sweet.
It is liberating to be at one with nature and relying only on ourselves. Many boats do passages in the company of other boats and communicate via radio once or twice a day. We were part of a net once. Never again. It's a brag and bitch session that cuts into someone's sleeping time as the person on watch is up in the cockpit and can't be glued to the SSB for 30 minutes or more. For safety and entertainment we dial up our Winlink account once a day to check the GRIB files, do a position report, and see if we got any messages. We love messages!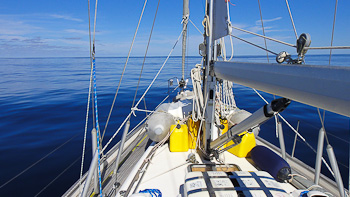 It was hard to believe we were on the dreaded passage to New Zealand. We never had a bit of rain, never had wind over 25 knots, and had flat seas the majority of the time. The only hint to our destination was the drop in temperature each night. We are big believers in professional weather routers who send us out into safe conditions that are as gentle as possible. $60 well spent.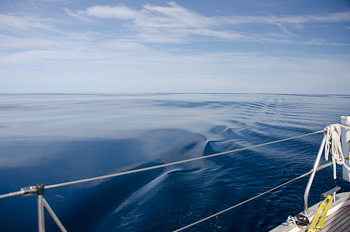 Twice we saw Royal Albatross soaring near the water. With an average wingspan of 3 meters (118 inches) these birds are impressive and can be seen for miles. They fly like no other bird, more like a bomber plane. You can see the joints where the wings fold into three sections when the bird is not flying.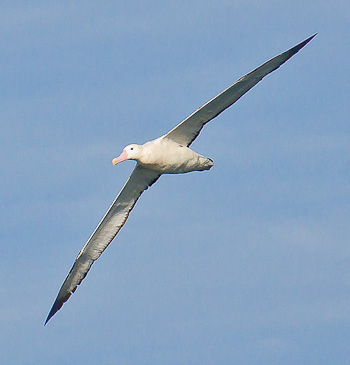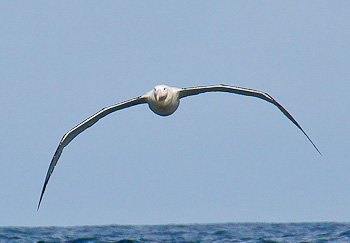 We were also treated to the diving antics of the Australasian Gannet. A large white bird with a yellowish cap and black-tipped wings, it drops straight down from high in the sky to feed. While bobbing on the sea they do not fly away as the boat approaches. All last year we tried to get a picture of one showing its pretty face but they always swam away from the boat in a nonchalant manner, looking back from time to time. On this passage we finally got a picture of one!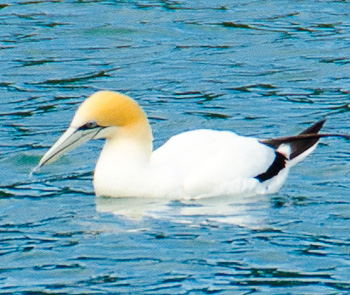 Twice dolphins joined us and rode the bow wake. More than a dozen came the second time and stayed long enough for us to get photos and video. These energetic, fun-loving creatures always make us smile.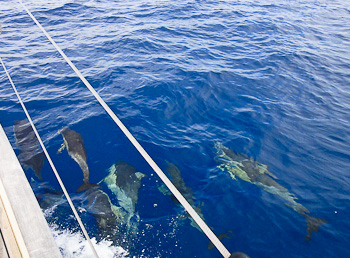 Click to see video of dolphins
Click to see video of Tenaya sailing
We were both very happy to be returning to New Zealand in general and Opua in particular. The country is beautiful in so many ways and the people are quite friendly. Opua is a lovely spot with a nice walking path along the shore to a town two hours away. The marina is pleasant and there are three good chandleries, a little grocery store, a nice cafe, spacious laundry facilities and all sorts of technicians. It will be our base this season.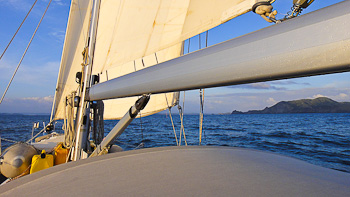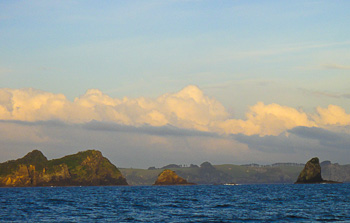 Our intentions were to store Gerty while we were in the islands and use her again this season. At the last moment, as I handed the keys over to Phillip at Cars for Cruisers, he said that he would buy her back for the price we paid less $2000. The exchange rate was in our favor and our plan was to see the county by boat anyway. Why not? So we parted with her.
In October we received an email from a Canadian couple saying they had bought Gerty and Phil had given them our website to check out her travels. They arrived from Tonga the same day we pulled up to the Q Dock. The next day Gerty was parked in the lot again. She was so cute! I was sad she was no longer ours. We won't buy a car this season, though, as it would be a hassle when we visit California in December and April and when we sail to the South Island.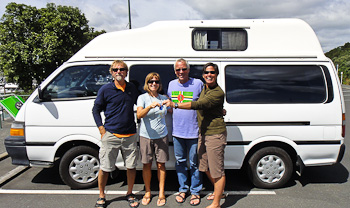 Last year we arrived with a "To Do" list a mile long. This year we only had the broken generator to contend with. Well, that was until I tossed the smoke /carbon monoxide detector back on my sea bunk while making toast one morning to keep it from going off. It is one of those talking models. "Warning, carbon monoxide, warning carbon monoxide ..." it announced over and over. Jim got out of bed only to shut the thing up.
As the morning went on I worried but he did not, saying there was nothing back there to produce carbon monoxide. I repeatedly opened the cabin up to air it out and then closed it up with the alarm inside. Each time it went off. All this time Jim sat at the computer intently reading reviews about inflatable kayaks, his next big purchase. He wasn't remotely interested in the fact that we could die.
Finally, after more pestering than he could take, he went over to Cater Marine to ask what they thought. Bob gave him the number of a plumber who came out immediately. His Carbon Monoxide Single Gas Detector registered 900 ppm. The maximum allowable is 30. Okay, now we had his attention.
It registered highest when waved around the battery box. Mike called Brett, who works on marine electrics and Brett was baffled because lead acid batteries only emit hydrogen, not carbon monoxide. Everyone was perplexed and went away to gather more info. That night we slept in the forward cabin with the hatches open and Mike's detector at our side.
In the morning Jim googled the manufacturer of the single gas detector and found that it indeed measured hydrogen as well. Whew, we were not going to die from the gas but we could easily blow the boat up.
Jim pulled the batteries out and found that the bottom of the box was no longer sealed properly. He sealed the inside and fiberglassed the outside. Now all is good. I'm thinking gel or AGM batteries might be worth investigating when it comes time for replacement.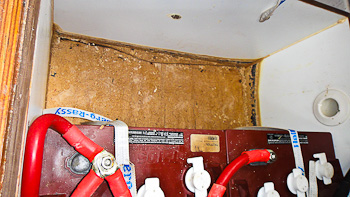 Go to December 2011 - Christmas in California