March 26, 2011
Before heading up the West Coast of New Zealand we drove through adrenaline charged Queenstown and spent a couple of days in Wanaka. This splendid town curls around one edge of expansive Lake Wanaka in the eastern shadow of Mt. Aspiring and the Southern Alps. Fulfilling our scenic and adventurous wish list, we could be very happy living here.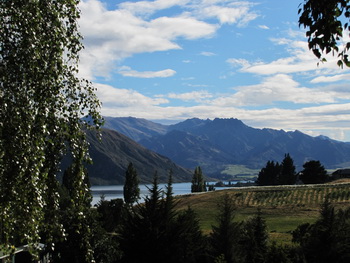 Hiking, canyoneering, rafting, paragliding, hangliding, horse-riding, mountain and road biking, skiing and snowboarding are just some of the activities the local folk do in this part of Otago. For those seeking an adrenaline rush, there is no better place. Bungy-jumping, whitewater rafting, river surfing, skydiving and jetboating are all easily arranged either here or in Queenstown.
Not normally people prone to pursue noisy, high-speed motor sports, we booked a jetboating trip on the Shotover River. It is the original Queenstown jetboat experience. But more than interesting than that, the craft hurls, slips and slides through a spectacularly scenic canyon. Being in that canyon was the prize for us.
Steep golden walls of schist carved and curved by the river open to pebbly beaches in sections and constrict to narrow, twisting corridors in others. Our driver zipped and whipped, spun 360s and brought us ever so close to the sometimes overhanging walls. What fun!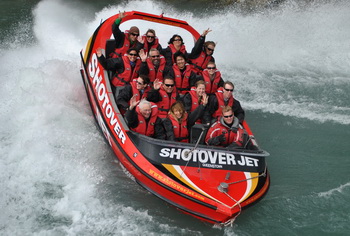 As we drove away from Wanaka toward the Haast Pass en route to the West Coast we were stopped by a sign on a small pick-up that read "Stock on the Road". Around the bend we found out what that meant. Sheep. Lots of them. Flowing down the two-lane highway like a slow, tawny, fuzzy river.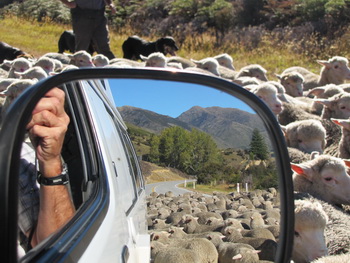 When Captain Cook sailed along New Zealand's West Coast he described it as "an inhospitable shore, unworthy of observation except for its ridge of naked and barren rocks covered with snow. As far as the eye could reach the prospect was wild, craggy and desolate."
Indeed, with the Southern Alps jutting skyward just 30 km. inland, or less, and turbulent rivers rushing down to the Tasman Sea amid pounding surf on driftwood-littered beaches, the West Coast seems anything but cordial.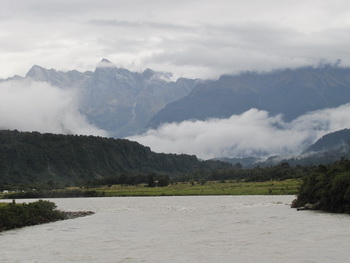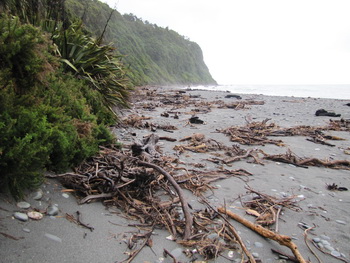 Highway 6 hugs the edge of land during most of its journey along the West Coast offering spectacular views of the rugged coastline.
The West Coast receives massive amounts of rain and we expected to be inundated with water. Not so. The first couple of days the sky was overcast while mist turned to rain a few times, but never torrentially so.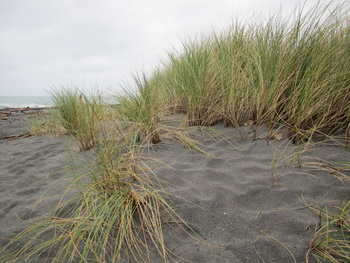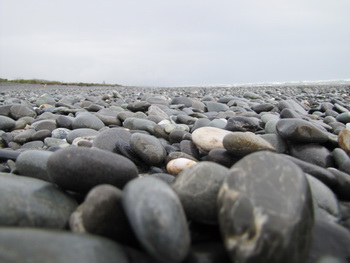 Tourists that we are, we felt compelled to visit the famous Fox and Franz Joseph Glaciers in Te Wahipounamu, the South West New Zealand World Heritage Area.
The glaciers flow down from the highest peaks of the Southern Alps, through the dense rainforest, nearly to sea level. Not many places in the world is this sight so easily observed by the ordinary traveler.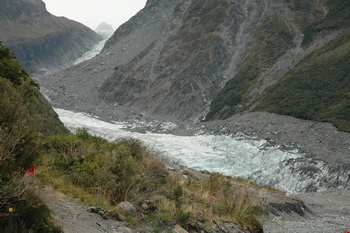 It is possible to join a guided trip to venture out onto the glaciers but that did not interest us. We had no desire to wander over ice with a bunch of people unaccustomed to this environment. Even if a more extensive trip was offered, we certainly did not want to be roped up with them. So we happily looked on from afar.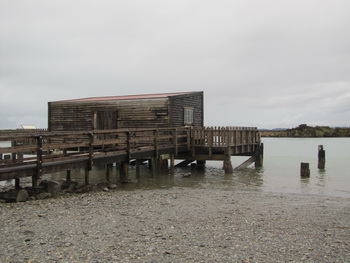 A short distance north of the glaciers is the wide, wonderful and windswept lagoon of Okarito, the only place in the country where the uncommon white heron breeds. It is also home to a sizeable spoonbill population.
Because the lagoon is so extensive, it is best to get onto the water. We drove in search of a kayak company but found none open. In fact, I don't recall seeing any life at all in the quaint town. We left without seeing any of the beguiling birds.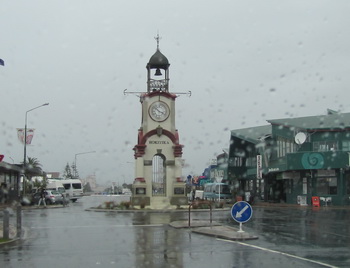 As we drove north to Hokitika rain fell in short spurts. This is a big city for these parts. Streets are comprised of small modern buildings interspersed with renovated old buildings from the town's gold rush heyday of the 1860s.
This is the place to see and learn about pounamu, the hard nephrite jade also known as greenstone. Maori have been gathering it from West Coast shores and shaping it into useful and ornamental pieces for centuries.
Although in the past anyone could gather the semi-precious gem, now-a-days only Maori are allowed. Authentic pieces are labeled "pounamu" or "New Zealand jade". Often jewelry sold in NZ is not actually pounamu but made from jade imported from Canada, the US or China for availability and to keep prices down.
According to Maori legend, greenstone must be given as a gift, not bought for ones self. I was thrilled when Jim presented me a beautiful koru pendant, a spiral shape derived from the unfurling fern frond. It depicts new beginnings, growth and harmony.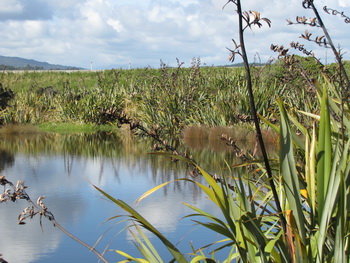 An hour north of Hokitika lies the slightly smaller port town of Greymouth. Entering Greymouth from the sea is not for the faint-hearted even on a calm day. Abandon any thought if you are a sailing yacht! With a minimum of 4.5 meters at the entrance, it flows over a bar which can generate truly vicious waves which would make the water over the bar even more shallow. Apparently the only time a yacht can get in is when refuge is not needed.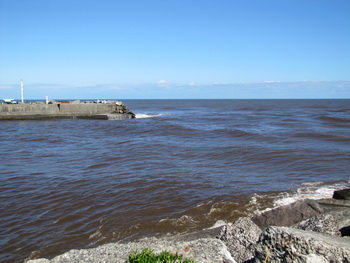 The sea was about as calm as it could get the day we were there and a sizeable but manageable swell still rolled in. With deep admiration for the captains of the fishing boats, we made a mental note to skip this town should we ever sail by on Tenaya.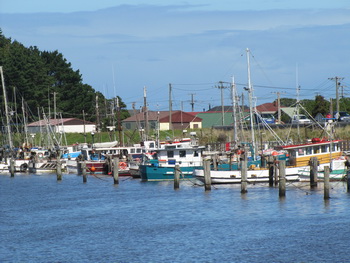 The sea has carved spectacular pinnacles and caves from the Oligocene limestone at Punakaiki. Known as Pancake Rocks, this is yet another scenic oddity and beauty in this remarkable country.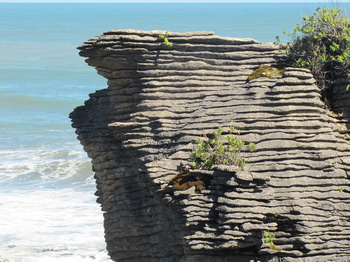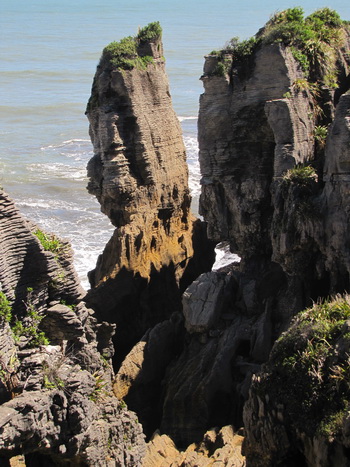 Along with the incredibly beautiful and sometimes odd nature here in New Zealand are some intriguingly odd birds found nowhere else in the world.
Such a bird is the weka, of which there are four subspecies. Scurrying around the information center at Punakaiki, they appear anything but rare.
As we rummaged around Gerty for lunch fixings this inquisitive weka hopped up into the van.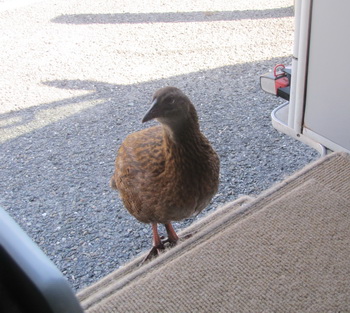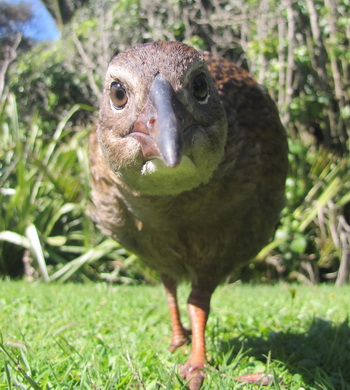 Another curious weka wanted a closer look at the silly human lying on his belly with the camera lens pointed at him.
And this bold beggar snapped up a piece of apple accidentally dropped and decided he'd like some more. When refused, he actually stretched over and pecked my arm!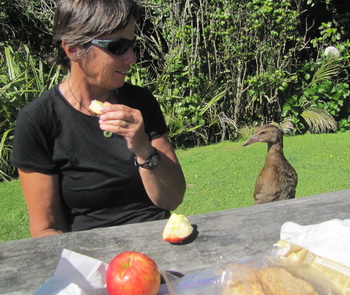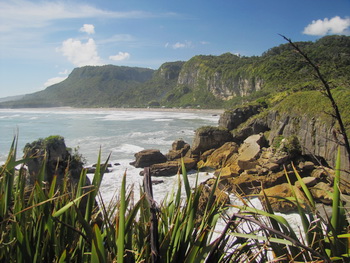 It appears Capt. Cook was not enamored with the beauty of the West Coast and was more taken by the inclement weather he experienced. Rounding the western most point of the area, he named it Cape Foulwind. Fortunately we arrived on a brilliantly blue day.
A 4 km. path called the Cape Foulwind Walkway meanders past Tauranga Bay Seal Colony where the lethargic creatures bask in the sun on wide platforms of rock. The path continues over exposed headlands of grass, flax and pasture with amazing views of the coast in both directions to a stately lighthouse.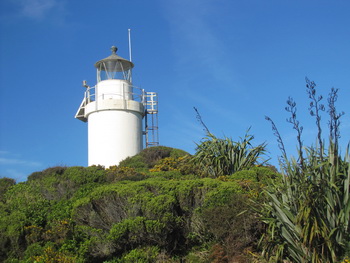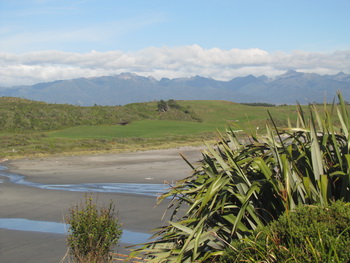 Walking to the lighthouse and back was a lovely way to spend the late afternoon after sitting in Gerty most of the day. For the first time we noticed the length of our shadows. They do not grow long in the quickly setting sun of the tropics.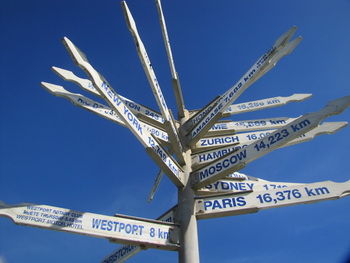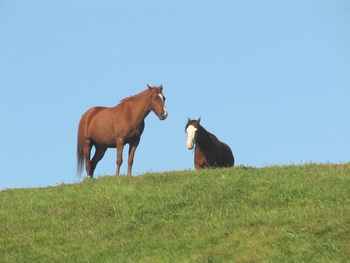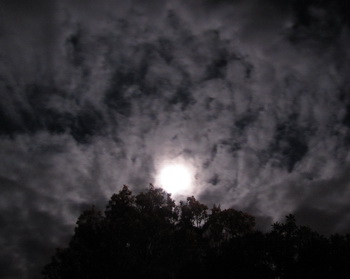 At Westport we turned inland and followed Highway 6 through the Buller Gorge, one of the country's grandest. The road hugs the cliff and at one point runs along Hawks Crag, under a large overhand in the rock.
On March 20th we caught the car ferry from Picton to Wellington and are now back on the North Island. A quick trip back to Gulf Harbour was planned, but not before seeing the delightful town of Napier.
Destroyed by an earthquake in 1931, the city was rebuilt in Art Deco style. A sheltered harbor rests near the city center, an enticing place to bring Tenaya.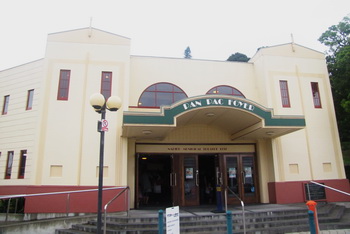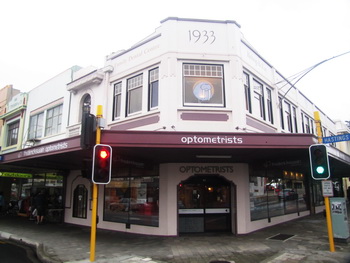 At a holiday park in Napier we ran into a cruising couple from the Bay Area, Russ and Roz from s/v Worrall Wind. Plans for an early departure were quickly abandoned as we thoroughly enjoyed chatting with this friendly and interesting couple.
Their boat is in Fiji and they plan to visit Australia next year so will sail westward more quickly than Tenaya. We look forward to following their travels and hope we meet again somewhere, sometime.
Fresh ice cream made from fresh fruit is a specialty in parts of the country. We nearly passed the prospect of devouring the delicious dessert before Jim whipped Gerty into the parking lot, car park in local lingo.
Gelato in Italy, Dame Blanche in Belgium and France, Farrell's Ice Cream Parlor from my youth in San Diego, I have long loved ice cream. But this kiwi treat might just be the best I've ever tasted!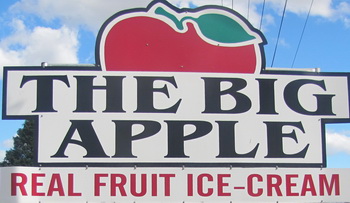 We were fortunate to have mostly good weather for our time on the west coast. The seas were calm and there was little wind. Perhaps this mellow glimpse into the "wild" west coast gave us a false sense of reasonable conditions in which to sail round the South Island next season.
Regardless of what Mother Nature has in store for us next season, we will happily return to New Zealand for more amazing experiences both on land and at sea.
Tomorrow we fly to San Francisco for our annual trip to California. Mammoth is having record-breaking snowfall this year. Yippee! Here we come!!!