March 15, 2011
Vast ever-changing skies colored brilliant blue to brooding gray rise above multi-hued plains, shallow valleys, deep gorges and low craggy mountain ranges. Punctuated by magnificent rock outcroppings, Central Otago is sparsely populated and immensely beautiful in a grand, spacious and arid way unlike any other area in New Zealand.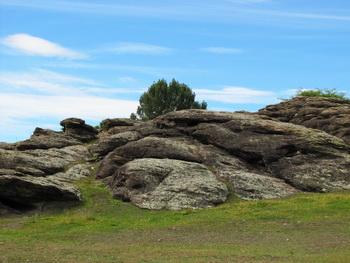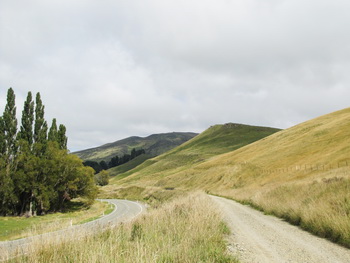 Gold was found in 1861 and soon people flocked west from Dunedin to make their fortunes here. Small towns sprung up in the hostile environment of scorchingly hot summers and frigidly cold winters. When the lure for gold faded, hearty farmers moved in and stayed.
Scores of labors, stonemasons, blacksmiths and engineers worked for sixteen years to complete a 150 km. railway line across the lower center of the South Island from Middlemarch to Clyde. As the rail progressed westward, construction camps were uprooted and re-established further up the line with businesses following. For over half a century the Otago Central Railway and its stations were the economic lifeline of this region.
Ngapuna Station included a small stockyard and and a covered building to shelter cans of cream awaiting transfer to Dunedin. Cattle were loaded onto wagons at Waipiata Station and rabbit carcasses at Wedderburn Station. Oturehua Station was the line's biggest construction camp and a marvelous general store still operates today.
The Ida Valley station introduced daily mail service and the Auripo Station allowed once isolated farmers the chance to collect newspapers, mail, groceries, fertilizers and other necessities. A small stockyard allowed moving sheep and wool to Dunedin.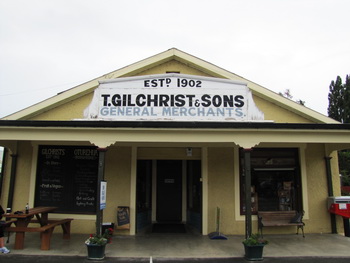 In 1990 the final car rolled in to Middlemarch Station for the last time. The railway closed down and with it the last glimmers of hope for the struggling towns along the way.
In 2000 the Otago Central Rail Trail was opened breathing new life to the vintage towns as cyclists ride the trail. Traveling either direction, it is usually done in 3-4 days. Hotels, farm stays, cafes, pubs and bike shops all seem to be prospering but I believe the real winners are those of us on bikes.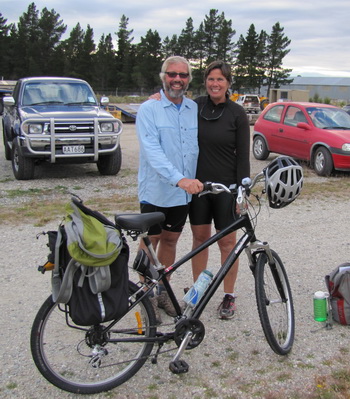 We met Steve from Shebikeshebikes at 8:30 the morning of March 10 at the beginning of the trail in Clyde. Along with new, well-tuned and well-outfitted touring bikes he had our itinerary and loads of ideas and suggestions. After fitting our bikes he left us to get on with our ride.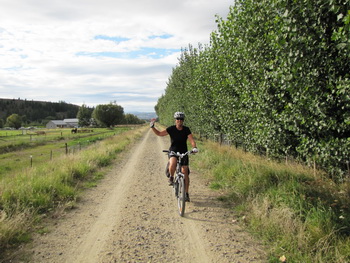 How strange it felt to be back on a bike! We were happy we'd chosen comfortable touring bikes like our trusty aluminum Gazelles from Holland rather than serious mountain bikes for the gentle trail.
We rode along, a bit unsteadily at first, to Alexandra 8 km along. A wonderfully informative museum helped us bide some time before stopping for wine-tasting at the Hinton Winery.
With a bottle of Pinot Noir in my panniers and a bottle of Voignier in Jim's we continued on along the trail over some bridges and under others, past sheep farms and giant rock outcrops.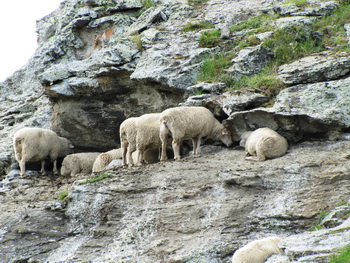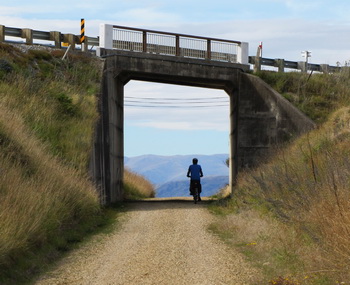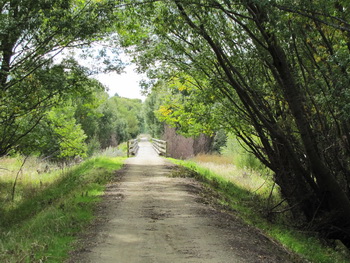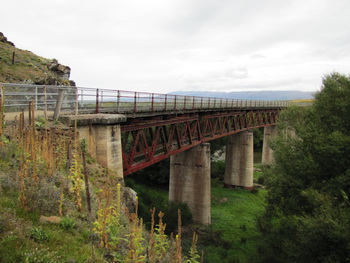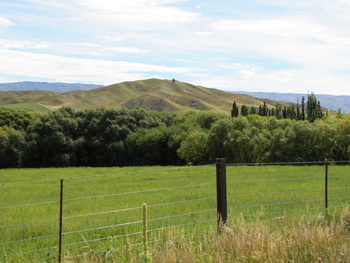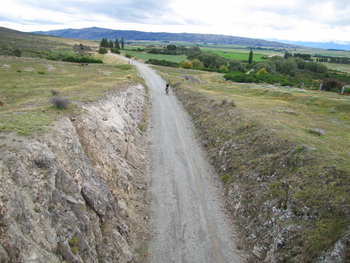 We arrived at Omakau, our destination for Day 1, early enough to make a side trip along a paved road to Ophir. Nearly a ghost town, it has delightful historic buildings and a gorgeous bridge.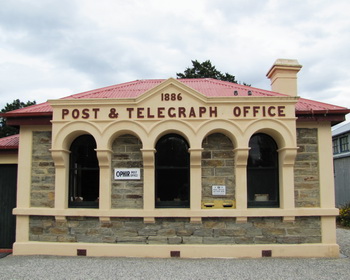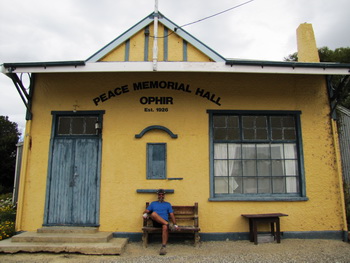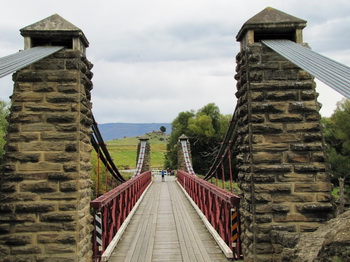 Back in Omakau we met Steve and Carol at their shop before Steve drove us to Solandra Lodge, which they own. A beautifully renovated house next to their lovely traditional farm house was ours for the night. Steve barbequed a delicious meal and provided the fixing for a superb salad before bringing over scrumptious brownies and ice cream.
Jim was thrilled with the home theater and watched both Sea Wolf movies while I spent more than an hour in the massive bath tub. Living on a yacht I never get a chance to soak in a tub. Brownie and a bath - luxury at its best!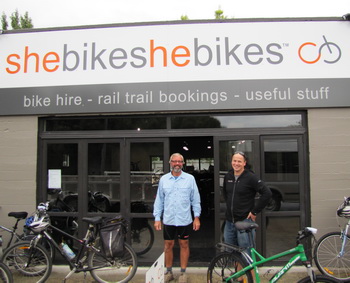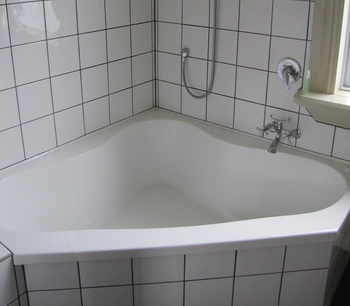 The following morning Carol drove us back to the shop where we collected our bikes and continued on to Wedderburn for our second night. The trail took us 44 km. along the Poolburn Gorge and through a long, dark tunnel before passing through Oturehua and arriving at the Weddeburn Station Rail Stay.
We dined on hogget that night at the Wedderburn Tavern. We were told it was the Wedderburn Hotel but saw no signs so Jim went in to ask. The kind man behind the bar said we were there. Jim explained that we were from the US and expected to see neon signs. We had a great time talking to the locals at the bar while we waited for our hogget which, by the way, is "lamb with taste".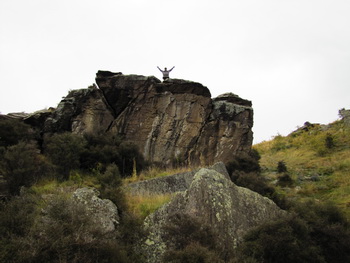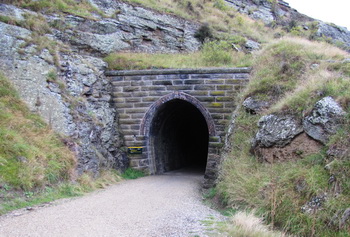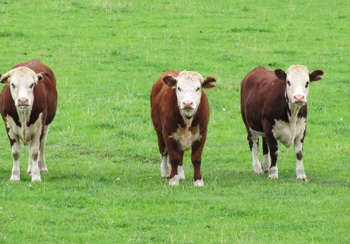 .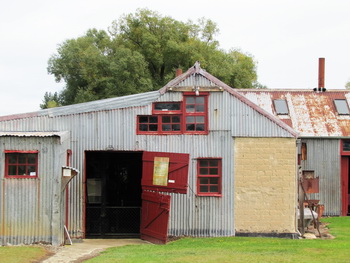 Hayes Engineering Ltd. was established in 1895 in a small shed which later grew into a complex with a worldwide reputation. Located in Oturehua, it's possible to wander through the Hayes Works while learning about the innovative solutions manufactured here to make farming easier.
In 1910 Hayes built a windmill to power his works. With a tower 12 meters high and sails 6.7 meters in diameter, it was quite large. The power was taken to the machines via an ingenious system of overhead shafts, belts and pulleys which are still in working condition.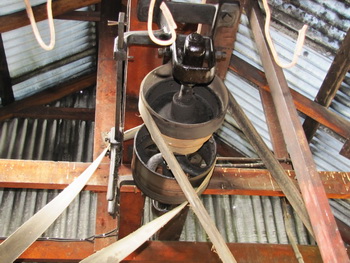 They Hayes' farmhouse is also open to the public. It is being painstakingly restored by the Historic Places Trust.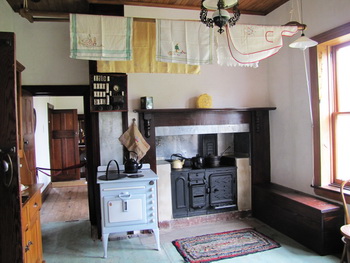 Also in Oturehua is the intriguing Gilchrist's Store, New Zealand's oldest continuously operating general store. It once carried everything from food to fabric to farm supplies.
We chatted with the friendly owner who explained that her husband drives the mail out to all the mail boxes in the area each day. Some farmers must drive 20 minutes just to reach their mail boxes!
Along with the mail, he delivers items ordered from the store as well as prescriptions arriving from further on. All charges are recorded in small ledger books. No Quickbooks or Peachtree here.
At the moment she was having trouble getting bread for her customers as her suppliers in Christchurch sustained damage in the earthquake and were not operating.
Ranfurly Station was at the heart of a busy "Art Deco" town. Now the town is inundated by lycra and icebreaker-clad people with bicycles lingering in cafes.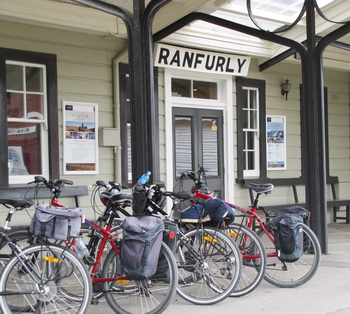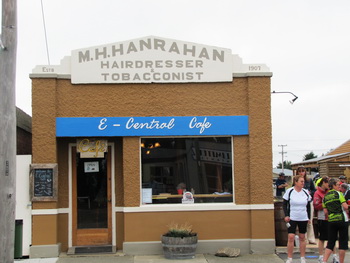 We were to be picked up and driven to our third night's accommodation at Daisybank at 3:30. We arrived just after noon with plenty of energy so we continued on half-way to Hyde. The beautiful day enticed us to stop often and take a lot of pictures before turning around.
Passengers riding the train would toss their fruit pits out the windows. Now fruit trees grown at various places along the way. Here is an apple tree and there are several along the trail. We passed a couple devouring plums on the first day. It is interesting to eat fruit as it was 100 years ago.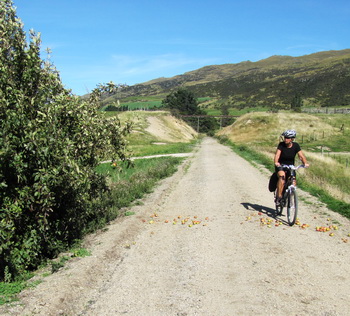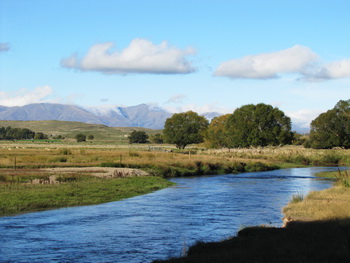 Peter picked us up at Daisybank and drove us 14 km. back to his farm in Waipiata. The house was built in 1880 and has been in his family for several decades. His father owned nearby land and acquired this when Peter was four years old. His brother still works the farm with 2500 ewes while he runs the pleasant Peter's Farm Lodge.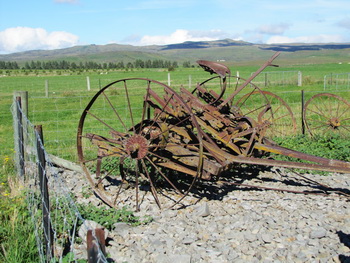 After we settled into our room in the mudbrick house with an old fireplace and a new bed, Peter suggested we walk down to the river and go kayaking. We've never been in little river kayaks before so off we went. Although he said the river wasn't running swiftly this time of year, it seemed to be moving pretty quickly to us. We slid into the water and paddled upstream carefully. Those little things are pretty responsive! We were happy to have survived the outing dry and in possession of his kayaks.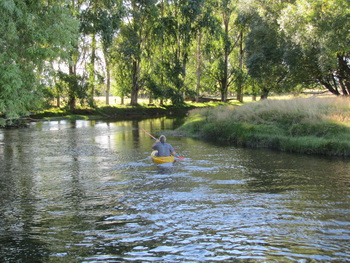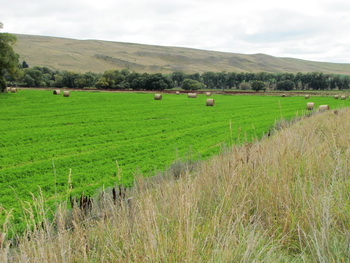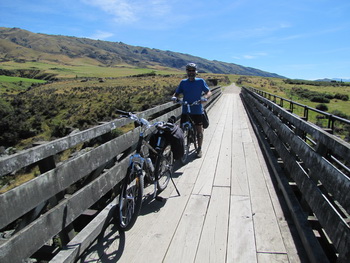 Most stations are just small sheds of corrugated steel with a fireplace in the back. Many of these have been converted to information kiosks along the trail.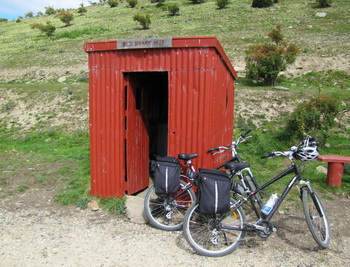 The trail goes through another tunnel between Daisybank and Hyde. There is a second tunnel down in the gorge which industrious men chiseled out of the stone to divert the river in hopes of finding gold and striking it rich. Despite all their effort they found very little gold. The river still diverts through their tunnel.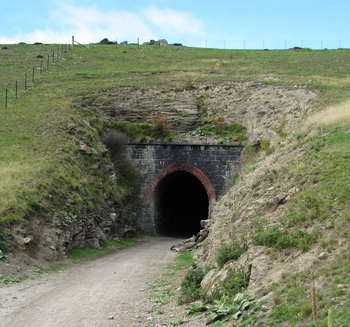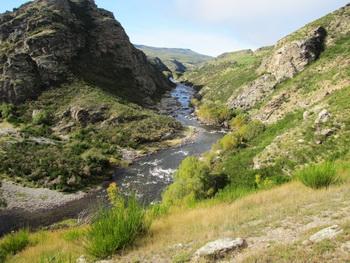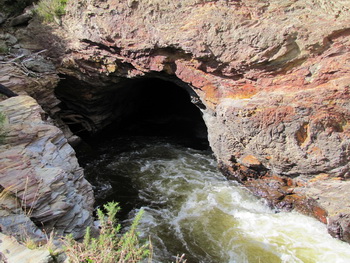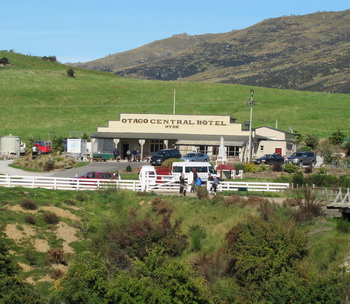 Hyde was once a busy station with an engine shed and a locomotive turntable. Wagon loads of local clay were shipped to pottery works in Christchurch and Auckland.
Hyde Station is now privately owned and up for sale. It's located on high, flat land with an incredible view that goes on forever. It seems the perfect place for a cafe with a huge deck all round. I wonder if the rail cars come with the place?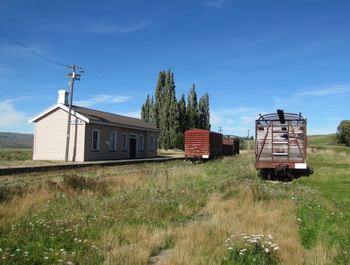 We enjoyed the Otago Central Rail Trail ride immensely and were sad to see the trip come to an end. We each had thoughts of turning around and riding back to Clyde. Sadly, our time on the South Island is coming to an end soon and we still want to see a little of the west coast.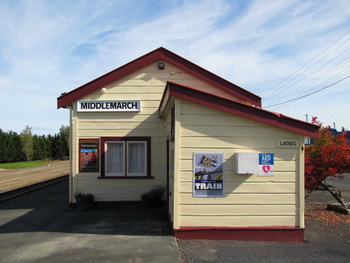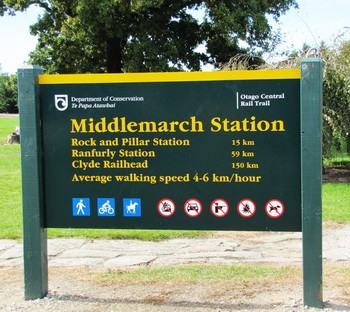 Aside from the spectacular scenery, leisurely days of cycling and historic towns, we really enjoyed talking to the locals and getting a feel for their way of life. Like ours, it is simple and slow with some hard work and scary times thrown in.
Go to Photo Gallery - Otago Central Rail Trail
Go to March 2011, Part Four - West Coast South Island