March 5, 2011
Spectacular landscapes, monumental verdant peaks separated by steep, narrow and sometimes hanging valleys, a western coastline of fifteen magnificent fiords, rare birds, the nation's largest park, the two deepest lakes, the highest rainfall, and site of Te Wahipounamu World Heritage Area. This is Fiordland, located in the southwest of New Zealand's South Island.
Te Anau, hub of activity and gateway to Fiordland, lies on the shore of Lake Te Anau, one of New Zealand's deepest and most beautiful lakes. To the west, the lake reaches deep into the folds of the mountains where the turkey-sized flightless takahe was found after being thought extinct for fifty years. Ringed by mountains, the town rests in a rain shadow and receives less than half the precip of the coast.
20km south of Te Anau is Manapouri, a small town at the edge of magnificent Lake Manapouri. A hydroelectric facility has been built at the far end of the lake and a road built during realization of the project is now used to transport people to Doubtful Sound.
Captain Cook spotted Doubtful Sound, which is not a sound at all but actually a fiord, in 1770. He didn't enter as he doubted his ability to sail back out again against the fierce wind that swirled within the steep walls.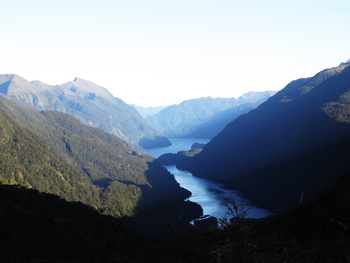 Adventure Kayak and Cruise is located in Manapouri and offers guided kayak trips to Doubtful Sound. Small groups of ten people or less (5 double kayaks) is promised. That seemed like the perfect way to experience Doubtful Sound.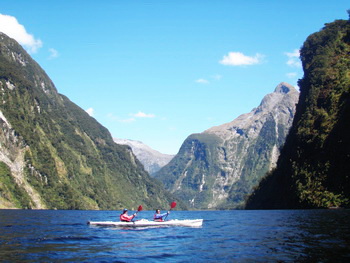 After a scenic boat ride across gorgeous Lake Manapouri and a bus ride across dramatic landscapes over the Wilmot Pass, we reached the dock where the Adventurer 2 was tied with our kayaks dangling off the stern.
Our daypacks stored on board, dressed in longjohn wetsuits, thermal tops and paddling jackets, we wedged ourselves into our kayaks, attached our spray skirts and rafted up on the starboard side of the boat. Once everyone was ready and we'd had a bit of instruction from Luke, our terrific guide, we were off paddling through Deep Cove.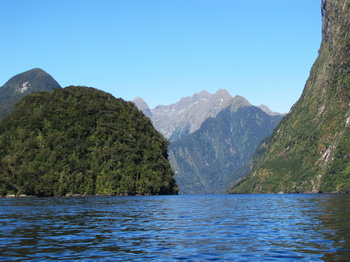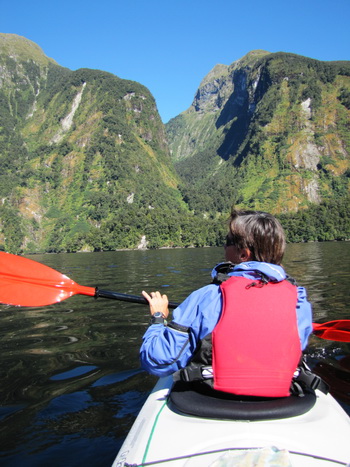 Rainforests cling precariously to steep walls and waterfalls tumble down mountainsides. The magical sound of silence was broken only by nature's music and paddles dipping into the glassy cobalt water. Towering mountains enveloped us as we moved effortlessly along the flooded glacial cut valley.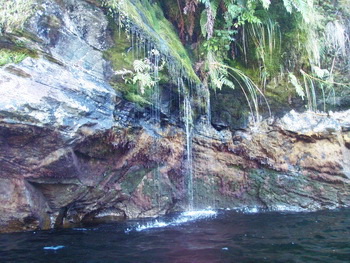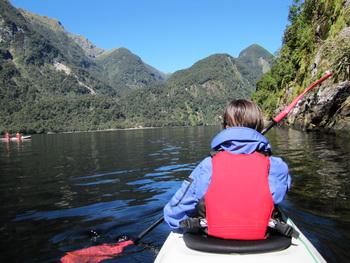 We paddled round an island home to Fiordland Crested Penguins but nobody was home. They hunt for food during the day so we didn't really expect to see them. We spotted something floating along next to a rock wall and went to investigate. A fur seal! He was not the least bit bothered by being surrounded by long white projectiles loaded with camera shooting gawkers. He just kept floating along on his back doing yoga stretches with a zen attitude.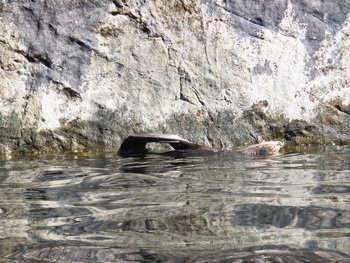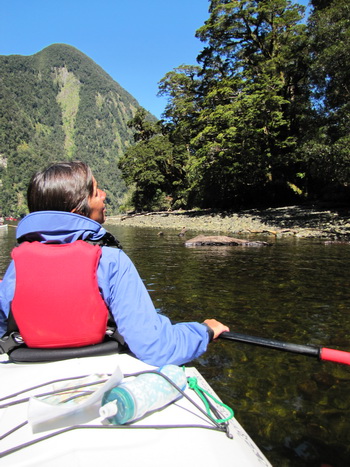 After a couple of hours of paddling down Deep Cove we met the Adventurer 2 and crawled aboard where Reg, the owner, had hot soup waiting for us. We could see bottlenose dolphins frolicking in the distance.
Because the day was so warm and sunny we peeled off our wetsuits and thermals and replaced them with the lightest weight clothes we had.
After lunch we paddled up into Hall Arm, the most sheltered and scenic part of the fiord. We glided along so close to the rock walls that we could reach over and touch them. It was absolutely magical!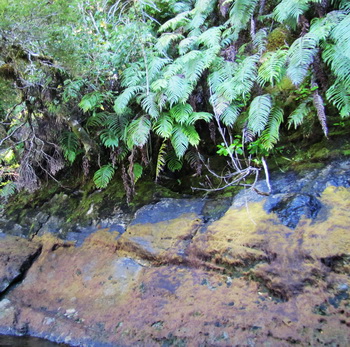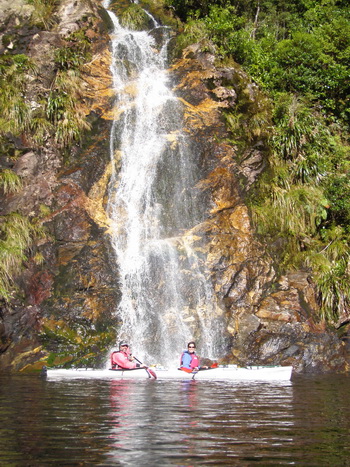 At the end of our wonderful day paddling on Doubtful Sound Reg met us with Adventurer 2. As we climbed aboard he asked if anyone wanted to go swimming. Never one to pass up a dip on a sunny day, I dove in. Then Luke and a couple of the guys did too. It felt great, cool and fresh water. Fresh water? Not what I expected as the fiord connects to the Tasman Sea.
Sills form at the entrances of all the fiords which rise to about 50-70 meters from the surface. This is shallow compared to the 200-300 meter depths in the fiords. Freshwater runoff and rain is trapped.
Sandflies are tiny little irritants that inflict much more misery than their miniscule size would suggest. Capt. Cook wrote this in 1773:
The most mischievous animal here is the small black sandfly which are exceedingly numerous and are so troublesome that they exceed everything of the kind I ever met with, wherever they light they cause swelling and such an intolerable itching that it is not possible to refrain from scratching and at last ends in ulcers like the small pox.
And this guy encountered cannibals! Sandflies are found all over New Zealand but are most prevalent in Fiordland. Pass the DEET!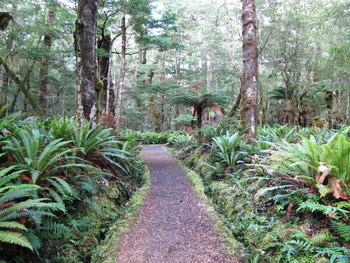 The Kepler Track is one of New Zealand's ten Great Walks. It makes a wide loop from Te Anau up through a beech forest, along high ridges in the Kepler Mountains with spectacular panoramic views before descending through deep forest to the shores of Lake Manapouri.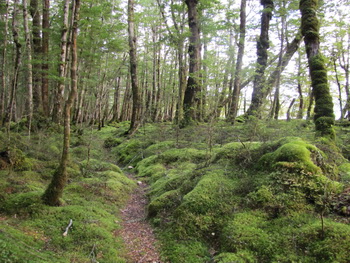 Tickets must be purchased ahead of time for the Great Walks and we'd booked the three huts along the Kepler Track for March 1,2 and 3. The afternoon before our departure we visited the DOC office to have our hut tickets printed and check the weather. Rain and high winds were forecast. Concerned as Day 2 had us making an exposed crossing along ridgelines, we were told we should go ahead as the weather here is quite changeable. If there was a problem we could walk back down and receive a refund but they had not had to close the track yet this year. Okay! We were off early the next morning.
The hike up to Luxmore Hut is through a stunning native beech forest. Plush green moss and ferns carpet the ground while narrow trunks rise high as branches intertwined to filter the sunlight.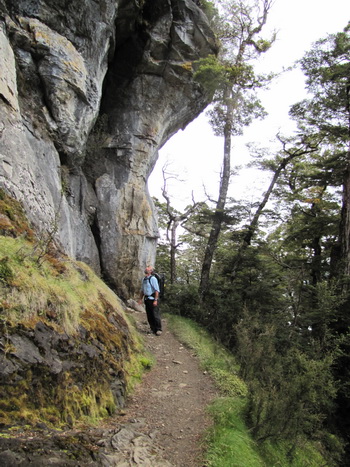 Up and up through the forest we hiked until a limestone plateau rose above us. The track hugs the rock tightly, sometimes turning into a suspended boardwalk, as the earth falls away below.
A bit further along the trees come to an abrupt end and subalpine shrubs take their place a short distance before Luxmore Hut.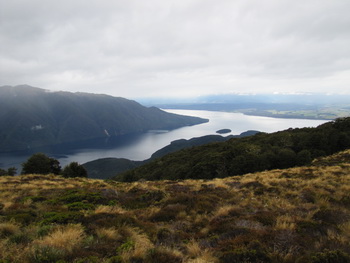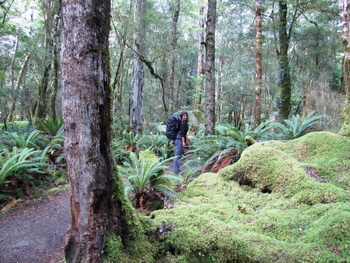 How great it felt to be in the mountains again! What a difference from hiking in the dry, oxygen-deprived elevations of the Sierra. How wonderful it was to arrive at a two-story hut with comfy bunks, a woodstove, gas rings and flush toilets with plenty of tp.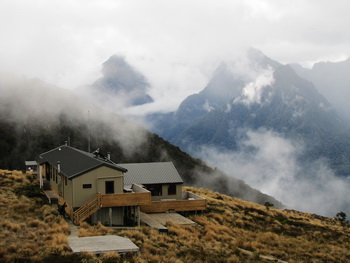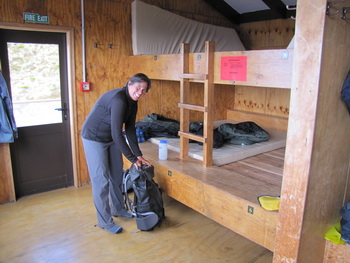 Settling in after our first day of hiking the Kepler Track, we relaxed in the main room and chatted with others as they arrived. A kea flew by few times and finally landed on the railing. These intelligent, curious birds are the only parrots that live in the mountains. They can be quite mischievous and destructive. Jim asked if the wind speed was measured at the hut and Chris, the ranger, said not anymore, a kea had eaten the anemometer.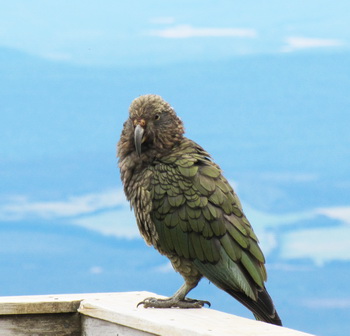 There is a cave carved out of limestone a short distance from Luxmore Hut. It's not too thrilling but gave us something to do that afternoon.
During the night the wind howled and shook the walls and windows, threatening to peel off the roof. We awoke to swiftly moving clouds and rain blowing horizontally as the wind gusted. Word from the ranger at 7:30 am was the exposed route to Iris Burn Hut was closed until further notice. A trough was located south of Stewart Island sending strong cold gale force winds our way.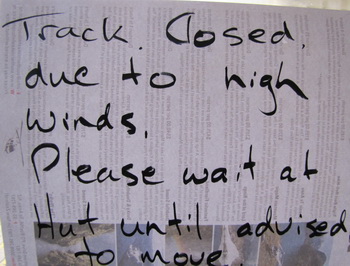 At 11:00 am the route was still closed and Chris said that anyone wishing to return to Te Anau would receive a refund for the huts they did not visit. He also said those that wished to could go on ahead, just be careful and turn back if not dressed warmly enough.
Nearly all of us made a beeline for the door to head up. The route to Iris Burn hut climbs gradually to a ridge just below the summit of Mt. Luxmore (1472m) and then descends before crossing a saddle. The track goes up along the side of a mountain before following a ridge system for about two hours. Then it follows a long open ridge before dropping down via a series of switchbacks into a hanging valley.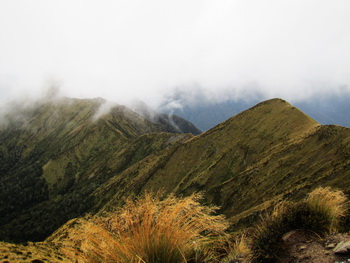 The weather wasn't too bad when we started but deteriorated as we rose in elevation and became more exposed. Frozen ice pellets blasted our faces as the wind tried its best to topple us off the narrow aretes into the valley floor more than 1000 meters below.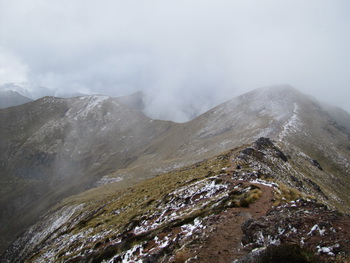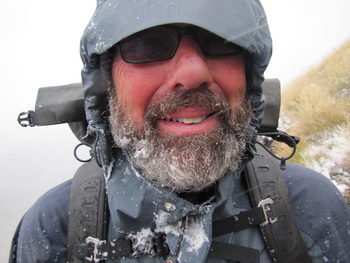 It didn't feel much like summer! Eventually we dropped off the ridgeline into a forest with trees covered in stringy looking mossy stuff where the hail turned to rain. We were really happy to have our waterproof Arc Teryx backpacks! After endless switchbacks downhill we emerged at the Iris Burn Hut.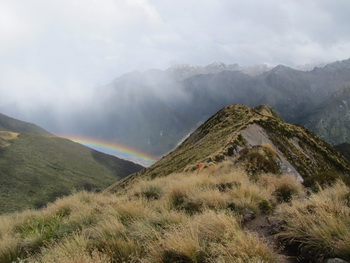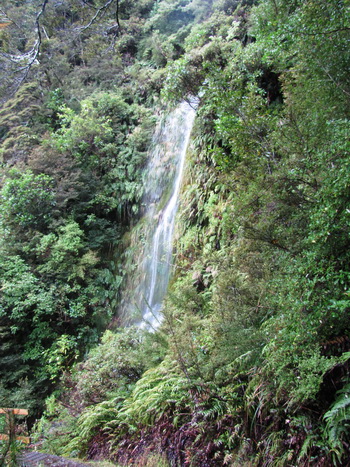 Iris Burn Hut sits at the edge of the forest backed by beech trees and fronted by tussock. A river runs nearby where we were treated to a fly-by by two rare blue ducks.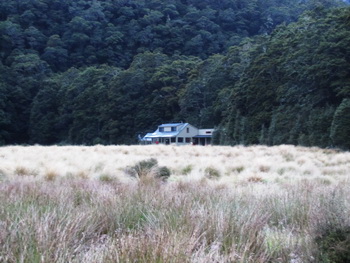 Rain was forecasted for Day 3 but it never materialized. Instead, we had a lovely day walking along a river through the beech forest. Numerous waterfalls cascade from hanging valleys and dozens of small ones flow past the trail. Janet, the ranger at Iris Burn, said the water from these was safe to drink.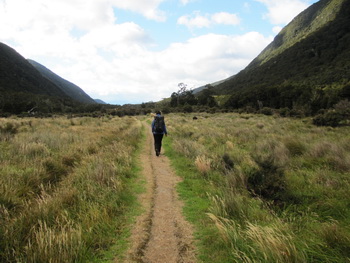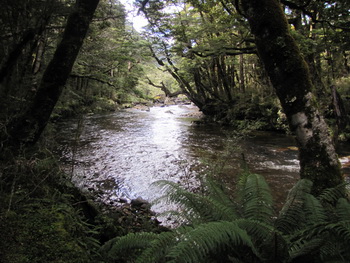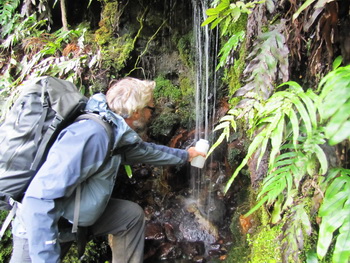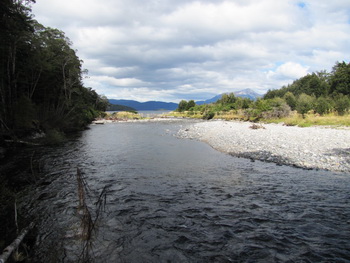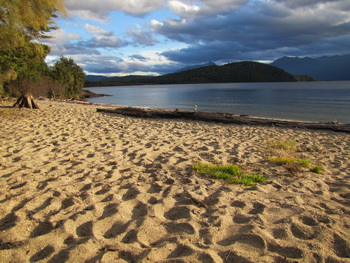 Moturau Hut sits at the edge of Lake Manapouri. From there it is a 1.5 hour walk through the forest along the lake and river to Rainbow Reach where we caught a bus back to Te Anau. More intrepid "soles" hiked an additional 3 hours to the control gates, the official start and finish. My feet still bawked at being in shoes and were quite happy stopping at the first opportunity.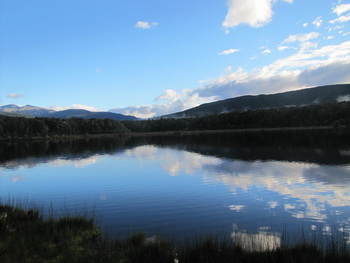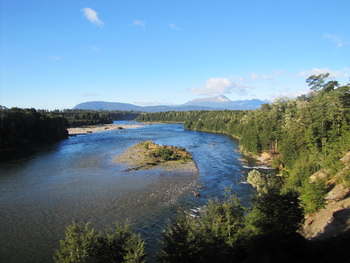 Go to March 7, 2011 Milford Sound