February 25, 2011
At 47 degrees South, Stewart Island lies in the heart of the Roaring Forties 26 nautical miles below the southern reaches of New Zealand's South Island. Unpredictable weather, approximately 275 days of rain and frequently strong westerlies attack the rugged granite, bush-clad island.
Although it is New Zealand's third largest island, this pristine place is not on the usual tourist circuit and feels much more remote than the twenty minute flight on a small plane or hour-long passage on the often bumpy passenger ferry might suggest.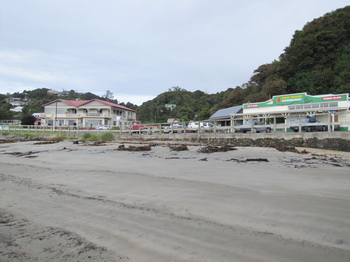 Stewart Island is approximately 1680 square kilometers and roughly shaped like a triangle. There are a few mountains and rounded foothills but the majority of the island is fairly flat.
Forests of native trees give way to low-growing sub-alpine shrubs and grasses. Along exposed shores windswept trees and brush fight for survival. The island is remarkable because almost all the vegetation is natural without introduced plants.
85% of Stewart Island was made a National Park in 2002. Approximately 400 people live in Oban, the only town on the island at the head of Half Moon Bay. It is a hiker's paradise with tracks reaching many parts of the island as well as a birder's wonderland.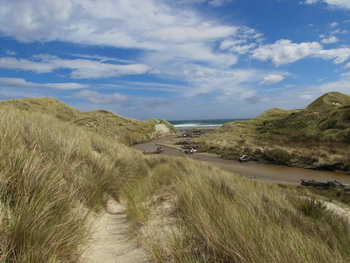 We left Gerty in the small town of Bluff and boarded the ferry on a gray but calm morning. Had we been on Tenaya, we would have had to motor across the strait, not at all the conditions we expected in the Southern Ocean.
We chatted with the captain about anchorages around the island and he assured us the Navionics electronic charts were accurate although Pegasus Bay hadn't been charted since the 1700s. That area was resurveyed 18 months ago so we hope a new version will be ready by next year.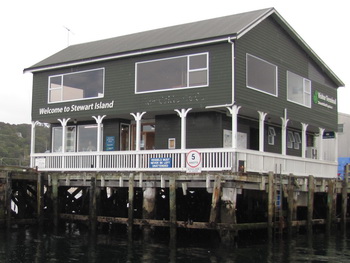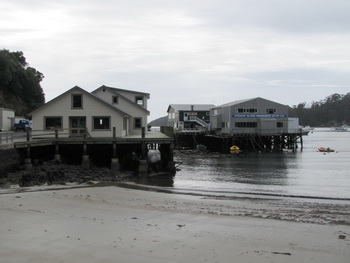 We disembarked at noon and by 1:00pm were on our way to catch the water taxi for a ride up Freshwater River at the end of the large and protected Patterson Inlet. DOC has a hut at Freshwater and there is a flat 15 km track to Mason Bay on the western side of the island.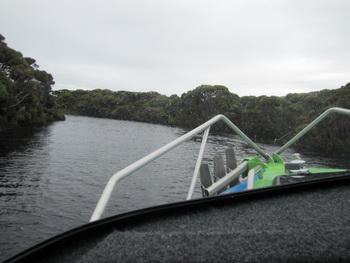 The small town was completely booked, only tent sites were available. Good reason to start hiking right away! Quickly stashing our daypacks and a few extra things in a DOC locker, we still took way too much unnecessary stuff for 3 days. Fortunately the track is flat as a pancake.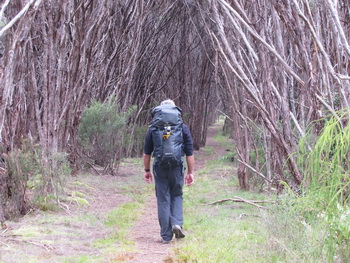 We walked through forests, shrubs, flax, grasses and a fair amount of mud. It can get really muddy on Stewart Island! We were lucky to have nice weather and no mud-producing rain.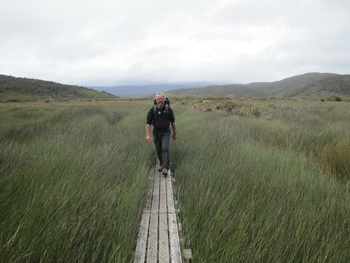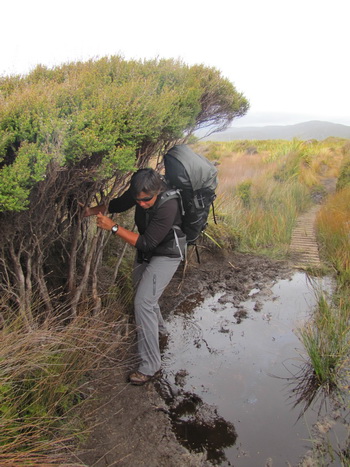 Fluttering into our field of vision, friendly Stewart Island robins landed on nearby branches and watched us. Completely unafraid but not aggressive in the least, the just looked on and posed for endless photographs. We fell in love with these gentle, adorable creatures who, we are quite certain, would have eaten from our hands had we offered a treat. Instead, we kicked up the soil and let them search for their normal food.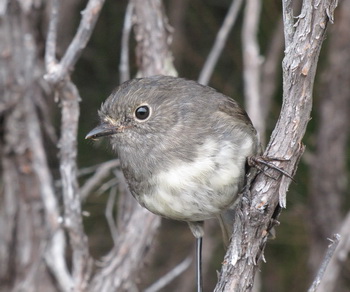 Mason Bay was once home to a sheep ranch and the homestead and woolshed are still there. Apparently DOC traded land and relocated the family so the rest of us could enjoy the beautiful setting.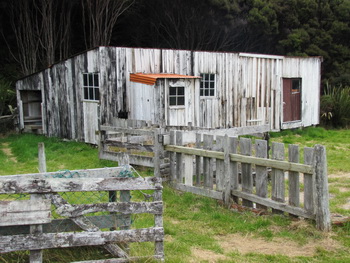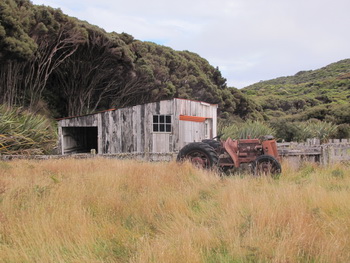 Mason Bay and the tracks around Stewart Island offer visitors the best chance of seeing kiwis in the wild. Unlike their elusive relatives on the other islands which only forage at night, these birds come out at dawn and dusk and are frequently seen. Indeed, everyone at the hut saw them either near the hut or along the Northern Circuit Track. We caught a glimpse of a bird's hind quarter just before it disappeared beneath a bush. Does that count as a sighting?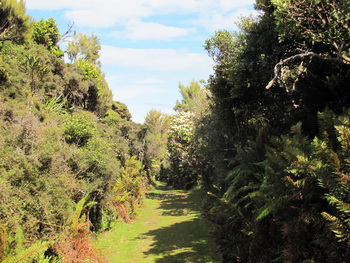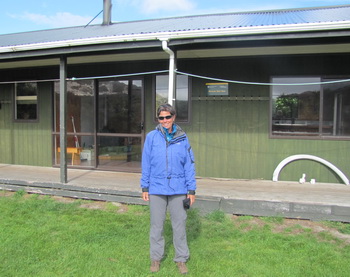 Mason Bay is a huge bay 14 km long. Each time we climbed over the sand dunes we found it completely deserted. The hut at Mason Bay was so comfortable and the various people we met so interesting that we stayed there two nights.
The second day the wind was blowing a hoolie so we didn't walk too far along Mason Bay and it seems that was the day 107 pilot whales stranded there. After what we saw at Farewell Spit, we are happy to have missed the tragedy. Because of the remoteness, those whales not found dead were euthanized.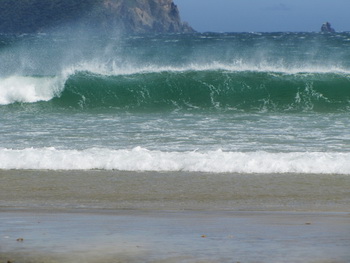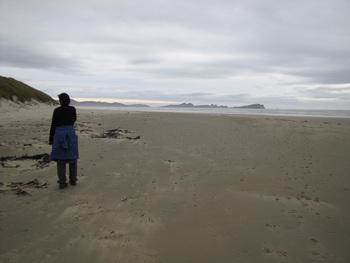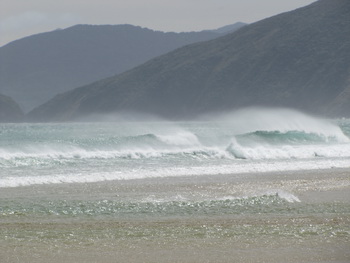 Rakiura, the Maori name for the island, means "Land of Glowing Skies". Perhaps it was named for the amazing sunsets here.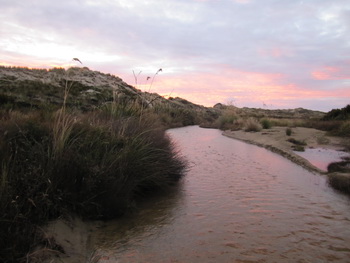 We hadn't booked a water taxi for the ride out so arrived at the dock before high water which is when the boats can clear the sandbar at the end of the river. A family had flown into Mason Bay the day before, landing on the beach, and had a taxi scheduled so we hoped to catch a ride. If not, we would spend the night at Freshwater Hut and try again the next day.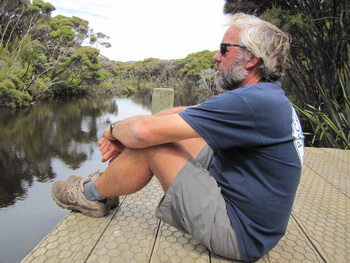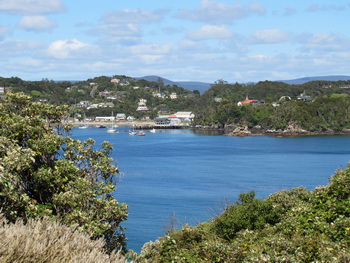 We made it back to town that day where there were still no rooms available so we pitched our trusty, tiny tent on the grass at Stewart Island Backpackers and moved in for several days. The facilities are basic but very adequate with a large kitchen/dining room/lounge. Internet was slow and their computers are on a timer that shuts off without warning at any time. Other than that, it was a great place complete with washer and dryer and plenty of cooking supplies.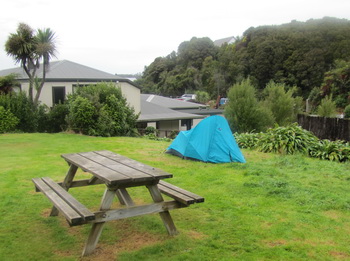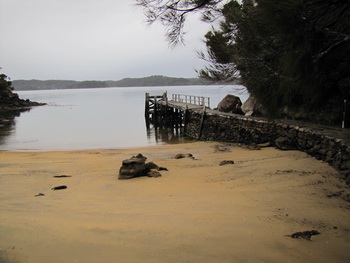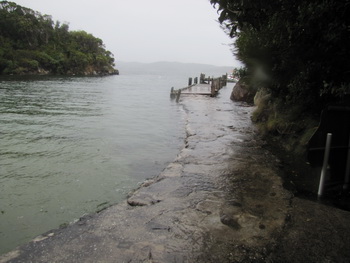 As we've become so interested in the birds of New Zealand, visiting the predator free, open sanctuary of Ulva Island was high on our list of things to do at Stewart Island.
A 10 minute taxi ride delivered us to the completely natural island. Morning threatened rain which was delivered in buckets during the afternoon. Clouds and mist of a dismal day near the sea is enchanting in a mystical way.
Bellbirds drank from leaves, a pair of brown creepers huddled together in a downpour, a kaka foraged along the wet ground, another had a close look at us from a branch, squawked and flew on, a pair of saddlebacks inspected the forest floor and dozens of wekas strutted about the bays. That is the glimpse of Ulva Island we experienced, a marvelous way to spend a relaxing day.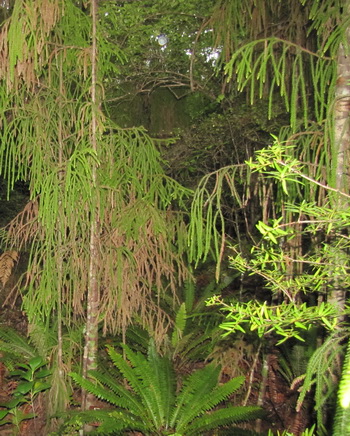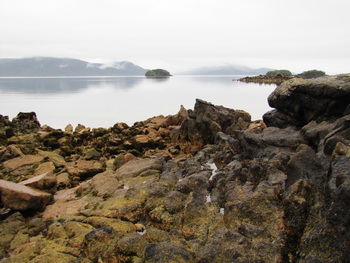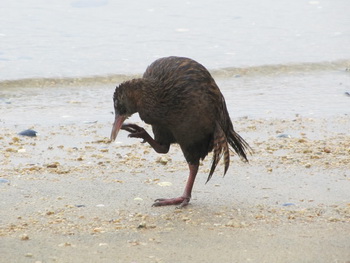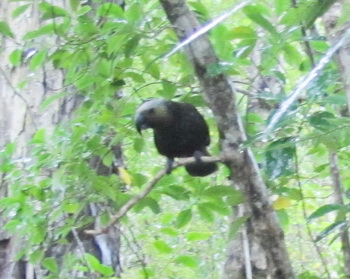 While browsing through the brochures in the information center we came upon one advertising trips aboard a commercial fishing vessel. We've always wondered about these boats at sea and were keen to go out on one.
Anthony O'Rourke has been a commercial blue cod fisherman for 27 years and has recently opened up his boat, Tequila, to visitors. He demonstrates how the pots work and how to process the catch.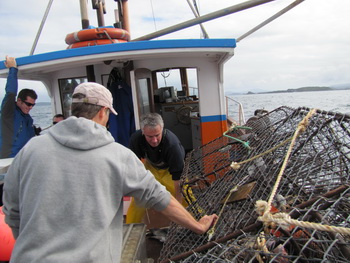 While the pots were out we fished for blue cod using traditional hand lines. The method was to let out the line until the weight hit bottom and then take up the slack. Fish bit immediately! I was really good at feeding the fish and only caught two but Jim caught eight. What fun!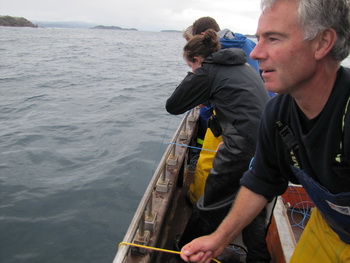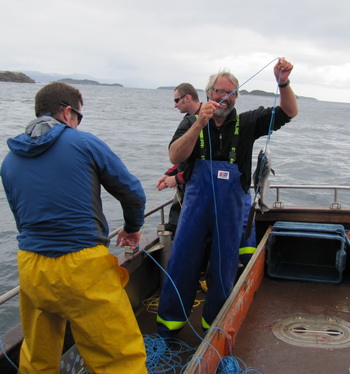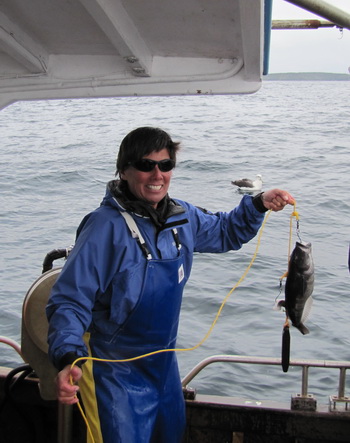 The first two pots retrieved didn't hold many fish but Anthony was happy with the contents of the next two. In addition to catching blue cod he also caught a tasty trumpeter and two carpet sharks that were thrown back.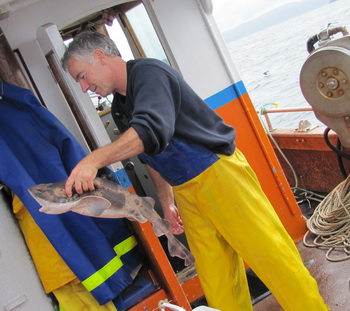 Anthony showed us how to sharpen the filleting knife with some helpful hints and then demonstrated cleaning the fish with an easy technique. This brought the mollymawks, which are small albatrosses, in droves to snatch up the discarded parts. Obviously pesky to him, we thoroughly enjoyed their antics and close fly-bys.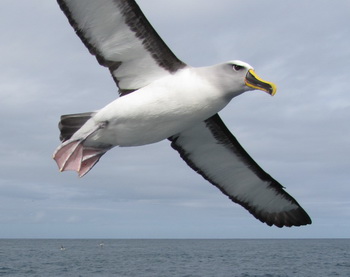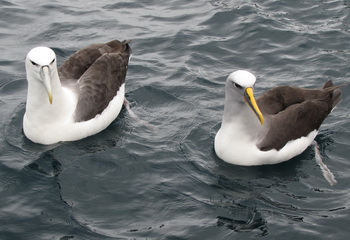 After he had cleaned a good portion of the blue cod, Anthony fired up the skillet, powdered the fish with flour, fried them up and passed out yummy sandwiches. As we disembarked he gave us each a generous bag of fish. What an interesting and fun way to spend a day!
One thing we have always wondered about while sailing in the vicinity of fishing boats was how much attention is paid to their course and other boats. Now we know. Anthony went for 20 minutes with his head down on the back deck preparing the bait for the pots and then deploying all four. All the while, the boat steamed forward on autopilot at 5 knots. Nobody at the helm, nobody in the wheelhouse.
To be fair, this isn't a busy area and he must have a sixth sense about it all, but we had a good chuckle and made a mental note: beware the fishing boat!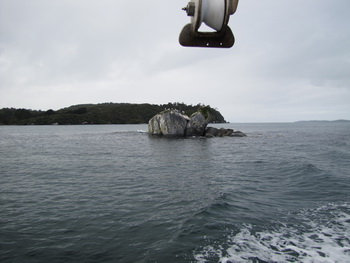 Our plan had been to do the three day Rakiura Great Walk which is a loop out of Oban, but after our jaunt into and out of Mason Bay, the easiest hike possible, I begged off. After three years of not wearing proper shoes my feet were all kinds of sore in my new lightweight, waterproof boots, which by the way, I absolutely love. And after carrying a pack with such unessentials as wine glasses, "going to dinner" clothes and 7 days worth of food, my knees weren't too happy either.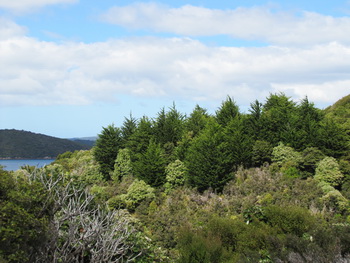 There are several lovely walking tracks from town so once I was willing to lace up my boots again we set off on a 4 hour loop north along the water.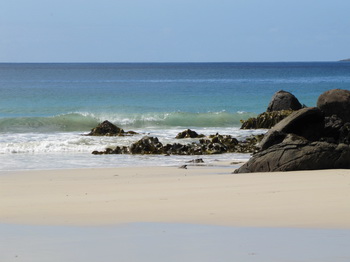 The shoreline is sprinkled with deserted picturesque bays of fine sand and jumbles of rocks. We even found some round boulders like those at Moeraki.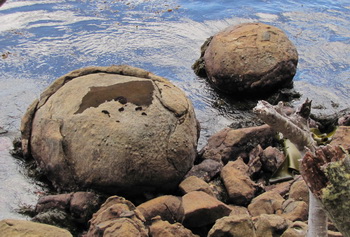 A week was barely enough time to spend at Stewart Island, Jim's favorite place so far. The magnificent and sheltered anchorages of Paterson Inlet temp us to visit again next year aboard Tenaya. We shall see ... as we saw this week, things can go real bad real fast.
Our hearts go out to all those affected by the devastating earthquake in Christchurch as well as to the family and friends of the crew of s/v Quest who were killed by Somali pirates.
Go to March 2011 Part One - Doubtful Sound and the Kepler Track