February 1, 2011
Yesterday we woke up before dawn in the parking lot of the conveniently located but uninspiring Capital Gateway Motel. They offer powered sites along with a kitchen and showers at the far end of their car park with absolutely no charm or character whatsoever. We chose it because it is the closest camping site to the ferry in Wellington.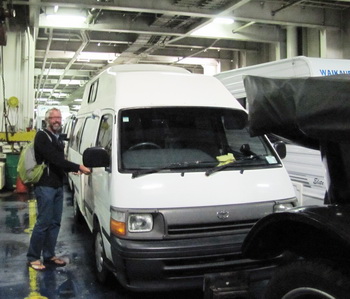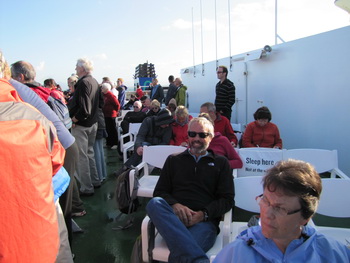 The day was sunny but the remnants of Cyclone Wilma were lingering so there was a bit of wind though not much swell. The ferry plies across Cook Strait and down Queen Charlotte Sound to Picton. The scenery was absolutely stunning. We saw several yachts anchored in various bays and pondered the possibility of visiting again on Tenaya.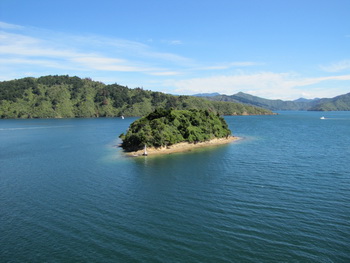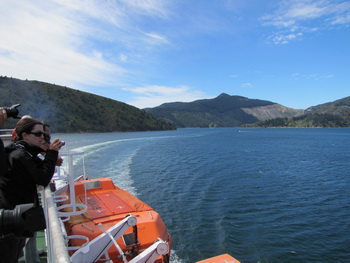 After a three hour crossing Gerty was fourth off the ferry. Soon after disembarking we took a quick right and headed up the windy coastal route to Havelock and then on to Nelson where we had a look at the pleasant marina.
A Top 10 Holiday Park was advertised to be in Nelson but turned out to be further down the road in Richmond. We pulled into the small, unassuming and rather dull place to find hundreds of flies buzzing about. Although the temperature was quite warm we closed ourselves in Gerty and I worked on the website while Jim read from his Kindle.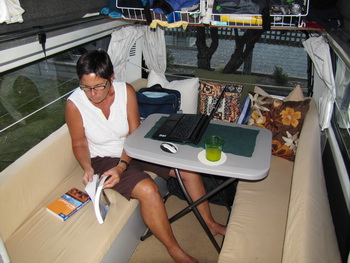 One night was enough of that place and we left in the morning to drive north. We passed through Moteuka and stopped at the delightful, slightly bohemian town of Takaka. Inviting cafes advertising healthy fare and funky artisans' shops line the main street. Buildings ooze character and brilliantly colored paint. This is a very cool little town.
Gerty plodded along to the north sometimes weaving drastically through what felt like gale force winds up and down the coastal mountains towards Farewell Spit.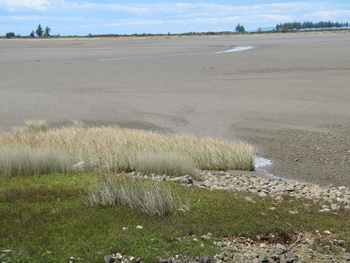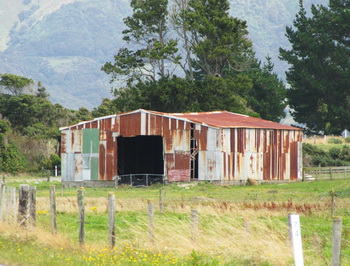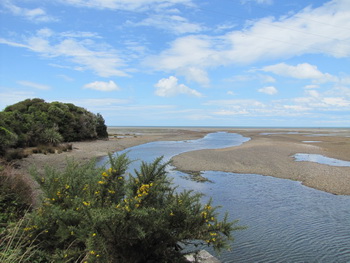 Once out of the mountains we followed the road north to Collingwood and beyond delighting in the gorgeous landscapes of the expansive Golden Bay area.
Sand from Farewell Spit is deposited throughout Golden Bay and makes stunningly wide mudflats at low tide. Three Royal Spoonbills wading in an estuary sent me into a frenzy to get Jim to pull over. I was thrilled to see these rare birds!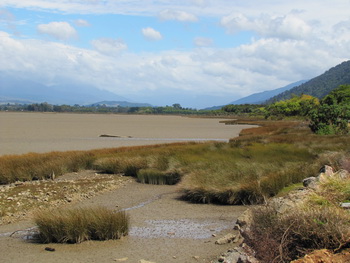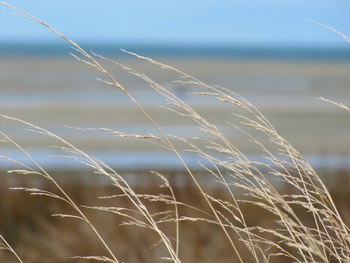 We drove as far north as the road would take us. It ends at the agreeable Puddle Crab Kitchen Cafe which also serves as a visitor's center for the vast sand bank called Farewell Spit. A nature reserve of international importance, there are saltmarshes, open mudflats, freshwater brackish lakes and bare dunes. Over 100 bird species visit Farewell Spit each year during their migration, some flying from Antarctica to Alaska.
Sadly, the unusual shape of the coastline which runs west to east in a long, 25km spit, fools whales and they are often found beached.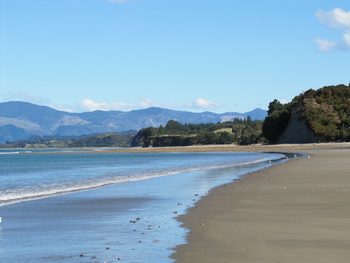 Tonight we are staying in the natural park-like setting of Golden Bay Holiday Park. Grass lines the sites and trees separate them. A few steps away is a beautiful private beach. A lovely place to spend the night!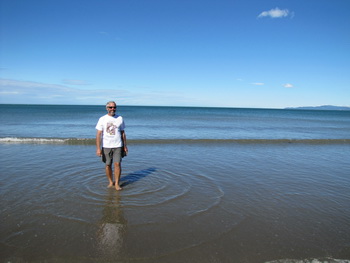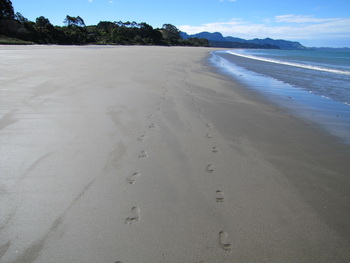 Go to February 2011 Part Two - Abel Tasman Kayaking