January 5, 2011
Tutukaka is a tiny village centered around the harbor and activities there. Several dive operations and fishing charters can be found as well as a variety of restaurants, bars and cafes. We would have loved to dive the spectacular Poor Knights Islands 25 km offshore but the weather was not good. Indeed, that is why we were in the marina. A decent holiday park is just down the street which we take as an invitation to return in Gerty and get some dives in.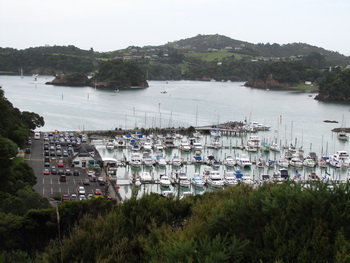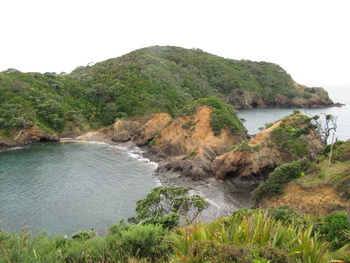 Tutukaka sits at the head of a deeply incised bay. A spectacular spine of land protrudes from the coast into the sea. Wooded, steep terrain gives way to several large grassy fields in the Tutukaka Reserve. Walking trails criss cross the area.
At low water it's possible to walk across a narrow spit to an island with more trails. We arrived a little too late and, although we could have made it across to the island, we would have been there for quite some time unless we wanted to swim back. Neither the day nor the water were warm enough for that!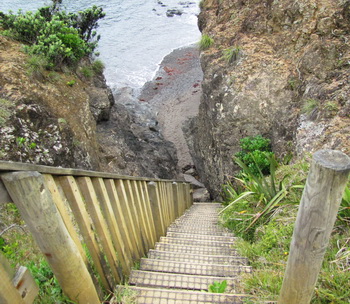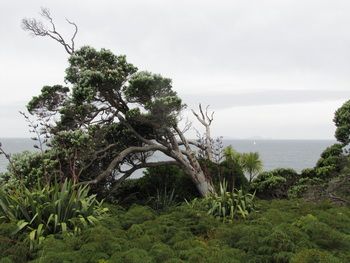 It's a peaceful place to stroll or relax. Birds serenade with their various songs while the surf breaks on the rocky shores below. Benches are ideally situated to take advantage of it all.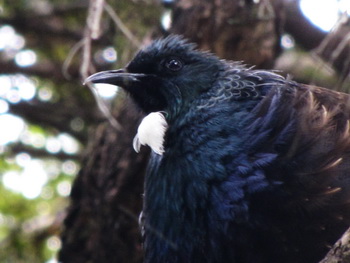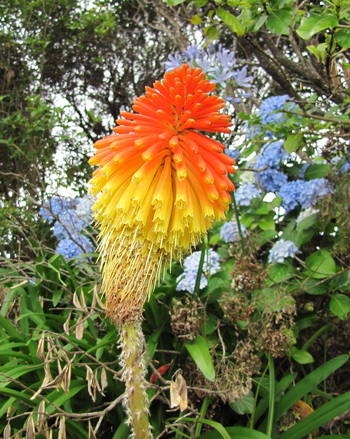 Once the weather had cleared we continued south to Busby Head which is at the mouth of the river to Whangarei, an important yachting town. As we were only staying the night, we ducked behind Busby Head into Urquhart's Bay, gaining shelter from the southerly wind.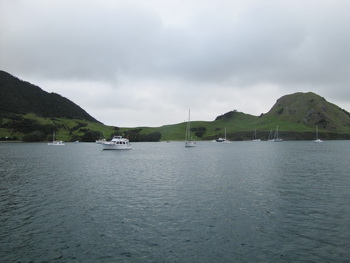 In the morning we motor-sailed to Kawau Island, our last anchorage before arriving at Gulf Harbour where Tenaya will spend the summer.
Again we saw what I call the small, flitting birds. They flap their wings a lot just above the water and then touch down with their feet or bellies, holding their wings out for balance. Often they appear to skip along the surface. They are New Zealand Storm Petrels.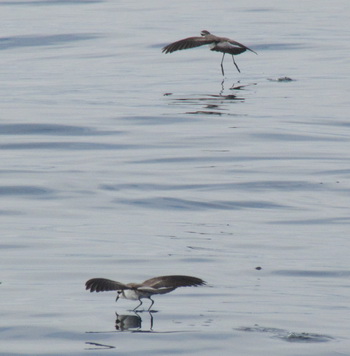 Our plan was to anchor at Mansion House Bay at Kawau Island but it was packed. The outer area was not completely protected from the southwest wind expected so we went a couple of bays down in the Bon Accord Anchorage to School House Bay.
It seemed full too but we found a nice spot behind the pack. Later in the day boats filled in around and behind us. Normally in these conditions people would have been vibing others who dared to anchor so close but here everyone seemed quite friendly, greeting each other with G'day mate! As long as the wind blew we'd all be okay, but once it died and boats began floating every which way it could get interesting.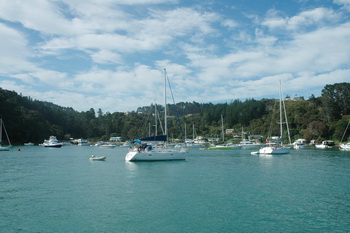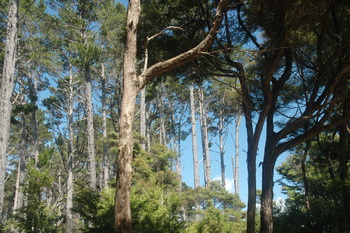 .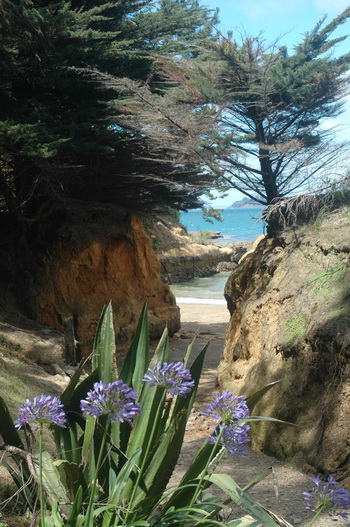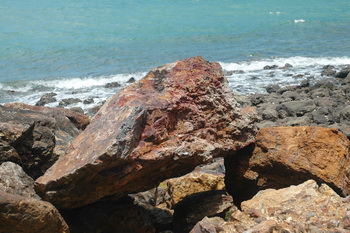 At the southern shore of Bon Accord Anchorage is the Kawau Island Historic Reserve which is overseen by the Department of Conservation (DOC). Many tracks wander through the woods and along the shores.
Some highlights are the old copper mine with chimney still standing on the beach, and the Mansion House. This was home to Governor George Grey who imported all kinds of exotic flora and fauna.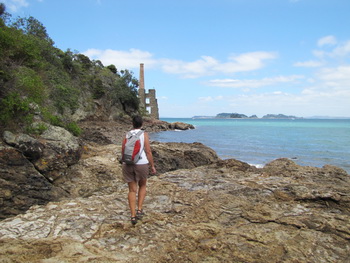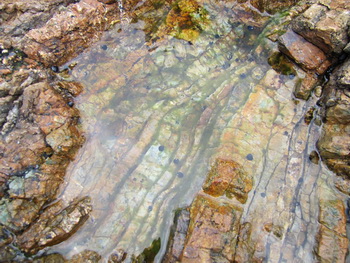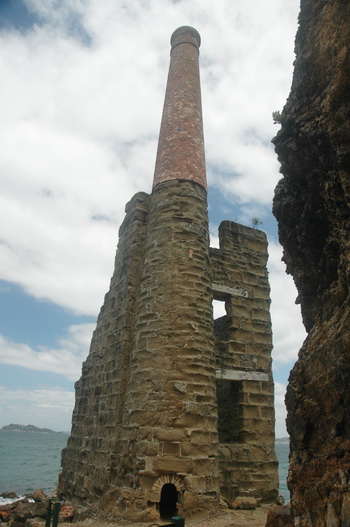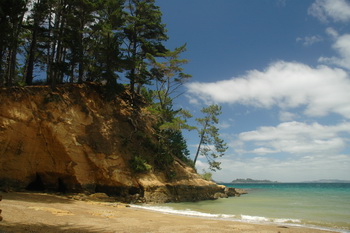 As we wandered the tracks through the dense woods we heard many bird songs. I was on a mission to see a weka, a local flightless bird rumored to be on the island. We both had our cameras at hand as we quietly explored. As we came around a bend to an abandoned building a fairly large animal appeared and then quickly disappeared with a great deal of thumping. A wallaby!
As we admired the view of the sea below from a grassy patch unrestricted by the ever present woods, Jim pointed out a "chicken" strutting across the far end of the clearing. Chicken nothing ... it was a weka! Although quite a distance away, we managed to get a photo. Later we saw several groups of them including a juvenile weka completely unafraid of people. it was very close to the Mansion House and hoards of ferry travelers. I hope it will not be bothered by curious hands.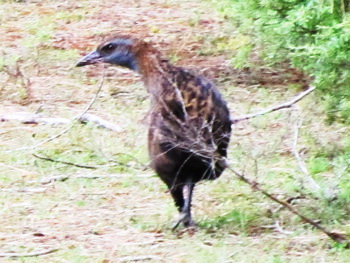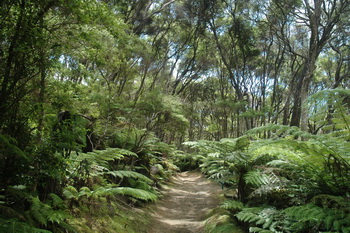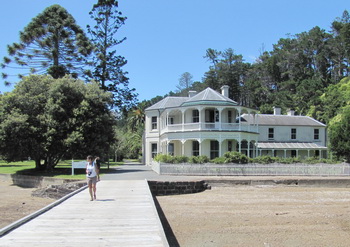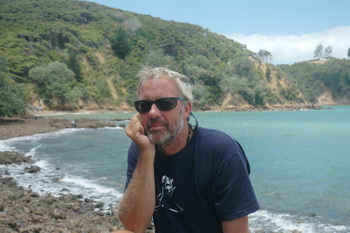 At anchor in School House Bay was a lovely way to end 2010 and begin 2011. It is always a bit sad to leave our last anchorage and sail our last day before tying Tenaya securely in a berth for a long while.
We are now in Gulf Harbour doing a few more projects before taking off to tour New Zealand in Gerty, our trusty campervan. We will continue to post updates of our travels as Gerty goes round New Zealand.
Go to Gerty goes round New Zealand
.