September 30, 2010
Waiting until Sept. 17 to leave Niue for our two day passage over to Tonga made sense. Although the light winds remained, the swell was dropping. When the anchorage cleared out on the 16th we found ourselves second guessing our decision. Do they know something we don't? We held to our plan and had a lovely trip sailing comfortably in mainly 15-18 knot winds although a drop to 4-8 knots required a boost from the engine for several hours.
As dawn broke on Day Two we spotted the island of Vava'u to port. Passing the steep cliffs of the island's northern side, we wound our way into the protected Port of Refuge at the main town of Neiafu.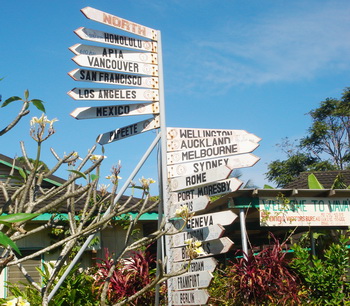 The water is deep here, 30 meters or more, so several business have installed dozens of mooring balls. The anchorage was packed with cruising boats here for an upcoming regatta and we were happy to find a mooring in a quiet area.
The Kingdom of Tonga is made up of 171 islands clustered in four groups, each geographically different. It lies on top of the Tonga Ridge which runs adjacent to the Tongan Trench, the second deepest trench in the world reaching a depth of 10,882 meters.
The Vava'u Group is made up of a single limestone landmass that is tilted south. At the northern edge vertical cliffs plunge straight into the surf. Further south in the group is a submerged area filled with small islands. Their limestone bases rarely reach 50 meters and they are densely wooded. Many have small sandy beaches and coral is plentiful.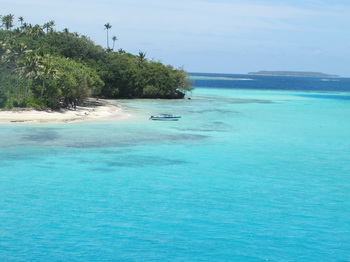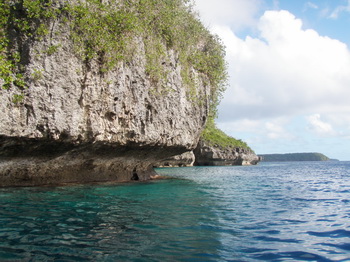 We arrived at Neiafu a few days before our friends were scheduled to visit. After cleaning and organizing Jim and I treated ourselves to a couple of dives.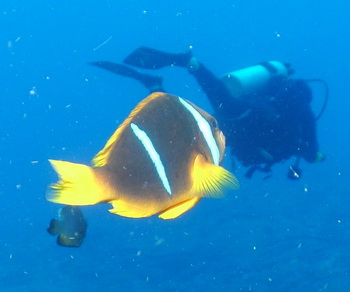 A regatta was organized for all the visiting cruising boats. Along with several activities a race was planned. The festivities began with booths set up offering information, crafts, food and drink. A boys' marching brass band and young women dancers provided entertainment.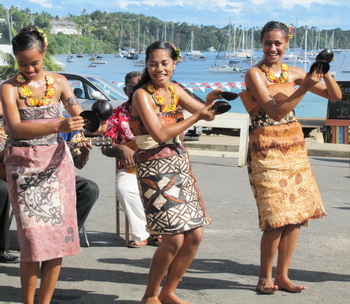 It was interesting to see the girls in their dresses made of painted tapa cloth and the boys wearing wraparound skirts known as tupenus. Some boys covered their tupenu with mats woven from pandanus leaves called ta'ovala. These are secured around the waist with a cord of coconut fiber called a kafa. Ta'ovala are worn frequently by men and women to signify that the wearer is dressed up.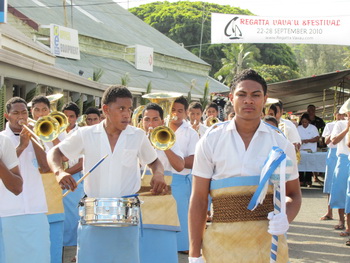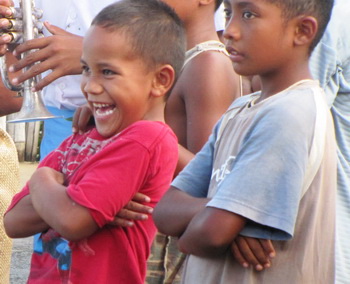 It was raining like crazy when we met our friends, Kirk and Sheila, on the dock in front of The Aquarium Cafe. They flew in from San Diego to explore Vava'u with us for 10 days. Thinking we would wait out the rain, we went upstairs for snacks and beers and heard all about their stops in Samoa and in Nuku'alofa on the main island of Tongatapu, the southern end of the Tongan chain.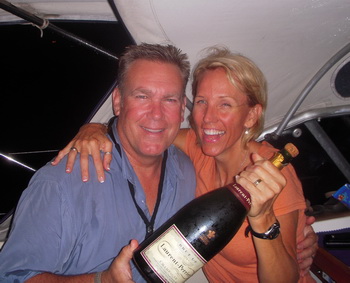 Two weeks before Kirk and Sheila left San Diego, packages began arriving at their house of things we had ordered and asked them to bring. Sheila filled the extra space in the suitcase with bags and bags of goodies. Pretzel M&Ms, chocolate covered raisins, almonds and lots of raw treats were very welcome.
Once they were settled in the forward cabin we broke out a large bottle of champagne to celebrate both their 25th anniversary and their first visit aboard Tenaya.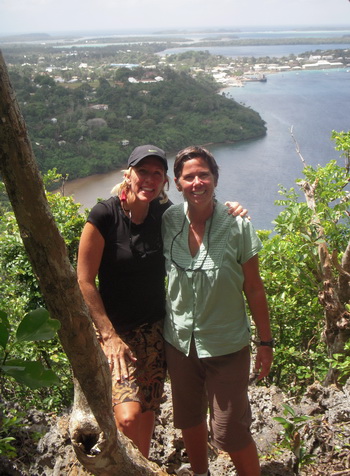 The next day we explored town and hiked up to the high point of the island, Mt. Talau. At 131 meters it was not a long way but parts were steep and slippery and we made use of the installed ropes. A canopy of leaves kept us cool as we hiked through the thick woods.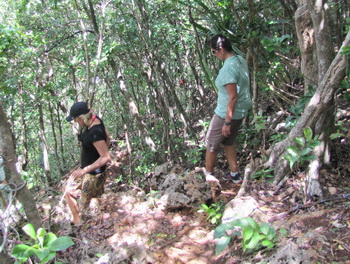 Pigs are everywhere here! Wandering up and down streets, munching grass in fields and even digging their snouts in the damp sand at low water along the shore.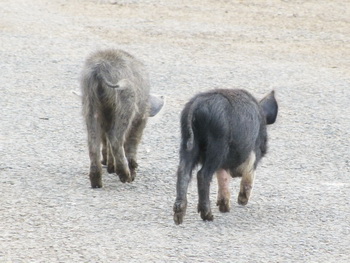 Basic groceries are available in the small supermarkets in Neiafu and there is the wonderful market filled with fresh fruit and veggies by the waterfront. Delightful baskets, carvings, tapa cloth and jewelry can be found inside. Although geared for tourists, the selection and presentation is quite nice with high quality items at very reasonable prices. What fun Sheila and I had browsing and buying!
Saturday morning we took part in the 11 mile race to Tapana Island. Decked out in our new team shirts custom printed the day before, we were fired up to sail. Our tactics proved poor and the first miscalculation had us crossing the start 2.5 minutes after the gun. With Jim and Sheila at the helm we managed to overtake several boats and pick a decent line around the islands. More miscalculations had us tacking more than necessary but be still had a good time. We are not cut out to be competitive racers.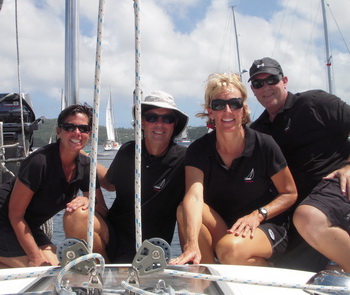 Arriving in the wake of so many boats meant the anchorage was quite full. We found an adequate spot near Tapana Island at the far end of the bay. After a quick snorkel Jim opened up a coconut Sheila had already drained and we all devoured the soft, delicious meat. Later we dinghied over to the beach and were taken by a small transport boat to the Full Moon Party. Music, yummy fish burgers, beer allowed loads of yachties to relax under the moonlight.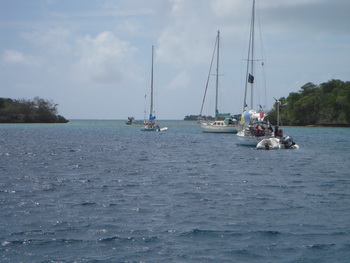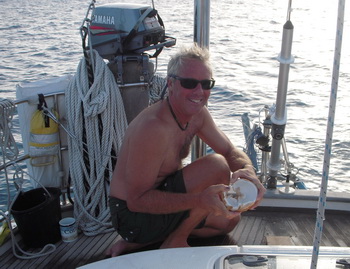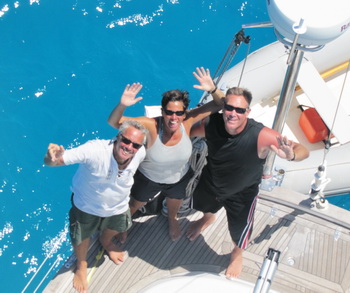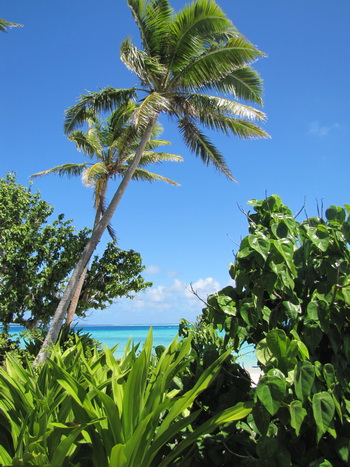 .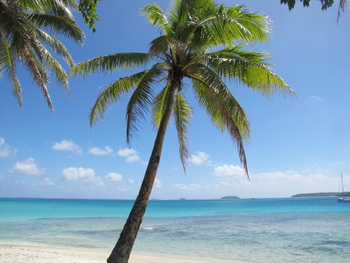 Each year many humpback whales migrate to Vava'u from Antarctica between July and November to mate and bear young in the protected waters.
Our guide books list several places where whales are frequently observed so Sheila steered as we sailed leisurely across wide spans of water speckled with small islands with our eyes peeled for spouts. We found no whales but had a lovely day admiring the many shades of brilliant blue water and the perfect South Pacific islands.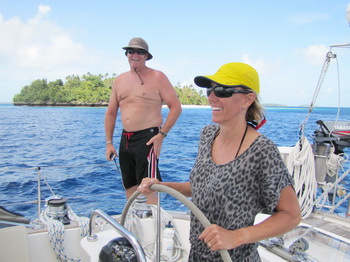 Anchored at the small, uninhabited island of Ovalau was like being in paradise. Looking over the side, the bottom was crystal clear 10 meters below. A short swim in dazzling turquoise water took us to the white sandy shore bordered by tall palm trees swaying in the tropical breeze.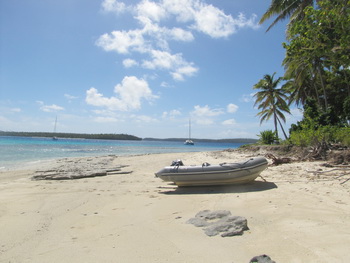 With so many tiny islands all looking the same, it was hard to identify which was which. That seemed the perfect reason to bring out the binoculars and hand bearing compass, get the bearings, and accurately identify each island. Jim brought out the chart, plotter, compass and dividers and taught Kirk and Sheila how to calculate the locations and also how to chart a course. Both of them learned really quickly!
Sheila was keen to go up the mast so Jim pulled out the bosun's chair and hooked her up. With Kirk winching up the halyard, she slowly ascended the mast. Stopping at the middle spreader she admired the incredible view and took about a million pictures.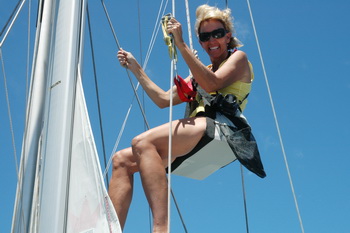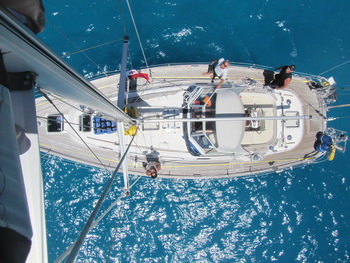 With a picnic lunch and our snorkeling gear packed in the dinghy we headed ashore for a day of fun and discovery. Walking along the powdery sand was unusually cool on our feet but the sun was hot so we took cover under the broad leaves of thick foliage. No paths were to be found on the flat, wooded, interior so we had to bushwhack. Beyond the sandy beach Kirk and Jim waded in the water to follow the island along it's short, eroded limestone cliff. After a yummy lunch we explored the shallow, warm water dotted with small coral formations teeming with brightly colored fish.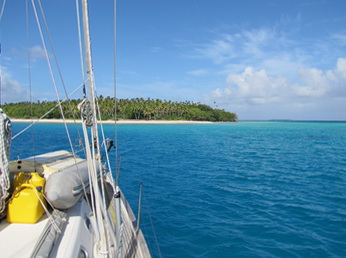 One afternoon as Jim and I did projects inside, Kirk and Sheila donned their snorkeling gear, grabbed scrub brushes and gave Tenaya a good cleaning. Now our girl sparkles again. What perfect guests they are!
It was amazing that we had this gorgeous anchorage mostly to ourselves. The first night two traditional polynesian boats, called vakas, anchored nearby, as did Foftein, their beautiful, sleek support boat. During the three days we were there a handful of charter boats anchored but no other cruising boats. They've seen enough beautiful sandy islands and would rather congregate and socialize.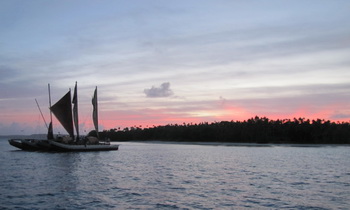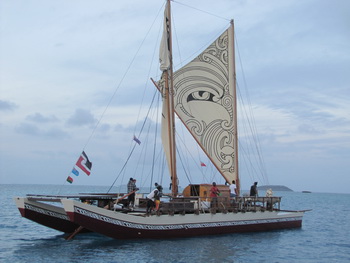 We were reluctant to leave idyllic Ovalau Island but had made arrangements for Riki Tiki to take us snorkeling in some caves. He was to pick us up at Kapa Island early Wednesday afternoon so we motored in the calm morning peacefulness to the area called Anchorage 7. The Moorings charter company has produced a chart and description of Vava'u anchorages and uses numbers instead of names to identify those places unpronounceable by visitors.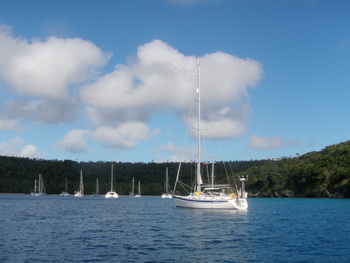 Jim had vertigo so stayed on board Tenaya as Sheila, Kirk and I sped off with Riki, a Kiwi who has lived here 15 years. First we went to Mariner's Cave. The cave is entered by swimming down with snorkeling gear about six feet and then into the darkness about 18 feet before emerging into a cavern. It's a bit scary as the swell carries you in and then pulls you back out. About half way through our eyes adjusted to the low light allowing us to see the walls and ceiling, and most importantly, the surface.
Once inside, we marveled at the strange atmospheric phenomenon of disappearing fog. As the swell surges through the entrance it compressed trapped air. When the sea recedes every few seconds the moisture condenses into a heavy fog. As soon as another swell enters the opening the fog instantly vanishes.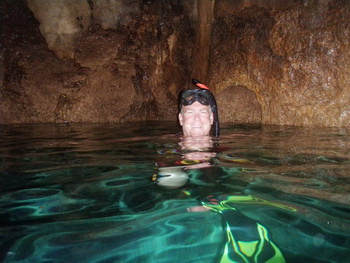 Next we went to the small island of Luamoko which translates to lizard vomit. Despite the name it is a nice place with a gorgeous sandy anchorage bound by amazing coral and lots of fish. Scattered along the sandy shore are millions of perfect shells. Riki even found a piece of whale bone. Sheila and I spent more than half an hour admiring the marvelous shells.
Portions of the sheer limestone cliff have flaked away and created passages through the rock. Riki guided us up and down over the rock and through the water. At one point he asked if we were afraid of snakes as he pointed to a two foot long water snake. The poisonous creature was pretty with 1/2 inch black rings along its translucent looking body. Unlike the sea snakes of Niue, these sleep on shore.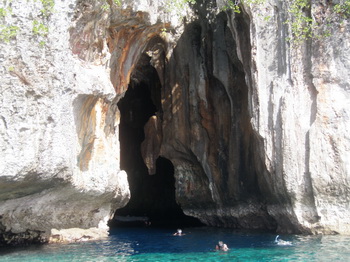 When the sun had lowered sufficiently in the sky, about 3:00 pm, we dashed back to Kapa Island. Riki brought his boat right up to the hole in the cliff that is Sparrow's Cave. Switching off the engine, he picked up an oar, positioned himself at the bow and rowed us silently into the tall cave. Dozens of swiftlets, originally misidentified as swallows, fluttered high above, their muddy nests fixed to the ceiling.
Light shining through the entrance creates astounding rays in the brilliant swath of aqua water amidst the deeper colored sapphire blue sea lapping at the walls of the cave. On went our snorkeling gear and over the edge of the boat we went to explore. The bottom, 60 feet below, looked close enough to touch in the astonishingly clear water.
Indiana Jones Cave is just a few meters to the north and snorkeling over to it was amazing. The steep cliff continues below the surface. Beyond a four meter ledge it drops off into the cobalt abyss. Feather stars and sponges sway in the current as colorful fish swim lazily by.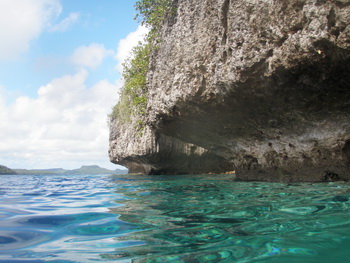 A huge school of 3" silver fish inhabit Indiana Jones cave parting slightly as we swam among them. They are impossible to avoid. Against the northern wall, just below the surface, is a swim through to a chimney on the other side of the wall. A hole in the rock allows light to shine into the chimney lighting the way. Diving down we snorkeled in to have a look. The hole in the wall keeps this cave from fogging like Mariner's Cave but it was pretty cool anyway.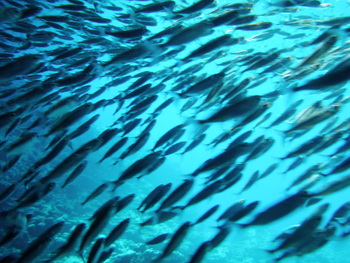 Jim was feeling better the next day so we dinghied back over to Swallow's and Indiana Jones caves for him to have a look. Kirk and I snorkeled them once more while Sheila tried to warm up her body after an hour and a half snorkeling trip in the anchorage.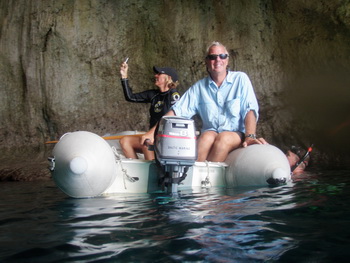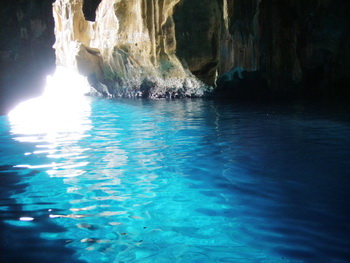 Snorkeling along the southern wall at Port Mourelle at Kapa Island, also known as Anchorage 7, is really nice. We dropped the hook behind all the other boats and close to the edge so no other boats obscured our view.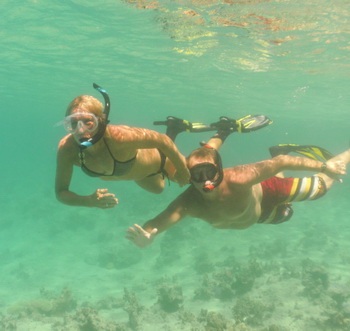 Friday afternoon we will head back to Neiafu to replenish the fruit and veggie bins. Saturday morning we plan to dive with Riki Tiki and explore some underwater caves and chasms. Kirk and Sheila are having a blast! So are we!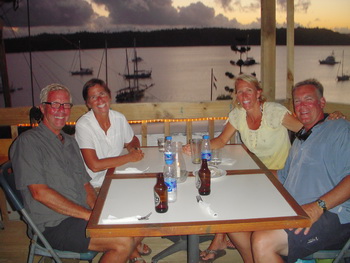 Go to Photo Gallery - Kirk & Sheila
Go to October 2010 - Vava'u, Tonga Part Two
.