September 20, 2010
What a ride we had from Palmerston to Niue! All was fine the first 15 hours of the passage. At noon on Day Two conditions changed dramatically. With an almost instantaneous shift, cooler wind blew from the SE at 25 knots. The confused seas grew to over 4 meters during the afternoon as the wind increased to over 30 knots. We were in a squash zone, a truly unpleasant place to be.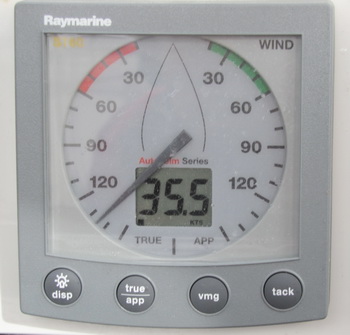 Squash zones in the Southern Pacific Ocean occur when a high pressure system sits in a higher latitude and forces air northward, towards the equator, effectively squashing the trades and increasing wind speeds. With the southerly wind comes a southerly swell in addition to the easterly swell caused by the trades. Swells from different directions make for a confused sea which is no fun at all.
Clouds gathered and the temperature cooled enough to need slippers with our foulies on night watches. Six hour stints in the cockpit were shortened to four as time marches at a snail's pace when one is nervous, chilly and bouncing about furiously.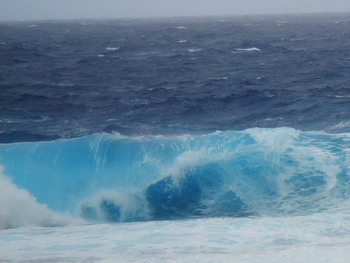 As I lay in my sea bunk in the aft cabin savoring the last few moments of comfort before my 0200-0600 shift during our third night out there was a great crash and the boat shuddered violently. Suddenly I was drenched. I crawled over the lee cloth to kneel on a soggy cushion before stepping down to the saturated carpet.
Staggering to the main saloon in the constant bouncing motion, I tried to comprehend the water sloshing over the galley counters and down the walls and cupboards. Above the wind and waves I heard a groan outside. Jim! Envisioning him hanging by his tether over the side, I hollered to him and rushed up the companionway stairs. I was thrilled to see him standing miserably in the cockpit!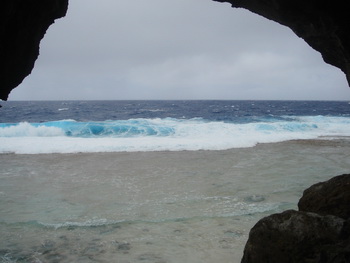 He saw the large wave at the last moment as it walled up on Tenaya's port quarter. It broke into the cockpit and inside the boat as the upper washboard was not in place. The slider on top was shut but plenty of water was forced below. The million candle power flashlight and handful of flares we keep handy on the the table under the spray hood ended up floating behind the helm with two waterlogged cushions. Nearly two feet of sea water swirled about the cockpit before it eventually disappeared down the drains. I had been doused by water forced through the normally water resistant vents.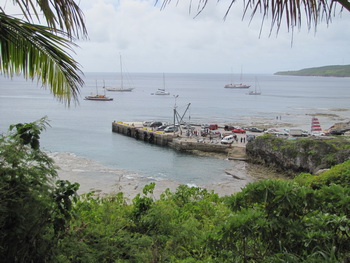 After three days, seven hours and 450 miles we arrived at Niue at 1600 with nearly every towel on board soaked from sopping up water off the main saloon floor. I've never been so relieved to reach the end of a passage!
We tied to a mooring ball next to Joule who we have know since the Galapagos. Straight away Peter was on the radio asking if we wanted to join him and Nani for a Sausage Sizzle at the Niue Yacht Club in an hour. "Yes," I said. "Get me off this boat!"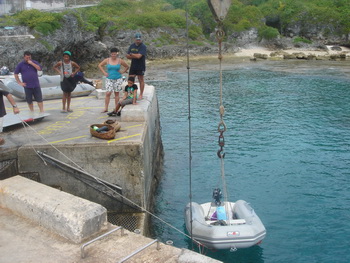 There is no natural harbor at Niue as the island is geologically a coral topped volcano with a reef at the shoreline. Intrepid souls have cut away the reef in a couple of places to allow access for boats. The largest has an electric winch to haul small boats up to the concrete wharf.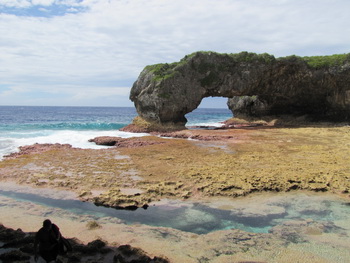 We met the crews of Freezing Rain, an HR46, and Trim at the Sausage Sizzle. The following day they invited us to join them on a trip to the breathtaking Talava Arches, a labyrinth of caves and colorful tidal pools.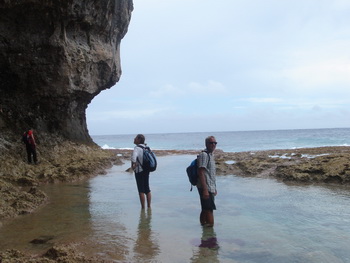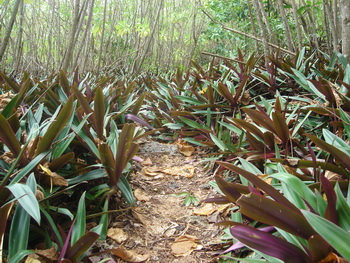 A fishing competition was held Saturday morning. The participants brought their fish to the wharf to be weighed. Many went out in their small outrigger canoes but some used aluminum boats.
As we dinghied up to the wharf a man hauled up a 2 meter long sailfish he had been hauling along side his outrigger. Others heaved yellowfin tuna from the holds of their canoes.
.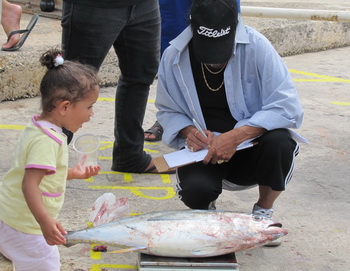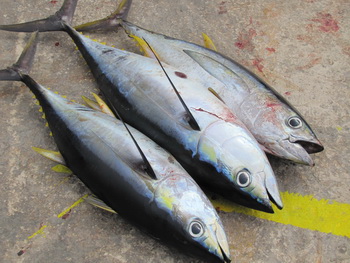 Several agreeable restaurants are scattered along the narrow, sleepy road of Alofi, the main town. Each day a different one has an event, usually a dinner special. Sunday the place to be is the Washaway Cafe located at the other harbor. Unique in the South Pacific, it has an honor bar. Pour what you want and write it down. When finished, open the register, pay the bill and take change if needed. They had the most delicious burgers with beef, lettuce, onion, beets and a fried egg. Sounds odd but was quite tasty.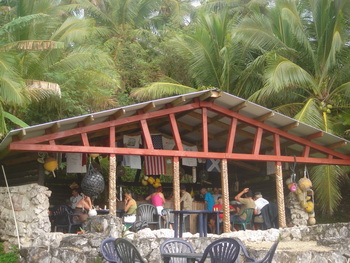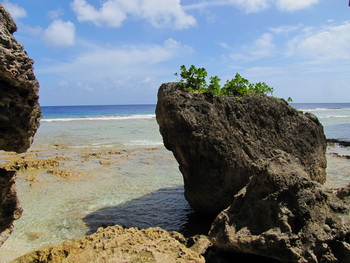 Niue is completely different than any other island we have visited in the South Pacific. Coral limestone rises vertically from the sea to a height of about 30 meters and again to about 60 meters. The coast is rocky and untamed with a handful of tiny sandy beaches nestled in narrow coves. The reddish colored reef is exposed at low water nearly all around the island. Scrubby foliage mixed with palm trees cover the flat-topped island like green icing on a two-tiered cake.
Not a single river exists on the island. Rainwater percolates down through the porous limestone creating amazing chasms and caves dripping with stalactites and stalagmites. Great underground caverns hold the islands' vast quantities of fresh water.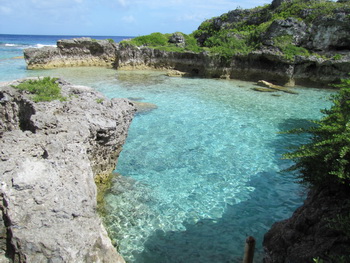 Diving is spectacular! Because there are no rivers there is no run-off to cloud the water with sediment. It is incredibly clear with visibility up to 70 meters. With underwater chasms, fissures and caves to explore, the topography is awesome. Sea snakes, humpback whales and spinner dolphins complete the unique and remarkable experience.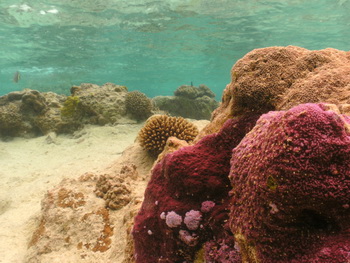 We made 4 dives with Annie of Nuie Dive. She, her husband, Ian, and their employees are exceptionally nice people who run a first-rate professional operation with good quality equipment. The first day we dove Matavai Bommie and Snake Gully. The next time we dove Limu Twin Caves and Bubbles and the Dome. Cyclone Heta devastated the island in 2004 and a lot of coral was lost. It is interesting to see the regeneration of six years.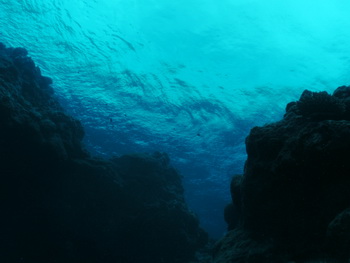 Snake Gully is a narrow fissure with a lot of snakes. They congregate in intertwined bundles under rocks where they rest until they untangle themselves and slowly swim to the surface for a breath of air. Although they are poisonous they won't bite people. These are friendly snakes that will let you run a finger down their scaly bodies.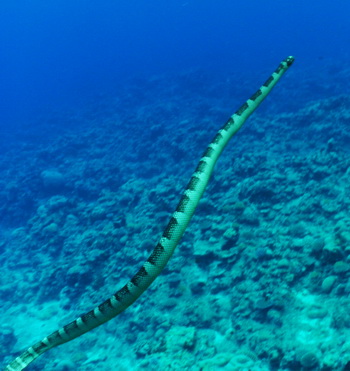 Limu Twin Caves was my favorite dive. It began with a descent into chimney and then a traverse into a series of caves. Most had openings high above allowing filtered sun to cast wonderful rays of light onto the cavern walls.
Bubbles began with finning up a fissure before exploring more chasms and overhangs. Rising close to the surface we ducked under the rock to emerge in a cave where we could pop our heads up and breath the air. With each swell our ears popped. The experience was surreal.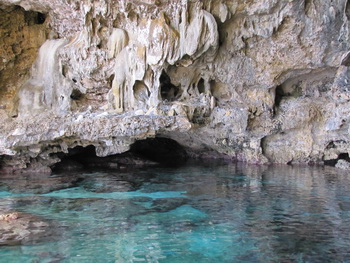 Between dives we looked for whales but found none either day. We did find dolphins though, every time. Donning snorkeling gear, one person slipped over each side of the RIB (rigid bottom inflatable) and held onto a line along the outside of the boat as Annie kept up with the playful creatures. They can be curious. Calling out in a sing-songy voice seemed to excite them. They darted back and forth, under and alongside us. It was amazing!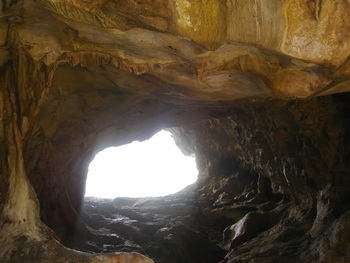 We rented a car to tour the island. Along with Cathy and Werner from Legend 2 we explored Togo Chasm, Anapala and Fatiau Tuai. As we admired the rugged coastline at Fatiau Tuai Cathy noticed a whale. Careful observation revealed several swimming out in front of us. We settled down and watched as they surfaced, kicked up their flukes and blew great spouts into the air.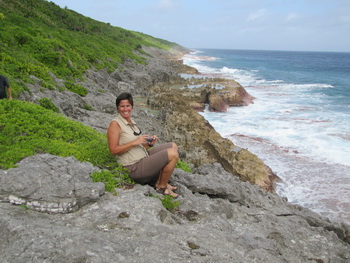 The trail to Togo Chasm wound down to the sea through jagged gray limestone forming millions of pinnacles. All the land was like this but a small patch of green palm fronds popping out of a chasm. Looking down we found an oasis of white sand and palm trees amid the serrated monochrome terrain. A ladder allows for descent into the sanctuary and into a shallow pool of clear salt water. A quick turn allows exploration of caves and passages by wading through the pools among the rocks.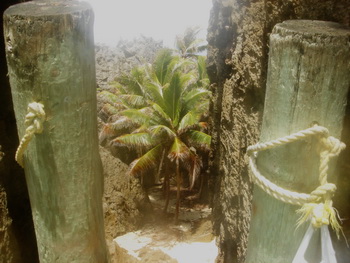 Another day we drove north to Avaiki Cave, Palaha Cave and Limu Pools. Each cave is enchanting and interesting. Situated at the coast, they both have salt water flowing into them. Limu has a large, shallow pool of brilliant aqua water teeming with colorful fish.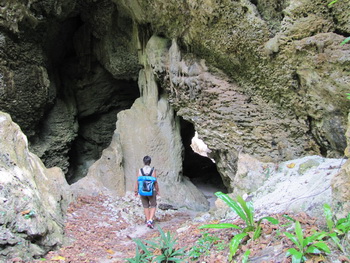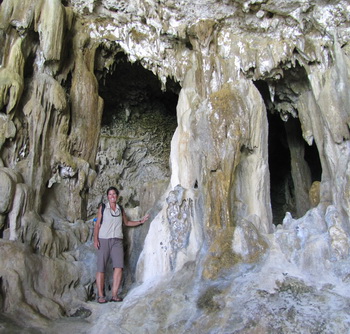 We really enjoyed our time on Niue. Keith, commodore of the Niue Yacht Club, was immensely helpful. The first day he arranged our check in and gave us a tour of town. The next day he was at the wharf when I crawled out of the dinghy with two heavy big bags of wet laundry. He drove me to the laundry lady. Sunday he found a rental car for us when all the shops were closed. Along with Jim and Ernie, the volunteers of Niue Yacht Club go to great lengths to welcome and take care of yachties. Their efforts are much appreciated!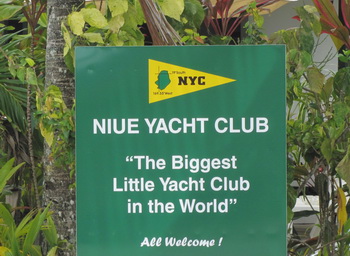 Our next stop is the Vava'u Group of islands in Tonga where friends Kirk and Sheila from San Diego will join us. We can't wait!
Go to September Part Three - Tonga
.