August 19, 2010
Bora Bora. On our own sailboat. Wow, we have sailed to paradise!
What a wonderful day we had sailing here from Tahaa. On a broad reach with 15 knots of wind and slight seas, we skimmed along the cobalt sea towards the most beautiful and recognizable island in the South Pacific.
As we neared the island, Mt. Otemanu, Bora Bora's famous basaltic mountain which is mostly a huge crater, loomed high and green just a short distance away.
The island is surrounded by a barrier reef with only one navigable pass. The water is quite deep just inside where the Bora Bora Yacht Club provides mooring balls.
Motus, sandy islets with swaying palm trees, dot the coral reef. The multihued lagoon is absolutely stunning. Shades of the lightest blue, vibrant turquoise and deep azure color the protected waters and make for fabulous swimming, snorkeling and diving.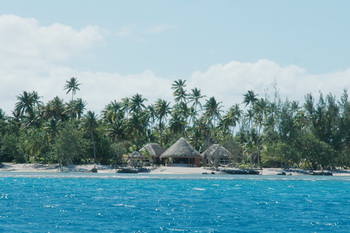 We had heard it was very touristy so didn't plan to spend many days here but we found it quite charming. Why not? We are tourists too! It is easy to see why plenty of couples choose to spend their honeymoons here in the thatched huts built out over the water overlooking the scenic lagoon.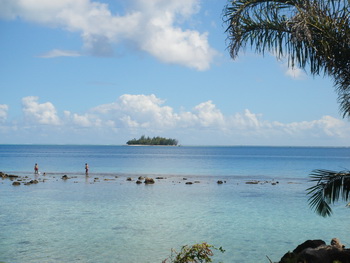 "I saw it first from an airplane. On the horizon there was a speck that became a tall, blunt mountain with cliffs dropping sheer into the sea. And about the base of the mountain, narrow fingers of land shot out, forming magnificent bays, while about the whole was thrown a coral ring of absolute perfection ... That was Bora Bora from aloft. When you stepped upon it the dream expanded.
- James A. Michener, return to Paradise, 1951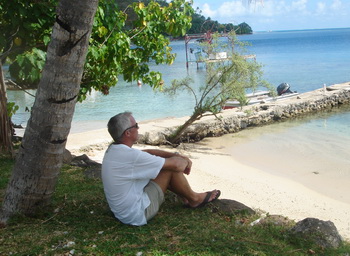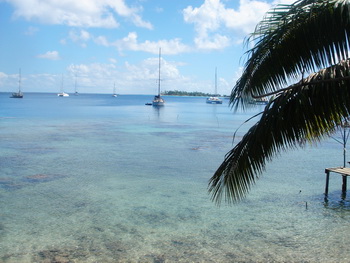 Shortly after arriving we had the dinghy down from its perch on the coachroof, the outboard mounted and were heading ashore. As we wandered towards the main town of Viatape we came to Top Dive Bora Bora. Perfect! Bora Bora, along with the other French Polynesian islands, is known for diving with sharks but we have had several encounters underwater with sharks now so were on a mission to see the giant manta rays that patrol a pass in the lagoon on the eastern side of the island.
We were told the site, Anau, was protected and dive groups were only allowed to visit on certain days. The following day was allowed but may not be chosen because of poor visibility. The woman at the shop said to call the owner that evening after he had checked the weather to know if we would be able to go.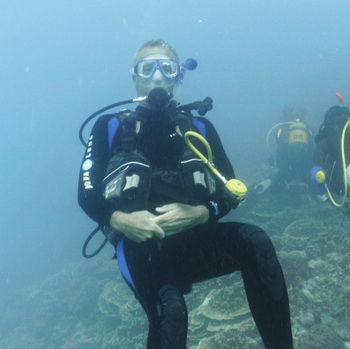 Yippee! They were indeed going to dive at Anua the following morning so we booked two dives and were picked up at Tenaya at 8:15 the next morning.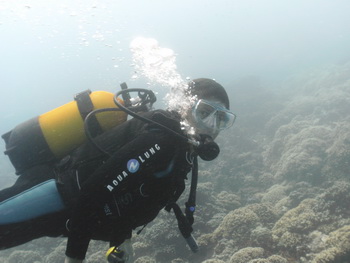 Our first dive was at Tapu, famous for encounters with lemon sharks. Boy are they big! And not too timid either. Several swam very close to us as the more common black-tipped reef sharks stayed further away looking quite small and thin.
We debated and in the end left our new underwater camera on the boat for the first dive. We still do not have many dives and wanted to concentrate on our technique. Bad decision! The water was incredibly clear and there were so many fish in addition to the sharks.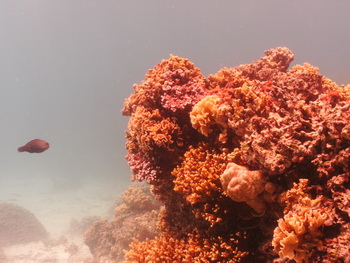 So the camera went on the second dive. We were told the visibility was fairly poor so took off the strobe which made it less cumbersome but as we went deeper a lot of color was lost. We've got a bit more work to become proficient with the camera but it was fun nonetheless.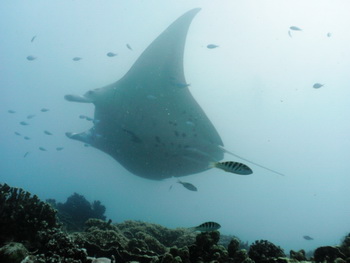 Manta rays flew slowly and effortlessly above as we sat on the sandy floor of the pass lined in coral. It was amazing! They are huge! Most had wingspans of about 3 meters but a couple, or maybe it was the same one, appeared to be 4 meters. Eerily they appeared out of the cloudy water, their white undersides passing only a meter or so above our heads only to disappear again into the underwater haze.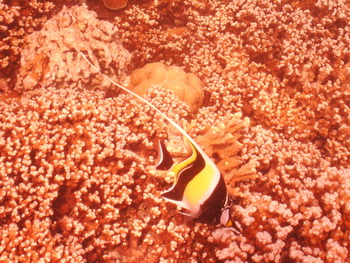 So often we have to leave places sooner than we would like and that certainly is the case now. Because we have a good weather we will drop our mooring ball tomorrow morning and sail 550 miles southwest to Rarotonga in the Southern Cook Islands.
Go to August 2010, Part 4 - Rarotonga
Go to August Part 4 - Rarotonga, Cook Islands
.