August 16, 2010
The wind blew hard in all directions for two days. Periodically the chain groaned as it rubbed against the dead coral below. Imagining a web of tangled chain, we were not looking forward to hauling up the anchor.
Fortunately, when the time came, the skies had cleared and the bottom could easily be seen six meters below. I pointed as Jim steered Tenaya around the obstructions, sometimes doing a complete 180. Twenty minutes later we were on our way to Raiatea.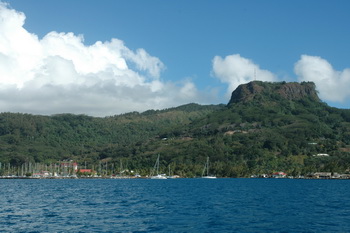 Raiatea and Tahaa lie 30 miles to the west of Huahine. They are encircled in the same barrier reef and it is possible to sail completely around Tahaa and most of the way around Raiatea inside the reef.
Both islands are mountainous and covered in dense layers of green with deeply creased valleys. They feel much more friendly and benign than the brooding Marquesas.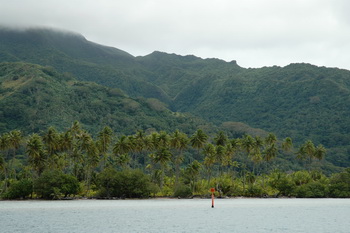 In Moorea we discovered the steering wheel was loose. Jim took it apart and found some welds were broken. Not wanting to return to Papeete, we looked for a yard along our way. An extensive boatyard lies on Raiatea's western side so it seemed plausible they would have a welder. We tied up at the visitor's dock at nearby Marina Apooiti. The dockmaster kindly called Dominic over at the carenage at 4:00 pm who said to bring the wheel right over. We picked it up at 9:00 the next morning. What service! And for only $27.00.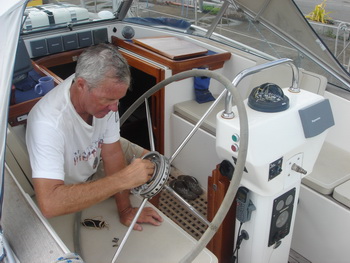 Steps from the visitor's dock is Hemisphere Sub Plongee, a dive shop with great guys who speak English well. We signed up in the morning for an afternoon dive. How clear the water is! The visibility is more than 100 feet.
We had a divemaster to ourselves as we explored an area called Miri Miri. The pocket full of fish he carried attracted about a dozen black tipped reef sharks who swam with, around and in between us the entire dive. A bit disconcerting at first, it was actually pretty cool to see them glide by so closely from so many angles. We saw many, many reef fish as well.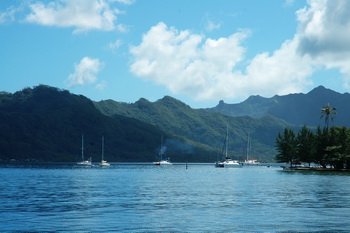 The next morning we motored across the lagoon to Tahaa and tied to a mooring ball at the Taravana Yacht Club. The water is deep in the bays here so balls are appreciated. Richard has a pleasant shore-front restaurant with large, tasty portions, a relaxed bar and highspeed wifi which is popular with yachties.
Tahaa is not touristy and relies on agriculture. Known for producing delicious vanilla, the island has several plantations. Together with Susie from Sidewinder, we dinghied to the end of the bay and walked the short distance to Le Maison de la Vanille to learn about vanilla production. Along the rural road we passed beautiful squash and could see other crops as well.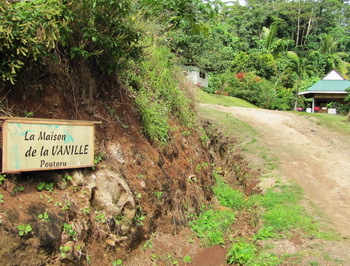 Vanilla beans are gathered and put in large bags. Each day they are spread out in the sun for a maximum of four hours. If it rains they are covered up. This goes on for about two weeks.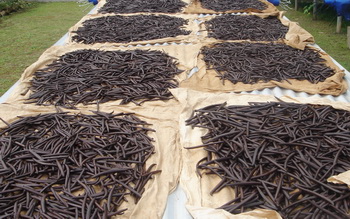 Next the beans are checked, sorted and massaged to make them supple after which those that make the cut are spread in long, shallow boxes to dry for a few weeks until they are ready. Then they are bottled up for sale, ground into powder or sent to Tahiti to be liquified.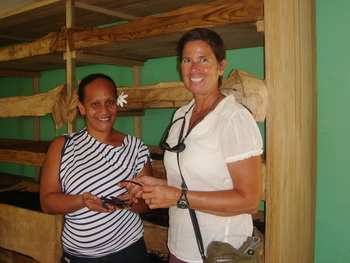 There was rumored to be good snorkeling out on the reef so the next morning we hopped in the dinghy to check it out. It was the perfect opportunity to get acquainted with our new Sealife underwater camera.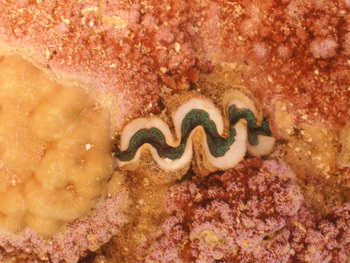 There were quite a few fish which all eluded us when we tried to photograph them. We will have to work on stealthier approaches! Fortunately the clams and coral don't swim away.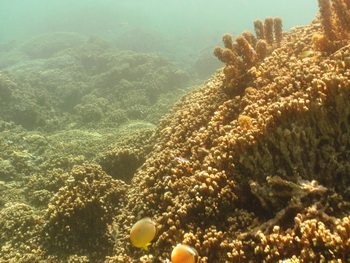 Later that day we sailed around to the eastern side of Tahaa and into Baie Faaha. Tying to one of the mooring balls provided by The Motu Pearl Farm, we went in for a private demonstration. Raka opened an oyster and explained its anatomy and how his wife's family farm works.
They buy their young oysters from the Tuomotu Islands. Once they reach the proper size, after 1/12 to 2 years of growth, the oysters are gathered and opened slightly. A Japanese expert slices the pearl sack and inserts a small nucleus and a graft of the mantle which gives the pearl its color. Then the oyster is hung on a line with a net around it. If the oyster rejects the nucleus it is found in the net and the oyster is not used for pearls again.
Oysters hang on lines in the saltwater for 1 1/2 years before they are opened and the pearls are removed. A good pearl in not guaranteed! In fact, only 30% are of nice enough quality to be sold.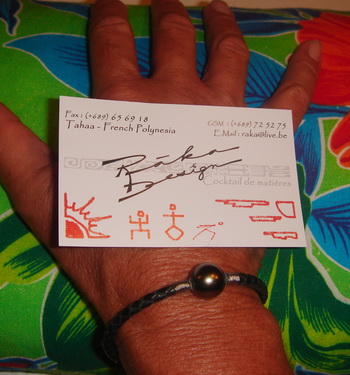 If an oyster produces an agreeable pearl then another, larger nucleus is inserted into the pearl sack along with a graft of mantle. This time a local farmer can do the procedure. It is hung for another 1 1/2 years while the pearl is produced. This process can replay 3 to 4 times.
Raka makes all the leather jewelry himself and showed us several gorgeous creations. I was happy to buy a pretty bracelet with a black pearl in the center and a black braided leather band.
Beyond the mouth of Baie Faaha and across the channel is a splendid sandy anchorage near the reef. The two nearby motus seem to float on the incredibly light turquoise water that surrounds them. We anchored here and took the dinghy for a ride to explore potential snorkeling sites for the morning.
The wind was really blowing when we awoke so we skipped snorkeling and hauled up the anchor. We followed the channel inside the reef back over to Raiatea where we topped up Tenaya's fuel tanks at the Total station adjacent to the municipal marina before heading down the eastern side of that island. Clouds clung to the mountains and hung over the sea occasionally spitting a few drops. Here and there tiny buildings sat on itsy bitsy outcroppings.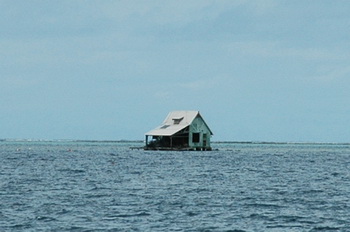 A deep blue finger called Baie Faaroa pierces the mountainous interior and provides a beautiful location to spend the night. Anchoring made us a little nervous as the center of the bay was over 20 meters deep until the head where it shoaled rapidly to 2 meters. The sides did the same thing. As Tenaya draws 2 meters, we played it safe and dropped the anchor in 21 meters of mud right smack in the middle.
Later, as we hauled it up in higher winds, we drifted to the side and into water 2.1 meters deep. Yikes! At the bow I didn't realize this and motioned to Jim to slow down as we were ahead of the chain, of which we had paid out 70 meters. In a rarely used forceful voice he commanded, "keep pulling it up." Yes captain. Finally the anchor was in sight rising through the clear water and I gave him the thumbs up although he was already hightailing it to deeper water. Whew, dodged that bullet.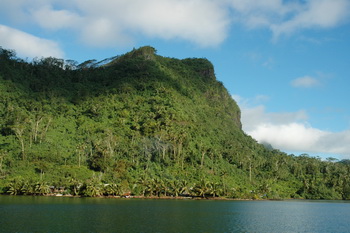 A river empties into the head of Baie Faaroa which is navigable 3 to 4 kilometers upstream. Another yacht explained how to get past the shallow entrance fouled with snags and we managed to pick our way through. The scenery is gorgeous and the atmosphere calm and peaceful.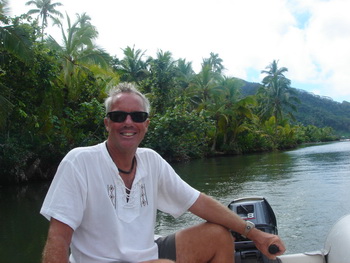 About the 10th century, Tetunae, a great tribal chief imposed several rules that shaped the heart of daily life among the people. It was a code of conduct that influenced the already strong spirit of brotherhood including the values of life, humility, tolerance and goodness.
"Do not look with indifference upon the traveler who passes in front of your door. You must invite him into your house..."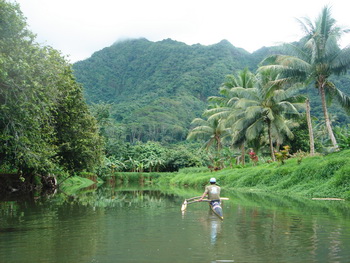 This may explain the wonderful hospitality we received from a young local man. He asked if we would like some bananas, to which we responded with a resounding "yes, please!" We followed him to a dock where he disappeared into the lush foliage and emerged with an entire clutch of bananas. We were thrilled!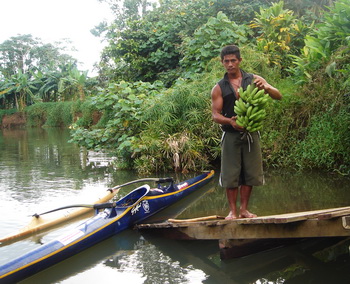 This area is a botanical garden and he offered to show us around. As it was getting late, we agreed to meet the following morning where we found him waiting just outside the tricky entrance to the river. We followed in our dinghy as he effortlessly paddled his outrigger canoe called a fa'a up the river and to the partially collapsing dock.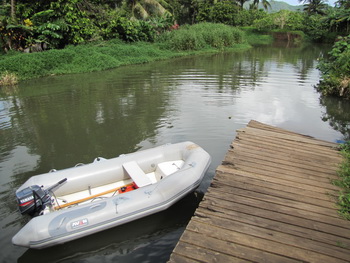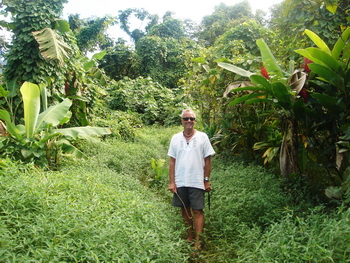 As we followed him deeper into the profuse overgrowth he pointed out delightful flowers and explained plants and their medicinal uses. We were surprised to find so many are poisonous.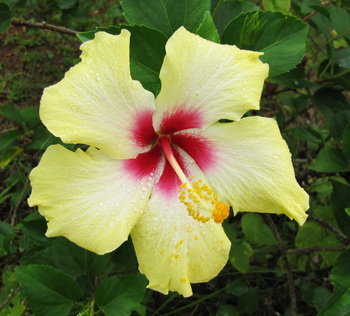 He showed us small red cocoa beans hanging from a branch and many types of fruit trees, several bearing fruit. Chestnut, cashew, papaya, banana, coconut, pineapple, noni, breadfruit, guava and apple trees flourished. He handed me half of a fruit I'd never seen. About the size of a small apple, it had full-sized thin, edible sacks filled with one large, slippery, brown seed and soft, juicy, very sticky, white flesh that tasted quite nice. Three of the interesting fruit now hang in our fruit basket along with two coconuts, two papayas and one large breadfruit. The bananas dangle from our radar pole.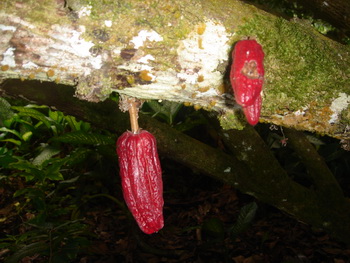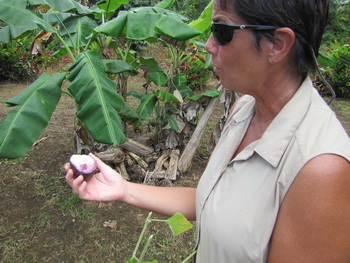 After asking if we liked coconut water, he picked up a long stick and swung it into a palm tree until four water nuts crashed to earth.
Out came his machete and he opened one immediately and presented us with the sweet, thirst quenching liquid. Once drained he sliced it open and we enjoyed the moist, squishy, flavorful meat.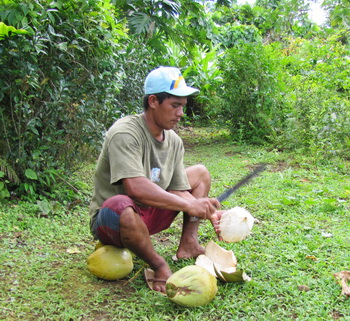 Taro is being harvested and other crops are tended, but most of the garden is overgrown and in need of some major pruning. Paths are overgrown and vines attempt to strangle the trees but the hearty, colorful flowers persist and bloom magnificently.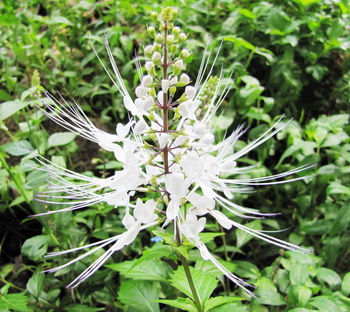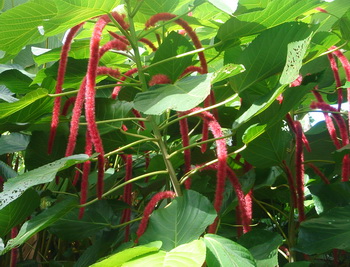 At one point he stopped and shimmied up a small coconut palm. Once down he motioned for Jim to try. He did but found it very slippery. Our guide said barefoot is better but after the staph infection in his foot Jim is quite wary and his Chacos stayed on.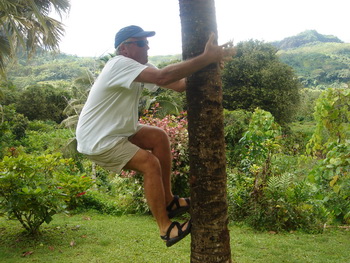 At the end of our tour our guide collected flowers he had been cutting along the way and presented me with two lovely bouquets. One of bird-of-paradise and the other blossoms and leaves from ginger plants. How beautiful they are!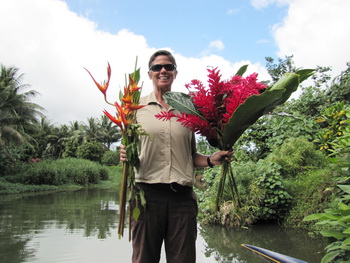 We asked him to follow us out to Tenaya where we gave him a t-shirt from Mammoth picturing a snowboarder and skier and an appropriate tip. Very appreciative and extremely humble, I don't think he was expecting anything.
As I emerged from below I found him sitting on the dinghy and Jim paddling his fa'a. Being incredibly light, the thing shot downwind in no time. But when he tried to turn back into the wind to return, Jim had a hard time getting back around. Fearing capsize, he persisted and eventually returned.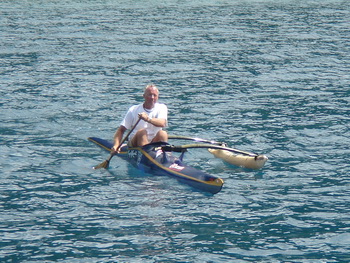 Encounters like this are etched into our memories forever and make our lifestyle so rewarding. We enjoy interacting with local people wherever we happen to be. Learning about and experiencing a little of their lifestyle is always interesting and enjoyable.
Tomorrow we will sail over to Bora Bora to spend a few days before the 5 day sail to Rarotonga.
Go to August Part Three - Bora-Bora
.