August 9, 2010
Whew, what a night! Agitated seas bounced Tenaya around while light easterly winds allowed the sails to snap loudly and often. It felt as though we were on a miserable, never-ending amusement park ride.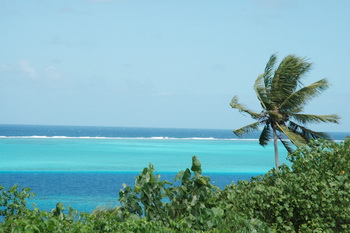 Tenaya sailed out of Opunohu Bay, Moorea at dusk on August 5 and bounced and rolled through the night, for 17 1/2 hours, to reach the east side of Huahine 82 miles to the west.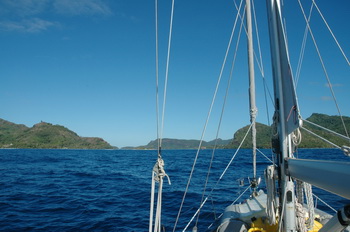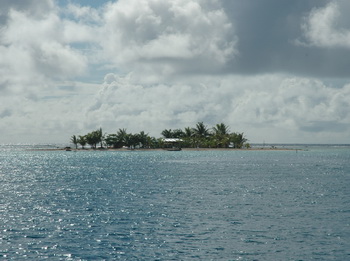 Once the entry buoys were spotted and the leading marks aligned, Jim steered Tenaya through Passe Farerea. Making a quick turn to port and beyond a small motu we followed the markers through the reef fringed channel to a gorgeous anchorage. We dropped the anchor in four meters of sand at 16 45.3S 150 57.89W.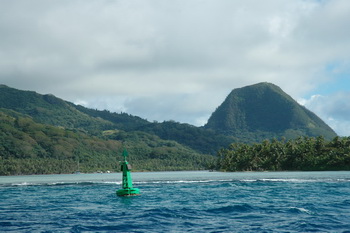 We were the third boat in the anchorage which looked more spacious than it actually was. Coral bommies limited where the anchor should fall and chain should sweep. Tenaya drifted in calm, clear, warm, turquoise water between Moto Murimahora and Huahine Iti.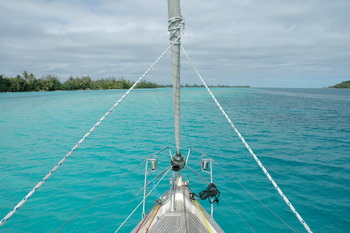 Tall, steep, lush and green, Huahine is actually made up of two islands, Huahine Nui (grand) and Huahine Iti (small). Contrary to what the names imply, they are similar in size. Separated by an isthmus and a narrow, shallow waterway, a bridge connects the two.
Both islands are enclosed in a common barrier reef which has two passes on each the eastern and western sides. Agriculture plays a much bigger role than tourism. Locals are friendly and quick to smile and many speak English quite well.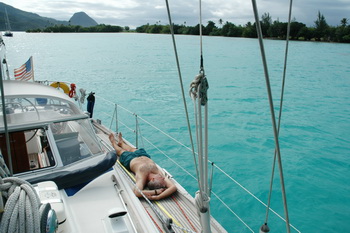 Both the easterly wind and swell were forecast to increase on August 8 making Passe Farerea treacherous to exit in breaking waves so we left having spent only one night in the stunning anchorage.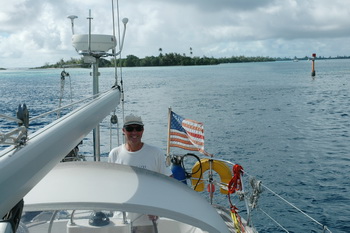 On August 7 we had a very pleasant three hour sail around the north of the island to Fare on the western side in 10-15 knots. We sailed into unsettled weather that lasted two days.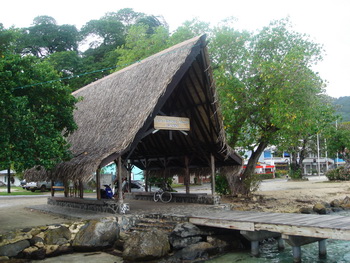 I am not going to list our position as we are hopelessly tangled in the rock and dead coral below. We tried to anchor at the back of the pack in the small anchorage off the main town of Fare but ended up poking our stern into the channel. That was no good. Next we motored to a sizable hole and dropped the hook in a decent place but were vibed by the young women in the next boat over. We were no closer than most of the other boats to each other but why upset someone who was there first. So we left.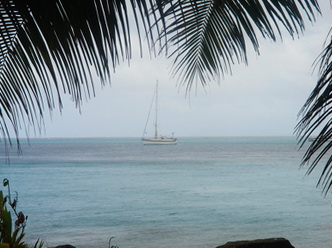 We followed the channel around to starboard and anchored beyond the first green buoy in what looked to be sand and occasional rocks. When Jim backed down we held fast. Diving to check that we were anchored well, I found the Delta anchor just lying on the bottom. Jim backed down and it just dragged on the hard ground.
I crawled back on board over the jungle gym that is the opening gate for our Monitor windvane when it is closed and we pulled up the chain and anchor. Finding another sandy patch I dropped it again. Because of some miscommunication, Jim put us in slow forward rather than reverse once the anchor hit bottom and I raced to let out enough chain to keep us moving while he corrected. After letting the wind blow us back he backed down and it held fast.
With dark clouds overhead I couldn't see well but knew we had passed over a great deal of rocks. Sure enough, when I dove again the chain was firmly snagged several times on coral. At least it was already dead. The anchor itself lie upright at the end of 15 meters of chain on sand before running left and right through the rocks.
Not ideal anchoring! The wind was blowing 20-25 kts. with higher gusts and there were no other good options for anchoring nearby. Figuring we had a good chance of being safe with 50 meters out in a depth of 6 meters, we stayed put. That's more than 8:1! The chain will catch on more rocks if it becomes untangled from the current ones before we drag into danger. We hope.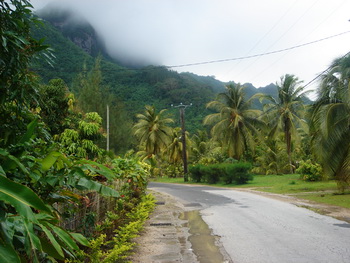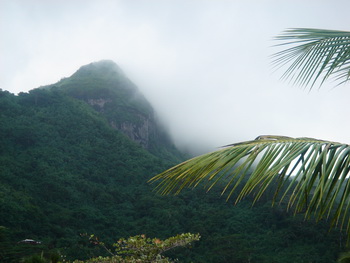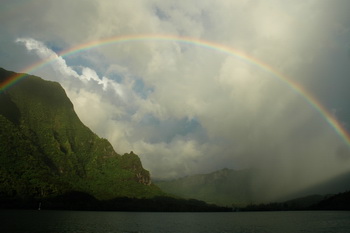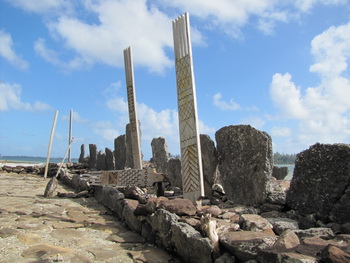 Huahine is a very important Polynesian archaeological site. Ancient chiefs built a series of maraes at the northern end of the island by the village of Maeva. More than 30 marae are found along the shore of Lake Fauna Nui and the surrounding area.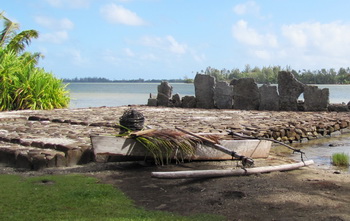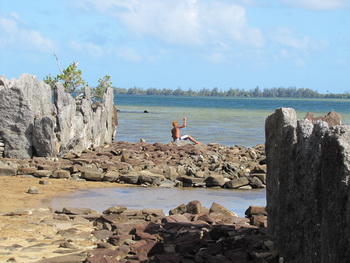 Today we rented a car and took a circle tour around the two islands. How charming and beautiful! Small villages are nestled at the heads of deep fjordlike bays while discreet pensions dot the gorgeous white sand beaches along the turquoise and cobalt lagoons.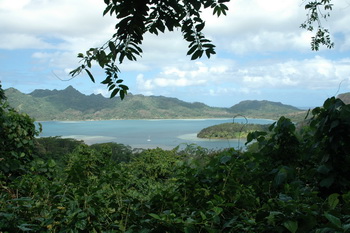 Walking along the road in Maeva we noticed a small table piled high with mangos. Excited to buy some fresh fruit we stopped and these kids immediately came up to us. Their mom sold us a dozen of the delicious fruit. Yummm!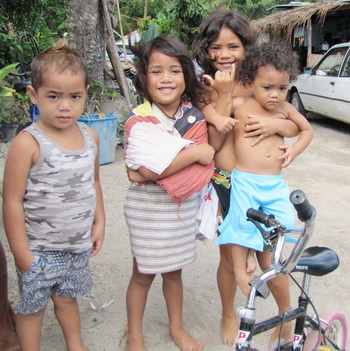 We missed touring a pearl farm in the Tuomotos so were happy to visit the one here. It is owned by an American married to a Polynesian women. Her uncle is a pearl farmer in the Tuomotus and helped them start up more than 20 years ago.
Originally the couple lived on a narrow motu on the eastern side of Huahine Iti. Mosquitoes drove them crazy so they built a house on stilts above the water 100 meters offshore. Bug problem solved!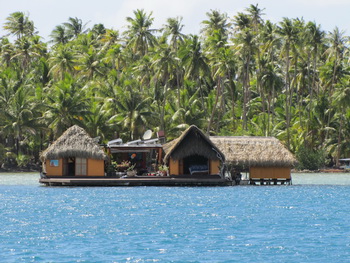 Pinctada Margaritifera oysters are found throughout Polynesia. They are the only oysters in the world capable of producing the vast array of colors that make Tahitian pearls so famous.
The color of the pearl is determined by the small piece of mantle from a donor oyster that is carefully inserted into the gonad of the oyster along with a nucleus. This is called grafting. Once an oyster is the proper size, a graft with a small nucleus is done and the oyster is hung on a line to create the pearl for 18 months or so.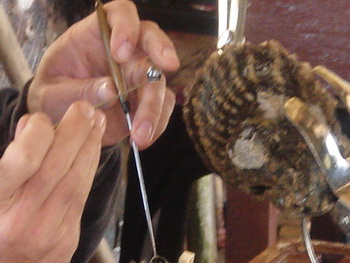 If the graft is successful and a nice pearl is formed the grafter inserts a larger nucleus the second time and the process is repeated. An oyster can usually be grafted three times before it tires of the process.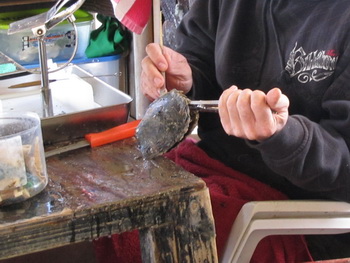 We continued our tour past fertile valleys planted with various melons, tomatoes and vegetables. Along the coasts we were treated to spectacular views of waves breaking beyond the coral reefs and shallow turquoise water in the wide lagoons.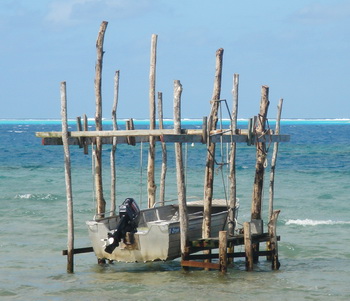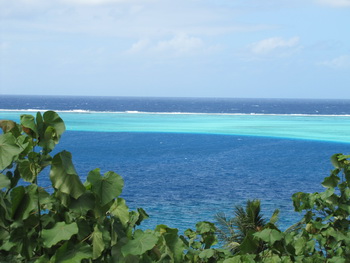 Feeding the sacred eels sounded interesting so we searched them out, bought a can of mackerel and gave the large, slimy, brilliantly blue-eyed creatures lunch.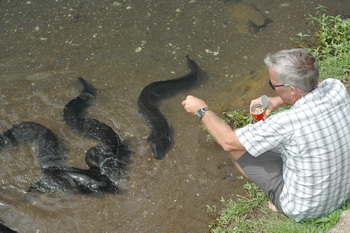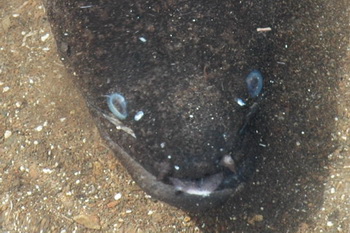 Brightly colored framed fabrics outside of an artisan's shop caught my attention as we drove through the small village of Parea so we stopped to have a look. Miri, the proprietor, was busy painting a vibrant red pareu that was tacked taut to a frame. She explained the process as she worked. Once finished, she showed me the pareus she had for sale and when I selected one she showed me several ways to wear it.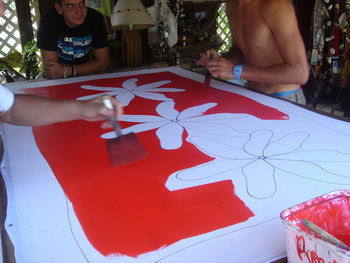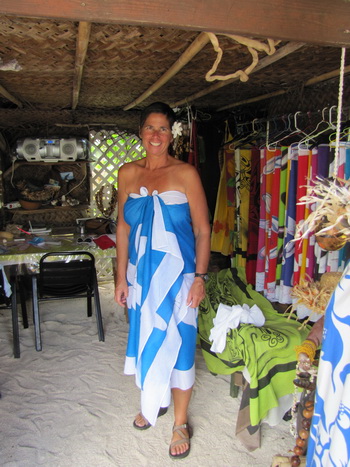 The weather is nice again so tomorrow we will sail over to Raiatea about 25 miles west. Sure hope that anchor comes up!
Go to August 2010 Part Two - Raiatea and Tahaa
.