July 31, 2010
Life on a sailboat isn't always swimming and snorkeling in the warm, clear waters around our floating home anchored in a beautiful location or sailing downwind before a pleasant breeze to yet another island beckoning to be explored. Sometimes we need to take care of business.
So, once a year we fly back to the U. S. and do just that. Bookkeeping, taxes and doctors visits are not much fun but we enjoy seeing family and friends and the costly shopping adventures. Our annual trip coincided with the Fourth of July so we planned a family get-together at Scott and Amy's house.
"You were scheduled on last nights flight" the woman at Air Tahiti Nui's check-in counter said. Seeing the departure date on our confirmation which was indeed July 1, that day, she looked baffled. Apparently the flight numbers had changed in the months since we had purchased the tickets and the computer automatically shifted our reservations back one day. After some polite patience all was sorted out and we were on our way.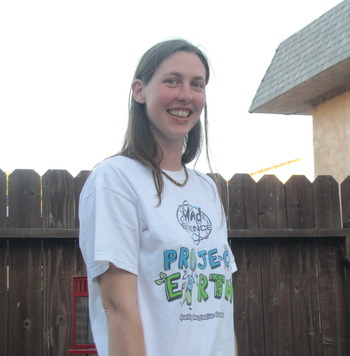 Our daughter, Corinne and her fiance, Eric flew down from Portland, OR. They had just become engaged and would soon be leaving to teach in Korea. The kids' mom, Sandy, drove up from LA. It was great to see everyone!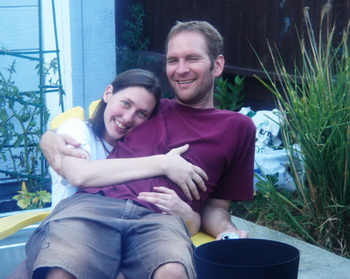 Our son and daughter-in-law, Scott and Amy, kindly allow us to use their home in the Bay Area as our home base when we visit California. The bed is ours and they let us decorate the room. I'm a hopeless nester and like being surrounded by my special things. Molas from the San Blas Islands, Ecuadorian rugs from the Galapagos Islands and carved wooden tiki mask from the Marquesas now adorn the walls.
Jim arrived at the kids' house with a sore foot. Amy, a physician's assistant, had a look, poked it and said he should have it x-rayed the following day. A few hours later he could barely stand on it, the top had turned red and he had the chills. Scott called Amy at work and was told to get him to an emergency room at once.
This was at midnight our first night there and we hadn't slept on the red-eye the night before. Too busy watching as many movies as possible during the eight hour flight. We were dead tired! Scott, bless his heart, took Jim to the hospital while I slept.
It turns out he had a staph infection in the bottom of his foot where three weeks before he'd gotten several slivers while keeping Tenaya off the wall at the Municipal Marina in Papeete. He had dug them out of the heavily calloused ball of his foot and forgotten about it. Until now. Now he had a gaping hole there and would be on crutches for nearly two weeks. Fortunately the infection hadn't gotten into the bone.
The crutches slowed Jim down a bit and forced him to sit most of the time. He read, looked up things online, downloaded hundreds of books onto his new Kindle and watched entirely too much TV. OMG, there are so many channels, hundreds of them, and so many commercials! We really are like hermits emerging from life out in the boonies when we come back to the States!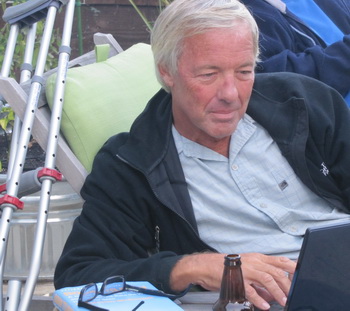 The Fourth of July was filled with fun in the back yard. We caught up, told stories, played ping pong, ate and drank. Amy barbequed chicken, hamburgers, veggie burgers, potatoes and corn and we gobbled down embarrassingly large amounts of everything. How nice it was to have a delicious variety of food on the plate!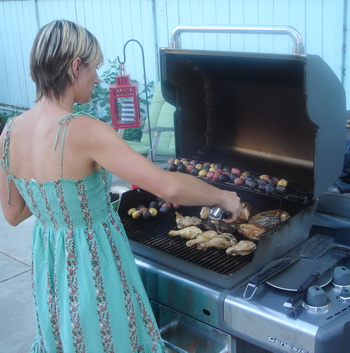 Jim's foot changed our carefully laid plans and I blasted to Mammoth alone for a dentist appointment I couldn't miss. A broken a crown between Panama and the Galapagos three months earlier needed attention. During the visit my dentist discovered I needed a root canal so did it then. So much for my hike in the mountains with Marianne that warm and sunny afternoon! The next night I was back down at sea level with Jim.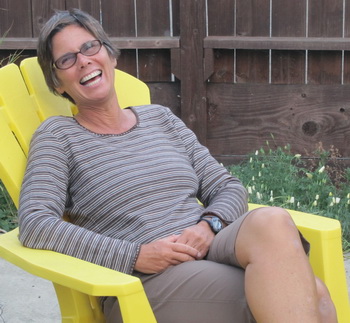 We went back to Mammoth together for my second appointment to have the crown installed and spent several days doing a years worth of bookkeeping. Thanks so much to Amy's parents for offering the use of their lovely, roomy condo! Because our timing was cut short, my brother, Dwight, drove up to visit for a couple of days. It wasn't too much of a hardship as his new Porsche Panamera had just gone off the break-in period and he could have some fun driving through the desert.
During our quick trip to San Diego for Jim's dentist appointment and shopping sprees at West Marine, REI and a couple of dive shops we were able to spend a pleasant evening with friends Kirk and Sheila and their kids. They plan to join us in Tonga soon. What fun!

.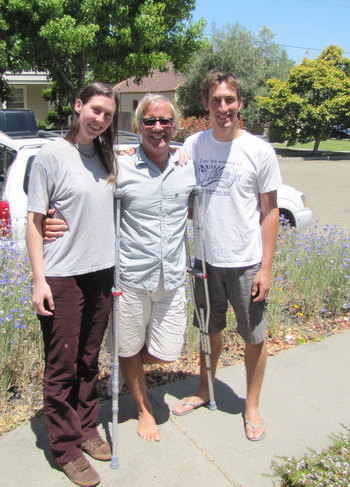 After a whirlwind trip with no days to spare we packed up all our new goodies into two Eastpack duffles and two Goodwill suitcases for the trip back to Tahiti. It works well to pack things in inexpensive, second-hand suitcases that we can leave by the marina dumpster, though it is funny after having the nicest Eastpak, Kipling and Jansport luggage when Jim was president of those companies in Europe. My, how times have changed!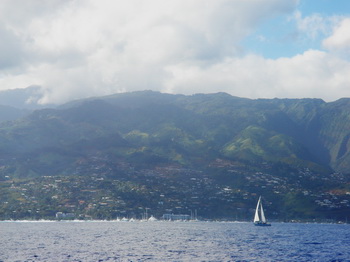 Once back at Marina Taina we spent several days doing errands and chores. We rode the bus into Papeete to buy boat supplies, fabric and veggies at the wonderful market. We walked over to the large Carrefour near Marina Taina for more provisions though we only really needed drinks and some fresh food. Tenaya carries enough canned and packaged food to last several years!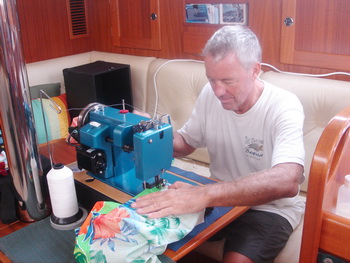 Jim set up the new Sailrite sewing machine we brought back and immediately made two sets of sheets from the pretty Tahitian fabric we bought in town. He tends to exaggerate so I wasn't sure I believed he actually sewed packs when he had Wilderness Experience. But he must have because he figured out the machine very quickly and has been turning out linens like crazy. Very impressive!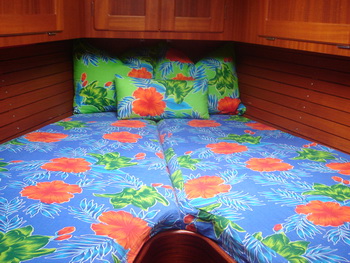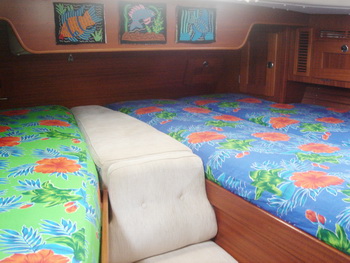 I had been admiring the interesting and attractive tattoos on many of the men and women here. They are of geometric, animal or tiki shapes, or a combination. I wanted to get one but what if I tired of it? I decided on having a ring tattooed as I don't wear my wedding band while sailing which is most of my life. It could always be covered up with real jewelry.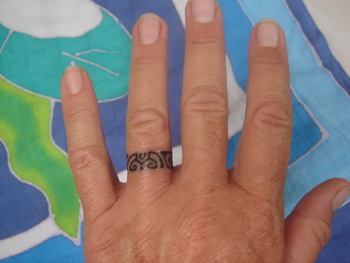 I made an appointment with one of the popular artists in Papeete and came back to the boat with a tattoo. He didn't speak English and gave me no instructions which didn't occur to me that I might need. I hadn't researched this very well! When my finger stung while washing dishes a couple of hours later I realized that maybe some follow-up care was needed.
Fortunately we had internet and I googled "new tattoo. care". Sure enough there were things to do and not to do. Washing dishes the first few hours was not the thing to do. Whoops. Soaking it or immersion in saltwater for two weeks is forbidden. It must be kept moist but not too moist and kept it out of the sun. Hmm.... I should have done this before going to California.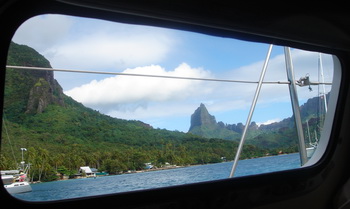 Now we are in a beautiful anchorage on Moorea, twenty miles west of Tahiti. The crystal clear turquoise water below the boat is only four meters deep and from the deck we can see rays, turtles and various fish swim by. I want to dive in so badly!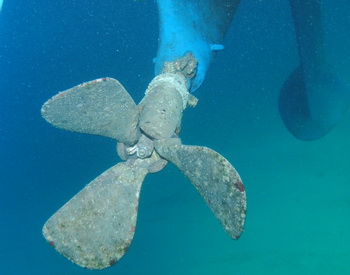 Jim is learning to use our new Sealife underwater camera. After ruining a second camera good to only 5 meters for a maximum of 30 minutes we bought one we could actually take diving. It came with a strobe and a wide angle lens and apparently the software can adjust for the colors, or lack thereof, underwater.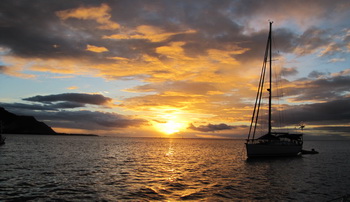 On or about August 5th, depending on the weather, we will leave Moorea for an overnight passage to Huahine 80 miles west. Another of the Society Islands, it is much less touristy than Tahiti and Moorea. We will relax and enjoy the beautiful land and seascape until we can snorkel the magnificent azure lagoon together.
Looking back over this page for glaring errors I noticed a few things. In the two pictures of Jim at the sewing machine, he has different fabrics and different hairstyles. But the same shirt. In all the pictures of him in the US, over several days time, he's in the same shirt, albeit a different one than on the boat. It looks like we have become very adept at not creating too much laundry!
I also noticed how foreign and hectic life was while we were on land and how unaccustomed to it we were. We had no clue of current events and felt we were pushed, pulled and hurried in all kinds of directions and bombarded with loads of seemingly important information.
"Maybe you appreciate the sea because when you are lost upon its vastness your life is not jammed up with the trivia, the meaningless detail and the foolish stuff of civilization. Somehow a fundamental strength - a mysterious and independent energy - seems to flow from the wild and undisciplined ocean." Hal Roth, Two on a Big Ocean.
We are happy to be back on Tenaya. The adventure continues!
.