June 26, 2010
2 hours and 33 minutes after passing the start we crossed the finish at Opunohu Bay, Moorea on Friday, June 19. Tenaya reached speeds over 9.5 knots until we reefed, slowing her down to above 8 knots.
Normally we don't sail that fast but it sure was a blast and our girl performed remarkably well, arriving after the big boats and larger cats but before more cats and the other boats her length. Apparently this was the best wind in the five year history of the Tahiti-Moorea Rendez-Vous. Lucky us!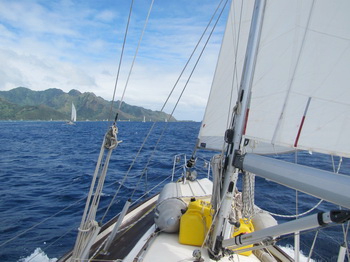 Opunohu Bay and Cook Bay just to the east, are deep cobalt fingers protruding into the mountains and valleys of dense tropical foliage on the northern coast of the island. They are protected from the ocean swell by reefs bordering brilliant turquoise water.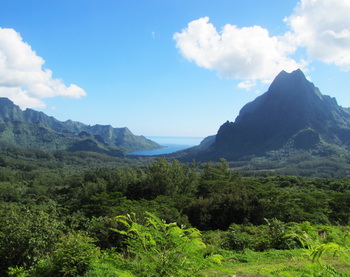 Both bays have several anchorages but the majority of Puddle Jumpers anchored just inside the reef to the east of the entrance to Opunohu Bay. Sensible as the festivities were held on the adjacent Mareto public beach.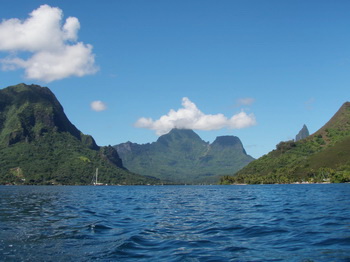 The anchorage was extremely crowded. Depths of three meters that shallowed at the edges had monohulls searching for a spot in the center. Cats could anchor in the shallower water but several chose not to, their wide bulk swaying differently and adding to the fright. With gusts in the twenties, we all watched nervously as boats swayed too close for comfort.
A festive evening was enjoyed by all those willing to leave their boats on Saturday. Before a barbeque dinner we were treated to Tahitian dancing by young girls accompanied by traditional musicians while women wove baskets and hats from palm fronds. We dined while watching a slide show of Moorea under a huge protective tent as the wind whistled through, occasionally accompanied by rain.
Sunday was filled with activities. More rain and a cool breeze kept it from being a warm, sunny day in paradise though it was fun nonetheless. Canoe races, a running contest carrying bunches of bananas and a tug of war required team participants. Our team consisted of Brian and Dorothy of Tagish and Jack and Patricia of Woosh who replaced Larry and Kim of Magenta, and us.
Larry and Kim had a frightful night tied to a mark after their dinghy hit the reef in the dark while returning from the barbeque. Their boat was anchored in the safety of a different anchorage farther from the beach. With a dead prop, not being able to row into the 25+ knot winds and afraid of washing out to sea, they tied to the green mark and waited 7 hours for the wind to die down. Two other Puddle Jumpers in their anchorage saw the light signals for help but did not respond. They thought the they were local fishermen.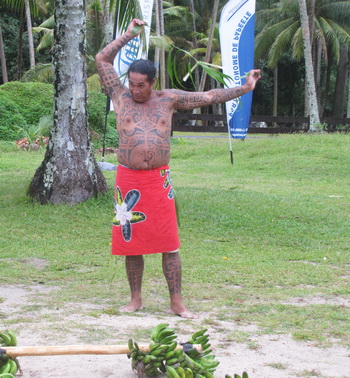 Our canoe team with Brian, Dorothy, Jack and Jim came in first in their heat but did not qualify for the finals. Avid kayakers, Canadians Brian and Dorothy have paddled the waters from Vancouver to Alaska so definitely helped our team. Brian was our representative for the Banana Race winning his race and finishing 5th overall.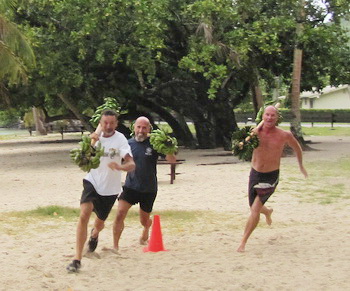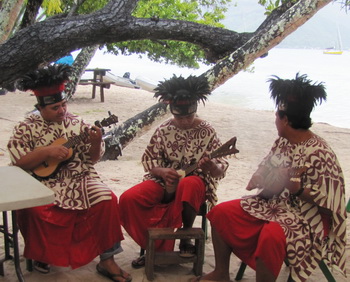 Tahitian musicians serenaded us with their ukuleles and local women displayed lovely pearl jewelry for sale. A lunch of traditional food was an option for daring diners before an awards ceremony and more dancing concluded the events.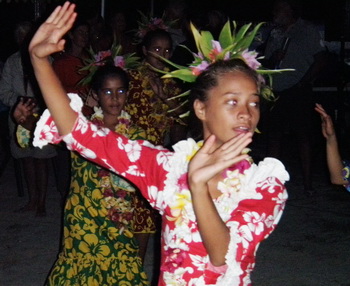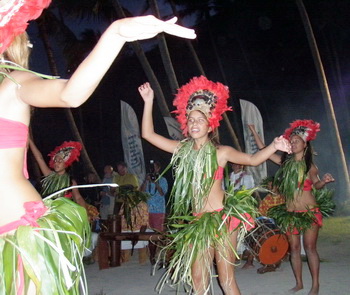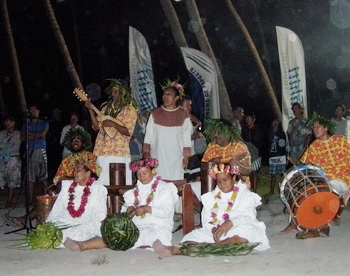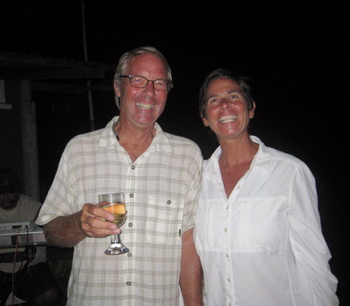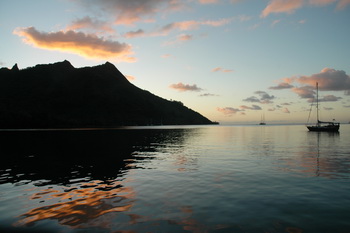 .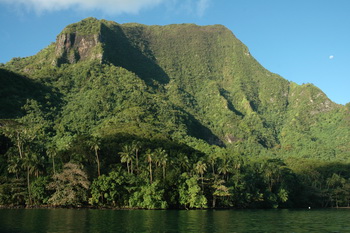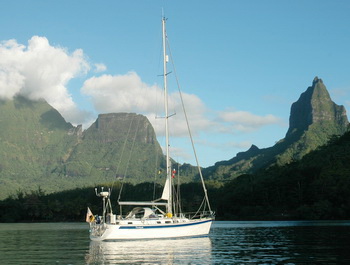 We were very close to the large Amel in front of us as well as in danger of kissing another Amel on our port side in the still air on Sunday morning. It was time to move so we motored over to the head of Opunohu Bay where there was much more room.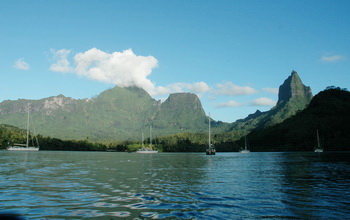 What an amazing view! Towering peaks of steep volcanic rock jut up from the lush verdant valley below. Palm trees and other various shades of green blanket the lower flanks of the mountains like the cloth of intricately woven Hawaiian shirts. Intensely blue skies dabbed with puffy white clouds provided the picture perfect scenery of a romantic getaway. I think we may have reached paradise.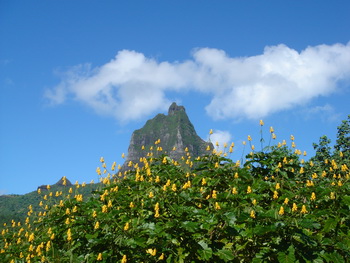 On Johanna's recommendation, and along with Larry, Kim, Brian and Dorothy, we walked up to the Belvedere lookout for a good view of Opunohu and Cook Bays. It was a pleasant walk but because of the rain we did not get very nice photos.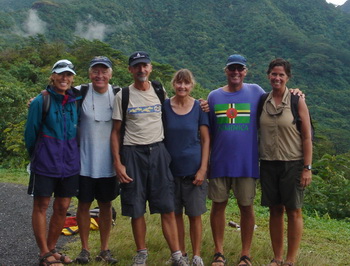 Kim, Larry, Brian, Dorothy, Jim and Katie
Feeling adventurous we took a muddy, dirt path away from the lookout. Soon a group passed that explained how to reach a waterfall. Wow, a waterfall with plenty of water! Not like others on different islands that were barely a trickle. Already wet from the rain, I waded in and stood under the small cascade. The fresh water shower was delightful!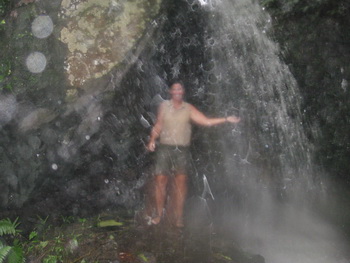 The following day our group dinghied around to the northwest corner of the island to go snorkeling. After tying to a mooring ball we hopped over the side to see lots of rays in the shallow water. Guides from hotels feed the giant beggars to the amazement of gawking tourists. Us included!
In addition to the rays were quite a few black-tipped reef sharks prowling around. It was a bit disconcerting at first but seeing them glide calmly around several sets of legs without snapping at them lessened our anxiety.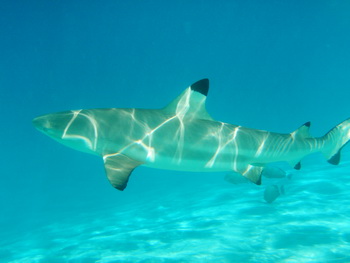 Dorothy and I wanted a more natural snorkeling experience so asked the guide where to go. Between the motus he said. It was fabulous! Shallow water allowed us to see hundreds of brightly colored fish up close.
Unfortunately a lot of the coral has been killed by starfish but it was still good shelter for many fish. Brian got some terrific pictures from the dinghy of a ray passing by in the crystal clear water and Larry was amazed at all the new fish and creatures he saw. After a delicious lunch at a beachfront resort we headed back to our boats. What a great day!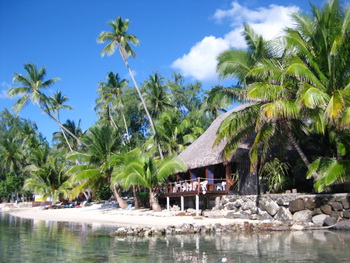 Yesterday Jim and I walked back to Belvedere in hopes of getting some better photos. The glorious sunshine was warm so we decided to loop back to the bay through the forest. The path we thought would take us there actually took us up to another lookout at the base of one of the volcanic plugs we have been admiring from sea level. A short walk turned into a 12 mile day!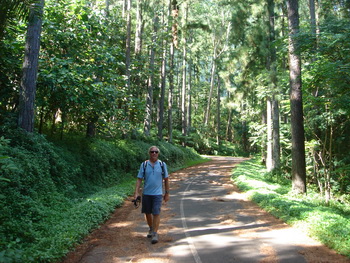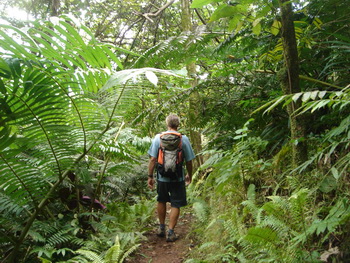 We normally don't participate in rallys or big gatherings as we are both a bit shy and sail for the solitude, but we do enjoy meeting other cruisers. This weekend we met more than we have met in 4 years! Kindred spirits were found with the crews of Woosh, Visions of Johanna, Tagish and Magenta and we hope to see them again one day.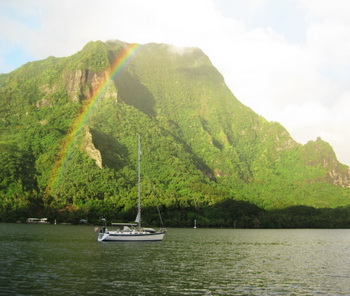 .