June 3, 2010
Yesterday we left the windy anchorage at the picturesque island of Ua Huka and sailed south on a beam reach to Ua Pou. Easterly winds of 18-24 knots and waves of two meters made for a lively day as we sailed 47 miles in 5 1/2 hours.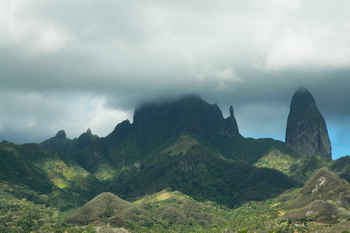 Our main reason for visiting Hakahau, the third most populous town in the Marquesas, was to see the amazing scenery. Incredible geological formations abound as towering stone pillars and jagged peaks reach into the clouds.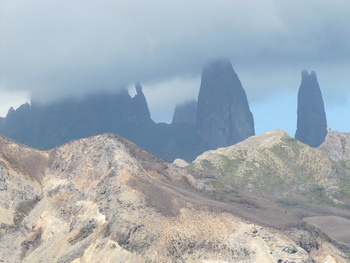 And in the clouds they stayed. I took hundreds of pictures waiting for the unique formations to be revealed to us but they never were. Glimpses of the odd shapes piqued our intersest but we left the anchorage without having seen the entire spectacle. The volcanic plugs and stone pillars we did see were very impressive.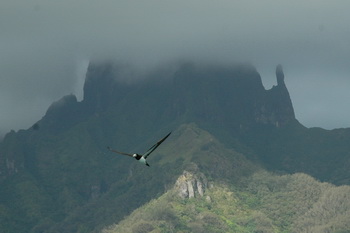 As this is such a small page we figured it was a good time to add a map of the Marquesas chain of islands. A line is drawn to show our route between the islands. As the wind blows from the east we chose to zigzag back and forth, always sailing on a beam reach.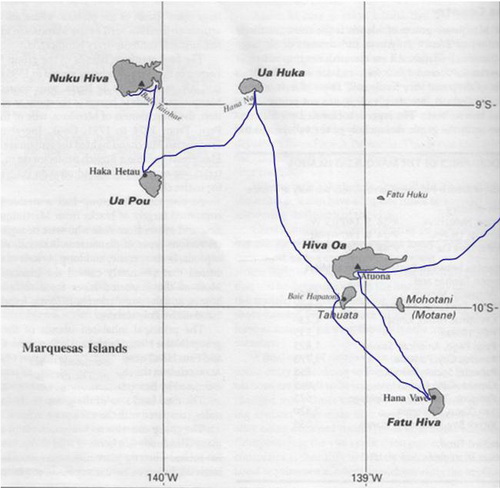 We made landfall at Atouna, Hiva Oa. From there we sailed south to mystical Fatu Hiva. Next we headed northwest to Tahuata to anchor at Tefau and visit the quaint town of Hapatoni, our favorites, before stopping at Hana Moe Noa. Then we sailed 77 miles north to the solitude of Hane Bay, Ua Huka. Then we sailed southwest to Ua Pou. Next we will sail to Nuka Hiva, concluding our time in the beautiful Marquesas Islands.
Go to Photo Gallery - Marquesas