June 1, 2010
Just as we thought, pulling up the anchor at Hana Moe Noa on the Marquesan island of Tahuata was not easy. Perhaps we should have heeded the guides' advise to anchor in the north or center of the anchorage. Silly us, we wanted to be on the outer fringe close to nice snorkelling so we anchored south of the gaggle of boats where our chain became entangled in coral heads.
Fortunately there was enough light at 0600 to see the chain and the bottom clearly. Looking over the bow while bringing in chain, I was able to see it tighten while stubbornly clinging under the coral heads. Letting out chain and steering wide around the obstructions freed us both times. Soon we were on our way to Ua Huka 77 miles to the north.
Once we cleared Tahuata the wind blew consistently 15-17 knots on the beam all day. A steady stream of clouds kept us from baking in the sun while we enjoyed a fabulous ride under reefed main and full jib. We arrived at Hane Bay on the island of Ua Huka after sailing 9 hours and 45 minutes.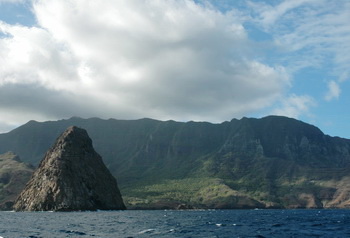 A giant conical rock stands like a sentry at the entrance of Hane Bay. Behind it is a somewhat protected anchorage. Winds can blow 25-30 knots between the rock, called Motu Hane, and the point. Swell can wrap around and enter, making it a bit rolly.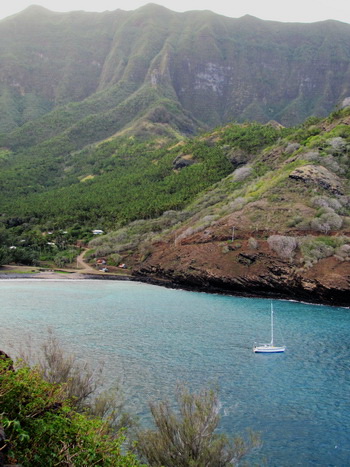 We like this anchorage although it is windy and rolly. It seems fitting for a place that not many sailing yachts visit. We are the only sailboat here.
We had heard from others that the Marquesas are delightful islands and should not be passed through too quickly. Each island has a specialty and Ua Huka's is wood carving. They also have abundant citrus fruit.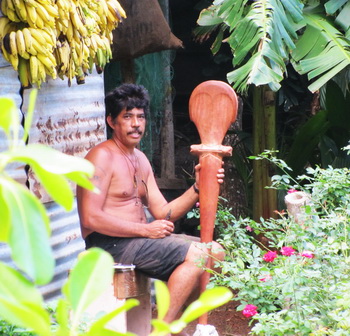 The prospect of navigating the dinghy past the reef and rocks while staying upright in the surf was a little daunting. Add in 20-25 knot winds and we were downright hesitant to row to shore, wondering if we would make it back against the wind.
Using the outboard was out of the question for two reasons. One, if we dumped the dink the saltwater could kill the engine, and two, it would make the dinghy too heavy to carry up the beach.
With our daypacks wrapped in garbage bags and wearing saltwater-friendly clothes, we aimed for shore. Both armed with an oar and facing head-on we paddled like mad. No problem, we made it in easily between sets. Whew!
The village of Hane is home to about 160 people of which we saw six. The artisana selling wood carvings was closed as were the museum and post office. We wandered up the only street in town admiring the quaint houses in the shade of immense fruit trees.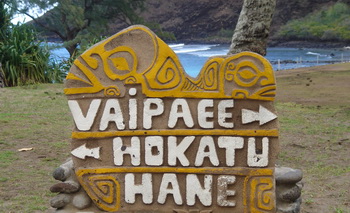 Just past a lush drainage overflowing with vines and leaves of all sizes, we passed a simple church with painted, rather than stained glass, windows. Further on we passed a clearing where stone statues sat in various stages of completion.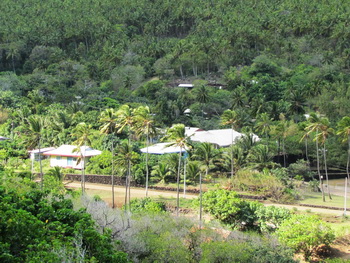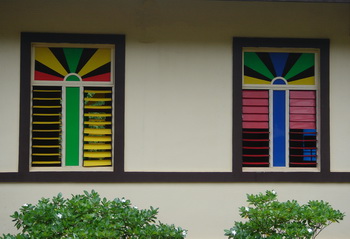 Following a sign we ambled up a dirt road looking for a store. A house and a shed were all we could see. While we hesitated, a heavily tattooed (in a nice Marquesan way) man waved us in and pointed to a shop behind the house. A lady behind the counter invited us in. Dusty shelves of limited groceries occupied the unlit space but there were no fruit or veggies. We found some pretty fabric and as we approached the counter the man returned with four gigantic grapefruit. Hooray! We bought all of them.
They asked if we were from the boat in the anchorage and we said yes. I asked where I could buy wood carvings and she said the artisana. When she understood it was closed she explained which house to visit to get the key. Then, as if thinking better of that idea, she sent us along with Mr. Tattoo to fetch it.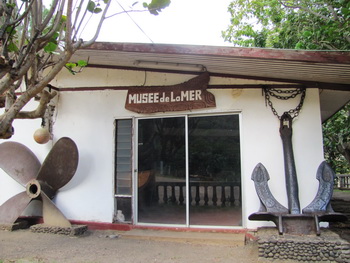 A rather large man at the blue house across from the hospital walked down to the artisana with us and let us in. We browsed for a little while and bought a frightening looking tiki mask and two small solemn tiki statues.
He also opened the museum that shares the same building. A 300 year old canoe stretches the length of the room with bows and sterns of other canoes along one wall. Models of outriggers, large and small fish hooks, fishing poles, cases of seashells, rock anchors and photographs that appear circa 1950 lined the side walls. On most of the back wall was painted an ancient Polynesian sea-going catamaran. What a marvelous little museum!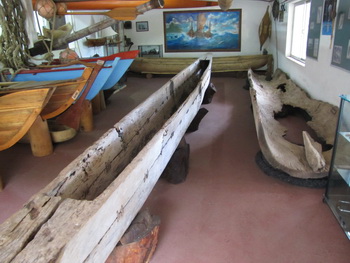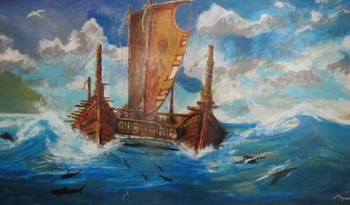 Sitting at the beach was this modern day outrigger canoe. Later in the day we saw several men paddling them through the anchorage. Heading into the white caps didn't seem to bother them a bit. They sure moved faster through the water than we did in our tubby dinghy!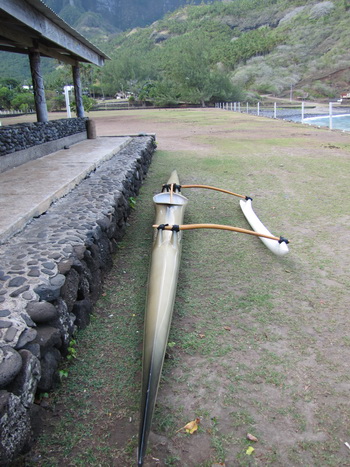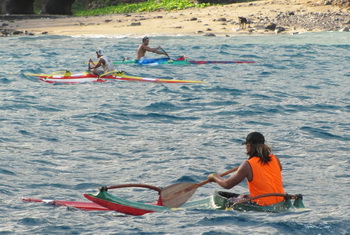 .

No sooner had we left town to walk to the arboretum, a few miles away, then a truck pulled over to give us a ride. They asked if we were from the boat. It seems we did not arrive undetected and at least some of the 600 islanders know they've got two visitors today.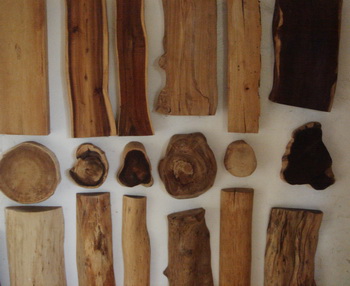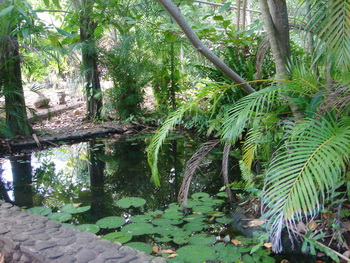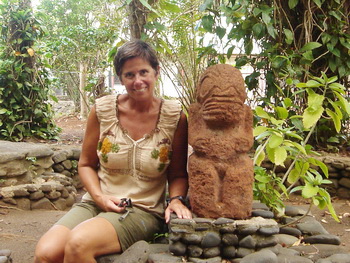 The botanical garden was nice but seemed a bit neglected. A small building housed an interesting display of wood, thee pieces for each type. The outer bark, the inner wood and a round were displayed for each tree found in French Polynesia. The display covered all four walls.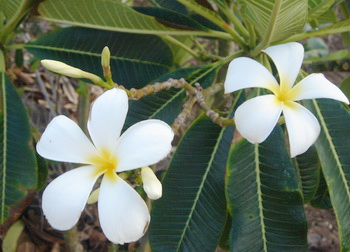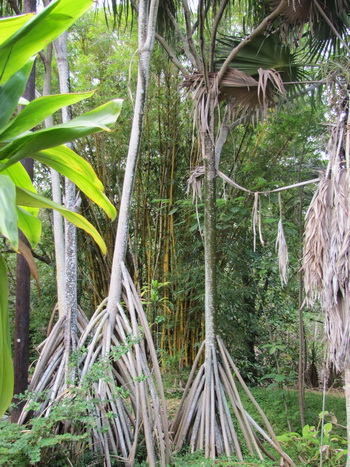 As we walked back to Hane Bay every car that passed stopped and offered us a ride. All three of them. This is not a very busy place but the roads are maintained well, there is a small airport, and it is very neat and tidy.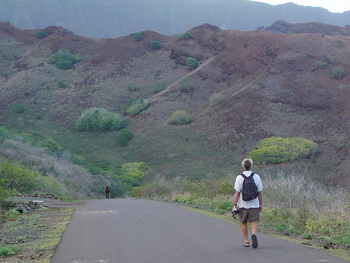 The tiny speck in the road coming towards Jim is a horse all by itself
Southwestern Ua Huka resembles the southwestern U. S. with a vast plateau washed in pastel hues, low shrub covered hills and barren eroded canyons.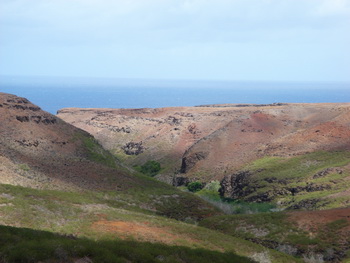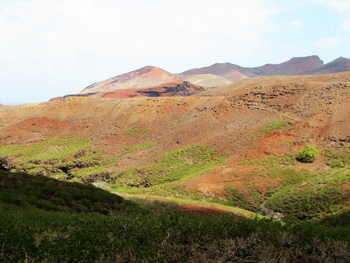 More than 1500 horses and 3000 goats inhabit the island which must contribute to the arid landscape.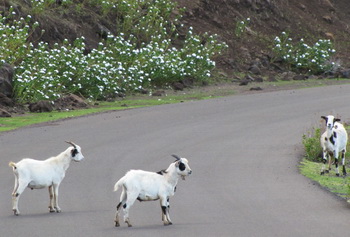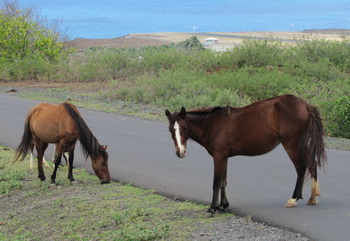 Like the other Marquesan islands, there are endless bays along the coast of Ua Huka. Most are rugged with steep walls and rocky shores.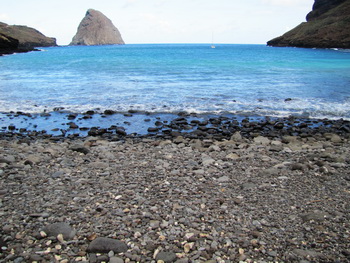 There seems to be a recurring theme here in the Marquesas. Penises. Whether they be phallic shaped towering natural stone pillars or anatomically correct tiki chiseled by contemporary carvers, penises abound. Where are the missionaries now?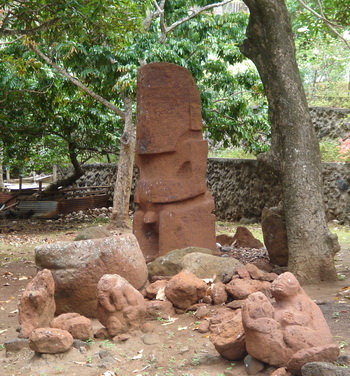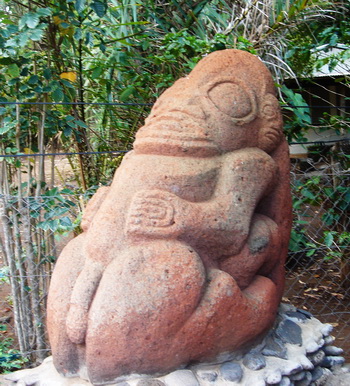 We will stay one more night here at Hane Bay before sailing over to the island of Ua Pou where we expect to see more giant stone pillars.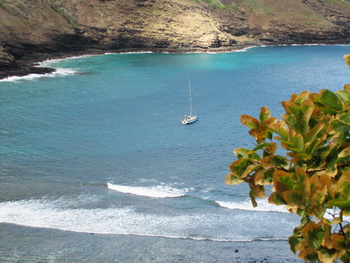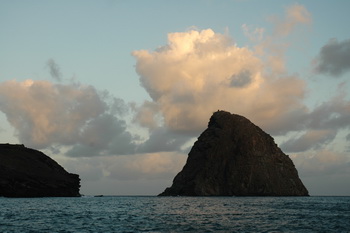 Go to Photo Gallery - Marquesas