May 30, 2010
A glorious day of sailing smooth seas on a broad reach with 12-15 knot winds brought us to the Marquesan island of Tahuata 42 miles north and slightly west of Fatu Hiva.
Still steep and green, Tahuata lacks the sheer vertical and looming heights of Hiva Oa and the and mystical atmosphere that veils towering stone pillars on Fatu Hiva. This land looks and feels gentle in comparison. Only the southern tip is incongruous with dark, barren jagged rock rising menacingly out of the sea like the barbed tail of a quietly sleeping dragon.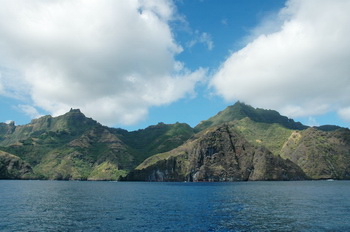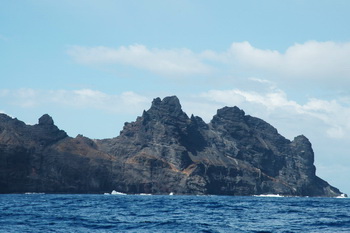 Several nice anchorages are formed along west coast of Tahuata and we chose to anchor at Hana Tefau near the southern end of the island. Charlie's Charts says little about it making it easy to overlook. Russell's Exploring the Marquesas Islands made it sound delightful with good snorkeling. That's all I needed!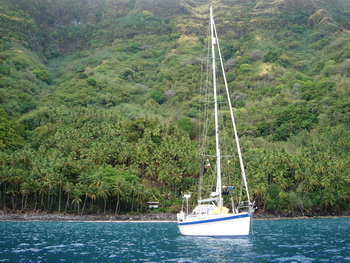 We were amazed to find no other boats in the anchorage when we arrived. Water is deep until close to shore so we motored in circles looking for the perfect spot to drop the hook. As the wind blows onshore we didn't want to be too close to land.
Once settled, we sat back and enjoyed the beautiful, tranquil location, amazed that we had it all to ourselves. Just after sunset we noticed nav. lights approaching the far end of the bay and a small, red Italian flagged sailboat joined us.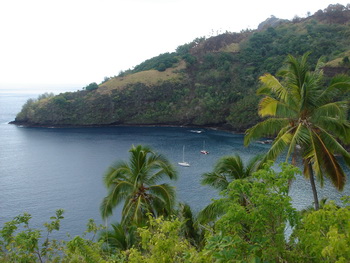 The small village of Hapatoni is at the far end of the bay. Several people were gathering at the concrete quay as we approached by dinghy, most waved to us. A man met us and took the painter, the long line used to tie up the dinghy. He wrapped it around a small bollard before extending his hand to help me up. Very kind indeed! He told me how to pronounce thank you in Marquesan, which I promptly forgot. We noticed a huge pile of small tuna on the dock, focus of the locals' attention.
A lovely walk exists along an ancient road paralleling the shore so we turned left for a stroll. Smooth and bordered with rock walls, it is as wide as a modern road and bisects the quaint village.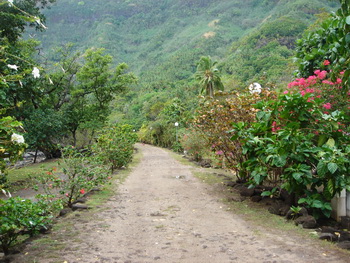 Colorful hibiscus and bougainvillea along with fragrant frangipani and gardenia trees line the path. Neat, well-maintained gardens surround small houses.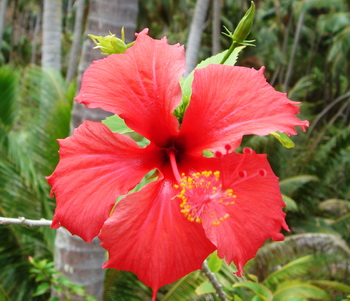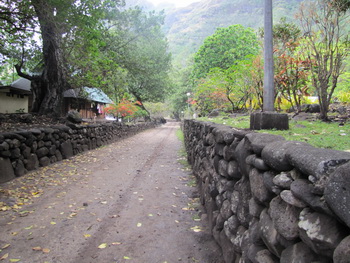 A lady sweeping the path to her house greeted us with "bonjour". I answered "bonjour, kaoha" as she smiled and walked up to us. After introducing ourselves and conversing in broken French she said a woman in the artisans building nextdoor speaks English so we wandered over.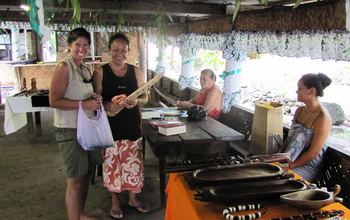 We chatted with Sondrine as she showed us a selection of necklaces with ornately carved tiki from sandalwood or cow bone. An elegant black choker with 3 black pearls caught my eye. A few other tables held treasures as well. We found a captivating long, narrow carving of tiki made from rosewood we decided it would be a nice addition to Tenaya's interior, especially a particular place where a falling companionway door left a gouge in the wall.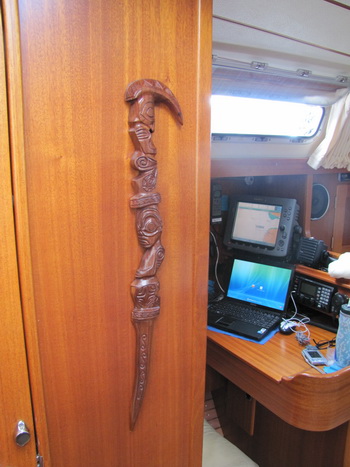 While we were viewing the alluring handicrafts a man brought a big bag of fish for the women. Sondrine asked if we would like some fish. I replied that we would but I had no limes with which to cook them. She sent one of the younger girls to fetch some for us. Just leave the fish there while we explored and retrieve them on the way back. The limes would be waiting for us too. "No pay for fish. No pay for citrons verts". Very kind and typical of the genuine hospitality of the people of Hapatoni.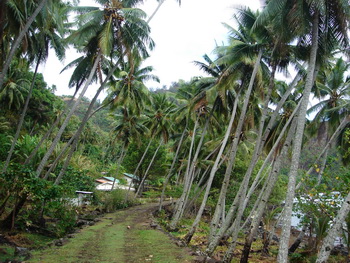 We continued on the ancient road as it lead out of town and turned into a narrow path. As it climbed up a steep hill the overgrowth overwhelmed us. We could see the main road above so scrambled up the damp earth not unlike kicking steps on a steep snowy slope. Oh my Gawd ... flashbacks of our driveway in Mammoth! We live in another world these days!
The road climbed higher until we reached a shrine at rocky promontory in the large bay. This is the site of ancient tapu religious rites. Hiking up to see it afforded gorgeous views of the coastline.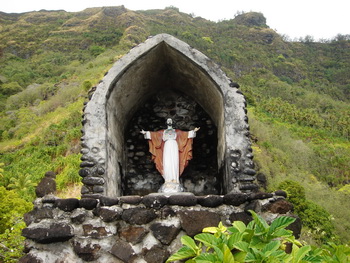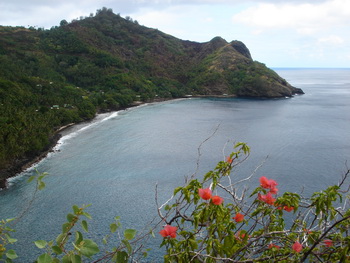 Our free fish, we think it's some sort of tuna, came whole, guts and all. Never having cleaned a fish before, it was time for a lesson. Out came The Cruiser's Handbook of Fishing. Jim read while I cut. Not completely understanding the instructions, I fairly butchered (not in a positive way) the first fish. I did better on the second and ended up with seven 1.5 inch diameter filets 6 inches long. Squeezing lime juice over it, I quickly seared the tender, red meat and served it with coconut rice. In my excitement I forgot to mix up some wasabi but it was delicious nonetheless.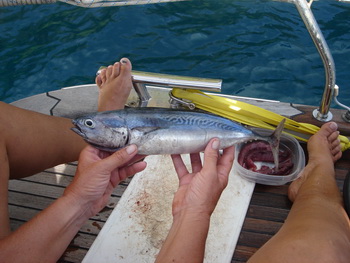 .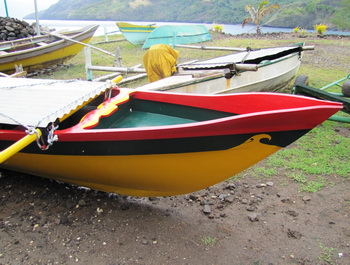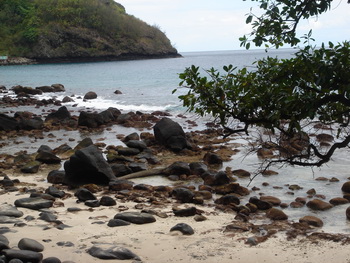 Rambling along the road we approached the unmistakable aroma of mangos. Hundreds of the delectable fruit lie waiting on the ground. I gathered two in each hand and carried them to a comfortable rock in the shade of several palms. We devoured the sweet, juicy fruit in no time.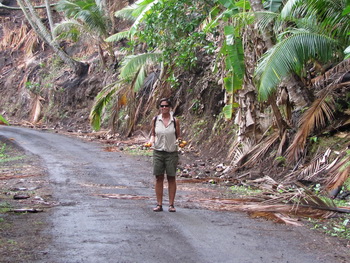 We passed a woman walking the other direction pulling a pony with a small girl astride. Smiles all around, we greeted each other with "Kaoha". I asked permission to take a picture and afterwards the little girl was pleased and most polite when I gave her a couple of bonbons.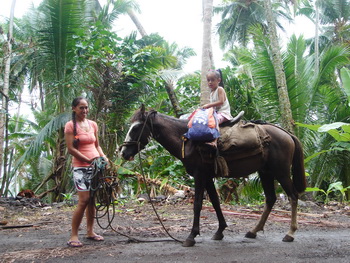 Influenced by three hundred years of missionary meddling, churches have been built in each village throughout the Marquesan Islands. Those we've visited are predominately Catholic. A simple church made of stone sits in a clearing next to a most cheerful cemetery, if a cemetery could be called such.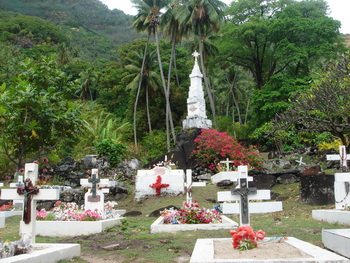 The dried meat of coconuts is called copra from which oil is extracted. Copra sheds and piles of coconuts are found throughout the islands where copra sales are a mainstay of the economy. Copra is shipped to Tahiti and then around the world to make coconut oil.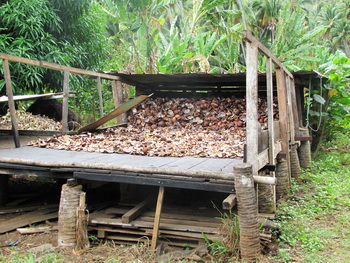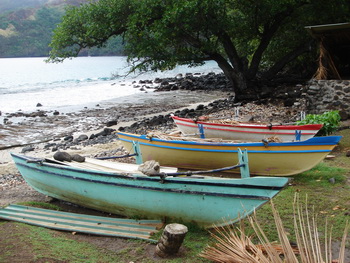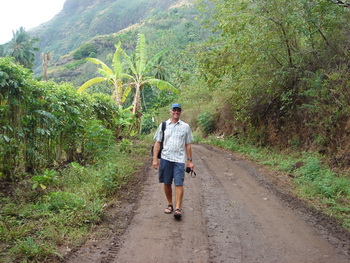 We found no stores in Hapatoni so could not buy baguettes. Yesterday we finished the last of two loaves of banana bread I made last week so this morning I made English muffin bread. Fresh bread always makes the boat smell so nice!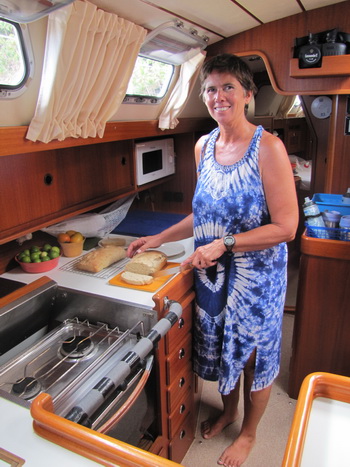 The wall at the northern end of Hana Tefau anchorage is said to have the best snorkeling in the Marquesas and I definitely wanted to check it out. It wasn't too far to swim but having heard so much about sharks at these islands I was afraid to be in the water by myself and Jim had no desire whatsoever to swim along side me.
As he was rowing me over in the dinghy he spotted a cluster of large, dark dorsal fins. They looked like dolphins to me, about two dozen of them. Jim wasn't so sure. He said they weren't coming up for air often like dolphins do, and we don't often see dolphins in bays whereas sharks like bays. So we waited and watched. They seemed to be feeding and moving around the bay en masse.
All of a sudden one sprang high out of the water spiraling like a top. Then another. Whew ... spinner dolphins. On went the snorkeling gear and over the side I went. The water was incredibly clear and just the perfect temperature. And the fish .... so many new fish I have not seen before. It was amazing! Sponges grew from the steps in the steep rock wall and coral heads sprouted from the sea floor. How great it felt to be back in the water again!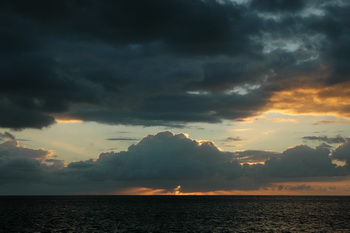 Happy after a wonderful snorkeling adventure, I swam back to the boat while Jim rowed. We hoisted the dinghy, pulled up the anchor and motored about 5 miles to the north to spend the night at Hana Moe Noa anchorage before sailing 60 miles tomorrow to Ua Huka Island.
Eric Hiscock called Hana Moe Noa anchorage on Tahuata one of the three most beautiful in Polynesia. With a white sandy beach and clusters of palm trees in front of green mountains, it is hard to argue with his assessment.
The shallow, clear water was inviting so we both went snorkelling. Our first mission was to check the anchor to be sure it was set well. Following the chain, we noticed it was caught under a coral head. Woops, not a good thing. Then it took a turn and was caught again. Yikes, I should have gone further over the sand before dropping the anchor.
When we finally reached the end of the chain we saw the anchor just sitting on the sand. Hmmm.... we felt pretty confident leaving it for the night but getting away in the morning might be interesting. I might be going for a swim.
When we arrived back at the boat Jim checked the prop and found the bolt that holds on the anode had worked its way partly out. It was too tight to turn by hand so he climbed on board, got an allen wrench set and returned to tighten it.
With 9 other boats in the anchorage we find Hana Moe Noa less idyllic than Hana Tefau, but then, we value pristine places, solitude and marvelous snorkeling over the "best" place where everyone gathers.
Go to June 2010 Part One - Ua Huka
Go to Photo Gallery - Marquesas