May 27, 2010
After a week at Hiva Oa it was time to move on and continue exploring the Marquesas. Preparing to leave the anchorage, our main anchor came up easily but our stern anchor was stuck. Really stuck. We tried winching it up from every angle but it held fast.
Peter from s/y Joule saw our maneuvering and dinghied over to help. We concluded the only hope of recovery was to dive down and free the anchor by hand. Both he and I realized that freediving 16 feet in zero viability was beyond our abilities so he asked Jose on s/y Tutatas. Jose has tanks.
Jose freedove on it to have a look, though feel is more accurate. He came up once, asked for slack and came up again with the Fortress in his hand. It had been stuck in a cage-like thing made of chicken wire and full of rocks. Apparently these things and other anchor gobblers populate the bottom of this particular anchorage. We really, really appreciate Jose's help. What a nice person.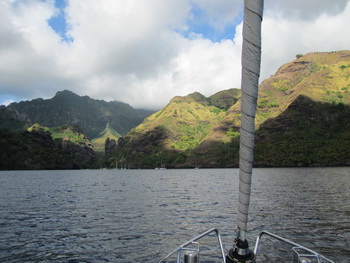 An hour later than intended we were on our way to Fatu Hiva, 49 miles to the south. Sailing a beam reach with 15 knots of wind, our boat speed was consistently over 7 knots. Sometimes it reached 8 and 9 knots. What a fun day! We haven't had sailing like that since we left the Caribbean.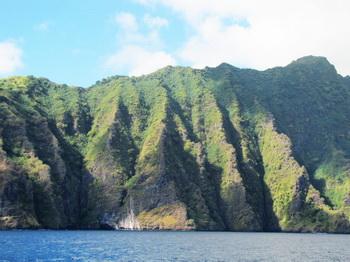 The scenery of Fatu Hiva is amazing! Profoundly green, deeply creased mountains rise to incredible heights directly out of the cobalt sea. Great stone pillars lunge akwardly on either side of a low valley as the water laps the shore at the end of the anchorage. Jagged peaks high in the background disappear into the misty clouds.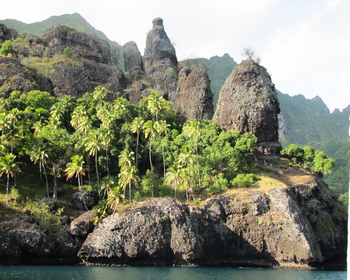 The anchorage at Fatu Hiva is called Baie des Vierges, Bay of Virgins. Some say it was originally named Baie des Verges, Bay of the Phalli, because the striking rock pillars resemble that part of the male anatomy. The missionaries Melville so justly criticized for altering the Marquesan culture obviously were not pleased with the original name and changed it.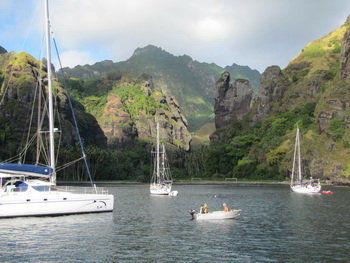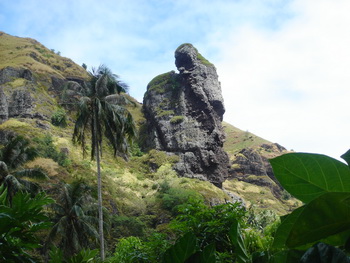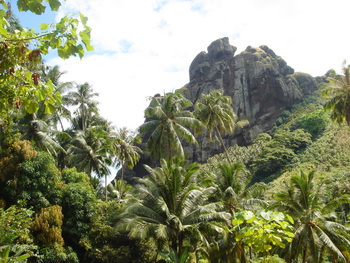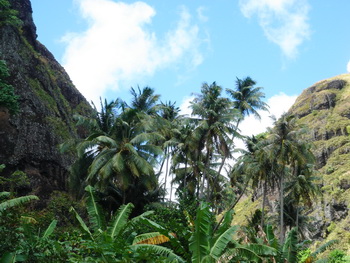 Small children greeted us at the dock asking for "bonbons", candy in French and some women approached asking if we would like to trade perfume, wine or rum for fruit. Money is not of much use here as there are no stores, banks or much of anything at this end of the island. Many cruisers make landfall here and do not have the local currency anyway. The French Polynesian francs, like the islands, are beautiful.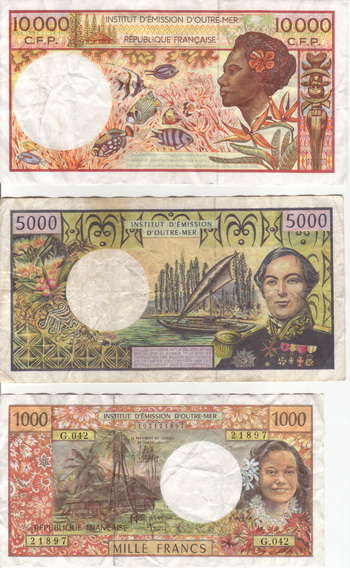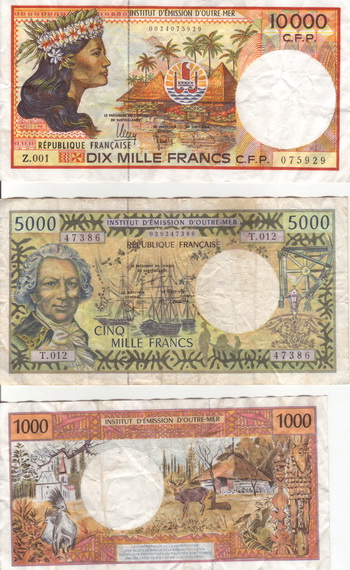 .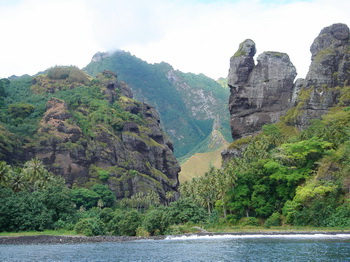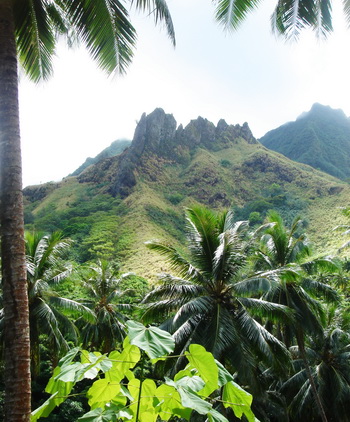 With plenty of rain, the stupendous mountains are densely covered with various shades of green untamed foliage between numerous massive volcanic rock outcroppings. Air heavy with moisture has the rich scent of damp earth. There is a mystical feeling about this place.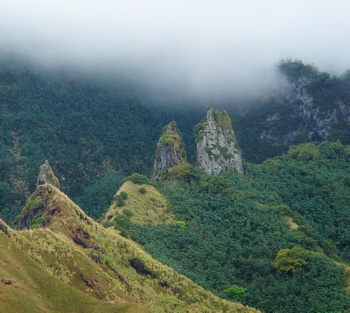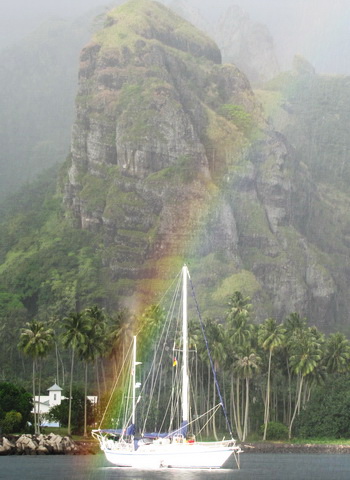 Tapa is cloth made from peeling the inner bark of trees, soaking the bark and then pounding it with a wooden mallet over a log until it becomes very thin. Then it is dried and decorated with drawings of tiki, animals or geometric shapes. Cream colored cloth comes from the mulberry tree, medium brown is from the breadfruit tree and dark brown is from the banyan tree.
As we took photographs of the awesome landscape a woman named Therese asked if we would like to see the tapa she had for sale. Of course we did! Fatu Hiva is the only island where the cloth is still made. She invited us into her home and showed us several beautiful tapa on all three types of cloth. Most were too large for our small boat but we found one about 10" square that we liked very much made from breadfruit bark.
Today we hiked up the canyon out of town for an hour to reach a waterfall which wasn't much of a cascade at all this time of year. It was pretty nonetheless with trickling water glistening on the dark, vertical, mossy, rock face surrounded by many shades of green. The kidney shaped pool at the bottom would have been ideal for a refreshing plunge had the water been flowing quickly, but stagnation has caused it to be less than inviting.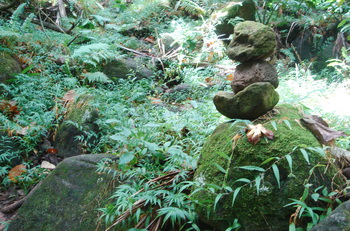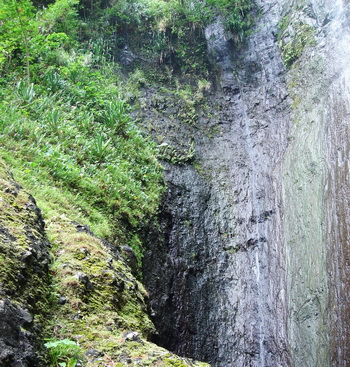 The route to the waterfall began on a paved road that turned to dirt as it followed the river. When we reached the first stone markers the route turned left up a narrow trail. Successive stone markers kept us on the narrow path. Our sandals were muddy and the smooth rocks quite slick.
As we finished our picnic lunch we noticed dark clouds moving in above. Hoping against rain, which might make the path even more slippery, we headed back. About forty paces into our retreat the sky opened up and poured. We took shelter under thick leaves until we realized we were soaked and might as well keep hiking.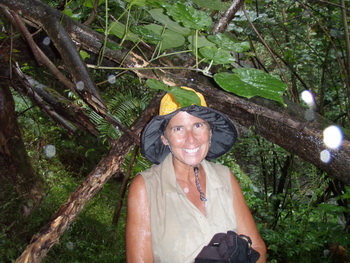 Thor Heyerdahl said there is an eerie uneasiness about Fatu Hiva. I feel it. Yesterday we dropped the anchor in three different spots before I was comfortable with our position, much to Jim's annoyance. I still didn't sleep well. Although this is the most spectacular anchorage we've ever visited, it is not exactly calming and soothing. So much drama in the landscape I suppose.
Many thanks to Kopi who encouraged us to spend time in the Marquesas and not just pass through. After lunch one day in Richmond, CA she gave us a Marquesan dictionary and phrase book she compiled while spending time here many years ago. It is really fun trying to speak the native language when people expect French to flow from our lips. Our efforts are repaid with broad smiles and genuine friendlieness.
Go to May 2010 Part Four - Tahuata
.