April 20, 2010
We pulled up the anchor and left Wreck Bay at San Cristobal at 0750 April 18. With light SE winds of about 10 knots, calm seas and sunny skies, our trip to Santa Cruz took 9 hours and we traveled 46 miles.
The anchorage at Puerto Ayora is notoriously rolly so we put out a stern anchor to keep our bow into the swell. We tried to stay as far from all the tour boats as possible. Many are based here for multiple day trips to other islands. There is no dinghy dock but plenty of water taxis.
Anchorage at Puerto Ayora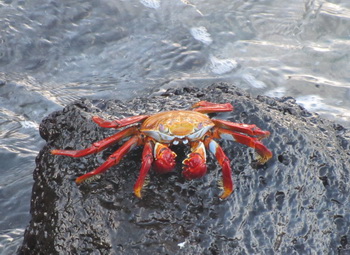 Sally Lightfoot Crab
Santa Cruz is the most populous of the islands and the town of Puerto Ayora is the commercial and tourist center of the archipelago. Many tours originate from Santa Cruz and the airport at adjacent Isla Baltra brings in most of the visitors. Souvenir shops and tour operators line the streets.
As we were looking for less touristy environs we planned to only stay a few days, mainly to see the important Darwin Research Station and have a look at the town.
Local boat at edge of Puerto Ayora
As we wandered the streets in the sweltering afternoon heat we came across the fish market. Two fishermen were cleaning their catches as the pelicans looked on. Two sea lions stayed underfoot and occasionally stood up on their hind flippers to poke their noses over the counter. They were just like dogs in the kitchen at meal time!
The fish market where pelicans and sea lions beg
Many shops sell Galapagos and Ecuadorian souvenirs, mainly textiles and jewelry. The selection hanging outside one tidy shop caught our attention and Jim and I went inside. Wilma Masaquiza owns Artesanias Salasacas and her husband weaves beautiful rugs. She was helpful, incredibly sweet and really fun to interact with. With her broken English and my nearly non-existent Spanish we managed to communicate with lots of laughs. I returned the following day and bought several exquisite rugs. Easily transported on a small boat, they roll up and wedge into odd-shaped places.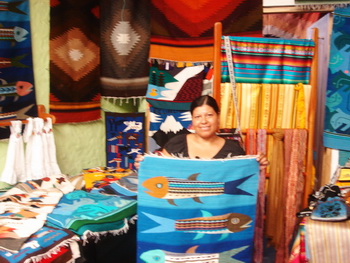 Wilma Masaquiza, owner of Artesanias Salasacas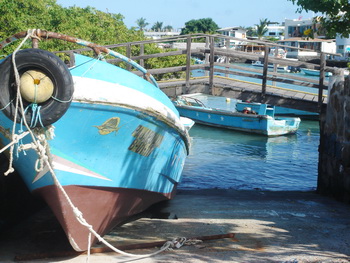 .

The Darwin Research Station was established more than 40 years ago to study and preserve endemic species and observe their reactions to introduced species. Scientists come from all over the world to study the reptiles, birds, insects and plants.
Several buildings lie within the station, most of which are closed to the public. A few pens have been built in the natural landscape among unique cacti with hard trunks to house various land iguanas. Other enclosures have been built to give various species of tortoises plenty of room to roam.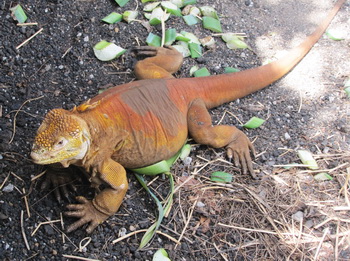 Santa Fe Land Iguana

Lonesome George
150 year old Lonesome George is the lone survivor of his species from Isla Pinta. He was brought to the Darwin Research Station in hopes of breeding him with a very similar species but to date he seems uninterested. Cloning has been discussed as the final option.
Many other tortoise species are successfully bred at the facility and released into the wild when they reach suitable size to fend off predators.
Young tortoises soon to be release into the wild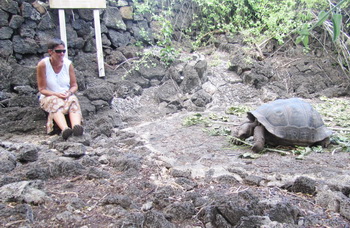 Katie watches a tortoise feed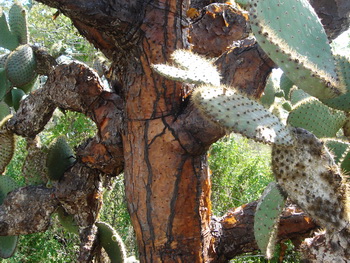 This species of cactus has developed a hard trunk for protection
One day Jim had to wait at the boat for our agent to return our passports and check us out of Santa Cruz and on to Isabela. Mike and I took a taxi tour to Los Gemelos, two collapsed volcanic gas bubbles, a tortoise ranch and a huge lava tunnel. We met Ryan, a researcher hoping to work in the islands, at the volcanos and invited him to join us. A really nice person, it was a bonus that he spoke Spanish and could converse with our driver.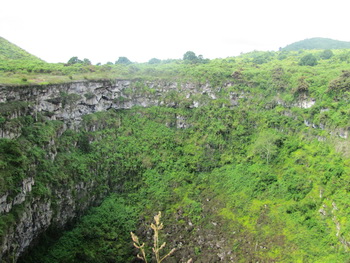 One of the "volcanos" at Los Gemelos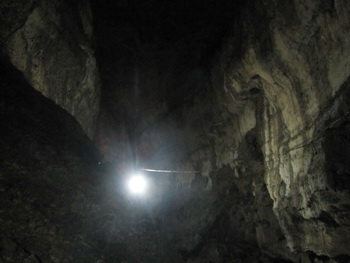 Inside the lava tunnel
This tortoise on the ranch was about 100 years old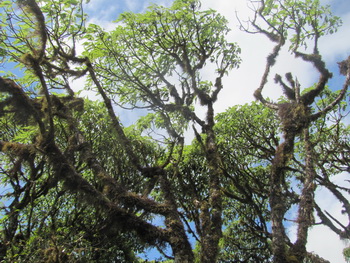 Scalesia (sunflower tree) with brown mosses called liverworts attached
Go to Galapagos Part 3 - Isabela Island
.