March 18, 2010
At 0845 on the 3rd of March Tenaya motored out of Spaanse Water, Curacao and into the Caribbean Sea for our passage to the San Blas Islands off the coast of Panama.
We set sail with sunny skies, smooth following seas and wind 12-16 knots. Perfect! As we passed between Curacao and Aruba the seas began to churn up a bit and Mike's stomach began to rebel.
We sailed 134 miles during the first 24 hours with sails reefed for comfort. The following day the winds died down to 8-12 knots but the favorable 2 knot current kept Tenaya moving in the right direction.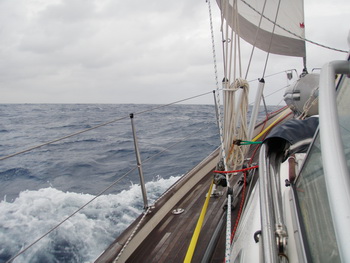 Our plan was to have four hour watches at night: Jim 1800-2200, Katie 2200-0200 and Mike 0200-0600 to ensure a good night sleep for all. Two hour watches during the day would keep us out of the sun as much as possible. Since Mike was so seasick that idea went out the window and Jim and I stood our usual four hour watches.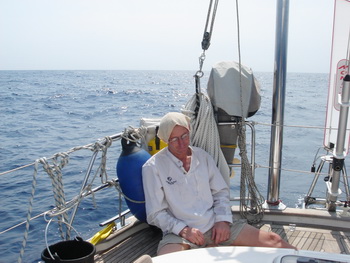 Mike wishing he was anywhere but here and is sure Bob will find this funny
On March 7 at 1917 Jim wrote in the log book that he was reducing sail as the wind and waves increased. Hearing the engine turn on I crawled out of my bunk to investigate. The radar screen showed our boat surrounded by rain and a few minutes later the sky opened up and the biggest deluge we've ever seen commenced.
We tried to get out of it by motorsailing south but it engulfed us for over two hours. Jim and I huddled under the windscreen as the wind increased to 32-38 knots with gusts to 43. We made no log entries until 2148 when we noted we were back on course, the stars were out and the wind was in the low 30s.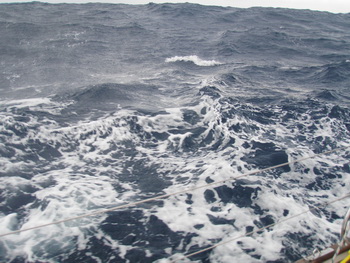 It was very scary charging forward with low visibility in rain blowing sideways and having to rely only on eyesight to spot other boats. The blips they create were lost on our radar screen in the large purple sphere of the rain.
Several times during the passage we had to alter course as cargo ships intended to pass too close for comfort. This is a busy area with traffic heading to and from the Panama Canal. We greatly appreciate our AIS system that allows us to target ships, get their CPA (Closest Point of Approach) and the time remaining until that happens.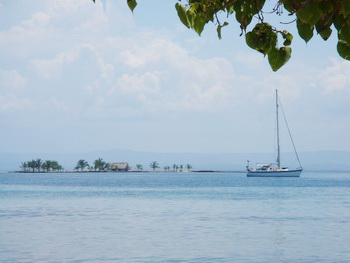 After four days of seasickness Mike still couldn't keep water down. We worried about dehydration and made plans to detour to Cartegena, Columbia or sail directly for Panama as there is a very good hospital there. Fortunately the seas died down, as did the wind, and he began to improve. He took a Stugeron tablet, which he resisted when we set sail, and immediately felt better. By the time we dropped anchor at Porvenir in the San Blas Islands at 0930 March 12 he was eating, drinking and standing watches. We had sailed 841 miles in 6 days and 45 minutes.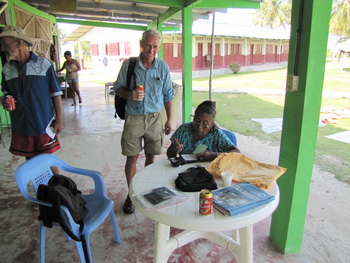 Immigration at Porvenir - a restaurant table with a beer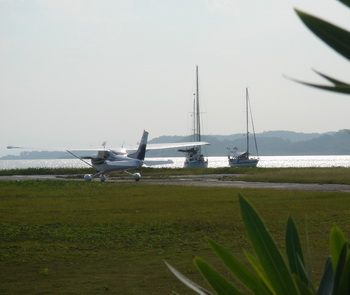 It's easy to see why sailboats can't anchor off the runway at Porvenir

The unique San Blas Islands are an archipelago on the Caribbean coast of Panama. Flat, sand-rimmed islands with coconut palms dot the azure sea while reefs keep the water smooth and provide incredible snorkeling and sometimes hazardous navigation.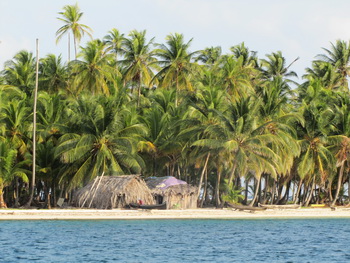 Kuna Yala is the name for the islands and associated mainland territory in the native language. Although part of Panama, Kuna Yala is effectively run by the Kuna. The indigenous Kuna Indians have persevered their culture better than any of the other native populations in North America.
The Kunas accept visitors but prohibit any non-Kuna from permanently settling or intermarrying. It is not allowed for foreigners to buy land or invest in Kuna Yala although donations are accepted to the general congress.
The Kunas are physically small, only pygmies are shorter, and are well-proportioned, healthy and have boundless energy. There are approximately 55,000 Kuna organized and united within a strict hierarchy of tribal leaders.
Each village has three sailas (chiefs) who hold the highest authority at village level. Three caciques or high chiefs rule the nation as a whole, each one representing his part of the land. Of these one will be elected supreme leader of the Kuna Nation. Sailas are much more than political leaders. They also hold the spiritualism, medicinal knowledge and history.
Until a few years ago coconuts were the currency of the Kuna. Each tree, and therefore each coconut, is owned by someone. Coconuts are the mainstay of their economy and are bought by Columbian traders. These traders bring in most of the supplies while Kuna Yala exports lobsters, king crab and octopus caught by the local skin-divers.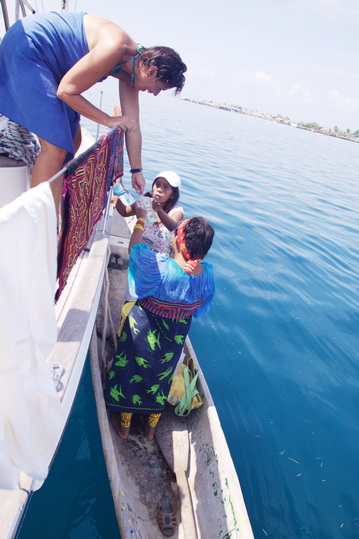 The women make and sell beautiful molas known the world over. These are intricately made by layering differently colored fabrics and cutting and sewing them to create original works of art. Authentic designs show abstract forms of birds, fish, animals and plants. Geometric shapes are popular too. Quality varies and those molas with the smallest, closest hand-stitching and consisting of several layers are the most prized. Of course I found them all absolutely gorgeous.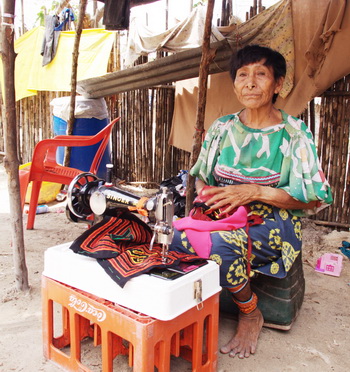 Designed originally as part of the women's traditional top, two very similar but not exact molas cover her mid-section, front and back, while lighter fabric is sewn to make the chest and puffed sleeves. Another piece of fabric is gathered below the molas at the waist.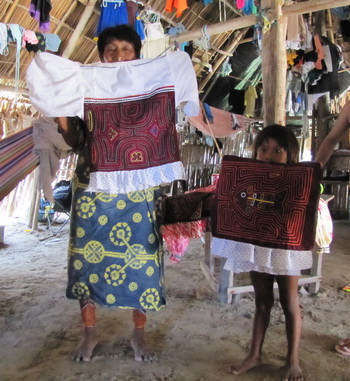 The first two Kuna women we met, Noemi and Rosibel, invited us to visit their village. Part Three tells the story of our adventures on their island and others.
Go to San Blas Islands Part Three
Go to Photo Gallery of San Blas
.