February 20, 2010
We left Bequia at 1000 Thursday, February 11 for the 3 day passage west to Bonaire. With following winds of 10-15 kts. during the day and through the night Tenaya moved along comfortably in slight seas as we ran off sailing wing and wing.
The following day the wind increased to 25-28 knots with gusts over 30. We rolled two reefs in both the main and jib as the windvane steered us nicely on a broad reach. There are obvious concerns with inmast furling but it sure is nice for one of us to reef while the other sleeps.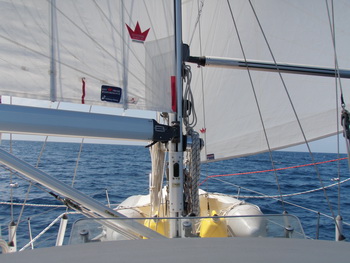 Sailing wing and wing on our first day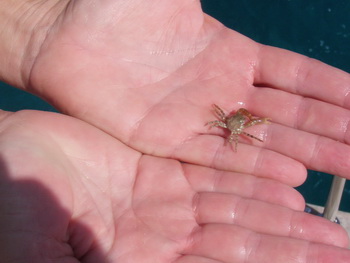 This little crab came up with the chain in Bequia
During our Atlantic crossing the waves were larger and spaced apart. The waves on this passage were 6-9 feet but steep and close together making for a bouncy and sometimes wet ride.
Winds were 18-22 kts. for our final day of sailing with a bit of chop as we approached the flat, arid island of Bonaire and spotted the lighthouse at the southern tip. We arrived at 1545 on Feb. 13 after sailing 538 miles in 3 days, 5 hours.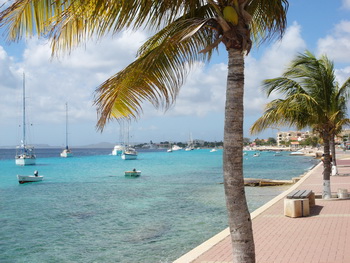 Tenaya and other boats at Kralendijk, Bonaire
Bonaire Marine Park surrounds the island and the small uninhabited offshore cay of Kleine Bonaire. Anchoring is not allowed so yachts must tie to mooring balls off the main town of Kralendijk. It is a beautiful setting in shallow turquoise water with deeper blue water just behind the boats.
50 miles north of Venezuela, the small boomerang-shaped island of Bonaire is the easternmost of the Leeward Dutch Antilles with Curacao and Aruba to the west. Inhabited by Amerindians when the Dutch West India Company conquered the island in the 17th century, the steady influx of Dutch, Spanish, English and Portuguese from Brazil brought an eclectic mix of cultures. More prosperous than most other Caribbean islands, the people are friendly and welcoming to visitors and are dedicated to protecting and preserving their natural environment.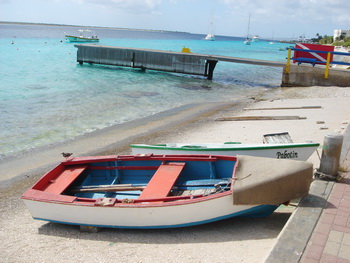 Circled by one almost continuous reef, Bonaire is one of the world's premier sites for shore diving. A narrow terrace slopes gently from the shore to 30 feet before dropping off at a 45 degree angle to more than 400 feet. In some places vertical walls and double reef formations can be found.
65 dive sites and 35 snorkeling sites are easily accessible by descending a few stairs and wading into the crystal clear water, mostly on the western shore of Bonaire. More dive and snorkeling sites on Kleine Bonaire can be reached by boat.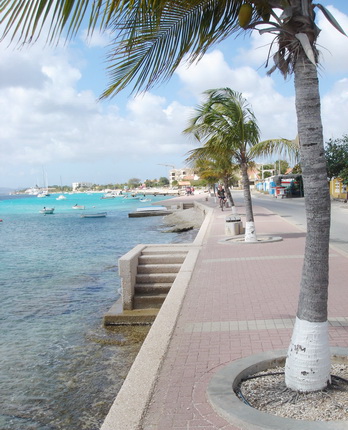 Steps provide easy access for divers and snorkelers
With only 8 dives under our weighbelts we signed up for a boat dive. It was fabulous! First we dove along a sandy hill of coral and sponge gardens including brilliant lavender giant tube sponges. Schools of blue tang and brown chromis moved in unison as brightly colored individual parrotfish, damselfish and angelfish darted about.
Next we glided slowly along Karel's Wall which is packed with breathtakingly beautiful corals and sponges. Brilliantly colored fish swam nimbly in and out of the reef while others nibbled at rocks or swam willy nilly among the soft corals and sponges waving in the current. A goliath grouper sulked away after we discovered his resting place and a spotted drum waited quietly in a crevasse as we passed above. The water was unbelievably clear and the colors were amazingly vibrant.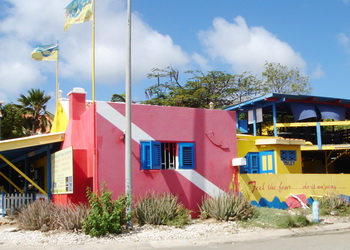 Feel the fear ... do it anyway... written on the dive shop's wall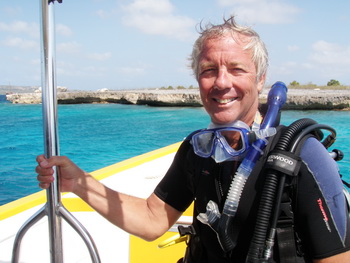 Jim is ready to go!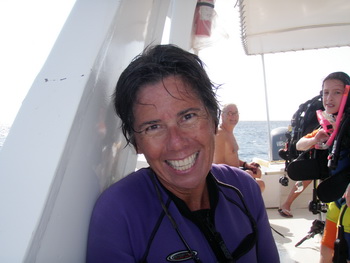 Katie had a great time diving at Klein Bonaire
Before we left Holland we bought a Mini-B with a small tank that holds about 1/2 hour worth of air. A good thing to have should we need to recover an anchor or cut away a snagged net or line. It has been stored under the starboard settee ever since. We decided to pull it out and give it a try. Jim used it to scrub the stubborn growth off the prop and found an anode that needed replacing and I went for a look around.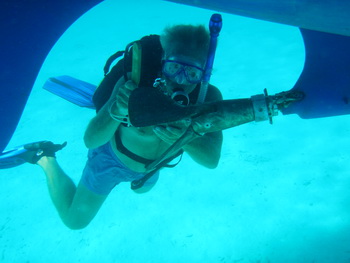 Jim cleans our prop while testing our Mini-B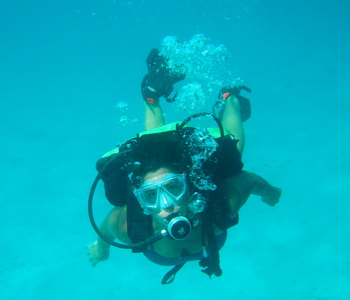 Katie's first dive with our Mini-B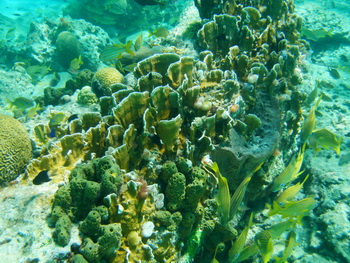 A small reef teeming with fish near Tenaya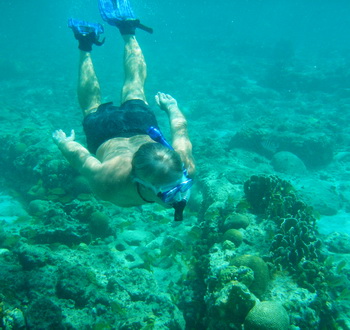 fun snorkeling right off the boat

It is a five minute dinghy ride over to Kleine Bonaire where we tied to a mooring ball, donned our snorkeling gear and slid over the side. The reef comes to within inches of the surface before dropping off into a deep blue abyss. Brightly colored fish swam around the delicate coral and sponge gardens while a small turtle swam lazily beneath us.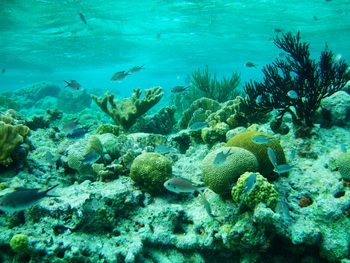 Snorkeling at Kleine Bonaire is amazing
Staghorn and leafy stinging coral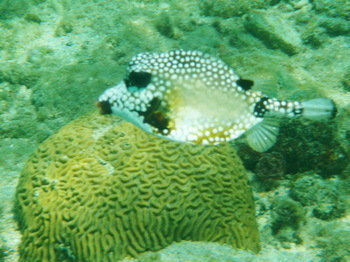 Smooth trunkfish and brain coral
Spotted moray eel
French angelfish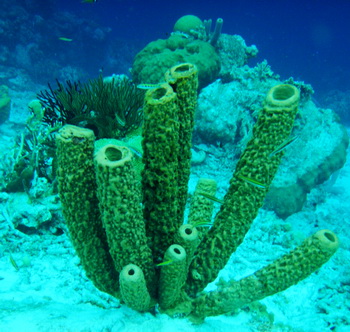 Giant tube sponge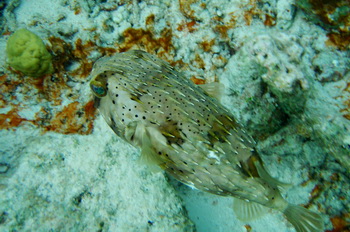 Balloonfish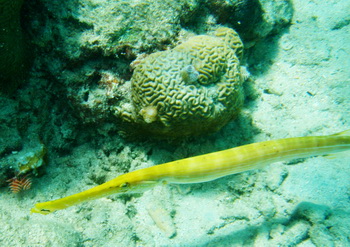 Trumpetfish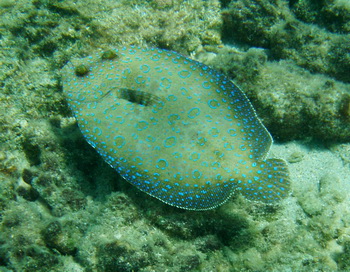 Peacock flounder
Leafy stinging coral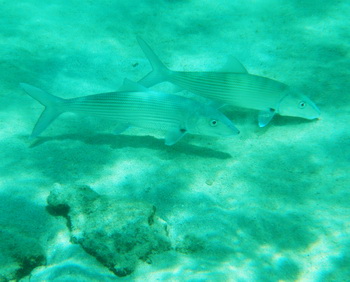 Bonefish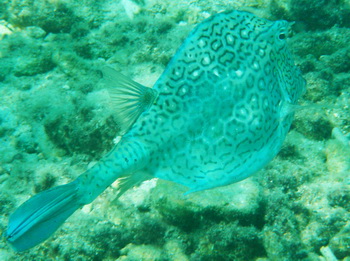 Scrawled cowfish

French grunts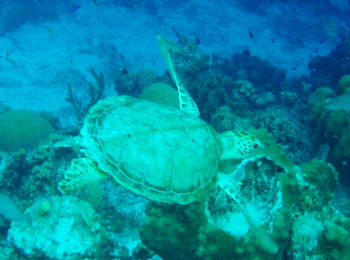 We think this is a ridley turtle, the smallest of the local sea turtles
With the inviting sea enticing us to spend time in the water we didn't explore much of the island. Fortunately we arrived during the final days of Carnival so got to see a parade.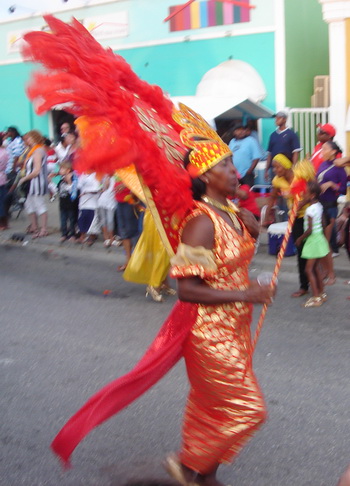 Colorful costumes during Carnival parade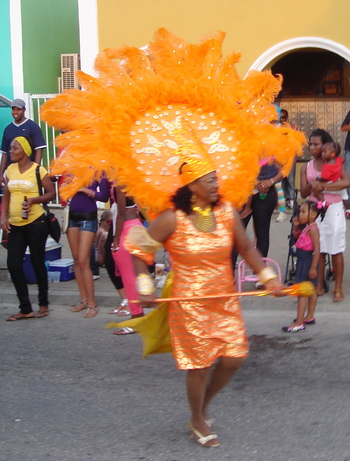 We shared a couple of nice evenings with Mary and Craig of the New Zealand flagged Erasmus hearing stories of their 12 year voyage and gaining information on New Zealand, our final destination of this voyage.
Last night we had a delicious dinner aboard Australian flagged Grace, a Hallberg-Rassy 46 moored just behind us. Shane, Nicole and their three young children are loads of fun and absolutely delightful. We hope our paths cross with both these yachts again.
Tomorrow we will sail to Curacao on a mission to have our generator fixed and finish provisioning for our four month trip to Tahiti. Our friend, Mike, will join us in 10 days to sail to the South Pacific as crew.
.