February 10, 2010
After our terrific time hiking, snorkeling and swimming on Dominica we headed south on January 23 to the French island of Martinique. Conditions were ideal with the wind 12-15 kts. on the beam and little more than ripples on the sea.
We stopped for the night in St. Pierre and anchored beneath the majestic Mt. Pelee. The volcano wiped out the town in 1902 leaving one survivor, a prisoner. See the page from our visit last year for more information about St. Pierre. February 2009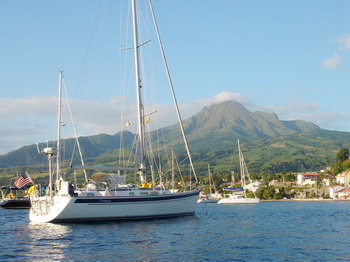 Mt. Pelee looms behind Tenaya anchored at St. Pierre
The following day we sailed the length of Martinique in light winds of 7-10 kts. on the beam. It was slow going but very pleasant, taking us 7.5 hours to complete the 36 mile journey.
As we rounded the southwestern tip of the island we sailed between the mainland and Diamond Rock with steep sides rising to 570 feet. During the late 1700s and early 1800s the British controlled most of the Caribbean waters although at times they didn't have enough ships. In 1804 they decided they would commission the rock as a ship and equipped it with cannons and enough supplies and water for a full crew. H. M. S. Diamond Rock succeeded in surprising ships bound for Martinique for 18 months before Napoleon had had enough.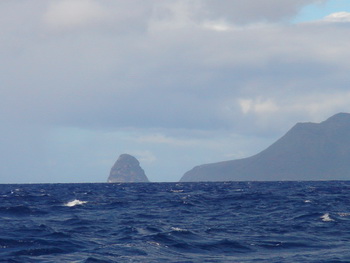 Diamond Rock
Le Marin is a small town offering a large range of yacht services. It lies at the southern tip of Martinique on the edge of a grand bay dotted with quaint towns and filled with sailboats. As we followed the buoys in we passed a huge Dockwise Transport ship unloading private boats. I suppose that is always an option if we get to Tahiti and are tired of sailing!
We came here to do more projects, visit the well-stocked chandleries and make a run to Carrefour. As dinghy repair was on the list we took a slip at the marina for a few days.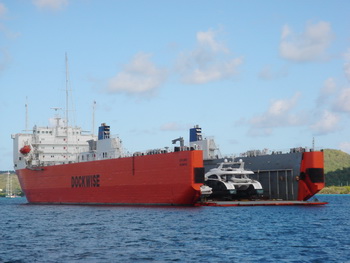 Dockwise Transport will ship boats all over the world
The following morning we drove the dinghy over to La Survy, a dinghy repair place, in the hopes they could fix the leak we've not been able to find. They did! And quickly. We're thrilled! Third time's a charm ... that's how many times the plug has been replaced. He also repaired some gouges in the fiberglass hull caused by dragging the water-laden thing on shore. Life will be easier now when it comes to moving Papoose around.
Our next project was to fix the air conditioning which curiously quit working about the same as the generator. We plugged it into the 220v shore power and voila, it worked perfectly! If all things could be so easy ...
On the way back from La Survy with a leak-free dinghy
There was a Mastervolt repairman in the same area as the dinghy repairman so we stopped by and told the receptionist that ours was dead, gave her the error codes and asked if someone could look at it. She said her boss would call when he had a chance but he was busy for a couple of days. We waited and waited before giving up and deciding to go to a highly recommended repairman in St. Lucia, our next stop.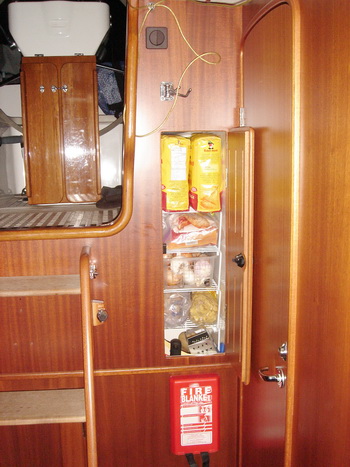 Our new pantry in the wet-locker
Preparing for our long Pacific voyage we converted the wet locker to a pantry. It's wonderful and holds so much stuff!
Hoping to find rice wine vinegar, something I didn't know I needed in St. Martin, the last island that would have had it, we located a Carrefour and headed off for the bus stop. Holding a map I showed the bus driver where we wanted to get off and the word Carrefour asked him if he could take us there. "Oui, madame".
Along the highway the driver stopped and told us this was our stop. "Just walk up the interchange and it's right there." Hmm no sign but I had read that it was on the airport road so we got out and walked to the other road. No Carrefour in sight, only rental car agencies for the airport across the street. We asked in one where the closest hypermarket was and she said 5 minutes by car. 70 euros later in cab fare we arrived back at the marina with six small bottles of rice wine vinegar. Apparently the bus driver spotted our large packs and assumed we were going to the airport and paid no attention to my map.
.
Five days after arriving we left Le Marin Marina for Rodney Bay. St. Lucia. What a fun day of sailing! The windvane steered us on a broad reach in 25-30 kts. and Tenaya covered 32 miles in 4.5 hours with 2 reefs in both sails.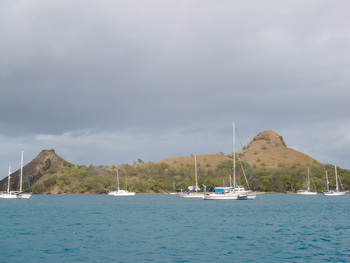 Rodney Bay, St. Lucia
Our sole purpose for visiting Rodney Bay, and St. Lucia at all, was to see the recommended Mastervolt repairman, Jon White, at Regis to have our generator fixed. I called him as we entered the bay to see if he could help us and whether we should go into the marina or anchor. He said he was busy for a few days and gave us to his receptionist to take our information. She said he'd call when he could see us. Six days later we had not heard from him so Jim contacted the Mastervolt repairman in Curacao who wrote back the same day. Perhaps we'll have better luck there.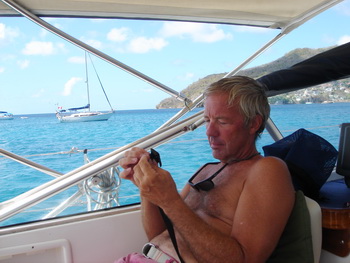 Jim makes webbing straps to tie down his sextant case
While we were waiting in Rodney Bay we did a few more small projects and read. Diving into the warm, clear water did not tempt us to go for long swims. Jet skis and Hobie Cats buzzed by regularly making swimming a bit hazardous.
We met Lance and Susie in the anchorage after having first met them at the Oakland boat show and again last year in Bequia. They showed us their new boat, Queen Emma, and invited us to join the yachties' lunch at the yacht club. Dressed in our hiking clothes we abandoned plans to hike up the small hills by the anchorage for a delicious lunch on shore. We met quite a few new people all of whom were very nice.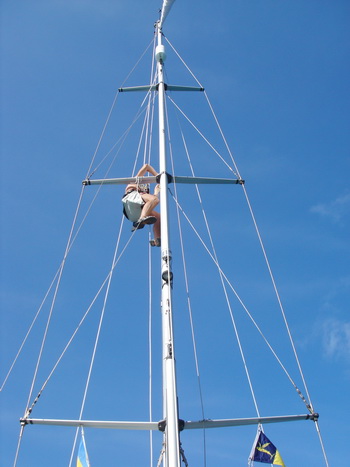 Jim restitches the end of a batten pocket
Now we were on a mission to get to Curacao so we left St. Lucia at sunset on February 4 for an overnight trip to Bequia. The first few hours we had winds of 7-8 knots so we motorsailed. From 2200 to 0300 the wind picked up to 14-18 kts. allowing us to sail nicely past St. Vincent. Tenaya sailed into Admiralty Bay, Bequia at 0900 on February 5.
Our first stop after checking-in was at the large produce market run by rastas from St. Vincent. They have the most delicious fruit and veggies! It was fun seeing the same people working there as when we visited last year, and they were just as friendly. See our pages on Bequia from our visit last year: January 2009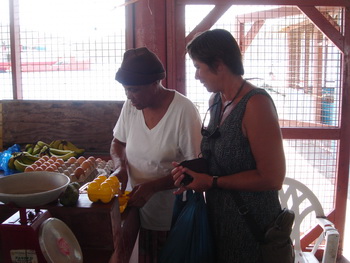 This sweet lady sells eggs along with lots of produce
One morning after a windy night in Dominica we awoke to find the window cover for our bimini gone. It had been attached with velcro to a window above the helm so the helmsman could see the sail. As we never sail with the bimini up we've ignored the attachment.
Bequia has a long seafaring history and is a good place to have canvas and sail work done. We took the bimini to Bequia Canvas and asked her to sew a replacement and include a grommet so we could tie it to the bar in case it let go again. We also asked her to make a piece that will extend the shaded area in the cockpit. Both came out very nicely and we'll post a picture once we get some line to install it.
Winfield Sargeant at Friendship Side has been involved in yachting for years and offers a yacht upkeep and provisioning service. We haven't been as diligent this year as in the past keeping Tenaya clean and rust free so when he came by the boat and showed us what he could do we decided to spring for a good cleaning, waxing and polishing. Wow, he did an outstanding job and our girl really sparkles and shines.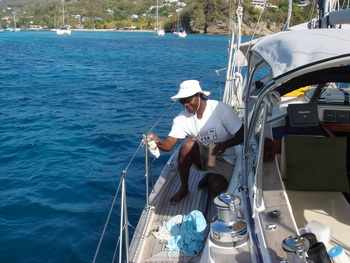 Winfield polished the stainless steel as well as the hull and coach roof
Tomorrow we set sail for Bonaire, the first of the Dutch ABC islands. It should take 3 days in the forecast 10-15 kts. and be comfortable with the wind from behind. As much as we want to get to Curacao quickly and sort out the generator, we do not want to miss the fantastic diving and snorkeling of Bonaire.

.