December 17, 2010
Over the next few months our updates will have a new look. Rather than pictures of Tenaya anchored in beautiful tropical settings, you will see pictures of Gerty, our new but very used campervan, parked at various scenic locations throughout the North and South Islands of New Zealand as we explore this spectacular country.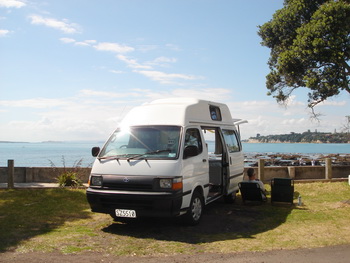 Our first trip was to Takapuna Beach, just north of Auckland. As we both had dermatologist appointments in the big city on Monday, we decided to make a weekend out of the 225 km journey. A charming holiday park is located at the beach in the lively, hip town of Takapuna. A beautiful sandy beach stretches around the bay and dozens of restaurants are within walking distance. A gorgeous view of Rangitoto, a prominent volcanic island in the Hauraki Gulf, was the backdrop to our site.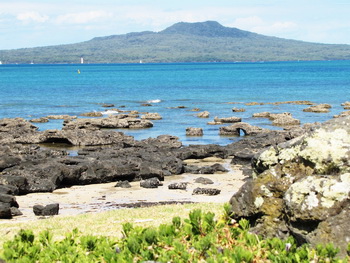 Takapuna Reef is an exceptional fossil forest. Red-hot lava erupted from Pupuke Volcano about 200,000 years ago and flowed down through the area, which was then a forest, incinerating everything in its path. As the trees slowly burned, the lava continued past the trunks cooling and solidifying as a thick crust. Cylindrical molds of the trees remain and are exposed in the lava reef at low tide.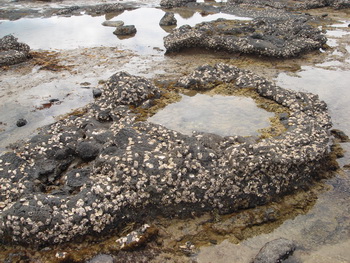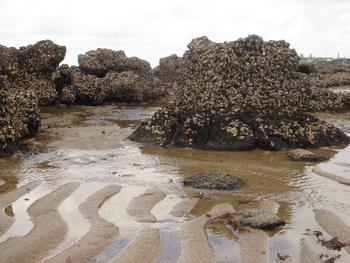 This was a good "shake down" cruise in Gerty to find out what was needed to make her a comfortable, roaming home. Tinted windows were a must for privacy and to keep the interior cool. An awning, two taller chairs, a camp table and a rug of some sort at the sliding door to keep leaves and dirt out were also on our list. Four new tires probably weren't a bad idea either.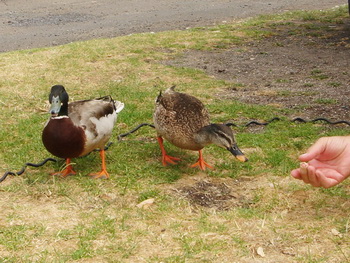 In 1997 the folks in Kawakawa commissioned Friedrich Hundertwasser, an internationally regarded architect and ecologist, to design and build the public toilets on the town's main street. With colorful ceramic columns and tiles, it is a most unusual and delightful rest stop.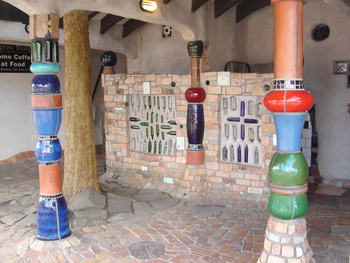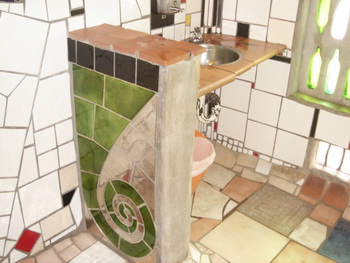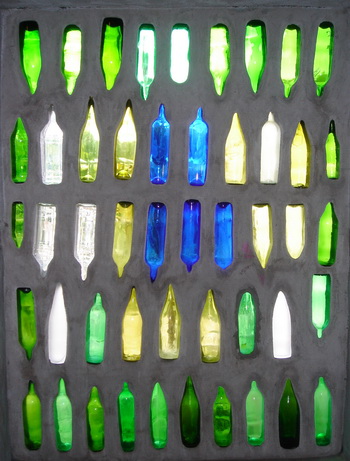 Most of our time here at Opua Marina is dedicated to doing boat projects. We have ticked off several more jobs from our long list and are actually approaching completion. Hooray!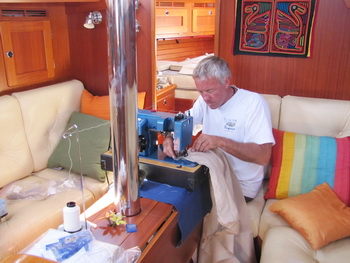 Jim has been sewing like crazy: cockpit cushion covers, pillow covers, a cover for the chart table seat, an awning for Gerty and pockets for the cockpit. I've been doing my least favorite jobs - sanding and varnishing.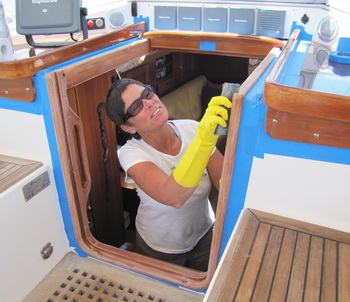 Jim has tackled leaky cleats, a squeaky boom with too much motion and a plethora of other odd jobs. Rob the rigger went up the mast and did a thorough check of all our rigging. He gave us some good ideas to tighten things up a bit.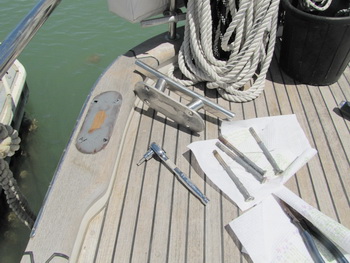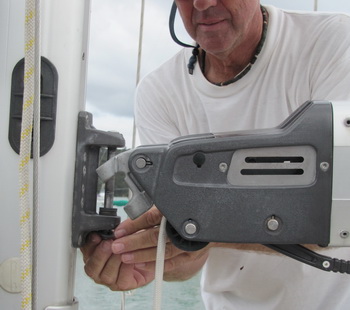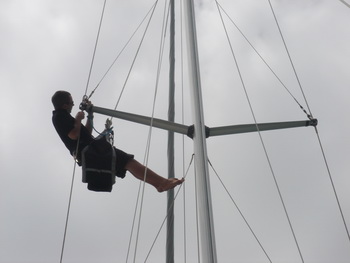 Hallberg-Rassys are delivered with "wall-to-wall" carpeting which is nice as long as it is not drenched in salt water. That causes the carpet to mildew and the rubber backing to disintegrate and stick to the teak and holly sole creating a gritty, dusty, mess.
Online research of marine carpeting available in New Zealand led to Autex products. No rubber backing, no water retention, no mildew ... perfect. Even better, Cater Marine, the remarkably well-stocked chandlery here in Opua, carries it.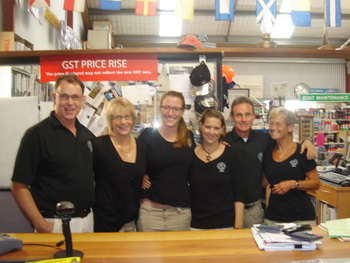 Glen and the crew at Cater Marine are exceedingly friendly and helpful. They began ordering parts for us before we even arrived! Bob happily ordered Sunbrella fabric and YKK zippers that required setting up new accounts with both companies. This is the most helpful store we've ever worked with for getting parts for Tenaya. See their website at www.catermarine.co.nz.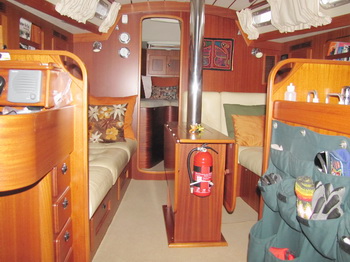 Seven meters of carpet and fifty snaps arrived at Cater Marine a couple of days later. Brian at Carpet Underfoot Creations in Kerikeri used our old carpet as templates to cut the new carpet to size after which he overlocked the edges. He did a beautiful job. Now Tenaya looks like a new boat inside! With the extra carpet he cut pieces to fit Gerty and overlocked them as well. She's looking really sharp now with her tinted windows, new tires and fresh carpet.
.

Once Gerty was fully outfitted we drove to the other side of Paihia for an overnight test at the pleasant Haruru Falls Resort. In a shady spot under a large tree we camped next to the river with a magnificent view of the slab falls.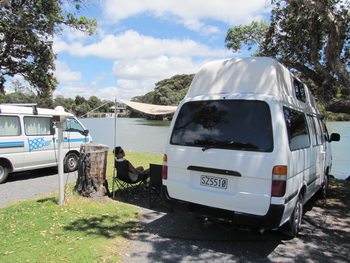 In the 1800's more than 100 Maori villages lined the banks of the Haruru River which flows down to the sea at Waitangi. Maori legend says that a water monster lives in the lagoon below Haruru Falls. We didn't see him, only a lot of ducks and gulls.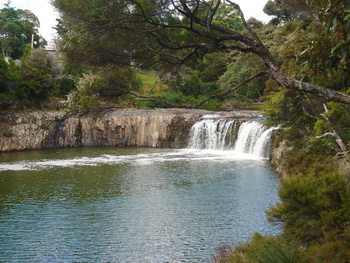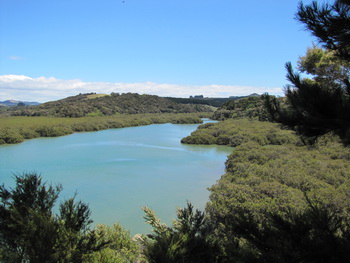 A splendid, gentle trail links Haruru Falls to Waitangi, site of the signing of the Treat of Waitangi, five km away. It winds through a forest of tree ferns and other native trees along the river before a boardwalk crossing which meanders through a mangrove swamp. More forest is on the other side of the bridge.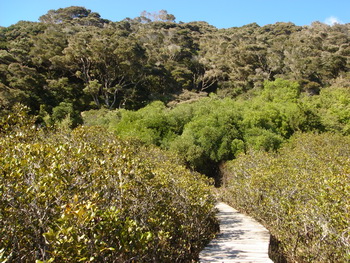 Centuries ago the fertile soil, safe harbors and mild climate in the Bay of Islands attracted Polynesian settlers and before Europeans arrived competing Maori tribes occupied the land. In the late 18th century Capt. Cook and French explorer Du Fresne visited the Bay. Whalers, sealers and traders soon set up bases here and christian missionaries quickly followed. They brought muskets to trade which made intertribal wars more deadly.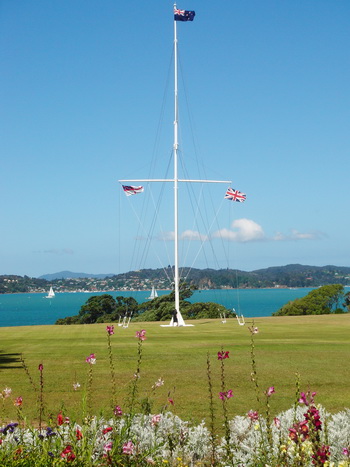 By 1830 the Bay was crowded with visiting ships. The trading center at Russell had a bad reputation as the "Hellhole of the Pacific" with unsavory types unwilling to obey laws. The British government sent James Busby as the British Resident in New Zealand to address the problem in 1833. He settled in Waitangi but without resources to enforce his authority, he was a man-o-war without guns. Thus, he became a useful mediator. His residence became known as the Treaty House and is one of New Zealand's oldest and most visited historic homes.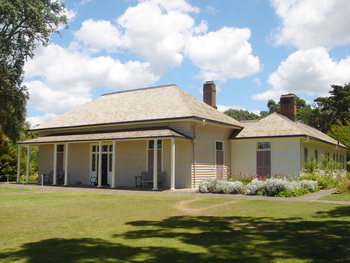 In 1840 Captain William Hobson arrived in the Bay of Islands to make a treaty with the Maori chiefs on behalf of the British government. Busby helped revise Hobson's draft and it was translated into Maori.
On the February 5, 1840 hundreds of Maori and scores of Europeans gathered in front of the Residency at Waitangi. The Treaty was read and explained in English and Maori. The chiefs debated all day and into the night. On February 9th forty-three chiefs signed the Treaty in front of the Residency at Waitangi. A flagpole marks the site.
Copies of the Treaty were carried around the country. By September 1840 over 500 chiefs had signed it. Hobson proclaimed British sovereignty over the whole country on May 21, 1840.
Though debate continues over the interpretation of some parts, the treaty is an agreement between two peoples to live and work together in one nation. It guarantees the rights of both Maori and non-Maori citizens in Aotearoa, the Maori name for New Zealand.
Te Whare Runanga, the meeting house, opened during the Treaty Centenary Celebrations in 1940. It stands alongside the Treaty House and symbolizes Maori involvement in the signing of the treaty and in the life of the nation.
It is a typical meeting house in appearance but is unique in that it was planned to be shared by all Maori tribes. Carvings depict ancestors from many tribes and the major tribal art styles are represented in the carving, tukutuku (reed panels) and kowhaiwhai (painted rafter patterns).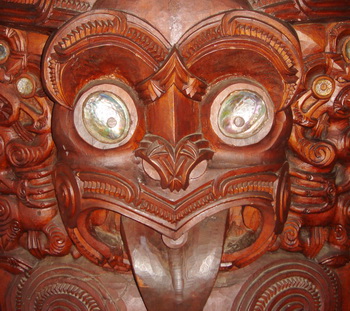 Ngatokimatawhaorua, a 35 meter long voyaging waka, is housed on the shore of Hobson Bay. Named after the vessel navigated by Kupe when he discovered Aotearoa, it takes at least 76 paddlers to safely propel and steer. Two years in the making, the world's largest war canoe was carved from two huge kauri trees by members of the five northern tribes. It sails each year on Waitangi Day.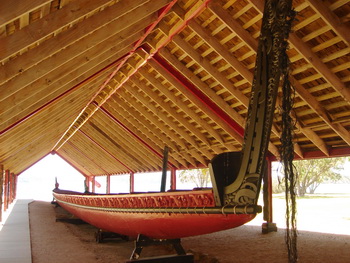 We had a tasty dinner and a lovely evening in Paihia with Margie and Dick from Ms. Pauline. We first met them in Tonga when, intrigued by Anchorage, AK painted on their stern, we dinghied up and introduced ourselves. We clicked immediately.
With all our projects completed and Christmas around the corner, it is time to get out of the marina and do a little sailing and exploring. Bay of Islands, here we come!
We wish everyone a
Happy Holiday Season
Cheers!
Go to December 2010 Part Three - Sailing in the Bay of Islands
.