December 3, 2010
The Bay of Islands is an absolutely gorgeous area. The blue sea is sprinkled with mounds of dense green woods of various sizes. The air is warm, not hot, and the breeze is crisp. Humidity is much lower than the tropics to which our bodies have become accustomed and our lips and skin need massive amounts of moisturizers.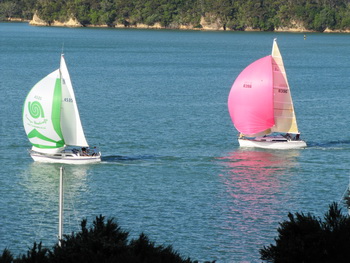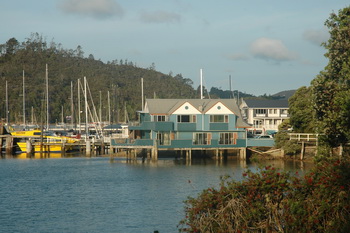 We arrived at Opua Marina two weeks ago and have been busy working on Tenaya. Because yachties have to get out of the tropics for cyclone season, many come to New Zealand. A sailor's paradise, it is a fabulous place to work on the boat. After so many miles all the boats need some sort of work.
We've seen many people we originally met in anchorages along the way and also several folks who have been here for quite some time. Some sail to the islands for the winter and sail back to NZ for the summer, over and over, and have been doing so for years. Sounds like a good plan to us!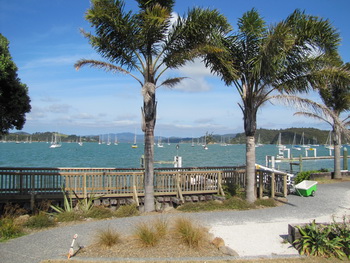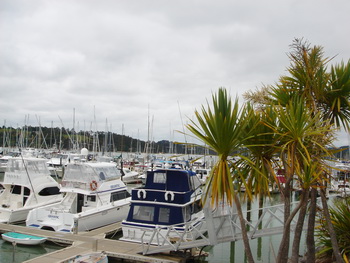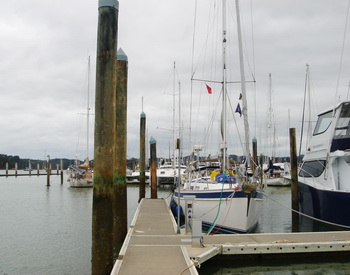 Tenaya's berth is at the very end of one of the docks so we have a quiet spot with a nice view. A couple of shags like to rest nearby. Unfortunately one has been hooked and has a bit of fishing line hanging below its tail feathers. The bird is calm and allows people to approach but won't let anyone close enough to remove it.
Before our passage to NZ we didn't know if we would spend our winter sailing the rugged coasts or traveling on land. We couldn't decide, thought either was a good option, and figured the decision would become obvious at some point.
It did. As I read my guide book about all the amazing places to visit and fun things to do, it made sense to buy a campervan and travel on land.
A cruiser himself, Phillip and his family settled here and recently opened Cars for Cruisers. He's helped many people, including us, find the perfect used car for navigating the picturesque countryside. Look at the campervan he found for us! We just love it! She was already named Gerty and it suits her so we will call her that.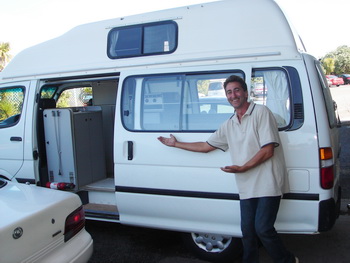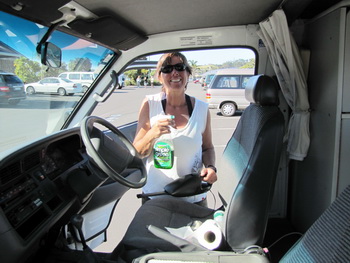 Gerty is a 1994 Toyota Hiace Campervan with 287k miles on her. She's very clean and well outfitted with a two-burner stove, fridge that runs on a house battery, a sink and lots of storage. There's even a porta-potty. If we choose, we can leave the bed made up and still open the cupboards and fridge. She runs on petrol and is a manual transmission. That wasn't as tricky as I thought it would be. She is quite forgiving and easy to drive. We just have to remember to shift with the left hand and stay on the left side of the road.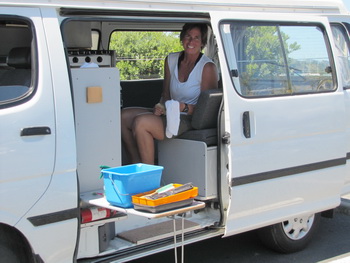 We took a day off work last week to meet friends Amanda and John Neal from s/y Mahina Tiare for lunch. They were in Whangarei, a huge yachting center an hour south with everything you could possibly need or want for the boat.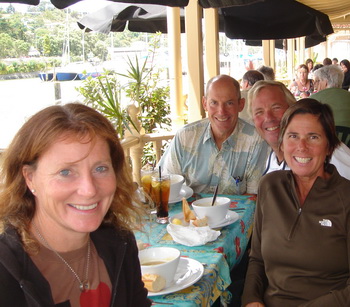 Amanda's a Kiwi and was full information and ideas about what we should do and see. She and John have sailed extensively in the South Pacific and we talked about many wonderful places. They are great fun and we enjoyed seeing them very much. For our friends on the U.S. West Coast, check out their informative seminar at the Strictly Sail Pacific boat show in Oakland April 14-17.
We have traveled half way around the world safely, comfortably, and well-fed largely because to these two. Knowledge we gained from their seminar and our three week expedition on Mahina have proved invaluable. Galley Essentials, Amanda's cookbook, is my favorite by far!
My third day in NZ I took the shuttle into Paihia, the closest town. First stop was the bookstore to load up with books about New Zealand. There were many guide books and books about geology, trees, plants, birds, animals and spiders. Spiders? Eeks, there must be a lot here to warrant so many books!
Next stop was the hardware store where I stumbled upon this display. Hmm... looks like there are a lot of pests in this country. Repellents for flies, bugs, ants, wasps, spiders .... even cats and dogs! Guess Kiwis aren't big animal lovers.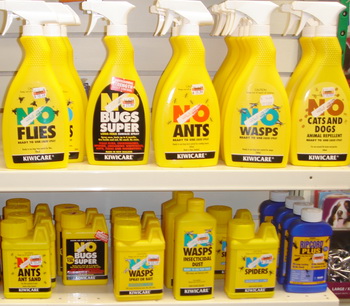 .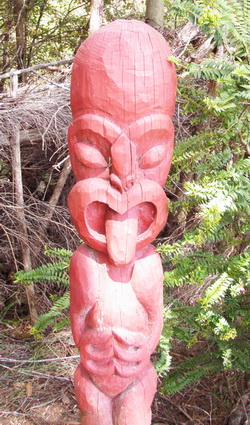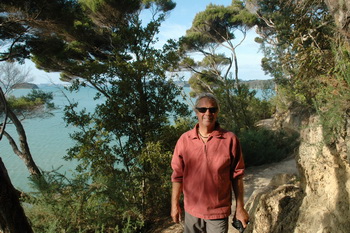 There are trails, called tracks, everywhere. A pleasant one runs 4 km along the coastline from Opua to Paihia. It winds along the shore, up into the hills, across streams, beneath tree ferns and through a mangrove swamp.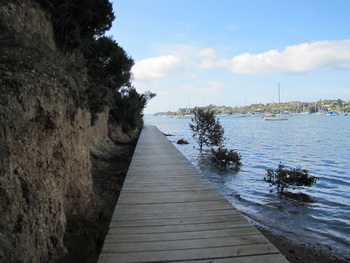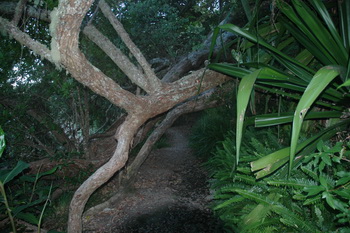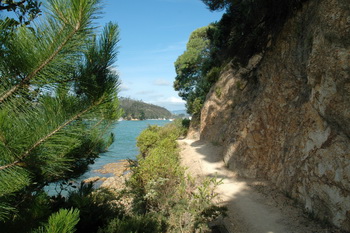 Of the many trees on the track, very few are recognizable. The birds sing songs I've never heard. So much is new ... similiar ... but new. How fun it will be to explore this beautiful country!
Nina Kiff is the Ocean Cruising Club Port Captain for the Bay of Islands. Shortly after we arrived she stopped by and welcomed us to Opua. Last night she and her husband, Tony, hosted a potluck at their lovely home for OCC members. What fun! We met many charming and interesting people full of information and entertaining stories.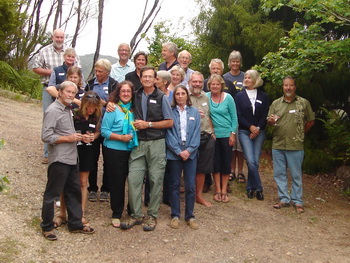 Today we drove Gerty to the delightful town of Kerikeri 25 km northwest of Paihia. She had an oil change and a check-up and was pronounced good to go. We both had hair cuts and now look a bit less scruffy.
While Gerty was in the shop we walked to the Stone Store, the oldest stone building in New Zealand. It was built by the missionaries in 1836 and is constructed mostly of local stone.
First used as a central provision store for the Church Missionary Society, it was later a munitions store for troops and a kauri trading shop before it was opened to the pubic in 1975. The shop on the ground floor sells merchandise almost identical to what was offered almost 180 years ago, most sourced from the original manufacturers. Hudson Bay blankets, cast iron pots, serious gardening tools and calico fabric are just a few examples.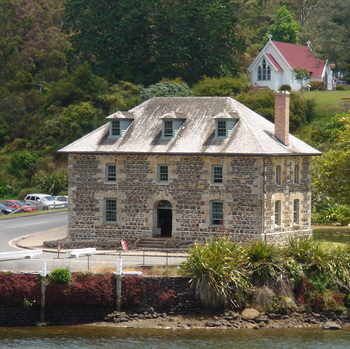 Across the river is Rewa's Village, an outdoor museum and replica of a pre-European Maori fishing village and Discoverers Garden full of indigenous plants.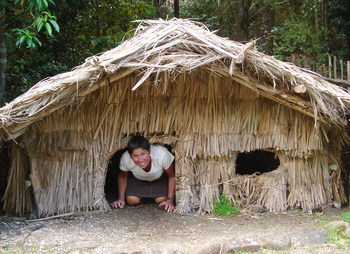 We have done more boat projects in the past two weeks than we've done in the past 12 months! With a complex full of marine specialists, three chandleries and Tenaya moored in a berth with water and power, we are rapidly ticking jobs off our long list.
Completed projects:
Removed vent and sealed hole in front cabin
Completely serviced toilet
Installed shut-off valves from engine to hot water heater
Replaced SSB antenna wire
Redid the Monitor self-steering with new, larger block
Replaced electric winch motor
Replaced electric winch switches
Found gremlin in outside VHF handset, replaced speaker
Fixed and timed sewing machine
Welded bimini fittings
Washed bimini cover
Replaced solenoid for propane tank
Replaced light switch in aft hanging locke
Projects in process:
Servicing life-raft
Repairing leaks in dinghy
Repairing in-mast furling motor
Rigging inspection and adjustment
Repairing stove lighter switch
Projects to do:
Repair generator
Replace log
Remove and reset cleats to make watertight
Separate wiring for instruments
Make covers for worn cockpit cushions
Varnish
...and about a hundred more things!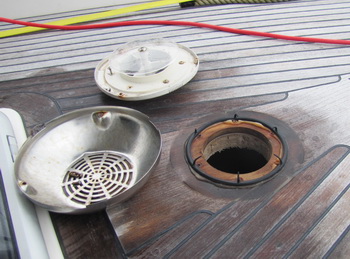 Leaky vent, source of much water and frustration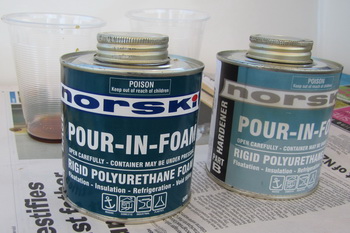 Liquid foam filler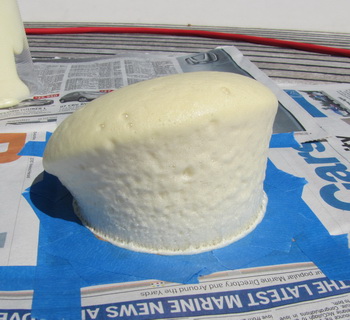 Wish my bread would rise like this!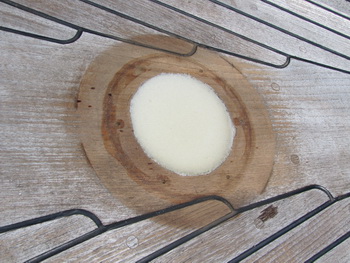 Completely sealed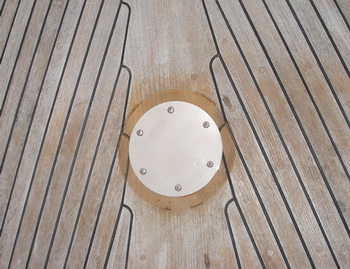 No more rusty, leaky vent ... we hope!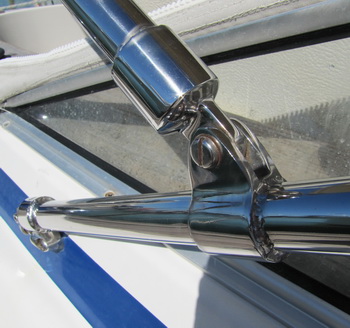 Welded bimini frame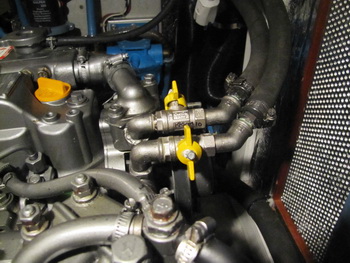 Valves inserted to shut flow of engine coolant to water heater (more info)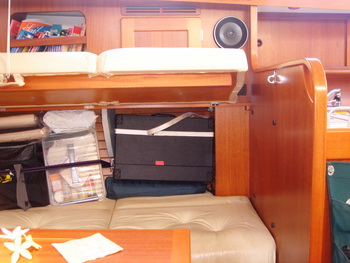 Repaired sewing machine in storage spot
This weekend we are heading south to Auckland to camp at the beach before we both have dermatologist appointments on Monday. Tuesday we'll be back at work on Tenaya.
Go to December 2010 Part Two - Opua and nearby New Zealand