November 20, 2010
Illuminated silver by the moon, billowing clouds parade across the giant expanse that is the night sky. Churning and undulating, the sea rolls toward the boat and then beyond. Moonlight paints a million silver brush strokes against the black, watery palette. The night sky is magical.
"When I am away from the sea and caught up in the rush of everyday life, I shall try to remember these moments for they are among the most beautiful I have known." John Guzzwell so eloquently sums up the bliss of an ocean passage.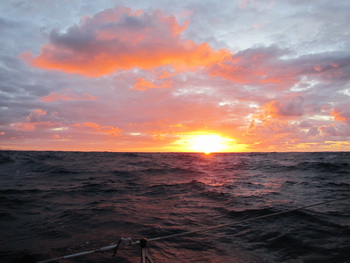 The voyage from Fiji to New Zealand is always taken with a bit of trepidation, especially for first-timers. For most cruisers, it is the first time sailing out of the predictable tradewinds for many months.
Weather develops in two areas that will affect the passage this time of year. One is to the west of New Zealand moving up and across the Tasman Sea. The other is in the Coral Sea where tropical depressions form, possibly growing to cyclones. Therefore, it is important to wait for a good weather window before departing on the 1200 mile journey.
We subscribe to Commander's Weather to aid us in our decision making. Routers cannot forecast beyond 4-5 days with a great deal of accuracy but they advise a good time to leave, give recommended waypoints and send updates as necessary. In addition, we receive GRIB files over the SSB but it is assuring to have the advise of someone watching and understanding the big picture.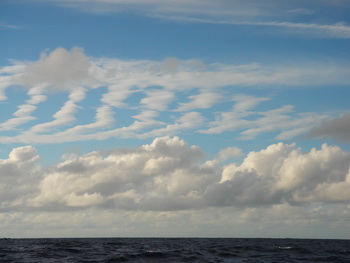 Cleared out of Lautoka and finally on our way, we motored south in light winds. To steady the boat Jim began to unfurl the mainsail. Nothing. Again he pushed the button. Still nothing. Hmm..... Not good. The electric part of the furler wasn't working. Fortunately we have an emergency handle and were able to get the sail out by cranking.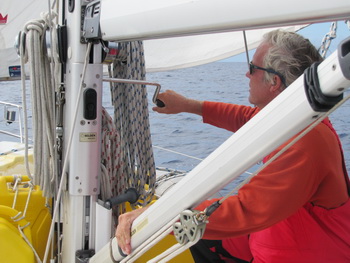 This is a set-back for us but is how an inmast mainsail is furled when the yacht is not fitted with the electrical component. It takes two people to change sail size, one at the mast and one in the cockpit. The benefit they have, though, is a good winch and handle, not this dinky little back-up thing. But, that is what we've got to get us to NZ.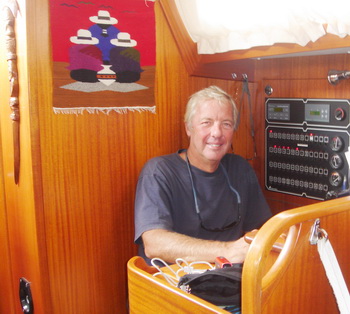 Winds were light the first two days. At 20° S it picked up nicely to 15 knots. At 21° S it increased to 22-26 knots and the sea grew from Moderate to Rough. With wind and waves from the SE we were bashing right into it all. Waves slapped the hull and water broke over the bow sending rivers cascading down the decks. Saltwater found its way through the sealed vent in the forward cabin soaking everything stored up there including many of our books.
High pressure systems over New Zealand and Samoa were creating squash zones where normally light tradewinds are compressed by the highs, increasing wind speeds and wave heights. These conditions were forecast to last until we reached 25° S, 240 miles away.
Tenaya bounced along day after day and it seemed forever before we got our sea legs. Bedraggled and weary, we would crawl out of our sea bunks and stagger around, ricocheting off walls and counters until we were dressed and firmly planted in the cockpit for our watch. This is how it went for 4 days.
On Day 5 we received an update from Commander's. The high over Samoa had dropped to Fiji so the squash zone dropped as well. Another 5 degrees or 300 miles. 3 more days of bashing and bouncing with winds out of the east. Dismal news at best.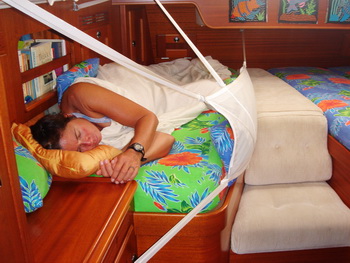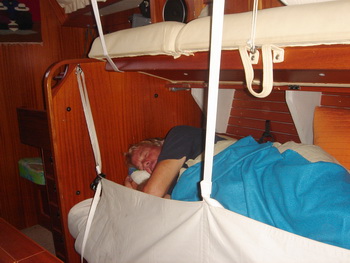 On Day 9 the wind shifted to ESE and then to SE before abruptly dying about midnight at 31° 51'S. On went the motor for 8 hours until the wind picked up again from the S.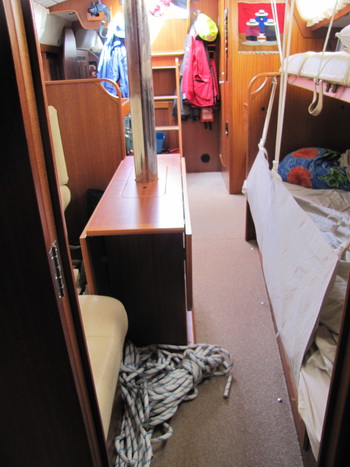 .

With the southerly winds came chilly Antarctic air. Out came fleece blankets, on went layers of clothing, and off course we went.
It seemed we would never reach NZ. Here is an excerpt of a message Jim sent to his brother on 15 November:
"Well ... the good news is that conditions are perfect for sailing ... sunny, nice wind of 15 knots, small waves .... but the wind is coming from exactly where we want to go. Over the past 48 hours we have sailed 236 miles and are only 75 miles closer to New Zealand. Today we are only gaining about 1 mile towards our goal each hour (that would put us in New Zealand around next August.) But for the past couple of hours I can't even find a heading that is putting us in the right direction. Currently we are heading directly to South America."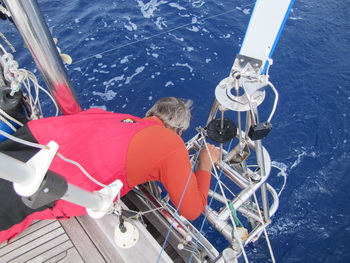 During the evening of 16 November the wind finally shifted to the NE so we could head directly to Opua, NZ. What a tranquil, magical night! Tenaya sailed along so peacefully that perched at the bow seemed the only logical place to stand watch.
At exactly 30° S I wrote in the logbook: Bird with huge wingspan flying quite differently than any I've ever seen. Lots of soaring then flapping then soaring, rotating 90° and continued soaring. Dark wings above, whitish under wings and body. Do Albatross fly this far north? I'll call it a bomber bird as it resembles a B-52 until I can identify it.
I asked a friend to Google it and indeed it was an albatross, a Royal Albatross. A few days later Jim called me on deck to see another one. Our picture doesn't do it justice - search YouTube to see one in motion. They are amazing!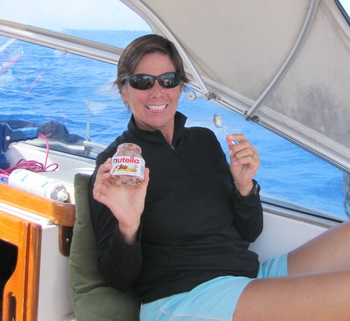 The day I finished off my last miniscule jar of Nutella we caught an equally miniscule tuna. Our first tuna ... we've never had such tasty sashimi!
As we neared NZ on 17 November, Day 11, a small plane buzzed us. At once the radio crackled, "Will the yacht below the custom's aircraft please come back?" I replied and answered his questions: Sailing yacht Tenaya, Tango Echo November Alpha Yankee Alpha. Two persons on board, no firearms, no pets. American. Last port-Lautoka, Fiji. Next port-Opua, due to arrive tomorrow morning.
With no hope of making it to Opua before dark, we rolled both sails in quite small and let the current push us along. This was the only time during the entire trip that it was in our favor, now, when we didn't need it.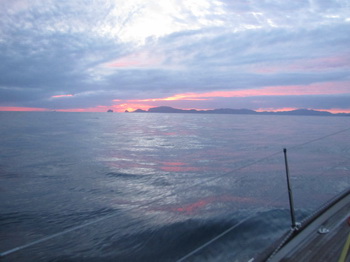 Dawn broke calm with a pink sky. As we sailed slowly towards our destination we were joined twice by dolphins. The second time several, including a baby, escorted us quite some distance. What a lovely welcome to New Zealand!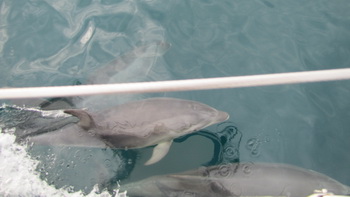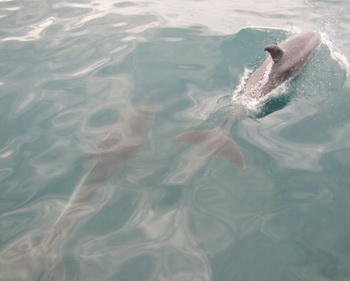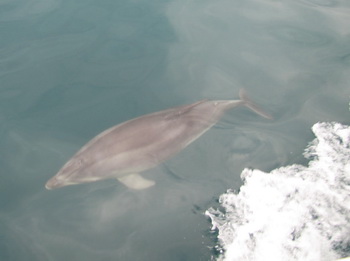 .
Tied up at the Quarantine Dock, we were visited by Customs, Immigration and Biosecurity officials and a sniffing dog with adorable booties to protect the wood and fabrics he jumped on.
Biosecurity has such a bad reputation for taking most of a yacht's food so we anticipated the worse. We ate all our fruit and veggies except a couple of cabbages I couldn't be bothered chasing around the counter. We lost those and our onions and garlic. We also lost eggs, honey and chia seeds. Contrary to what we'd read and heard, we were able to keep our shelled nuts, nutmeg, vanilla beans, butter, cheese, canned meat (they would have taken fresh or frozen) flour, oatmeal and rice (no wild rice allowed though). The officials couldn't have been nicer.
Once we were cleared in we moved to a marina berth and have been doing projects ever since. All services are available here and there are two well-stocked chandleries along with a laundromat, cafe, grocery store and car dealer. A shuttle takes yachties to Paihia, the closest town, 3 days a week. We may be here a while. Each day we see more people we've met along the Coconut Milk Run.
John Guzzwell notes in Trekka Round the World, "The sea has an enchantment that may captivate you and make you a misfit on land." In the next few months we will travel around NZ, mostly by campervan. Our hope is to emulate the wandering lifestyle we've become so accustomed. Then maybe we will not feel misfits on land. Exploring New Zealand ... the adventure continues!
Go to December Part One - Opua New Zealand
.