October 7, 2010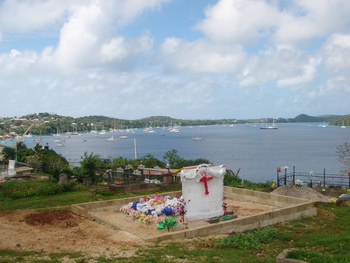 Captain Cook called Tonga the Friendly Islands when he visited during his second and third voyages in 1773 and 1777. We heartily agree. The people we have met here have been incredibly nice.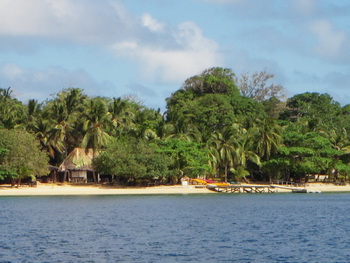 Friday morning, October 1, found us anchored near Kapa Island behind all of the other boats. As the rest of us were rubbing the sleep from our eyes, Kirk donned his swim goggles and swam around the bend of the anchorage to the next beach in the quiet calm of the new day. Later Jim, Sheila and Kirk explored the underwater world with their snorkeling gear as I worked on the previous entry to this site.
Once finished, I followed Kirk's path and swam around the bend to a flag marking a reef just off the sandy beach. How wonderful the warm water felt on my skin as I glided over the coral patches a short distance below, invigorated by actually swimming with goggles and training fins instead of finning with snorkeling gear!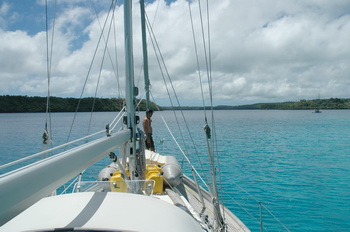 That afternoon Sheila steered Tenaya back to the main anchorage at Neiafu where we picked up a mooring ball. Soon the dinghy was down, the engine attached and we were on our way to explore town once again.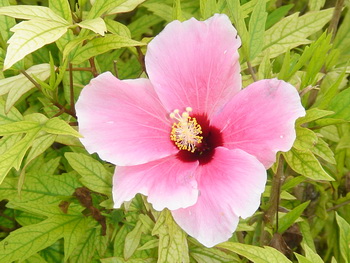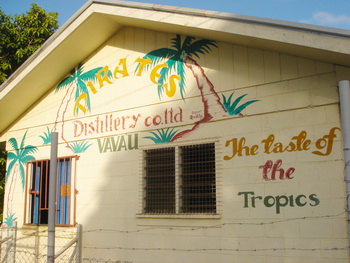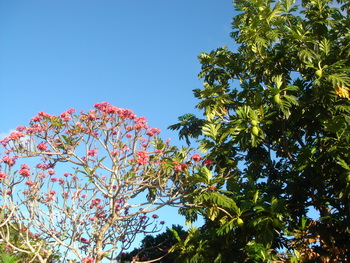 Although Jim was feeling better, he was leery of diving, fearing the vertigo might return. Saturday morning Sheila, Kirk and I went with Riki to two incredible places: Split Rock at Tu'ungasika and Fingers at Vava'u Island.
Split Rock is a huge boulder that rolled off the island and lodged itself on coral. At some point it broke in half and divers can enter below and swim up between the two halves. Very cool! The coral here was gorgeous and Riki led us into a cavern that was completely dark.
Light from our torches revealed a sandy spot on the bottom where two white-tip reef sharks rested. The larger stayed in place but the smaller swam around to investigate us. We were happy it was the smaller creature swimming among us! A colorful painted crayfish crawled along a ledge in the cavern.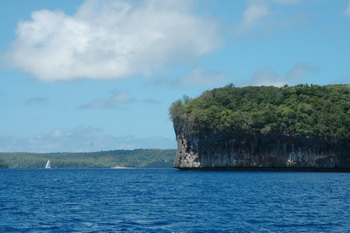 Sunday morning we sailed off the mooring ball and headed to Vaka'eitu, better known as Anchorage #16. We had heard the coral there is outstanding. At mid-water we took the dinghy over to the Coral Gardens. Low, white coral grew like ivy over the shallow reef. Hundreds of damselfish popped out to greet us, or scare us off, as we finned by. Apparently we missed the best part. The most spectacular coral was further out in the breakers. Oh well.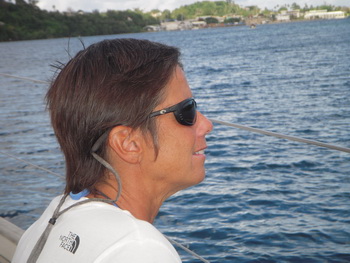 Monday morning we sailed over to Luamoko (Lizard Vomit) hoping to anchor and snorkel among the gorgeous coral there. The shallow, sandy area suitable for anchoring was very close to the lee shore so we motored slowly by and headed for Nuku Island.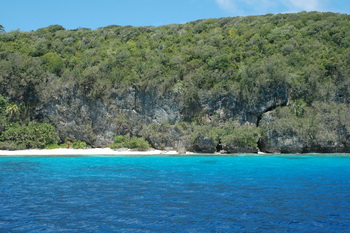 Trish at The Balcony Restaurant had told us that Nuku was her favorite anchorage. "The king goes there" she said. Well, if the king goes there is must be nice. Indeed it was. A couple of other boats were anchored off the spit of sand between Kapa and Nuku Islands but we had the amazing lagoon-like anchorage off the island all to ourselves. The snorkeling was enchanting.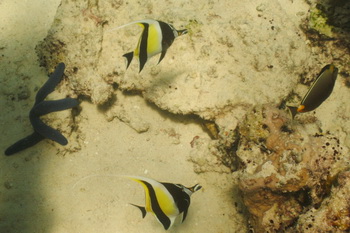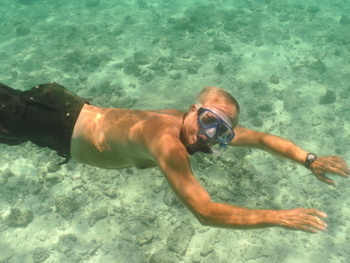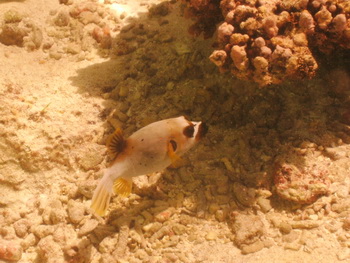 The face on this blackspotted puffer reminds me of a puppy. It has markings like a dog and is really cute. Too bad it devours living corals.
.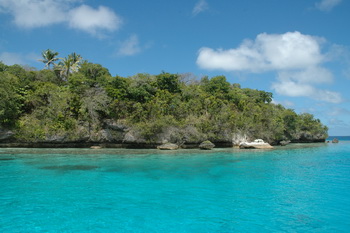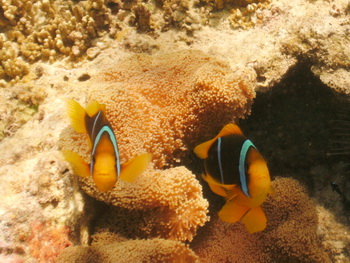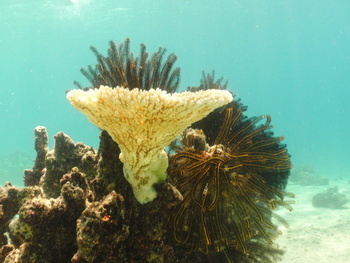 Nuku Island. What a beautiful place and marvelous last stop for Sheila and Kirk. After snorkeling the crystal clear turquoise water for over an hour we had a light lunch and a beer before hauling up the anchor. Motoring back to town in the light wind of the early evening, we were each quietly coming to terms with the end of a magical 12 day visit with friends.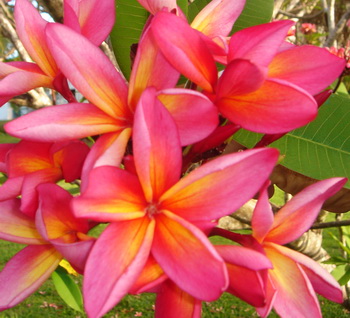 The Dancing Rooster restaurant has a reputation for tasty lobster and it was one of the few restaurants we had not visited. Sheila and I both ordered whole lobsters and were not disappointed. They were delicious! Thank you so much, Kirk and Sheila, for treating us that special evening. What fun we had!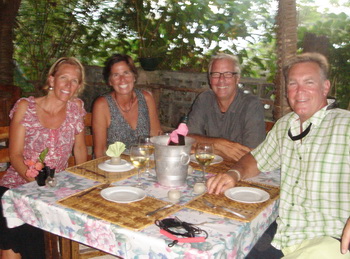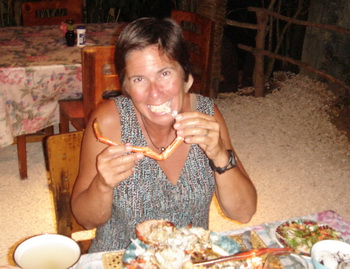 Tuesday morning, October 5, we went into town to do a little more shopping and to order some custom t-shirts at Tropical Tease. Cindy, the owner, is from San Diego. She sailed here several years ago and stayed. She and her friendly, competent staff make screen-printed shirts with locally designed art. They are positively splendid!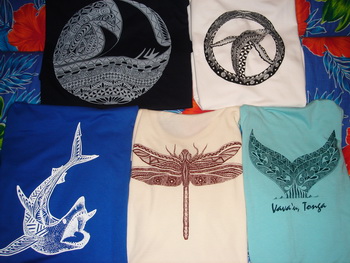 Later that afternoon the four of us dinghied into town for the last time. We dropped off Kirk at the dock with their bags and took Sheila to pick up her newly printed shirts a little further down the shore.
After a quick bite and last beer together at our favorite restaurant, The Aquarium, a taxi was called. Soon we were saying our good-byes as they were whisked off to the airport with the van's door wide open.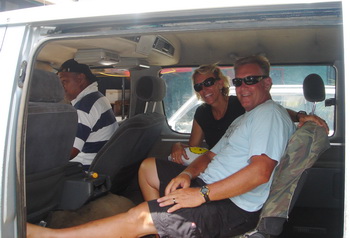 We had such a good time during their visit! What fun and easy-going people they are. Chad, Cody and Kendall, you are lucky to have such great parents!
Today I did two more dives with Riki. Jim is waiting until we reach Fiji to dive again because of the vertigo. Yesterday Riki wasn't sure he was diving today but he found two other guys so it was a go. Perfect! The places he took us were utterly amazing!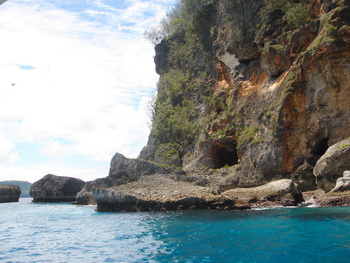 The first dive was called Hunga Magic and the second was Kaddyshack, both at Hunga Island. The coral here is incredibly beautiful and dense. Large gorgonian fans and short carnation coral were everywhere. A huge 50-60 kg. cod swam slowly by and up the chimney we had just descended. What a shock it would have been to come face to face with him!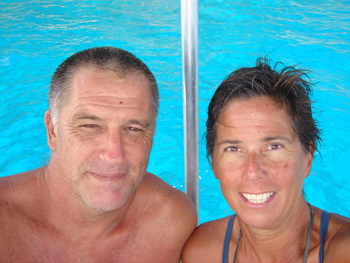 The second dive had heaps and heaps of purple, tan, orange and gold leather coral. There were so many types of magnificent hard and soft corals there! This dive was even more amazing because I lost count of all the swim throughs we did. Dimitri had two cameras and couldn't go through a couple of them as they were so narrow. I loved it!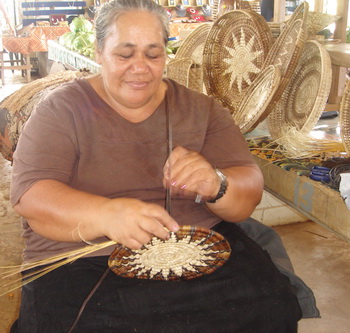 This lady was weaving this pretty basket at the market when Sheila and I were shopping a couple of days ago. As I admired it, she said she would make it for me and asked what size I would like it to be.
Jim went back to collect it today while I was diving and I'm thrilled with the finished basket. Now I have three! Our Tongan souvenirs include one jewelry box made of tapa, two necklaces carved from cow bone, one hook and one whale fluke, and three baskets.
Tenaya is fueled up and ready to go. We will leave tomorrow for the four day passage to Savusavu, Fiji. While Tenaya is tied up to the dock and Jim clears us out, I will run up to Tropicana to pick up two loaves of wheat bread and stop by the vegetable market to say good-bye to Peppay. I've said all my other good-byes already. It is sad to leave. This would be an easy place to stay on indefinitely.
That said, I am excited to be going to Fiji where we'll meet our friend, Marianne. She will join us for diving, exploring and fun. I can't wait! We've traveled together before and I know we'll have a blast.
Go to October 2010 Part Three- Return to Vava'u
.