January 20, 2010
Once our projects at the schools were completed we set off to explore the island. Our first outing was to Champagne Beach where the ocean floor bubbles with volcanic activity. Brightly colored fish swim among vibrant coral and sponges while in places streams of bubbles ascend to the surface. Corinne spotted a turtle grazing on the bottom and we followed it for quite a while at a short distance until a german guy, one of only three others at the site, dove down and scared it away.
Sea Cat normally runs trips for yachties on his moorings to all the scenic locations in the interior and hikes to the waterfalls and to Boiling Lake with clients. Several months ago he tore his achilles tendon and healing has been slow with complications. He cannot hike for a couple of more months but will happily take clients to places they can negotiate on their own.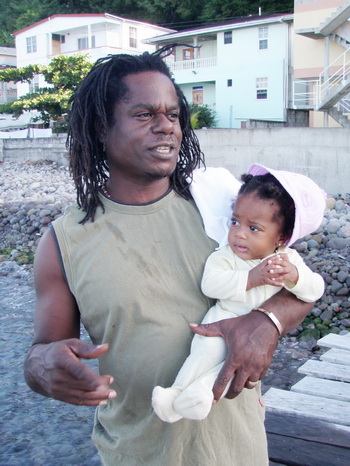 Sea Cat and his youngest daughter
We arranged for Sea Cat to take us for a day of hiking, first to Middleham Falls, next to Freshwater Lake and Boeri Lake, then a stop at Titou Gorge to swim before a last hike to Trafalgar Falls. Whew, a full day! Sea Cat made it known that this busy itinerary was our idea, not his. It didn't allow for his usual introduction to the island but he did squeeze in a few stops to gather us guavas, coffee beans and a huge handful of lemongrass.
There are many remarkable hikes on Dominica
Corinne and Eric check out the rain forest
The hike into Middleham Falls was amazing! The trail wound up and down through one of the most beautiful and best preserved rain forests on the island. After 45 minutes we arrived at a wooden platform set high above the rocks across from the impressive 275 foot high Middleham Falls and the inviting pool below. We quickly changed into our swimsuits and scrambled down to the water. As advised, several mouthfuls of the cool water helped adjust body temperature before diving in. The water was delicious, like drinking from the rivers in the Sierra before we were told not to. The energy of the waterfall and the movement of the water kept the chill away.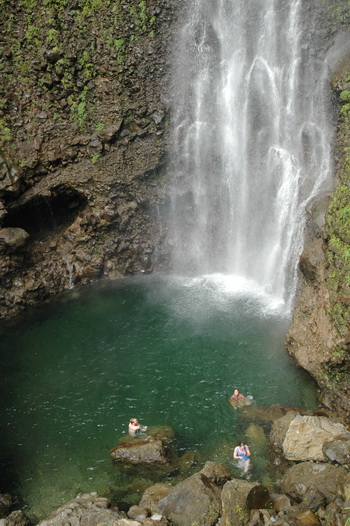 Eric, Corinne and Katie swim in the cool water below Middleham Falls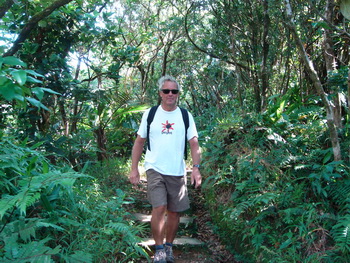 Jim hikes to Middleham Falls
After hiking out from Middleham Falls Sea Cat drove us the short distance to Freshwater Lake at an elevation of 2500 feet. It the largest of Dominica's four lakes and the beginning of the hike to Boeri Lake. Another pleasant 45 minute hike in, this trail took us past hot and cold running springs and through the pretty mountain forest of shorter trees with a myriad of colorful flowers. The path seemed to be less dirt and more dark, slippery, smooth rocks but I can't say that's true, just how it felt. Fortunately we were there on a sunny, rainless day.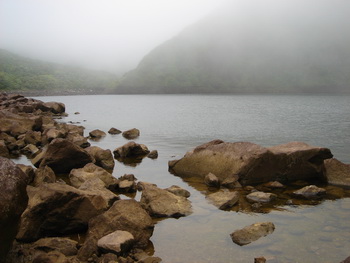 Boeri Lake, elevation 2800 feet
All of a sudden the trees cleared away and in front of us lay an almost perfectly round, large lake. Boeri Lake sits in the crater of an old volcano which is fed by rainwater and runoff and is surrounded by various sized boulders. Mist hung off the shoulders of the lush peaks towering above the lake creating a cool and mystical atmosphere. The water temperature was similar to that of the pool at Middleham Falls but because of the calm water and tranquil surroundings it felt colder. That didn't stop us from wading in and swimming out to the center of the lake.
Hot and cold water streams flowed past the path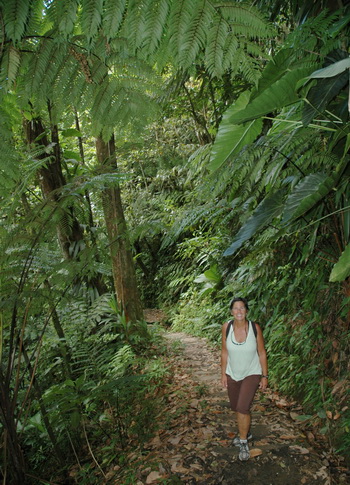 Katie hiking in the rain forest
Following our hike to Boeri Lake Sea Cat drove us to Titou Gorge for another swim. This was my favorite place on the island when we visited last February and I couldn't wait for Corinne and Eric to see it.
Beyond a shallow pool it is possible to swim up the river between solidified lava formations. A canopy of greenery shields most of the light, adding to the eerie sensation of swimming in a deep, curving chasm. The river snakes along, mostly too deep to touch the bottom, to reveal a short waterfall cascading below a pool fed by another larger waterfall. We were lucky to have the place to ourselves as we swam and marveled at the awesome location.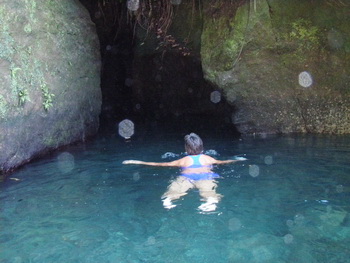 Katie heads into the Titou Gorge
As the sun dipped towards the sea we hopped into Sea Cat's bus and drove to Trafalgar Falls. Some people were coming out but we were the last to enter the trail. A chorus of chirping sounds made by two centimeter long tree frogs assured us that nightfall was on its way. Unlike usual frogs these creatures are born fully formed with no polywog stage. The water here moves too quickly for them to develop normally so in a strange quirk of nature they arrive ready to hop.
We hiked quickly to the twin waterfalls cascading 200 feet down a steep rock face. The taller one is fed by the river in Titou Gorge and the lower is fed by the Trois Pitons River which originates in the Boiling Lake region.
Beyond a wooden platform we climbed down over large boulders to find the warm springs that emerge at the bottom of the taller waterfall. We soaked for a little while in the hot, soothing pools among the boulders. Fortunately we had headlamps for the hike out!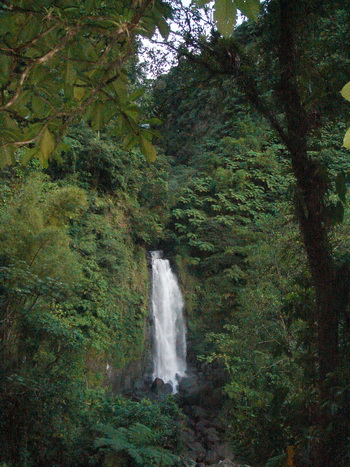 The lower waterfall at Trafalgar Falls
Corinne was eager to try scuba diving and Eric was a bit nervous but decided to give it a go. They signed up for a Discover Scuba course at Dive Dominica and were in the water and "at the bottom of the ocean" as Eric puts it, in no time at all. They gave their instructor, Brad, rave reviews and Corinne was ready to dive again right away while Eric wanted some time to process the whole somewhat terrifying experience.
A couple of days later Jim and I made a dive with Corinne and Brad to 40 feet where we saw many interesting creatures including several eels, a flounder, a balloonfish, a scorpionfish and a batfish. Corrine is hooked and Eric is now talking about taking a slower paced, more in-depth course.

Pancho is another guide who has moorings in this area. As Sea Cat was unable to hike we asked him to take us to the legendary Boiling Lake. At least one book rates it as the best hike in the entire Caribbean. Always energetic, enthusiastic and hilarious, a good time is guaranteed with Pancho!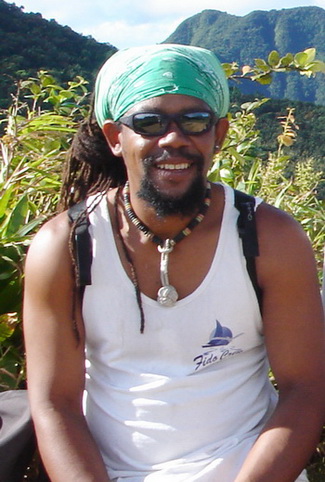 Pancho
The hike to Boiling Lake is a tough one taking the better part of the day. The trail begins comfortably enough with a reasonable hill climb through the rain forest and then descends to Breakfast River where we drank the cool, delicious water before beginning the long, steep ascent through the mountain forest to the summit of Morne Nichols.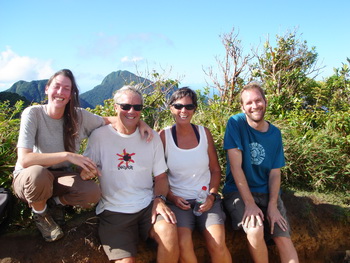 Corinne, Jim, Katie and Eric rest at the top of Morne Nichols, elev. 3000 feet
Enjoying a short break at the summit of Morne Nichols, everyone was feeling great and ready to continue. The clear day allowed us to see Martinique to the south, the Atlantic to the east and the Caribbean to the west. Other verdant peaks rose nearby beneath the bright blue sky as the mountain we stood atop dropped off steeply on all sides.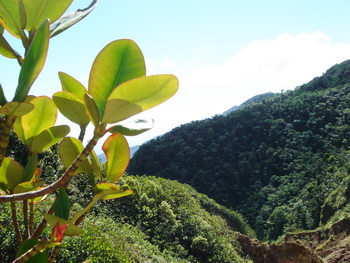 View from Morne Nichols
Soon we were descending a path that was more ladder-like than trail to the Valley of Desolation. Wooden steps have been built, not to help hikers maneuver, but to keep the nearly vertical path from washing away. The steps are too far apart for anyone except the longest legged, most flexible person to take in any sort of graceful manner. Eventually the trail evened out in the desolate valley of sulfur and iron stained rocks, steam vents, sulfur scents and murky boiling water.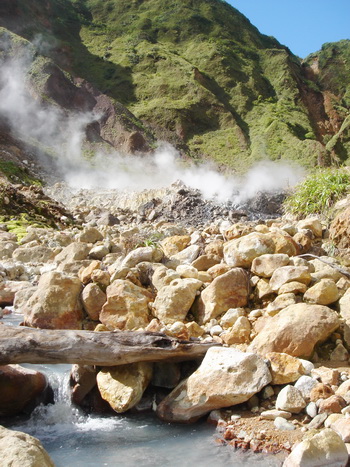 The Valley of Desolation
Pancho steered us along a path that kept us from falling through the thin crust of the earth and boiling us alive. As we peeled off our packs he pulled out a delectable lunch of salt cod and bread. While we made tasty sandwiches Pancho plopped some eggs in a strainer and put them in a puddle of boiling water. After sandwiches he retrieved the strainer and presented each of us with a perfectly hard boiled egg.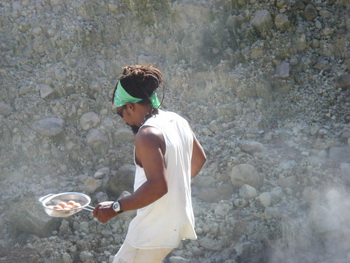 Pancho boiled some eggs for our lunch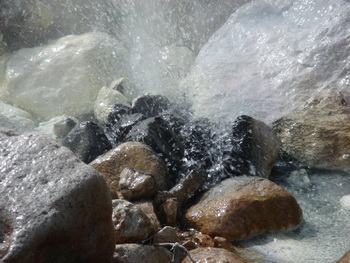 Water boils furiously in parts of the Valley of Desolation
A little further along the steaming river Pancho stopped, dipped his fingers in a mud hole and painted his face. Then he proceeded to paint all our faces. What an unexpected location for a beauty treatment!
Corinne has her face painted with mud
Corinne and Katie were more excited about the facials than Jim and Eric
As we continued on to Boiling Lake we crossed more sulfury streams with silver and black algae growing on the slick red and yellow rocks sometimes coated in white until we came to a series of milky blue pools. Pancho suggested a dip and we all agreed. The warm water was soothing on our weary legs and soon we climbed up to the next pool and then to the next where we soaked and listened to him tell stories punctuated with his infectious laugh.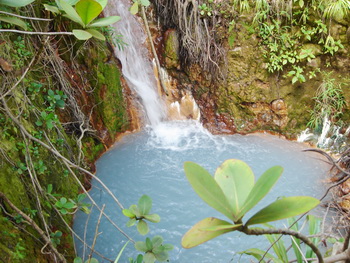 One of the warm pools on the way to Boiling Lake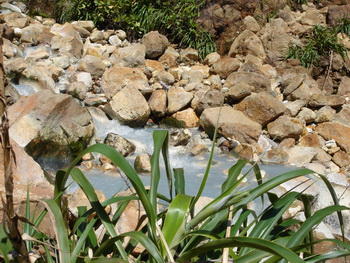 Milky water runs through iron stained rocks
Following the path we hiked some short ups and downs and across more streams and sulfur coated rocks until a final short climb delivered us at Boiling Lake. Wow! It's amazing! A bubbling cauldron, it is a submerged fumerole that keeps changing over time. Nobody knows exactly how deep it is but at times the water has completely drained such as after the Boxing Day tsunami. Once a little more than 20 years ago the lake stopped boiling and its level dropped to 29 feet before returning to normal. Pancho says he's had clients able to swim in it. He also said a guide fell into his chest yet was able to get out. The man has never returned.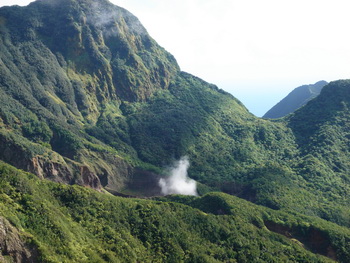 Boiling Lake as seen from the summit of Morne Nichols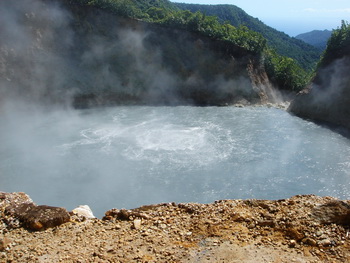 Boiling Lake as the steam momentarily clears
We lingered above Boiling Lake enjoying the incredible view with occasional gusts of wind that would envelope us in the warm sulfur scented steam rising from the lake. Eventually Pancho said it was time to go so we roused our resting bodies for the hike out which was no easier than the hike in considering the long climbs and descents.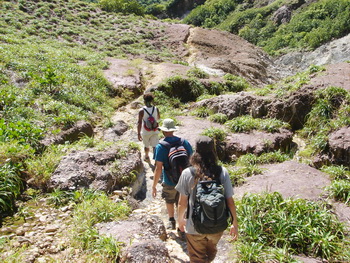 The trail ends at Titou Gorge where we swam once more up the narrow, deep chasm to a waterfall. This time I took Jim's video camera in an attempt to capture the feel of this magical place. Unfortunately the battery expired as I swam out but I managed to get a little footage.
We were all surprisingly pain free at the end of the hike and the following day. The kids took several long walks in town and we went snorkeling at Scott's Head before they flew back home yesterday.
Sea Cat drove us all to the airport on the other side of the island for a final view of this alluring island. Today it is quiet on the boat and we miss Corinne and Eric's company. I guess it's time to move on.
A message to yachties coming this way: Be sure to check out the new Drop Anchor Bar between Sea Cat's and the fuel dock. You can get water and tie up your dinghy at their large, sturdy concrete dock. It's a lovely place to watch the sunset and have a drink. Owners Guy and Renee and daughter Ashley are friendly and helpful.
Watch video of waterfalls and Lakes on Dominica
Go to our visit to Dominica last year (Feb. 2009)
.