May 30, 2009
The past 14 months have been a dream come true for us. Beginning in April 2008 in Almerimar, Spain we sailed 3500 miles around the western Mediterranean visiting Spain and the enchanting Balearic Islands, southern France and magical Corsica, Monaco, and western Italy with Elba, the picturesque Pontine Islands and volcanic Aeolian Islands, and the northern coast of Sicily.
Taula on Menorca, Spain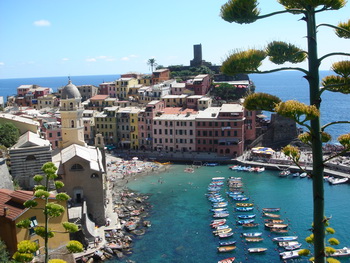 Along the Cinque Terre path, Italy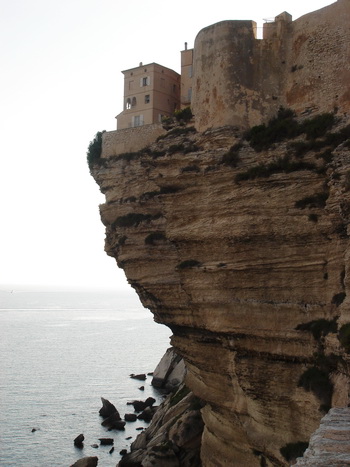 Bonifacio, Corsica
In October we left the Mediterranean for a weeks sail to the Canaries where we visited different islands before heading across the Atlantic in early December. A detour to the Cape Verdes slowed us down a little but nice winds all the way across meant never needing the engine to motor. We arrived in Barbados early in January.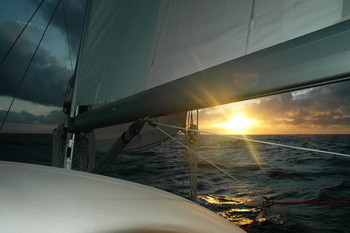 Atlantic sunset
Slowly we worked our way north through the Windward and Leeward islands to the British Virgin Islands. Friends and family met us along the way and we enjoyed exploring the islands and snorkeling in the warm, clear water and discovering all kinds of pretty fish and interesting sea life.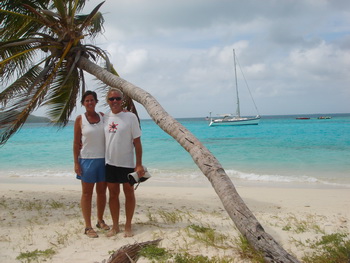 Tobago Cays
Looking back, Dominica shines as the most exciting and beautiful of the islands to us. The people were friendly and we were amazed by the topography and vegetation. Diving at Pigeon Island off western Guadeloupe was our favorite underwater experience. Absolutely gorgeous corals and sponges and a multitude of fish made it an extraordinary place.
Boiling Lake, Dominica
Isles des Saintes were a pleasant taste of France in the midst of a local strike on the French islands of Guadeloupe and Martinique. Reminiscent of small fishing villages on the Brittany coast, Bourg, the only real town, has unmistakable French roots. Ahh the delicious espresso and pain au chocolate!
.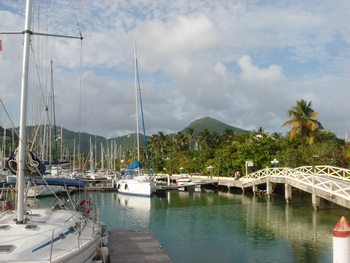 Nanny Cay Marina
We have been in Nanny Cay Marina for a week and have ticked off almost everything on our "to do" list. The weather is hot, 36.5C, close to 100F. That coupled with 70% humidity makes it most uncomfortable to do any work down below, especially in the engine room. Working on deck in the sun isn't much fun either. We drink liters and liters of Gatorade each day and are still dehydrated. It's amazing how much sweat wells up on our skin and drips down our faces. Mindful not to waste water, we can't help occasionally dousing ourselves with the hose to cool off.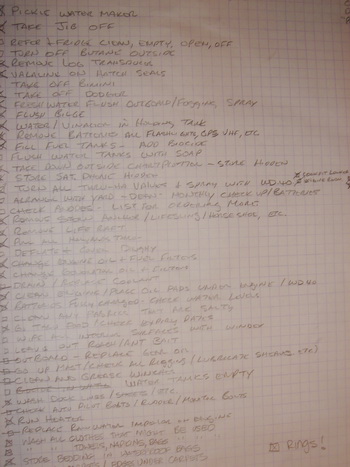 Ticking off boxes on our "To Do" list
We splurged and requested air conditioning when we ordered Tenaya. An unnecessary option, we haven't used it anywhere in the Caribbean as constant breezes keep the anchored boat cool and comfortable. Now in a stuffy marina I want it! Too bad ours runs on 220 and we're plugged into 110. Even the 220 here isn't really 220, rather 2 x 110 which isn't the same. Luckily we are across from the fuel dock with no neighboring boats so we don't feel bad running the generator once in a while to power the a/c for a glorious chill in the back cabin.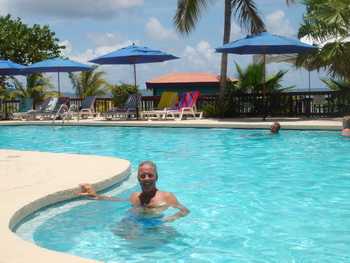 Jim cooling off in the pool
A lovely pool hides about 50 meters away surrounded by grass, trees and bougainvillea. Comfy lounge chairs under large umbrellas line the edges. The water is a bit too warm to be refreshing but the shower is cold so it's a delight to rinse off before jumping in.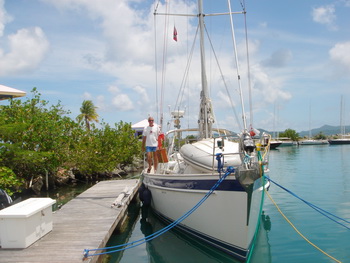 The jib, spinnaker pole and boom have been removed. Dinghy will be deflated and covered.
Tenaya will be hauled out on Tuesday morning. She will rest in a cradle that is stronger than the normal individual stilts that keep sailboats upright on land. Our insurance company mandates this for coverage in hurricane prone areas.
Once she is safely stored we will fly back to Boulder City, NV and clear out that condo. A year lease has already been signed and the tenants will move in mid-June. What belongings we have will be hauled by rental truck to the Bay Area and stored in a locker near Scott and Amy's home. They have generously offered to keep our car at their house when life aboard Tenaya continues.
We have no idea how we will spend the summer. We've listed our house in Mammoth for sale and plan to paint the interior. One of our condos there is vacant so we may stay until it is rented. We look forward to seeing old friends and getting into the backcountry. Sleeping bags, a tent, bikes and a bag of clothes will be in the car should we decide to continue our nomadic lifestyle. A kayaking road trip up north might be fun too. Who knows ....
June 4, 2008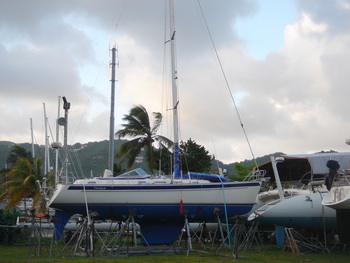 Tenaya stored for the summer at Nanny Cay
Go to June, July, August 2009 Wandering in the West
.