May 23, 2009
Trellis Bay is about as close to the Beef Island/Tortola airport in the British Virgin Islands as one can get. It is also a decent anchorage filled with mooring balls and lined with craft shops and restaurants and bars. A more perfect airport lounge for a cruiser could not be imagined. A few minutes before their scheduled landing we walked over to the airport to meet Jim's son, Scott and his fiance, Amy.
.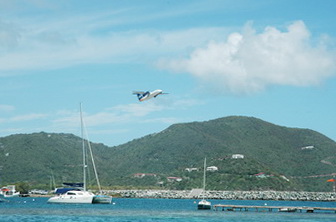 Departing plane over Trellis Bay
Amy has just finished a dual masters program to be a physician's assistant and in public health. She took her boards two days before arriving and was thrilled to be done with it all.
Scott has been a licensed architect since last year and apparently couldn't get enough of building things so together they ripped out walls, floors, and God knows what else in the home they've recently bought in the Bay Area. Which, by the way, was in perfect shape to begin with.
So, what better time for a trip to visit Dad and Katie?
They were eager to get in the water so we motored the short distance to Great Camanoe Island, picked up a ball and went snorkeling. Immediately we saw a spotted eagle ray. Later we spotted a lobster wedged into the reef and many more sting rays.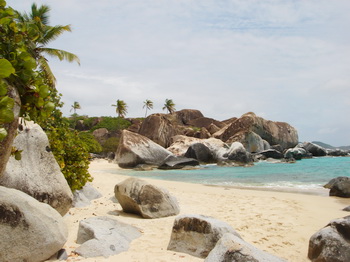 The Baths at Virgin Gorda
We headed to The Baths at Virgin Gorda first thing the next day. The huge granite boulders strewn around the fine sandy beach are amazing. We soaked up the sun and snorkeled among the submerged boulders. Scott and Amy followed the trail between the rocks, up and down, in and out, to the next beach. Later we had a delicious lunch at the Top of the Baths restaurant.
Scott and Amy at The Baths
The best part of sailing in the BVI is that the islands are so close to each other. You can swim in a beautiful place in the morning, stop for lunch somewhere with amazing snorkeling and anchor at yet another magical location without traveling long distances.
The following day we stopped at Salt Island for a couple of hours to snorkel over the wreck of the Rhone. It sunk in shallow water during a hurricane and is very well preserved, making it the most popular wreck in the area. It was fascinating and the kids had an added bonus of seeing an octopus in addition to all the fish.
Later we sailed on to our favorite anchorage on Peter Island. Scott's help swimming a line ashore was much appreciated. He got to his tree much faster than I got to mine!
We all enjoyed this quiet location and stayed there two nights. Swimming, snorkeling, careful tanning and reading occupied our time as well as good conversation. Though we never saw Buddy the Barracuda, Scott and Amy saw an eel on one of their snorkeling adventures and Jim and I swam with a turtle.
Turtle swimming at Little Harbor, Peter Island
We picked up a National Park Trust mooring ball at Pelican Island and the Indians. A reef runs between the island and the pinnacles jutting out of the sea known as the Indians. Colorful corals and sponges flourish and reef fish abound. What an incredible place! We had a fantastic time exploring the walls and weaving among the rocks and reefs.
Pelican Island and the Indians
A short distance away lies Norman Island. We anchored at Kelly's Cove and The Bight and, of course, enjoyed more snorkeling. The Pirate's Bight, a nice restaurant and bar on the beach, serves delicious rum drinks and we visited a couple of times.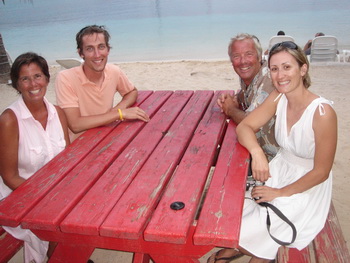 Bushwhackers, please!
.

Blue Tangs greeted us at The Caves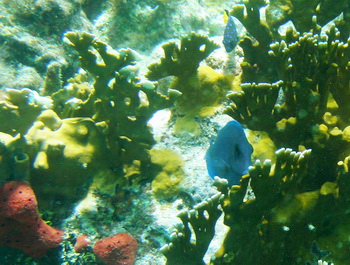 Colorful coral, Blue Tang and a juvenile Yellowtail Damselfish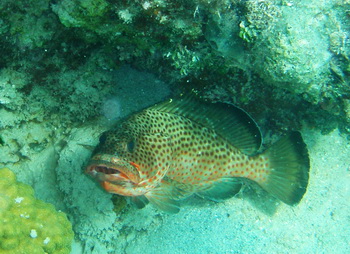 A 12" Red Hind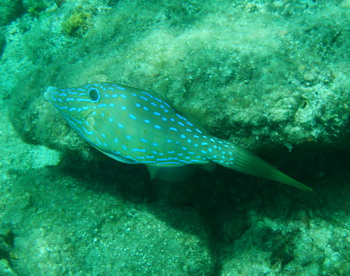 A scrawled filefish about 2 feet long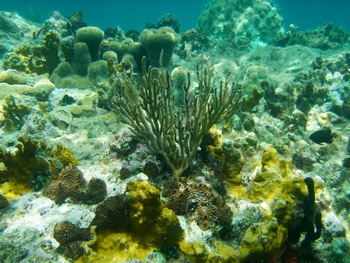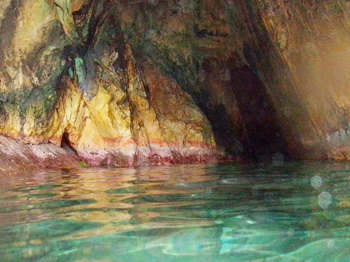 In one of the caves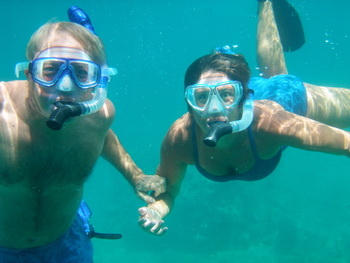 Jim and Katie snorkeling at the Caves
Kelly's Cove offers nice snorkeling right off the boat. Various large fish (4-5 feet) swam by as I snorkeled around the point towards The Bight. Fortunately none looked scary. Time to get a pelagic fish guide to identify these guys.
A short dinghy ride from The Bight and Kelly's Cove are the Caves, another incredible snorkeling spot. As we hopped off the dinghy we were greeted by a school of Blue Tangs. Parrotfish, Damselfish, Angelfish, Surgeonfish, Brown and Blue Chromis, Squirrelfish, Goatfish, Blueheaded Wrasses, Yellowtail Snapper, Bar Jacks, Ceros, and many I've yet to learn the names of inhabit these waters. It was fascinating swimming along the reefs and into the three caves as well as being surrounded by so many fish.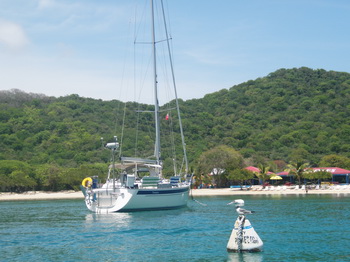 Tenaya in The Bight on Norman Island
Wifi is available in The Bight and Amy found out that she'd passed her boards with flying colors. A glass of champagne was in order!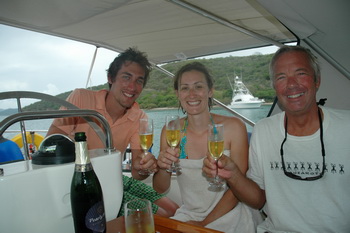 Celebrating with Amy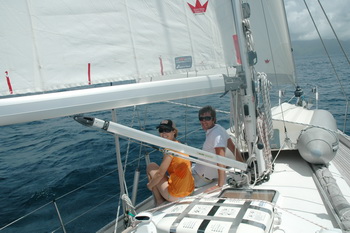 Sailing back to Trellis Bay and the airport
We had light winds of 10 - 15 knots on the nose and calm seas for the 17 mile trip back to Trellis Bay. It was a lovely sail and a nice way to spend our last day together. All too soon their trip came to an end as we bid them farewell at the airport this afternoon.
.