April 3 , 2009
Thursday, March 26 our friends Brenda and Lori Lynn met us at Virgin Gorda Yacht Harbor for six days of fun in the British Virgin Islands.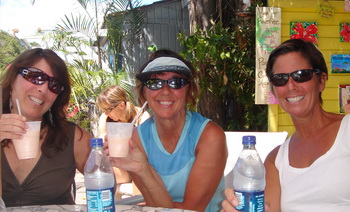 Lori Lynn, Brenda and Katie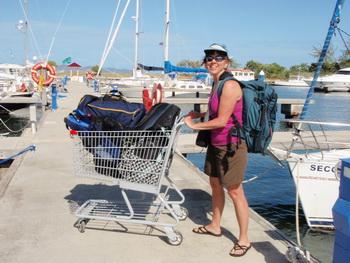 Good thing we said to pack lightly!
The Baths is an incredible stretch of seashore stewn with enormous granite boulders, many piled on top of one another. A path meanders up and down among them, through caverns and pools, with dazzling beaches of fine, soft sand at either end.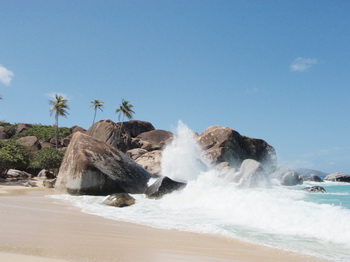 Waves breaking on the house-sized boulders at The Baths
The National Park has set mooring balls just off the shore for boats to use during the daytime but this was a "red flag day" and the swell and waves were too big to swim ashore. We took a cab.
Soon after we arrived Jim and Brenda took off to scramble over the rocks. Lori Lynn and I were happy to sit on a rock and watch the big, powerful waves break against the rocks. She took about a millions pictures!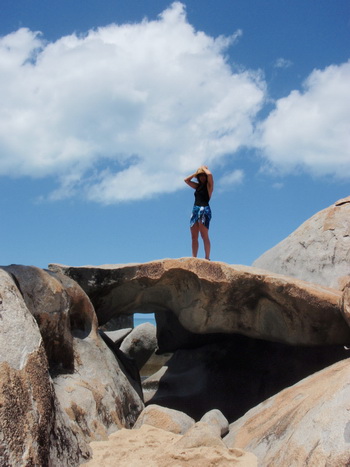 Brenda, a longtime climber and canyoneer, is in her element surrounded by granite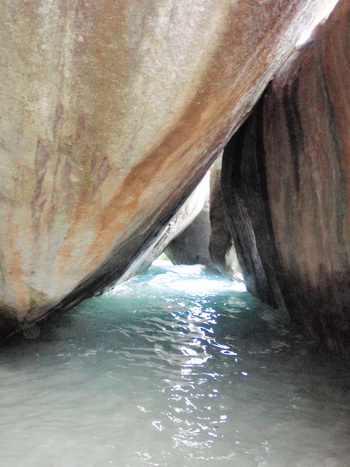 Water flowed between the rocks forming pools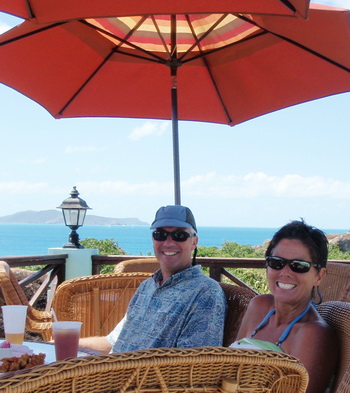 Lunch at Top of the Baths restaurant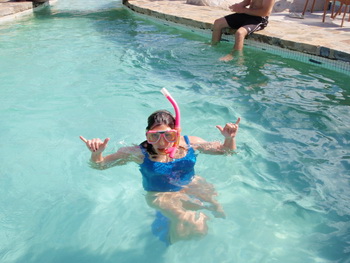 Lori Lynn testing her snorkeling gear in the restaurant's pool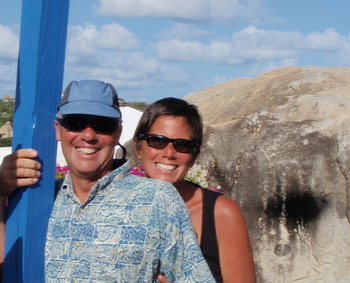 Hanging around the boulders
March 28 we sailed 16 miles to Peter Island on a broad reach with winds 15-20 knots. As Lori Lynn had sailed to and from Morocco with Jim across the Straits of Gibraltar she's had plenty of time at the helm so Brenda was first to steer. She was a natural and had a great time. The conditions were ideal although they would have been called a "small craft advisory" in Southern California.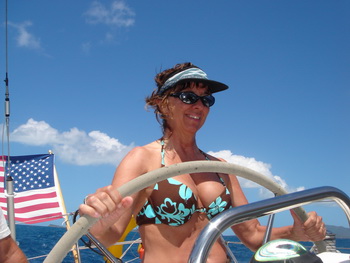 Brenda at the helm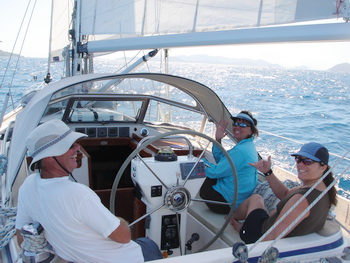 Jim, Brenda and Lori Lynn
Little Harbor anchorage at Peter Island seems large but the center is deep and there is coral at the southwestern edge so the anchoring space is limited. Several boats were already there and we took our time to find what we thought was the best spot. Jim was not happy with any place but I found a spot I thought was good. Many catamarans were anchored with lines to shore but a sloop was anchored facing the shore with a stern line out too. That seemed to be the best idea so we did the same, Jim not wanting to argue in front of friends.
I awoke in the morning to find our stern anchor had not held and we were too close to the sloop. I woke Jim up and we backed up, reset the stern anchor and stayed in the cockpit to make sure we didn't drift back.
As soon as I saw someone in the cockpit I swam over to apologize for anchoring so closely. They were a very interesting couple so I invited them over to meet our crew. Turns out the Osborne's on Far Reach had taught Brenda's friend who grew up on St. John. What a small world! And I though hiking and caving would be the common bond.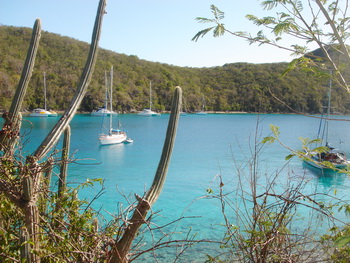 The anchorage at Little Harbor, Peter Island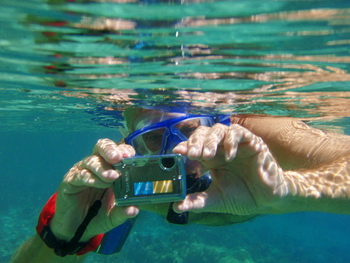 Jim tries out his underwater camera

Our snorkeling adventure had begun. During our time underwater in several different spots we saw stoplight, rainbow and princess parrotfish, bar jacks, yellowtail snapper, a townsend angelfish, trumpetfish, blue tangs, surgeonfish, yellowtail damselfish, sergeant majors, banded butterflyfish, foureye butterflyfish, trunkfish, french grunts, yellowhead and bluehead wrasses, squirrelfish, lizardfish, squid, a huge spiny lobster, rock hind, ceros, yellow goatfish, spotted goatfish and schools of various sized silvery fish plus many more I cannot yet identify.
.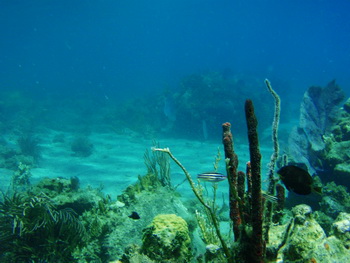 The snorkeling was very good at Little Harbor. Brenda, Lori Lynn and Jim all had their cameras in the water trying to photograph the many colorful fish. Lori Lynn had the best luck as she chased her targets relentlessly, diving deeper and longer than the rest. Here are some of her pictures.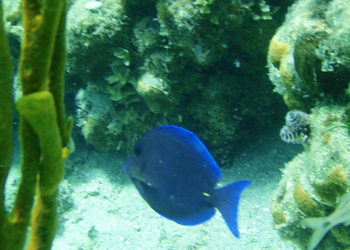 Blue Tang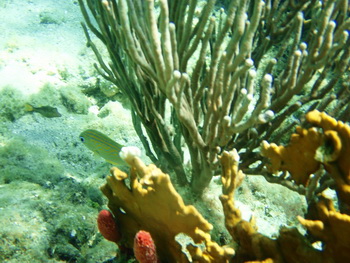 French Grunt, coral and sponge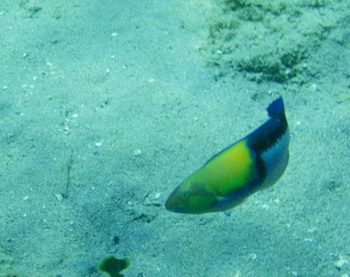 Yellowhead Wrasse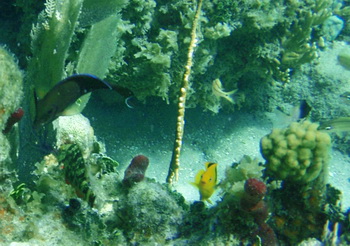 Juvenile Rock Beauty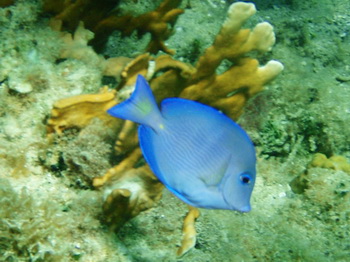 Surgeonfish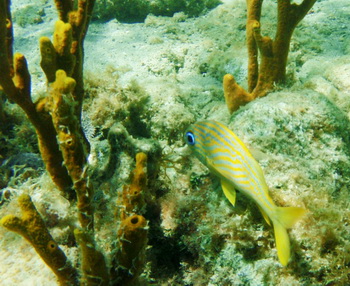 French Grunt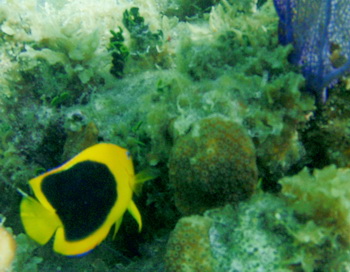 Rock Beauty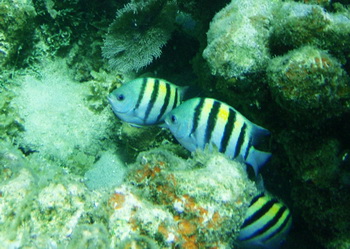 Sergeant Majors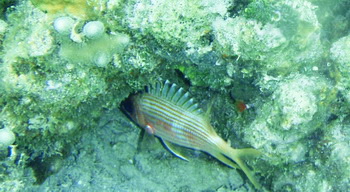 Squirrelfish
March 30 we sailed 5 miles to Benures Bay at Norman Island. A pretty anchorage, we had it nearly to ourselves. Both Lori Lynn and I saw huge fish! They looked enough like sharks to send us both back to the boat as fast as we could kick. I pulled out our reef fish book and learned they are cobia. Not dangerous, they can be found under boats. That's where Lori Lynn saw one. A full-bodied 5' fish lurking nearby was enough to discourage us from swimming there anymore.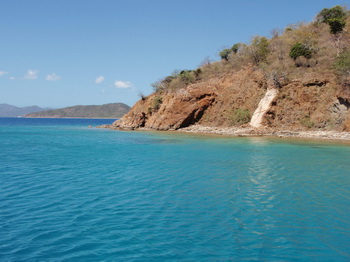 Anchorage at Benures Bay, Norman Island
The next morning Lori Lynn was at the helm as we sailed the short distance to The Caves in gloomy weather. She did a great job.
Brenda was first over the side and quickly exclaimed loudly but nearly incomprehendably through her snorkel with her face still in the water "there are so many fish! It's like I'm in an aquarium!" It really was amazing. In a small area there were hundreds of fish and many species. Quite a few were curious and came very close to us.
Four Eye Buttterflyfish
After enough time spent exploring The Caves we sailed 11 miles to Soper's Hole Marina at West End, Tortola. It was sunny with 10-15 knots of wind. What a great way to end their sailing adventure.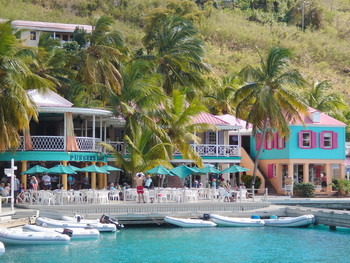 Soper's Hole Marina, Tortola
Brenda arranged for us to visit her friends, Eileen and Chris, on St. John. Jim has known Chris, a climber from way back, since his days at Wild X. He had a great time talking about climbing again.
Eileen and Chris live in a beautiful home that Eileen built with an amazing view overlooking one of the many bays on the island. We had a cottage to ourselves with an outdoor shower surrounded by a circular rock wall. It's hard to say whether the huge comfortable bed, stunning view or TV with lots of channels was our favorite part of the spacious room. Their kindness and hospitality is much appreciated.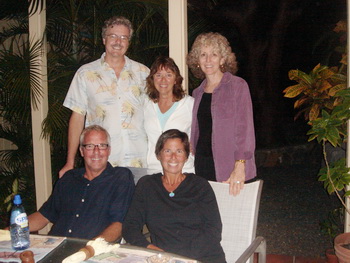 Chris, Brenda, Eileen, Jim and Katie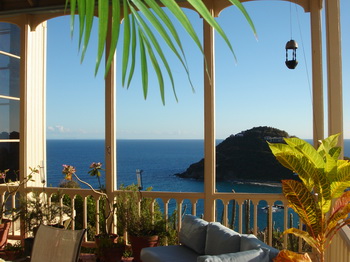 View from Eileen and Chris' dining room on St. John
Eileen owns Catered to with fabulous villas for rent on the island, all with ocean views and many near the National Parks. In business for 23 years, Catered to has an excellent reputation. See their website at www.cateredto.com.
We snorkeled at Trunk Bay, a National Park with an underwater trail in shallow water full of colorful coral, sponges and brightly colored reef fish.
The following day we did a pleasant 5 mile hike to Reef Bay and back. The toughest part was walking up the road to the bus stop in the hot sun. We were rewarded with smoothies at a stand where the bus stops.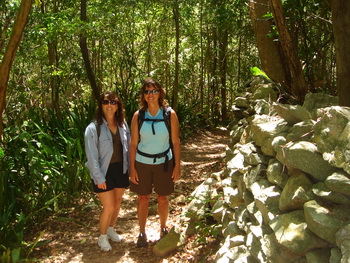 Lori Lynn and Brenda hiking the Reef Bay trail
Jim and I headed back to Tortola on April 3 since we are flying back to Nevada on the 5th for a couple of weeks. Lori Lynn and Brenda will stay on in the USVI for a few more days. Lucky them!
.