February 27, 2009
Our 19 mile trip from Roseau north to Portsmouth, Dominica kept us busy. Beginning with 10-15 kts. of wind from the ENE we set the sails accordingly. Soon the wind increased to 20-25 kts. so we took a reef in both the main and jib. When it died down to below 10 kts. we rolled the sails out to full size again. Then we were blasted with gusts up to 30. Jim quickly eased the main while I threw off the jib sheets until we could reef. Soon the wind calmed down but came straight on the nose. Tired of the frustrating sailing we rolled in the jib, tightened the main, brought the boom directly overhead and turned on the engine. Nice winds from the east persuaded us to roll everything out again and we were sailing along nicely until the wind backed to the NW. For a moment I was at a loss for what to do with that silly backwinded jib. Roll it in again? No, that wasn't it. Oh yes, throw off the port sheet and tighten the starboard one. Right. We haven't been on a port tack since we arrived in Barbados and I'd forgotten about tacking.
Prince Rupert Bay is a picturesque bay and wonderful natural harbor visited by Columbus and later by the French and British alternately. Portsmouth rests along its shore. Although it is not very big, it is the second largest town on the island. Lacking capital investment from Roseau, the townsfolk do what they can to eke out a living. The narrow front and back streets are lined with small businesses and tiny, colorful, ramshackle houses. Occasionally a fruit and veggie vendor offers fresh, inexpensive produce. Chickens strut along the streets, left wild after their cages were destroyed in the hurricane. Nicer, larger houses are found further away from the sea where more prosperous people live. It is a simple, peaceful town with polite, friendly people.
Martin rowing us up the Indian River
Pancho and several yachties suggested we use Providence as our guide in Portsmouth. Martin, the owner, arrived at 7:00 am yesterday morning to take us up the Indian River in his sturdy wooden boat. As it is a National Park, no motors are allowed. He rowed us a mile up the deep river as we were immersed in the swampy, densely overgrown, tranquil setting. A cacophony of bird songs added to the magical ride.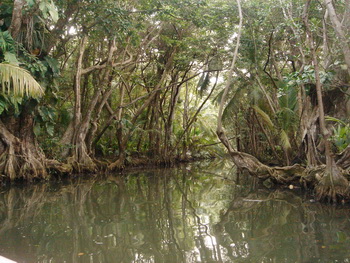 Along the Indian River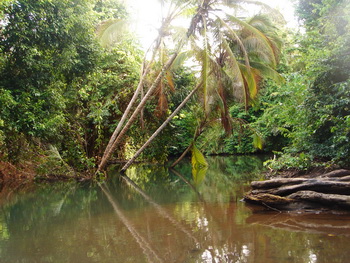 Martin is a botanist and taught us a great deal about the trees along the river. At one point he hopped off the boat and disappeared, returning with bay leaves and a handful of bark. "Sniff it," he said. Mmmm, it was fresh cinnamon. We saw many poulesbois, creole for termite nests, and learned that termites are beneficial in forests as they eat only dead wood.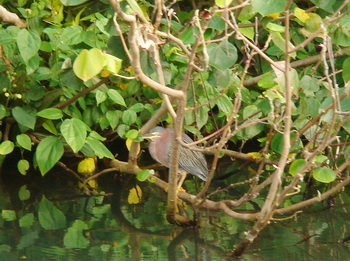 One of the several herons along the Indian River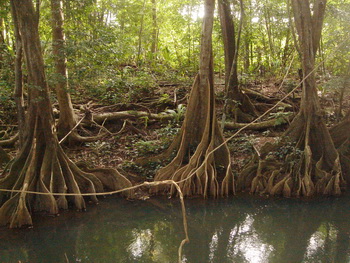 Bloodwood trees along the river
Early morning is the best time to see birds along the Indian River and we were not disappointed. Martin pointed out different herons, egrets, mud hens, a kingfisher and a few huge pigeons. He also spotted several land crabs, a large iguana perched in a tree and a mother bird sitting on her nest. Schools of mullets swam protected in the river.
Ship wrecked during Hurricane Omar
Four months ago Hurricane Omar struck Dominica. The surge generated by the high winds did quite a bit of damage. Several boats were wrecked on shore, adding to those already rusting and resting askew on the shore from previous hurricanes.
Peoples' lives are closely intertwined with Mother Nature on Dominica. The rainy season swells the many rivers and streams and hurricanes are a danger in the autumn. Steep, wild, densely forested terrain allows for only a few roads to intersect the island. The people in small mountain villages and coastal fishing towns live mainly off the crops they grow and the fish they catch.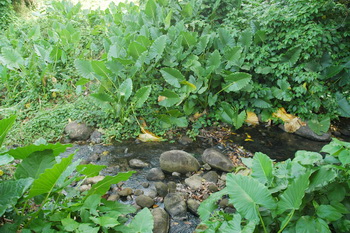 Dylan, a friendly and knowledgeable guide working for Martin, drove us across the island. We spent most of the day seeing beautiful mountains and valleys, pristine coasts, quaint towns, interesting plants and even some noisy parrots flying high above. He stopped often to show us various plants and teach us their benefits. We were amazed by the number of plants, herbs and flowers that have either medicinal purposes or make tea. Or both.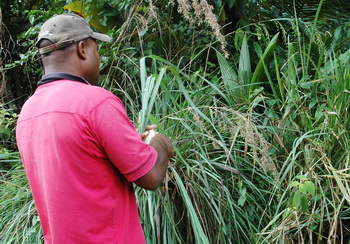 Dylan cutting some lemongrass for us
He cut lemongrass for us explaining the leaves make delicious, soothing tea. I was happy for the stalks to use in Thai soup with coconut milk. He also gave us licorice, bay and citronella leaves, all used for tea. After cracking open a coconut with a rock, he let us taste the water and flesh. He picked guavas and a light, lumpy fruit that we will open when it turns brown. We saw the fruit that shields chocolate beans, another that holds coffee beans and the flower from which arrowroot is made and we learned how to harvest them all.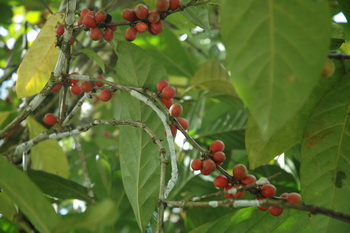 The beginnings of coffee beans. Split the fruit open and suck off the sweet pulp to reveal two seeds that can be dried and roasted.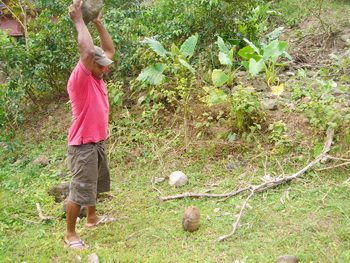 Dylan breaking a coconut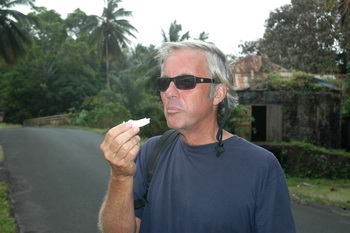 Jim tastes a fresh piece of coconut
.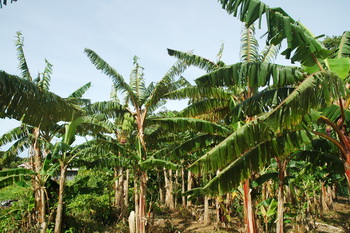 Banana trees
Bananas are a plant, not a tree. Twelve different varieties thrive on Dominica. A plant only produces one bunch of bananas so after harvest it is cut down to allow another to grow and produce. The cycle takes less than a year. Bananas were once a huge cash crop Dominica sold to England but demand has been filled elsewhere and now they export mainly to other Caribbean countries. We enjoy having them in our porridge each morning with raisins and a little brown sugar and as a frozen base to smoothies.
A small fishing village on the northern Atlantic coast
Two boys playing in the water of the fishing village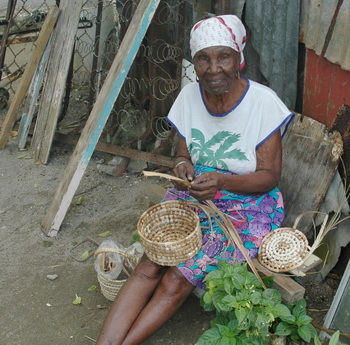 A woman weaves a basket to sell to visitors
We stopped for lunch at a restaurant in the small, seaside community of Calibishie where several foreigners have made their homes. Choices included meat or fish served with rice, beans, macaroni and cheese and a small green salad. The meat was new for Jim and me. Goat. Stewed in a flavorful broth, it was a bit gamy but tasty. The fish was delicious. We set off with full bellies to see some more sights.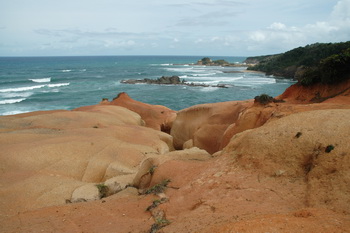 The area called Red Rocks was a gorgeous contrast to the green mountains and blue Atlantic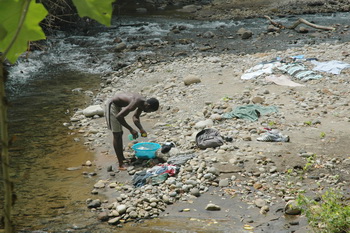 A man doing laundry at a river. Clothes laid out on stones to dry.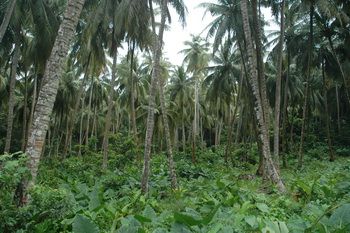 A location used in the filming of Pirates of the Caribbean
At one point the narrow dirt road we were traveling straddled the top of a ridge that dropped off hundreds of feet below on either side. Eventually Dylan parked the van so we could hike down to the Chaudiere Pool. When we returned after climbing up the steep, muddy path he popped open the back of the van, pulled out a huge, juicy orange, peeled it, cut it in half and handed the dripping fruit to Jim and me. Delicious, messy and thirst quenching!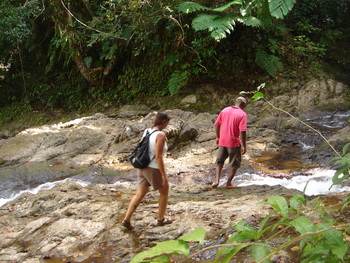 Dylan leads us to a hidden swimming pool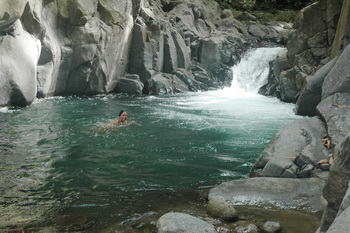 Katie taking a dip in the Chaudiere Pool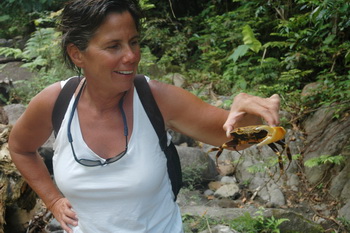 A yellow crab Dylan caught while we changed out of our swimsuits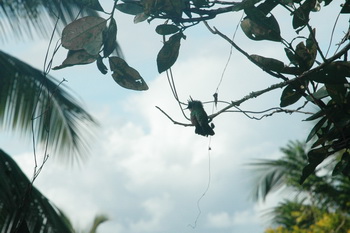 We couldn't believe this crested hummingbird sat still for a photo. Unfortunately we couldn't capture his iridescent green color.
We love the unspoiled towns and lush, rugged mountains of this beautiful island. It will be at the top of our list of places to visit again. We highly recommend Martin of Providence (VHF 16) and Dylan as guides. They are both a real pleasure. Take a notebook and several baggies for spices!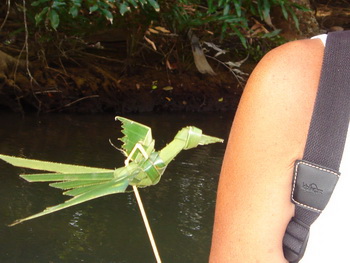 Martin wove this bird and gave me these beautiful flowers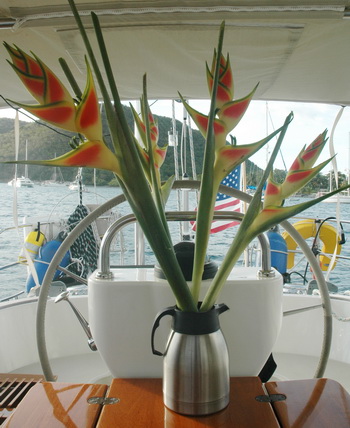 Tomorrow we will make the short trip to Isles des Saintes We have heard they are not too affected by the strike on neighboring Guadeloupe which in any case may be over soon as the French government has met the demands of the people. So, depending on how we find conditions in Guadeloupe, we may be in Antigua in a few days or later next week.
.