February 25, 2009
We met Harriet and Tom on the catamaran Hands Across the Sea in the anchorage at Roseau. Harriet mentioned that she substitute teaches at the local public elementary school, Newtown Primary, and that she and Tom were making bookcases to hold all the donated books they had brought down from the US. They have a small non-profit that, among other things, has adopted three schools in the Caribbean including this one. We offered to help and were recruited to sand and paint.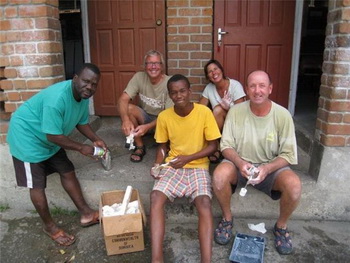 Jerry the principal, Jim, Katie, Jonnell and Tom
Anyone with any means in Roseau sends their kids to private schools. This dismal brick school with rough concrete floors and open under the unpainted rafters is attended by only the poorest children. The thought of helping to make it a brighter, cheerier place has not occurred to the teachers or parents. The bright yellow, red and blue bookcases with green shelves should help brighten up the rooms and hold some much needed reading material.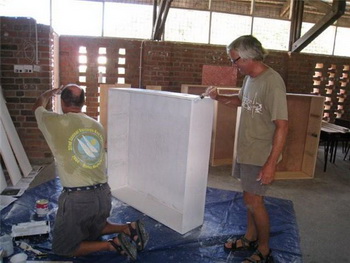 Tom and Jim prime a bookcase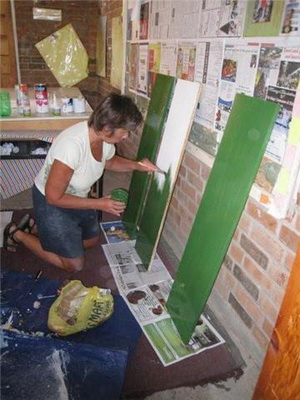 Katie paints some shelves
To read more about Hands Across the Sea see their website: www.handsacrossthesea.net.
Dominica celebrated Carnival on Monday and Tuesday. It is the big party before Ash Wednesday, and the beginning of Lent 40 days before Easter.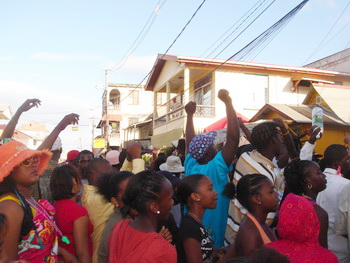 Carnival celebrations
Monday morning we picked up Harriet at 5:00 am to go ashore and see the Jouvet festivities. We were amazed when Harriet pointed out the Southern Cross in the sky. We hadn't realized it was visable this far north of the equator.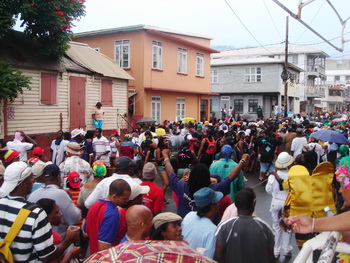 People dancing in the streets at Jouvet
We ambled into town along with some local people but it was pretty quiet that early. As the sun crept higher in the sky music began playing in various areas downtown. Some, but not everyone, were dressed in costumes. Many followed behind trucks toting bands or DJs with big, loud speakers dancing and singing.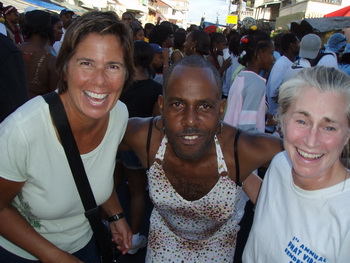 Katie and Harriet met some interesting characters that morning
Tuesday was the parade. Young and old took part, some in elaborate costumes, others simply carrying flags or balloons. Many people came out to watch. We rested next to a lady that was originally from Dominica and was living in England. She returns for Carnival as often as possible to enjoy the festivities and see family and friends.
Miss Dominica, queen of Carnival, and her escort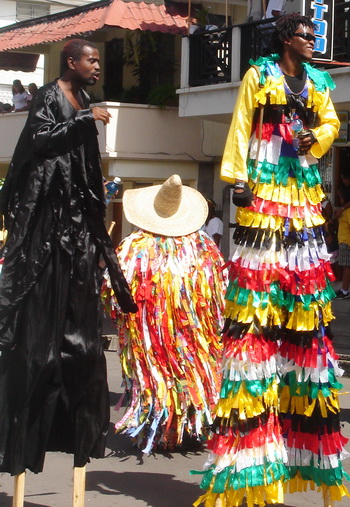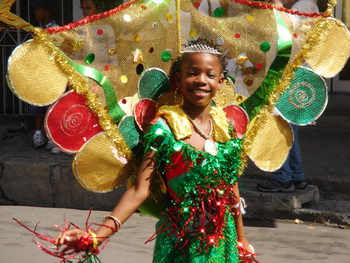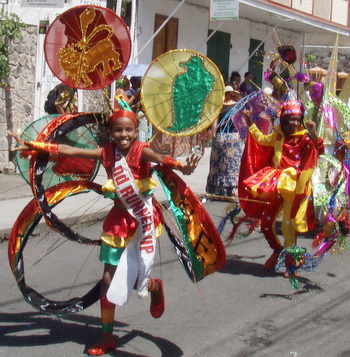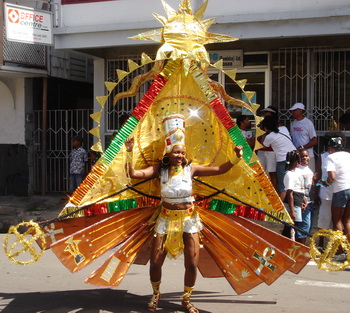 .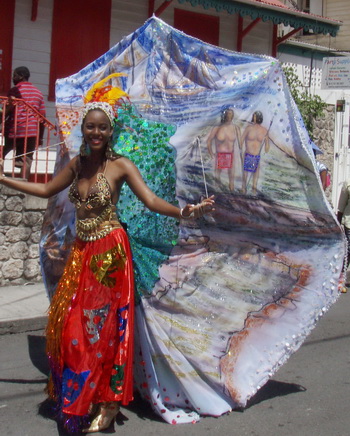 Carnival was fun for people of all ages
Wanting to see more of the island but still being too sore to do another long hike, we hired a taxi and took a tour across the island and through the Carib Territory. We stopped at Mr. Nice's shack where he showed us a variety of native fruits and cut open a nut that contained chocolate seeds. He also gave us a sample of a delicious treat made with shredded coconut, cane sugar, cinnamon and nutmeg. The rest of his shtick was pretty cheesy. He tried to talk in rhyme which was more annoying than entertaining.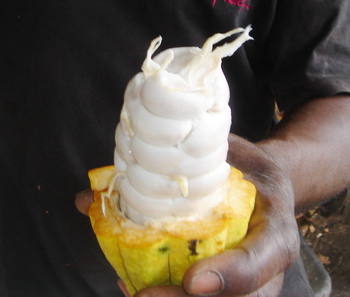 Inside each pulpy section lies a seed that becomes chocolate when dried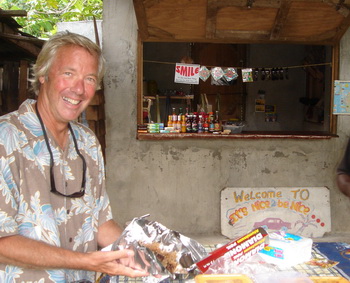 Jim buying a delicious coconut treat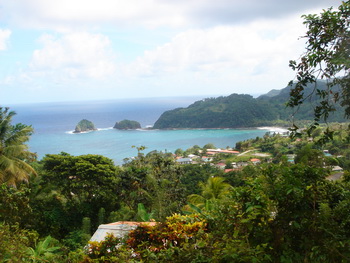 The Atlantic coast near the Carib Territory
.
The Caribs were fierce tribes inhabiting the Caribbean islands long before Columbus arrived. Because Dominica was so mountainous no countries wanted to colonize it so in 1660 a treaty between the British and French declared the island a neutral territory and left it to the native Caribs. In the 1720s the French rescinded the deal as they decided it was worth colonizing, realizing it was a strategic location between their islands of Guadeloupe and Martinique. Then the British decided they wanted it. Nearly 100 years of back and forth between the two ensued.
While Caribs were killed or moved to Venezuela or other South American destinations during colonization of the other islands, the Carib Indian tribe of Dominica stayed. Because of the harsh terrain it was difficult to conquer and the Caribs simply moved to the Atlantic coast where they have lived uninterrupted ever since.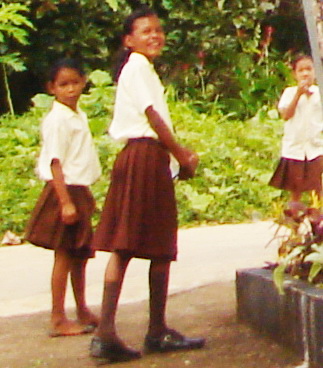 Carib school girls
The Caribs are originally from South America and have those features, unlike most of the rest of the islanders who have descended from Africans brought to work the plantations.
We stopped along the road to buy bread a Carib man was cooking over over a wood fire. The smell was inviting and the taste was delicious. The man didn't speak to me and our taxi driver, Chris, asked him why. Turns out he only speaks a patois similar to French and didn't bother with those speaking anything else. I asked how to say thank you and Chris told me. When I said "merci" to the man he smiled kindly and said something softly.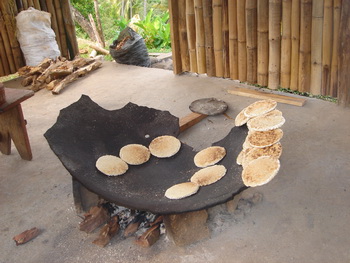 Carib bread cooking on a hot metal surface
Further south we stopped where a sign pointed to Escalier Tete Chien meaning dog's head stairs. Carib legend has it being the tracks left from the bottom of an enormous snake. In reality it is an odd lava formation extending out to sea.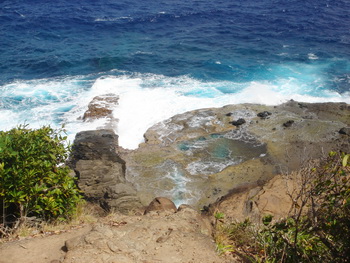 Escalier Tete Chien
The Emerald Pool is a short 10 minute walk along a jungly path. It's easy to see why it is Dominica's most visited natural wonder as the access is quite easy compared to the other waterfalls and pools on the island. We were the only people at the 40' waterfall in the late afternoon. The green pool looked inviting to swim but the dense canopy let little sunshine in and we had not worked up enough of a sweat to need a dip.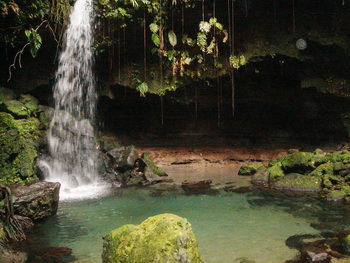 The Emerald Pool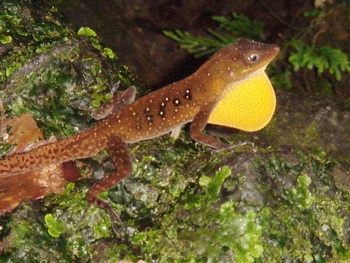 A tree lizard puffed up for us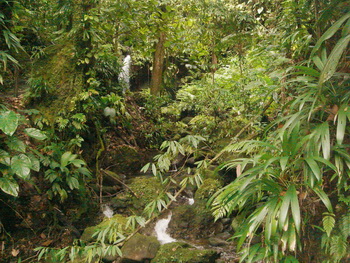 The walk to the Emerald Pool is through a dense rain forest
We continue to enjoy the beautiful island of Dominica. Soon we will sail north to Portsmouth to see that town and a little more of the island.
Go to February Part Five - Portsmouth, Dominica
.