February 10, 2009
The island of St. Vincent is incredibly beautiful. The high peaks and steep slopes are covered by dense green forests. This wild terrain, along with fierce tribes, are the reasons St. Vincent was among the last of the Caribbean islands to be settled by Europeans. The British finally succeeded in the late 18th century.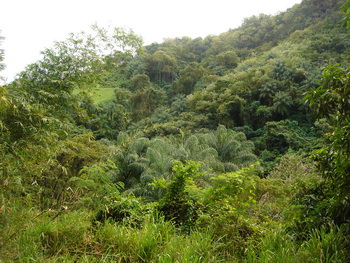 Lush greenery of St. Vincent
Reports of armed robberies at Chateaubelair, a beautiful and once popular anchorage at the northern end of the island, convinced us to stay away. We stopped for one night at Wallilabou, a small and pleasant spot several miles to the south.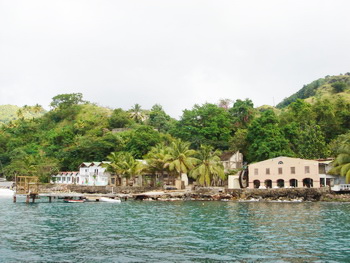 Wallilabou waterfront from the anchorage
The 14 mile trip from Admiralty Bay, Bequia to Wallilabou, St. Vincent saw us alternating between sailing and motor-sailing with variable winds from 5-12 knots. Nearing Walliabou the boat boys began to approach offering to help us moor. We waited until well inside the bay and hired Shawn to help secure our mooring ball, which we could have done easily by ourselves, and take a line ashore to tie to a tree, which we were happy not doing ourselves. It was a fair distance so Jim tied together two lines - 200' and 150'. Soon we were bombarded by boat boys selling fruit and jewelry. They were friendly and polite so I bought some grapefruit, a necklace and another bracelet. Kenneth was helpful and went in search of bread which he brought by later.
Alan from Moody Blue offered to take us to shore in their dinghy so we could leave ours tied on the bow. He, his wife, April, Jim and I walked down the road to a waterfall we had read about in the guide book. Calling it a waterfall was a stretch as the water didn't fall very far but it was pretty and the pool below it was refreshing. Later we had a delicious fish dinner at a restaurant filled with pirate props.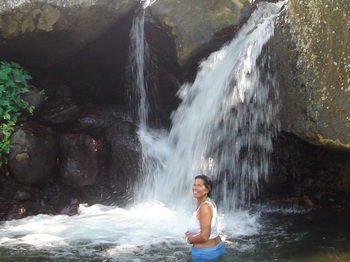 Katie taking a dip at Wallilabou Falls
Wallilabou was the setting for many of the scenes in Pirates of the Caribbean. Some sets and props remain and it is easy to imagine a group of swashbucklers bursting in any minute.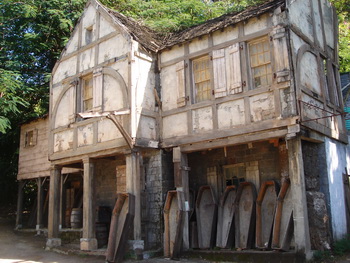 Remnants from the set of Pirates of the Caribbean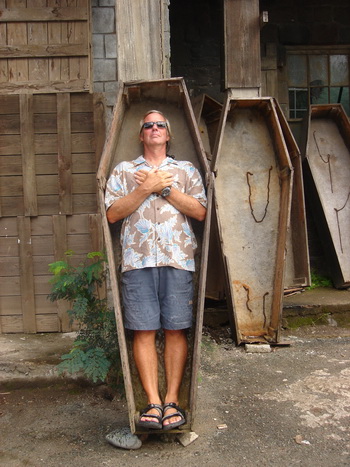 A bit more roomy than his side of the bed on the boat
As we left Wallilabou anchorage at 0700 the wind was light and there were some clouds. Motoring along close to the coast we marveled at the rugged beauty of St. Vincent. As we neared the tip of the island the wind picked up. Right on the nose. Fortunately as we entered the channel between the two islands the wind veered enough for us to sail on a close reach with wind speeds of 14-20 kts. The seas were a little bumpy with waves 1-2 meters and Tenaya moved along nicely at 6.5 kts. under reefed sails. We have become spoiled, we haven't sailed into the wind for months!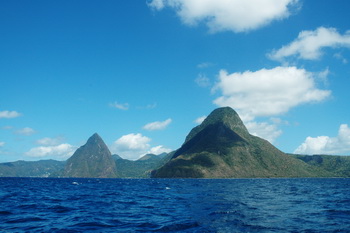 Petit Piton and Gros Piton on St. Lucia
Approaching St. Lucia we were awed by two volcanic peaks rising straight out of the sea. Together with the surrounding hills the land is covered in lush green foliage. An anchorage lies between Petit Piton and Gros Piton and that was our destination. About a dozen mooring balls are set in the quiet bay. A gorgeous marine park encompasses several miles of this coastline and anchoring is not allowed. We felt fortunate to get a ball in this beautiful setting where the snorkeling was magnificent. Our noses were constantly in our extensive fish identification book looking up new fish we saw.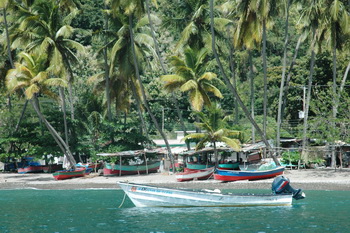 Soufriere fishing boats and taxis
In 2004 the Pitons were named a UNESCO World Heritage Site. It was amazing to float peacefully between the two looming peaks surrounded by clear, refreshing water. We did not want to leave.

Tenaya moored between Petit Piton (shown) and Gros Piton
Sunday we took the dinghy for a long, scenic ride around Petit Piton and into Soufriere to have a look around. Tourism has not intruded on the quiet town of colorful buildings but capitalism is thriving. Men row out in their brightly colored wooden boats to sell wood carvings, jewelry, fruit, veggies, beer, soda ... the list goes on and on. Ashore they have small stands at the docks and beckon the yachties to have a look at their wares. They are very effective. I have more bracelets and necklaces than I'll ever be able to give away. Jim simply buys more beer.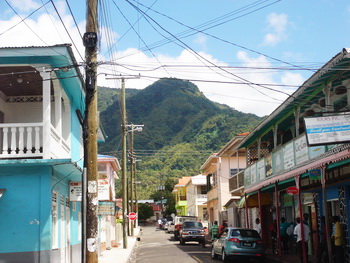 Soufriere street scene
A short walk from town are the lovely Diamond Botanical Gardens and Waterfall. On the way we met an older woman keen to chat. We walked with her a while. She mentioned she skipped mass so she could go visit her mother. I said we had noticed the church was quite full and she said everyone was there the day before also for Johnny's funeral. Did we know Johnny? No. A few minutes later she asked where we lived and I said California. She seemed surprised and then said "Well then you wouldn't have known Johnny" rather matter-of-factly. Very cute.
The gardens are delightful and we enjoyed meandering along the walkways shaded by the lush canopy of tropical foliage with birds chirping and singing. Trees were labeled but flowers were not so I cannot correctly identify these pictures.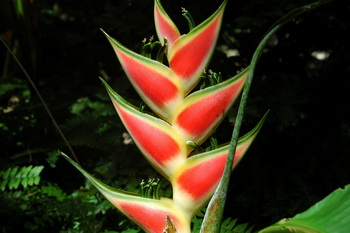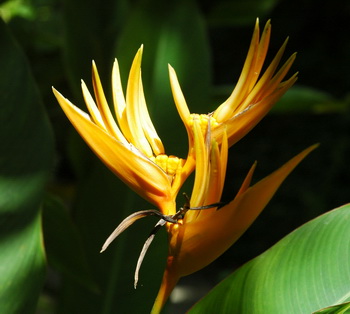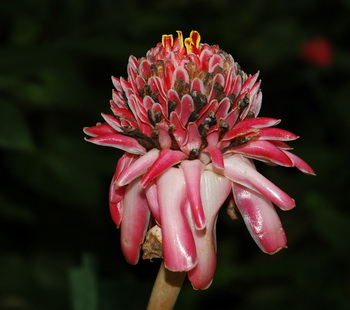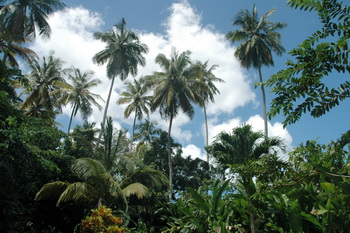 Trees in the Botanical Garden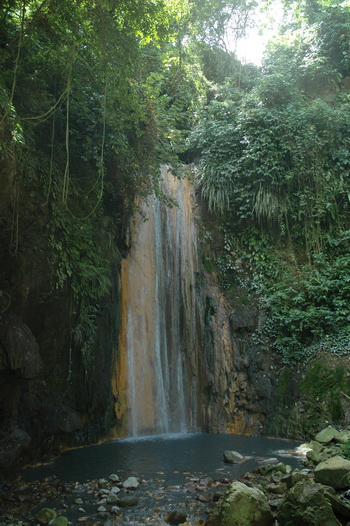 Diamond Waterfall
Today we motored 20 miles in light winds to Rodney Bay. We came into the marina with hopes of having our leaky dinghy fixed but Jim was disappointed when he went to the shop, explained that water enters the hull somehow, and was told they would replace the plug. We have already done that. Twice. They could offer no further solution. So, it's on to Martinique.
.