December 21, 2009
We arrived off the coast of Basse Terre, Guadeloupe, just before dawn. Nearly non-existent winds allowed us to motor the 107 miles effortlessly. The RPM's and speed were kept low so as not to arrive in the middle of the night. What great mileage we got!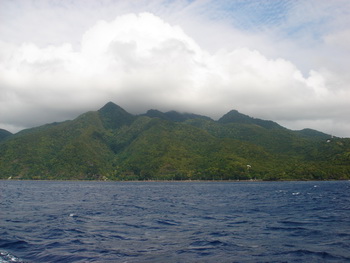 The island of Guadeloupe
Motoring in close to shore we anchored just outside the Marina Riviere Sens, the recommended anchorage for Basse Terre, the capital of Guadeloupe. This seemed a good place to refuel but we used so little overnight that we can wait until we reach Dominica. We lowered the dinghy and went to shore in search of the customs office, a market, a pharmacy, espresso and pain aux raisins.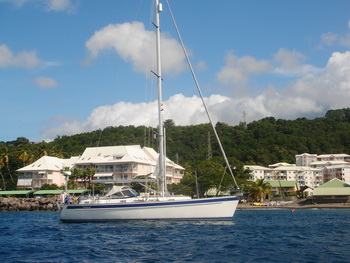 Tenaya anchored at Basse Terre
After a stop at the patisserie we found the customs office closed so wandered down the nice, wide, newly constructed boardwalk to the city center. After strolling around the shopping area, which has made concessions for the occasional cruise ship but remains mostly geared for the locals, we headed back to the customs office. Still closed.
A sign on the door said to come back another time or check in/out at Isles des Saintes. Another yachtie from the anchorage had sailed over from Isles des Saintes because the fax machine was broken and couldn't get the information to Guadeloupe. Customs officers told him to come here. It doesn't appear they take transiting yachtsmen very seriously.
Back on board Tenaya we took down our yellow quarantine flag and flew the French tricolor, something we're not supposed to do until clearing in but that didn't look likely to happen.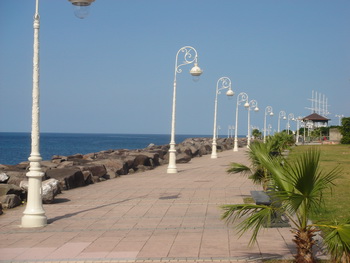 Boardwalk from the marina into the town of Basse Terre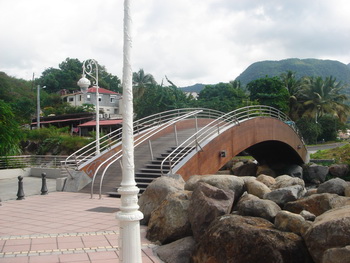 Bridge over the Riviere Sens
While Jim napped in the afternoon I gave Tenaya a thorough cleaning, first with salt water and then with fresh. Thank goodness we have a good watermaker. Ash from Montserrat was everywhere!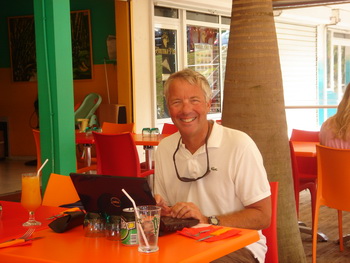 Enjoying wifi at one of the restaurants in the marina
Fishing boats tied in the marina
The next morning Jim dinghied back to shore while I worked on our website. He was happy to find the customs office open where he was able to check in and out at the same time provided we leave the country by Dec. 31st. He also spotted a laundromat and a cafe with wifi.
I'm happy washing clothes and small towels in the galley sink but sheets and towels are more than I want to deal with. We loaded the laundry and computer into the dinghy and went ashore. I headed for the laundromat and Jim trotted off to the restaurant. Three hours later the laundry was done and we'd had a nice lunch at the harborside cafe.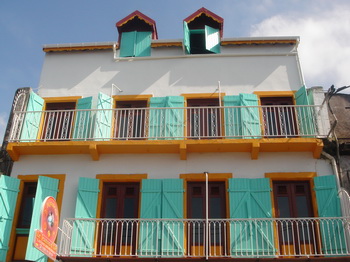 Brightly colored house in Basse Terre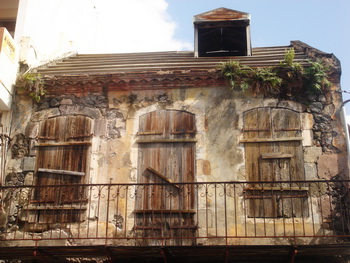 Dilapidated but interesting house
Busy street in the capital city
Basse Terre is an interesting place with some nice conveniences for yachties and it is a good place from which to see this side of the island. As the country was on strike when we passed by earlier this year, we thought it would be fun to spend some time here and explore.
That was not meant to be. We rolled about so much the second night that I hooked up my lee cloth. We are usually quite tolerant of motion and did not complain in Saba or other notoriously rolly anchorages, but this one takes the cake. We did a few errands in the morning and took off for the serene anchorages of Isles des Saintes early in the afternoon.
December 24, 2009
It is a short distance from Basse Terre, near the southern tip of Guadeloupe, to the Isles des Saintes. We stretched it to 21 miles as we sailed on one long tack just past the westernmost island to tack back to Ilet a Cabrit. What marvelous sailing! Finally! On a beam reach with winds 19-24 kts. and gusts to 30, it was absolutely the most fun we've had sailing this season. With two reefs in both the main and jib Tenaya handled splendidly.
We're finally sailing ...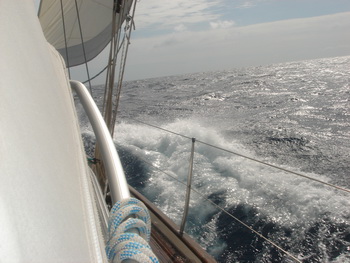 ... with great wind!
Isles des Saintes is a group of islands just south of Guadeloupe which is also a part of France. The only real town, Bourg des Saintes on the pretty island of Terre d'en Haut, is exceedingly French. Although a holiday destination, it is not overwhelming or tacky. Quite the contrary, the shops are tastefully merchandised, the restaurants are authentic and inviting and the streets are colorful and clean.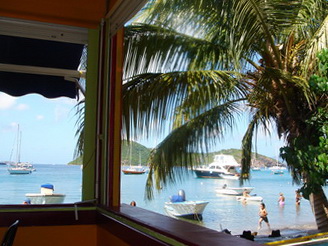 A lovely view while checking email with the iTouch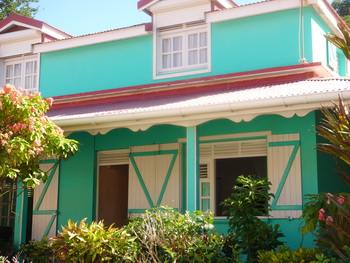 Colorful house in Bourg des Saintes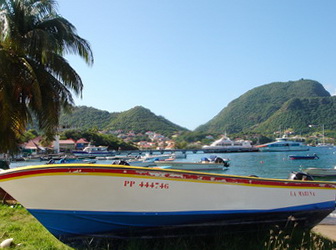 Fishing boats pulled on shore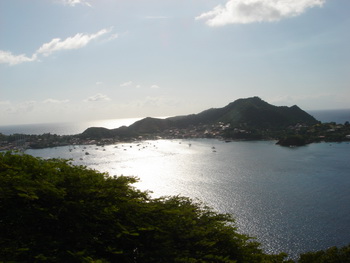 The island of Terre d'en Haut from Ilet a Cabrit
The guide book suggests tying to shore to reduce roll from ferries en route to Bourg des Saintes when anchoring at Ilet a Cabrit. Most boats were swinging at anchor but one was tied to shore. We were anchored a bit further west than the rest of the boats so would not interfere with their swinging room.
I swam a line to shore and secured it to a small tree clinging to the cliff. Resting close to shore we still had more than 3 meters under the keel. We put up all the sunshades and settled down to spend some relaxing time here in the Isles des Saintes.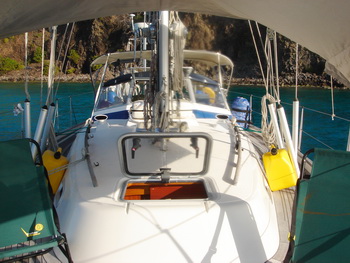 Tenaya with all sunshades up and sand chairs on deck
.

Tenaya anchored at Ilet a Cabrit
Ilet a Cabrit is a small, quiet island in the Isles des Saintes inhabited only by goats and hermit crabs. Ruins of an old fort can be seen high up the scrubby green hillside. It is a lovely anchorage with warm, crystal clear water and good snorkeling, a perfect place for us to spend Christmas.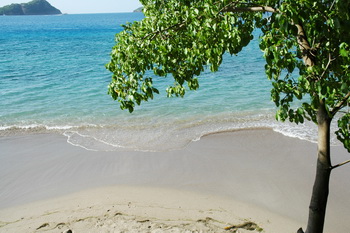 The beach at Ilet a Cabrit
Christmas day was glorious. A bright blue sky, nice breeze, warm sunshine and pleasant snorkeling were our perfect holiday gift. That afternoon I baked a pumpkin pie and made dinner with all the fixings. Well, 100% turkey packaged by Spam, the potatoes and stuffing came out of a box and the cranberries and gravy out of jars. But hey, it tasted pretty good!
During dinner Tenaya began rolling so much that we had to hold our wine glasses with one hand while eating with the other. The boat was being moved by the swell to a more shallow area. With only 1.3 meters under the keel now and a short distance away from coral encrusted boulders our concern grew.
As we quickly finished dinner in waning light I suggested untying the line and reanchoring in deeper water. Jim liked the idea but was worried about me swimming to shore in near darkness with a rock outcropping between us and the beach. I made a mental note of the shallow rocks, hurried in and released the line and swam back but not before it was completely dark. Thinking he was being helpful, Jim did his best to dash whatever night vision I had by turning on the bright white stern light. We motored out a fair distance to reanchor with no trouble and returned to the table to enjoy our pumpkin pie.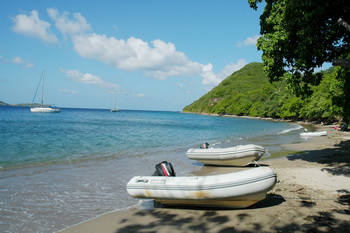 Dinghies on Ilet a Cabrit
December 28, 2009
Yesterday morning we dinghied to shore to have a look around the island. As we put on our hiking shoes sitting on what is left of a concrete pier, one of the goats came to visit. Then another. Then some more. Bashful, they are not.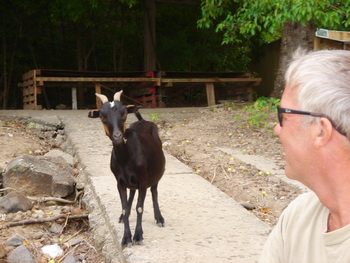 "Hi, welcome to my island. Bring me anything to eat?"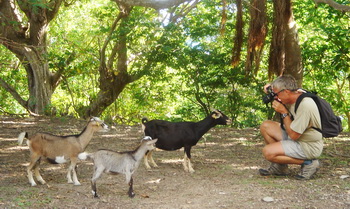 The goats are quite curious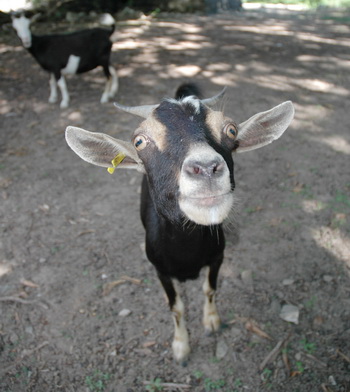 "Can I just nibble on your camera if you're not going to feed me?"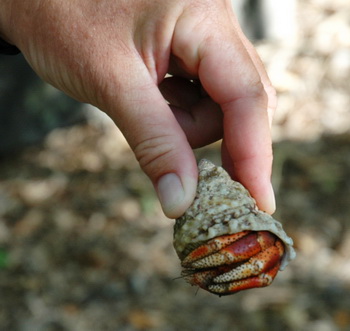 Hermit crabs limp along like self-propelled rocks
We hiked up the remains of an old road to the ruins of Fort Josephine. With no internet access we can't look up when it was built, occupied or abandoned. Impressive views abound from the fort as do the goats, their droppings, and hermit crabs.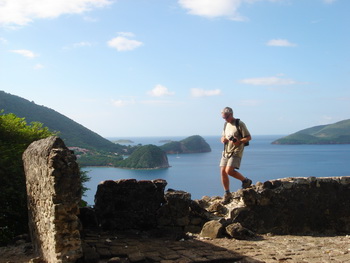 Checking out the view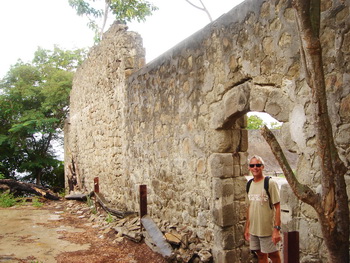 Ruins of the old fort on Ilet a Cabrit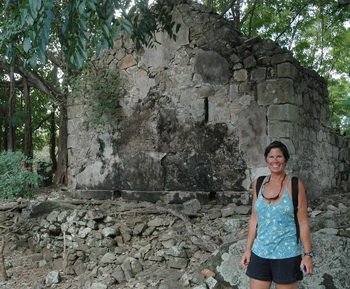 Aged building, wall and woman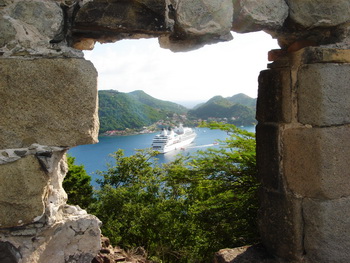 Cruise ship and Bourg des Saintes from a hole in wall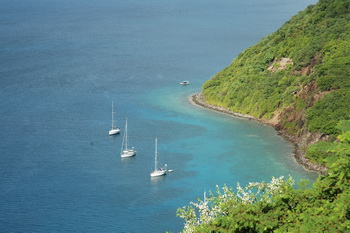 Tenaya anchored below with a boat on either side of her
After our hike we took the dinghy around the entire island which really isn't very far. The northern coast is more exposed to the winter swells and therefore is more eroded and wild looking. The narrow eastern and western coasts are shallow close to shore with good snorkeling at each end.
Back on the boat and after a swim Jim waxed the fading blue stripes on Tenaya and I scrubbed the early stages of growth from her waterline. We settled on the cockpit cushions in the shade of the bimini to read until dinner, serenaded by a baby goat bleating its pitiful cries.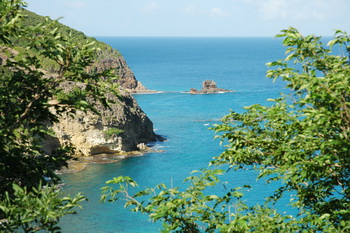 View of the northern shore of Ilet a Cabrit
This morning I woke before dawn having gone to sleep at 8:00 last night absolutely exhausted, from what I don't know. With no bread on the boat it was the perfect opportunity to bake my first of the season. Out came Amanda's cookbook where my favorite recipe, english muffin bread, is tagged. I mixed all the ingredients, let the loaves rise for 45 minutes and then baked them for half an hour. Jim woke to the smell of freshly baked bread and we had a nice breakfast as the sun peeked up over the hill.
Once our chores were completed we rewarded ourselves with a slow snorkel nearby, on a mission to find the interesting looking Spotted Drum that is rumored to be found here. It is black and white striped with an outrageously long dorsal fin that, because a black and white stripe run the length of the fin to its body and continues down to its tail fin, looks like a boomerang has intersected an average fish. It's rear dorsal and tail fins are black with white spots.
Spotted Drum*
We moved slowly over the rocks and Jim pointed out a very thick mottled eel. I saw purple as it folded itself back under the rock. We think it is a Purplemouth Moray which is occasionally found in these waters.
Further on I spotted a lobster standing at attention in full view next to a large rock. As I moved away for Jim to have a look I saw another smaller lobster on the other side of some small rocks. At the same time a Chain Moray eel swam completely out in the open nearby. It quickly retreated under the large rock by the first lobster. Wow, interesting creatures at this rock!
As we swam further I spotted a fish that looked like a big Mr. Potato Head with large colorful eyes, camouflaged coloring and a lot of spines laying flat against his body. Back on the boat we identified it as a Balloonfish, occasionally to uncommonly found in the Caribbean. He was about 12" long and didn't dart away quickly so we had plenty of good views of him as we repeatedly dove down for closer looks. We must not have appeared threatening as he never inflated or popped out his spines. He simply swam a short distance before turning around to watch us as he fluttered his pectoral fins. It's funny how endearing fish can be and how easy it is to personify them.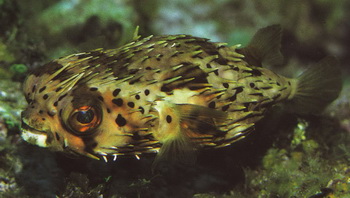 Balloonfish*
Heading back to the boat to record our finds we saw another lobster running across the sand. It may have been the smaller one we'd already seen and it was very tempting to grab it in only 8' of water. We dove down to have a look at it hoping that it would find cover before someone else came along and took him home for dinner.
Just a few yards further on I spotted a Spotted Drum swimming in and out from under a large rock in company with other fish I paid no attention. "A Spotted Drum!" I shrieked through my snorkel as Jim came over immediately and saw it as well. What an incredible snorkeling session, to see so many new-to-us creatures of the sea!
We will stay here a couple of more days before heading over to Portsmouth, Dominica to meet Corinne and Eric where we'll spend time exploring that beautiful island with them.
*Pictures from our Reef Fish Identification book of the Caribbean by Humann and De Loach.
We wish you a Happy New Year!
.