December 18, 2009
Saba is a glorious gem poking its lush green conical head out of the brilliant blue sea. Often times clouds shroud the summit and mist rolls down its flanks. With no natural harbor, no marinas and no safe anchorages yachties often pass the island by.
Unspoiled by hotel chains, shopping districts and noisy dancing establishments and unadorned with sandy beaches, Saba prides itself as being "The Unspoiled Queen" of the Caribbean. Much of the 5 square mile island and its coast fall under the Saba Conservation Foundation, a non-profit, nongovernmental organization established in 1987 to preserve and manage Saba's natural and cultural heritage.
Quaint cottages painted white with red roofs and green shutters are clustered into four small towns. Inns are styled as the cottages or are eco-lodges. Visitors come to experience the pristine nature of the tiny island both on the hiking trails and in the underwater Marine Park. Diving is fantastic!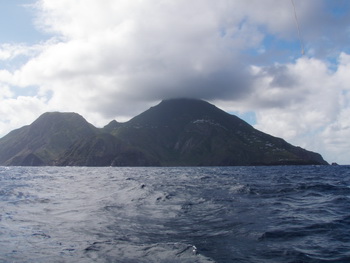 The windward side of Saba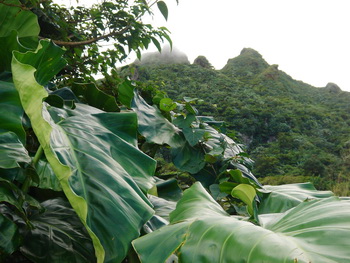 Mist shrouds the higher elevations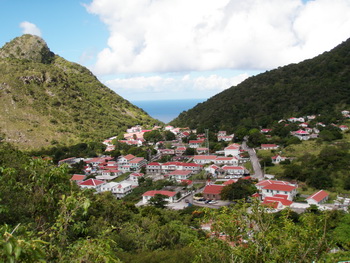 The Bottom, one of Saba's towns
The island has been populated for 3,000 years, first by native populations and more recently by Europeans. Life was harsh and difficult for the few that persevered. All supplies arrived by ship and, because of the steepness of the land, had to be carried up 524 steep steps and then onward from there. Appropriately named Ladder Bay is a horrible anchorage in anything but the best of weather so getting supplies ashore was often difficult.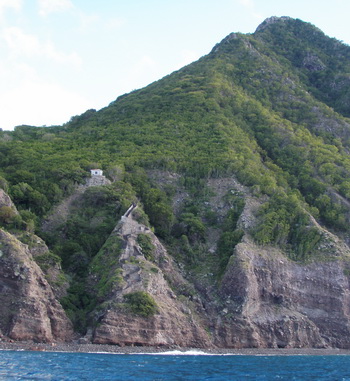 The ladder extends from the beach up the spine to the white bldg.
Saba has been a Dutch colony since 1816 though most of the "belongers" are of Irish and English descent. Only footpaths connected the towns until the 1940s. Dutch engineers said it was impossible to build a road because of the many ravines and steep pitches. Local resident Josephus Hassel took a correspondence course on road building and supervised construction of the only road on the island. It took 15 years to build, completely by hand, and is known as "the road that couldn't be built".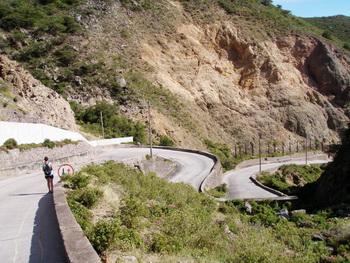 The road that couldn't be built
The world's tiniest commercial airstrip
The first plane landed on Saba in 1949. A runway was built and regular air service began in 1963. The town has only recently acquired two ATM machines and a couple of internet cafes. Those are probably at the urging of the 400 medical students studying here. Saba still feels a bit primitive and disconnected with the rest of the world. Very nice if you, like us, like that sort of thing!
The tiny harbor at Fort Bay
Yuletide murals in a Saban garden
With Tenaya floating on a mooring ball in Ladder Bay we dinghied down to Fort Bay and caught a cab for some sightseeing. Eddie, the driver, dropped us off at the trailhead to Sandy Cruz Trail. A picturesque hike around the island, it is part way up Mt. Scenery, the highest point in the Dutch kingdom.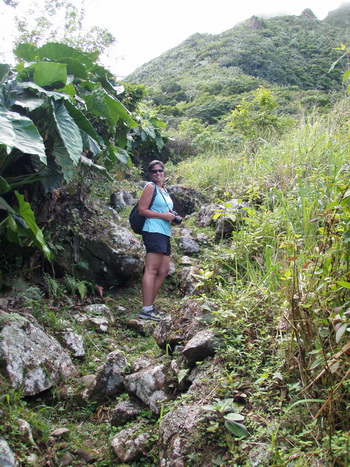 Katie at the beginning of Sandy Cruz Trail
.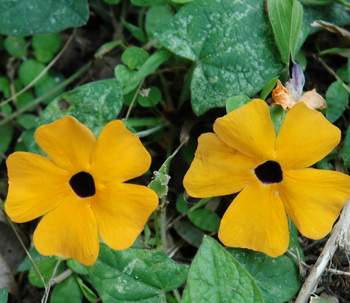 Black-Eyed Susans carpet the hillsides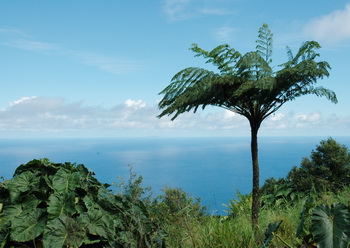 View from the trail overlooking the sea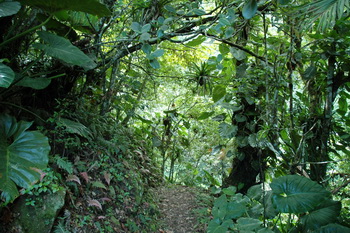 Lush foliage envelopes the trail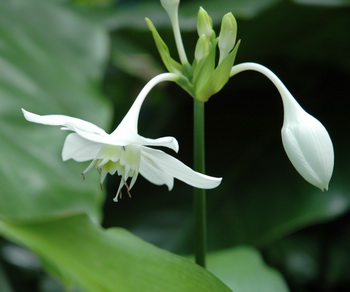 The foliage is lush and the air humid with the misty feel of a rainforest. The ground is still muddy days after the last hard rain. Giant elephant ears, a plethora of ferns, orchids, hanging vines, palms and many other plants compete for space, often intertwining and crawling over each other. Lizards of all sizes scurry across the trail and up trees while large dark butterflies, or maybe they are bats we couldn't tell, fly erratically about.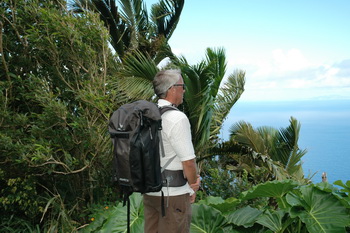 Jim looking for Tenaya
There she is, so far down below!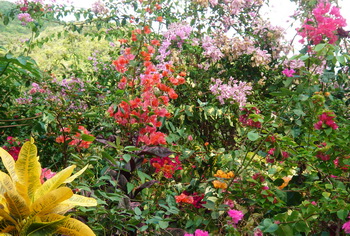 Many colors of bougainvillea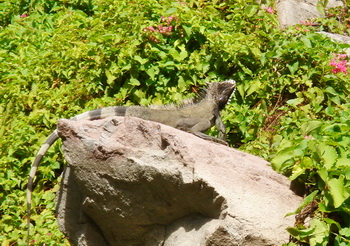 An iguana sunning himself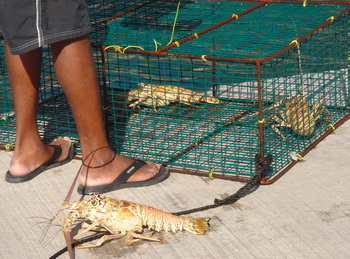 A lobster for his dinner
All this fisherman's other lobsters were sold to restaurants; these three are for his personal consumption. With no crime on Saba he leaves them safely in a cage in the harbor. Up to 500 pounds of lobster are caught here daily, most are destined for St. Maarten and Guadeloupe.
The Marine Park protects fish and lobsters so they are plentiful in the rich waters. Saba plunges below the sea as steeply as it rises from it. Underwater lava flows and hot springs attest to its volcanic origins. Reefs teem with fish while healthy coral and sponges encrust the sheer close-to-shore walls. Seamounts attract pelagic creatures not normally seen by divers. It's not unusual to see sharks. Yikes!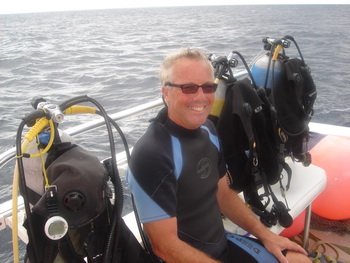 Remember to breath ...
Although we were hoping to see a shark I'm actually glad we didn't. My air lasted a lot longer that way! We went out with Saba Deep this afternoon and it was spectacular. As we haven't done many dives we are always a bit apprehensive to start. Tony, the owner and Bob, the instructor were really friendly and helpful and made us feel comfortable. It's the first time we've actually felt relaxed while diving and wish we could go again tomorrow. We highly recommend Saba Deep if you come diving here!
Bob pointed out a strange pink clump sitting on the bottom, a rare frogfish. It didn't look much like a frog and most certainly bore no resemblance to a fish.
Two yellowhead jawfish hovered vertically over their holes until we approached when they scooted backwards to safety with just their large eyes peering out at us. Just beyond was a colony of garden eels all pointing the same direction and waving in the current, reminding me of meerkats sitting up on their hind legs. As we approached the eels quickly disappeared down their holes into the sand.
As we swam slowly in single file between two coral and sponge encrusted walls I noticed a longsnout seahorse clinging by its tail to some sort of tubular plant part. Excitedly I tugged on Jim's fin for him to turn around but thinking he'd kicked me he proceeded to move forward even faster.
Large cowfish, trunkfish, angelfish, filefish seargent majors and parrotfish were plentiful and there were many fish we have not seen before and couldn't remember well enough to identify.
The highlight was seeing a spotted snake eel, completely exposed, swimming along the bottom between two rocks in perfect snake motion. A brilliant yellow with dark spots, it was anything but camouflaged.
Diving again, yippee!
We leave tomorrow for St. Kitts, not because we've had our fill of this lovely island, but because a northerly swell is forecast and this is no place to be for that. Unfortunately neither is Statia, the next island we were hoping to visit. Oh well ... that's the way this sailing thing goes.
Go to December 2009 Page Three
.