September 29, 2008
Last weekend Doug and Amelia, a lovely couple we met here last year, strolled past Tenaya as we puttered on deck. We had last seen them at an ice cream shop in Soller on Mallorca. Happy to meet again, we caught up on the summers' travels and stories. They suggested we enter Tenaya in the upcoming regatta and they would crew for us. Hmm.... we've never done a regatta before. I was a bit hesitant but Doug assured us it would be fun. No matter what, the party at the end would make for a great time. Okay. We committed.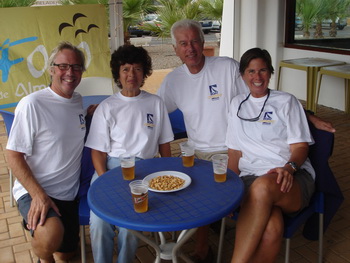 Jim, Amelia Doug and Katie
Race day arrived with some clouds and a bit of wind. Jim attended the skipper's meeting in the morning where he gathered t-shirts and goodies along with the necessary race info. Organizers were worried about the forecast winds climbing into the 30s with gusts in the 40s so the race was put off an hour, until noon. That seemed funny to me as I would think wind was a good thing for a race but what do I know? Apparently they were worried about the mess and mayhem many of us non-racer racers could create at the start. Understandable.
At 11:00 we tossed off the dock lines and headed out of the marina to have a look at the sea and hoist the sails. Noontime arrived with winds 16-22 so the race was on. At the 5 minute warning we got into position and jilled about for what seemed like a very long time. 12 minutes later boats started crossing the start. We had not seen or heard the start but decided if the Boat Company (organizers) boat was on its way then we had best be too. Pity because now we were one of the last to cross the start.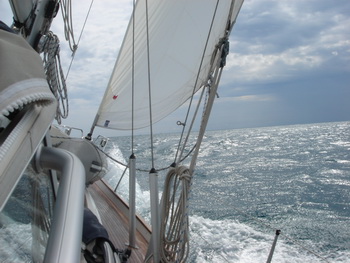 Jim was at the helm with Doug on the jib sheets, Amelia controlling the furler and I was on the main. We encouraged Doug's advice as he has many, many years of sailing experience. He was awesome! Quiet suggestions resulted in faster speeds and a better line than Jim and I would have found on our own. The jib was always optimally set and Tenaya galloped along eagerly. Soon we caught up with the rest of the boats. Heading into the wind with a reef in both the main and jib we were still doing over 8 kts. What fun!
As we rounded the mark we let out the reefs and eased the sails for the downwind run. Tenaya sped up to 9 - 9.5 kts. and hit 10 on the waves. Wow, exhilarating sailing! Just before the downwind mark we reefed again to be ready for the beat. The race consisted of two laps of tense excitement. We worked well as a team and didn't make any mistakes. We were second overall as we neared the finish. Another cruiser was close behind and the Boat Company was just behind him. Luckily for us we reached the finish before the other boats caught us. They were sailing really well and gaining on us. We were second overall and first in the cruising division.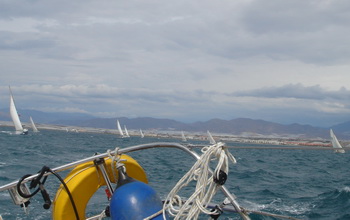 Tenaya inches ahead of the pack
.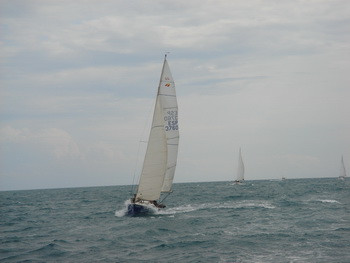 The Boat Company, organizers of the regatta, came in second in the racing division.
Nobody was more surprised than Jim and I with our first place finish. Tenaya behaved beautifully but we wouldn't have had such a good showing had it not been for Doug and Amelia. They were a great help and loads of fun.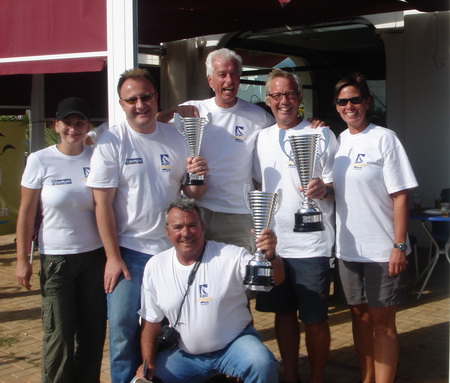 Third place winner Spencer, second place winner Jose and Jim holding their trophies.
The second placed boat was crewed by a solo sailor, Jose, a Spaniard who sails most days of the week, usually alone. His expression at the finish was priceless, sheer delight.
Spencer on Falcon Quest, placed third. He always seems to be in his shop, Alamar Centro Nautico, so I'm not sure when he has time to hone his obvious sailing skills.
The awards ceremony and party were a hoot. Tapas kept appearing on our table thanks to Elisabeth from the laundry service. Beer flowed freely and we reveled until the late afternoon.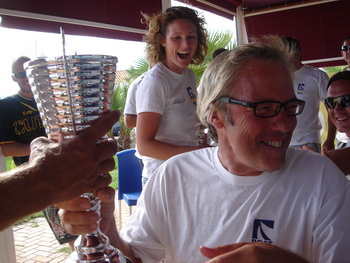 Gerard from the Boat Company filled our cup up with champagne. Here Jim just finished a gulp.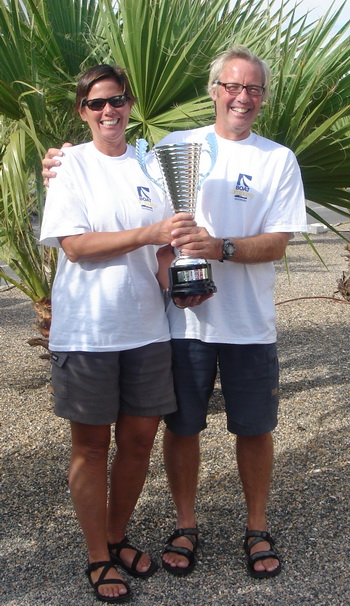 Tenaya's first trophy!
A picture of our trophy will have to suffice. It is too large to keep on Tenaya so we've given it to Doug and Amelia. It is as much theirs as ours. We will carry with us the memories of an exciting and fun day with two fabulous people to end our time in Almerimar this fall.
.