July 27, 2008
We arrived at the island of Elba this morning after a lovely sail with light winds of 8-10 kts on the beam. How great it felt to sail leisurely in this pretty setting.
Last night's stay in the delightful anchorage of Porto Baratti on Italy's western coast, about 30 miles south of Livorno, started out perfectly with a calm sea and no wind. We dove in soon after arriving to cool off in the refreshing water. Soon I was at work trying to get the rust stains off the hull near the waterline. Bobbing in my foam exercise belt and with the necessary supplies floating next to me in a bucket tied to the lifelines I scrubbed away. Most of it came off but there is still a tinge of orange. We'll have to try something stronger.
During the night the swell picked up from the NW, the only direction the anchorage is open, and the sea became quite rolly. In the morning we headed for Elba.
Elba's citadel as seen from the sea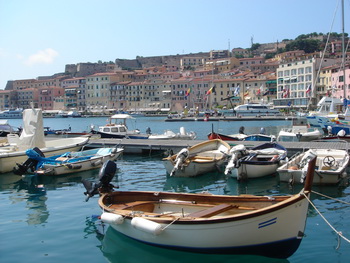 The harbor at Portoferraio, Elba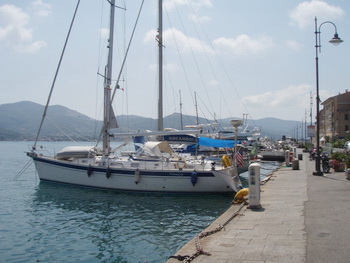 Tenaya berthed at Portoferraio early in the day. By evening the quay was completely full.
Most of us know of Elba as the island to which Napoleon was exiled in 1814. He was treated well here, provided a nice home, an island, and a bit of freedom. He built roads and improved the physical and social infrastructure. After nearly a year he returned to France and shortly thereafter came his demise at Waterloo. I believe there are worse places he could have been sent and maybe he should have stayed put.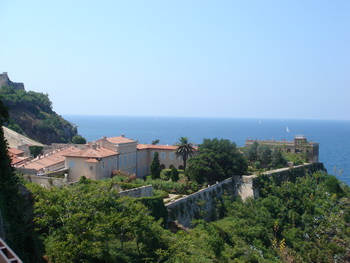 Napoleon's home on Elba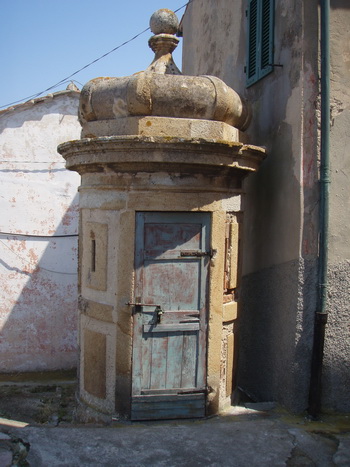 Guard house at the Citadel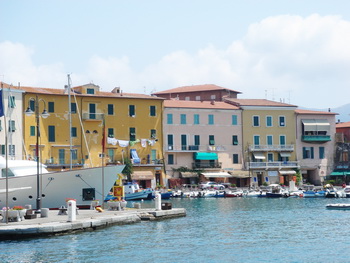 Colorful buildings along the waterfront of Portoferraio
.

As we were settling into our berth we were hailed by a couple on the quay. Dana and Glen were Americans anchored further out in the harbor and happy to see another US flag. Having spent seven years in the Med. they had plenty of insight and stories to share. We enjoyed a nice dinner together in a pleasant restaurant nearby.
Portoferraio town and harbor

After one night in the harbor and a bill of 104 euros we set off to see more of the green, mountainous island. We sailed west along the northern coast. Because the wind was blowing from the NW we planned to drop the hook in one of the many anchorages on the southern coast. We took our time sailing around and viewing the gorgeous scenery. At 6:00 pm we found a nice location on the western side of Golfo Della Lacona Bay. It was pretty and unspoiled with green hills rolling down to the water.
The pilot book recommended the eastern side but there were more boats anchored there and on shore were lots of umbrellas along with some buildings. A sure sign of people and noise. Sure enough, about 10:00 we heard Staying Alive. Again. That song has blared from countless harbor bars in Portugal, Spain and now Italy. Do people actually like that song or is a holiday bar thing?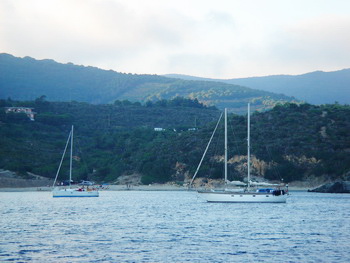 After two relaxing nights in the anchorage we headed back over to the mainland to continue our southbound journey. Porto Ercole, a village north of Rome that sounded delightfully picturesque, was our destination. Sailing was ideal with 10 - 15 kts. of wind behind us on a smooth sea. We poled out the jib, rigged the preventer and relished the fine sailing. We reached Porto Ercole about 4:00 in the afternoon and decided to just keep going, overnight, to Anzio or Nettuno, south of Rome. When the sailing is perfect and we are feeling fine then we'd best take advantage!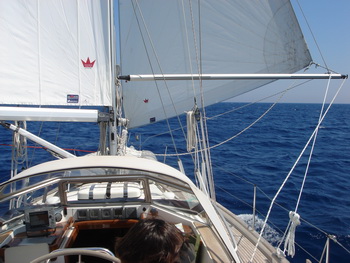 Lovely sailing conditions along Italy's western coast
Dawn greeted us with fog just outside Anzio so we crept along with one set of eyes glued to the chart plotter looking for radar blips. Two blips weren't moving. We found them to be yellow caution buoys marking either end of a long line of floats and markers. Some sort of fishing enterprise - tunny nets maybe?
My Uncle Art (Aunt Rose's husband) was wounded during the Allied beachhead landing at Anzio in 1944 so I've know of the town and its WWII association since I was a little girl. After learning of the American cemetery at the neighboring town of Nettuno we decided to visit.
During the last 8 years I've been embarrassed at times of being American. Visiting the cemetery and memorial and seeing over 7,000 graves of men and women that gave their lives for our freedom was an emotional experience and made me proud of my country and optimistic about the good that can be achieved when people care.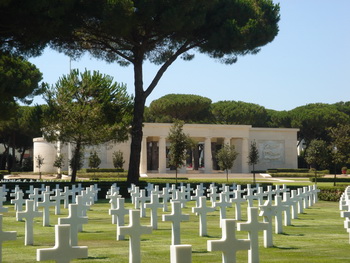 The American cemetery at Nettuno/Anzio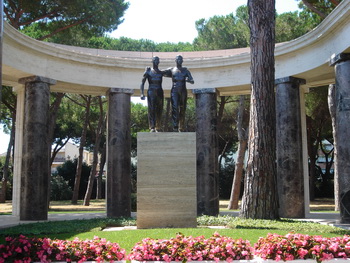 Brothers-in-Arms statue in the center of the memorial
Go to August Part One - The Pontine Islands
.