July 6, 2008
Yesterday we left Isola La Maddalena about noon and sailed overnight to arrive at the Golfe de Porto about 8:00 am. Winds of 15 to 20 kts. on the beam was just what I'd been wanting! What fun! There was a bit of a swell running so it was a little wet even in Tenaya's center cockpit. With warm temperatures the spray and splashes felt great.
As we passed Bonifacio and turned more northerly the wind settled behind us, a more comfortable and relaxed place. As the evening wore on the wind wore down. By 10:40 pm we gave up on trying to sail in the 6 kt. winds and rolled in the sails. Honestly, it is less taxing to motor straight at night than to sail downwind in light air and sizable swells jibing along a rocky coast.
Sunrise brought glorious views of the coast. Not able to capture the feel in a photo, the scene was reminiscent of those art projects you do as a child by cutting out various shades of colored paper in shapes of mountains and layering them to get a multi-shaded mountain range. Ours was various shades of hazy blue with a pale pink and orange sky.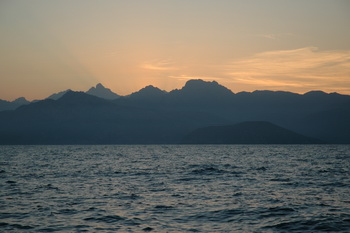 A glorious sunrise over western Corsica
Jim's friends, Eric and Gilles, both very familiar with Corsica, had given him the names of places we should not miss on our journey up the western coast of the island. I marked them in our pilot book and Jim plotted our course to see them all.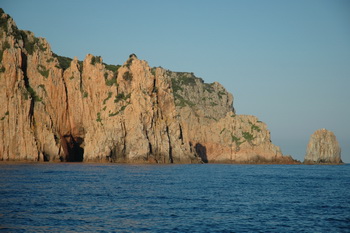 Entrance to the Golfe de Porto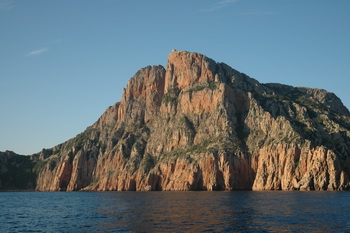 Beautiful red granite in the Golfe de Porto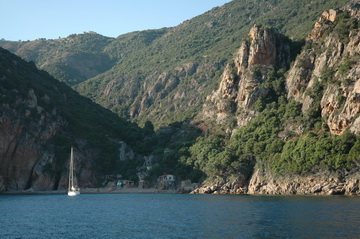 Calanque di Piana in the Golfe de Porto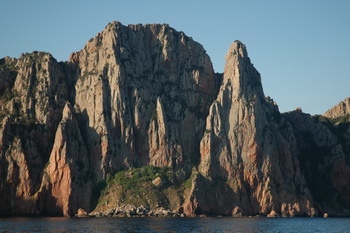 Golfe de Porto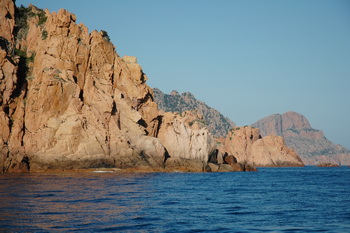 Golfe de Porto
As we followed the shoreline closely, winding in and out of the continuous bays, we were amazed by the size of the rugged cliffs and awed by the beauty. We saw the Golfe de Porte, Golfe de Girolata, Baie di Solana, the Ile di Gargalu, the Baie d'Elbo and the Scandola Marine Reserve before rounding to Calvi.
Arriving early in the morning afforded peaceful visits to the more southerly bays. Later the tour boats were out en masse taking tourists between the rocks and through the narrow passages where we were afraid to take Tenaya.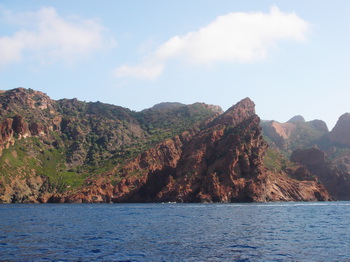 Rugged cliffs rise out of the sea on Corsica's NW coast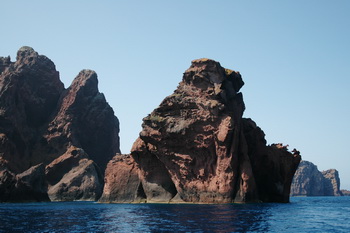 There were many dramatic islands
This arch was spectacular in real life
Jim diving from Tenaya in the bay at Calvi
.


July 8, 2008
Tenaya is moored in a beautiful bay at Calvi on the NW coast of Corsica. Winds have been Force 6-7 the last two days but we are swinging happily and safely. 30 euros is more than we have ever paid for a mooring ball but this location is ideal so I would be happy to stay all summer. Far enough from the harbor to ensure clean, clear water to swim in and far enough out from the beach that bathers are not noticed, we are just a short dinghy ride to town. It's just perfect!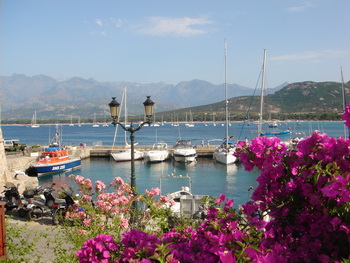 Boats on mooring balls beyond the marina in Calvi
Calvi is a delightful town complete with a citadel, nice beaches, lots of restaurants and no obvious holiday apartments. Yes, tourism is prospering but the accommodations are fairly discreet. It is a beautiful harbor with a lovely bay backed by tall mountains which still have a few patches of snow high on a northern flank. I think I could live here.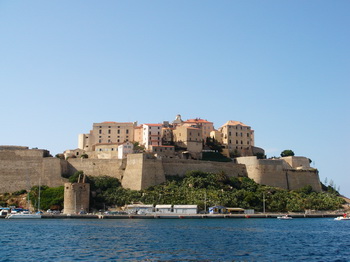 The citadel at Calvi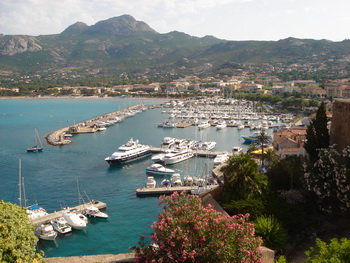 The marina at Calvi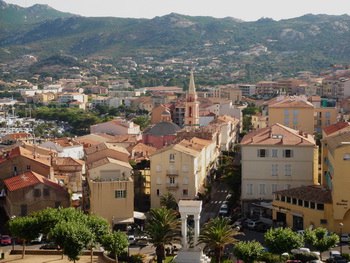 Calvi town center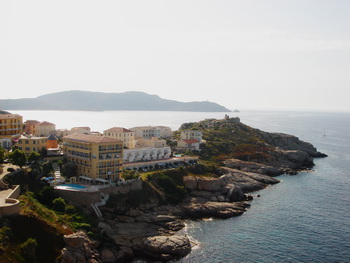 Punta San Francesco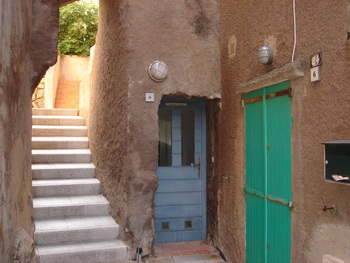 Some sights in the old town protected by the citadel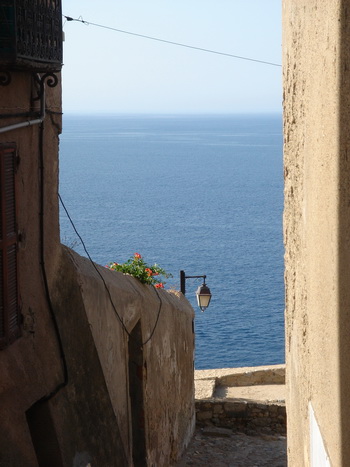 July 10, 2008
Our French friends, Eric and Dominique, happen to be visiting Corsica now too. Calvi was a good place to meet so yesterday afternoon Jim picked them up in the dinghy, along with their sweet border collie, to join us on Tenaya.
Both of them know the island quite well so with Pilot books and maps at hand they showed us places to visit by sea and in the mountains. They also taught us quite a bit about Corsican history and culture.
Katie, Dominique and Eric on Tenaya
They suggested dinner at Chez Edgard, a restaurant in the mountain town of Lavatoggio, that serves nicely prepared authentic Corsican food. We readily agreed. There was no menu, rather we chose either veal, lamb, beef or wild boar and they simply brought the rest. Truly a wonderful way to sample the local dishes. Between the four of us we chose three different dishes leaving out the beef. All were delicious. The atmosphere was lovely as well. Sitting outside on a granite tiled patio my elbow grazed the dense basil growing in a stone planter along with other herbs. Above were the limbs and leaves of several large trees. Behind us, set into the long, tall stone wall, were two large outdoor wood-burning fireplaces, rotiesserie au feu de bois. A magical setting.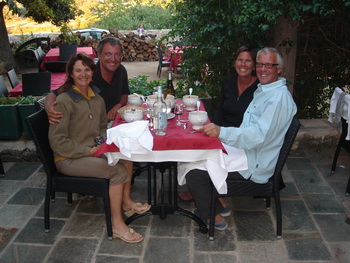 Dominique, Eric, Katie and Jim enjoing an authentic Corsican dinner
This morning Eric took Myrtille and dinghy to town and returned with bread, croissants, pain au chocolate and juice before the rest of us arose. What a treat! After a morning dip they were kind enough to drive us to the big supermarket to load up on heavy things before we each headed in our different directions. It was wonderful seeing them again. They are such nice people!
Go to July Part 4 The French Riviera
Find Calvi, Corsica on Google Earth
.