June 22, 2008
Today we left our mooring on Mallorca and motored to Menorca. After 54 miles and 8 1/2 hours we arrived at Cala en Porter on the southern coast of the island. It is a beautiful anchorage with lots of caves nearby. We anchored just inside the cala around the bend to protect us from the swell. Because we were fairly close to the cliff we set out the second anchor off the bow to limit swinging.
The restaurant above Cala en Porter
The cala is ringed with steep cliffs and has a sandy beach at the head. Dozens of small white houses cling to the steep sides. A restaurant is perched atop the cliff at the eastern entrance. Around to the sea side is a bar built in a cave.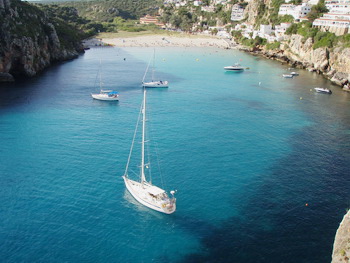 Tenaya at anchor in Cala en Porter in Menorca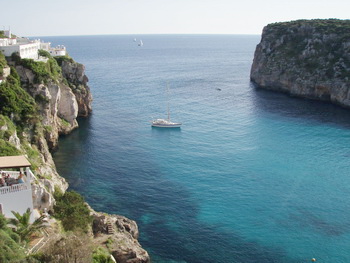 As soon as we were settled we hooked the dinghy painter to the cutter jib halyard, hoisted it from its coach roof perch up and over the lifelines, lowered it down beside the shrouds, pulled it around to the stern, lowered the outboard, loaded on the fuel tank, secured all, hopped in and went in search of caves. We didn't have to go far to see our first one which was right across from the boat. It was small with a couple of kayakers inside so we decided to return later. Around the bend in the sea I saw a small triangle and persuaded Jim to steer us in. Convinced it was nothing he nonetheless agreed. It was splendid! Jagged limestone colored purple near the water, the entire cave bathed in a blue hue. It was peaceful, cool, a little eerie and marvelous.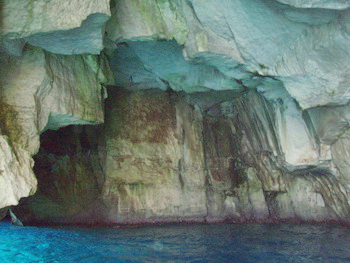 Interior of sea cave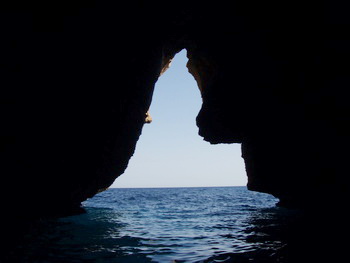 Looking out of sea cave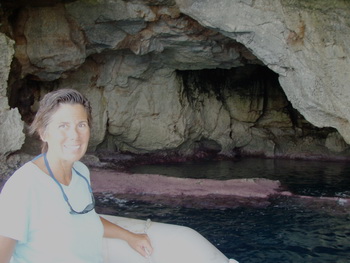 Having a look into another sea cave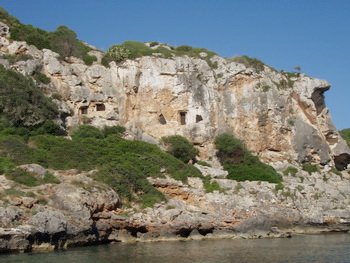 Caves in Calas Coves
After our dinghy ride exploring caves and having a look on shore high above the cala I pulled out my gear and went snorkeling. As we hadn't returned to the first cave closest to the boat I headed over there. The sea floor alternates between sand, neptune grass and rock so there were lots of fish and creatures for me to see on the way. As I entered the cave the floor had steep, teeth like rocks rounded smooth by the water. The shadow darkened as I slowly entered taking my time to have a good look above and below. As I went a little further in, enjoying this immensely, I felt a sting on my arm. I looked up and there was a mushroom shaped jellyfish floating by my mask. Flustered, I paddled furiously backwards with my arms then around it and back to the open cove. By the time I reached Tenaya the stinging had subsided but there were 3 welts on my upper arm. They were gone the next morning. The Mediterranean Cruising Handbook made these stings sound painful and gave several remedies yet, just as I'd remembered from jellyfish stings in San Diego, it was no big thing.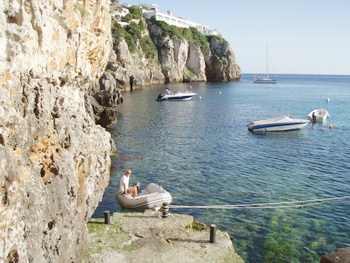 Arriving at the dinghy dock to explore the town above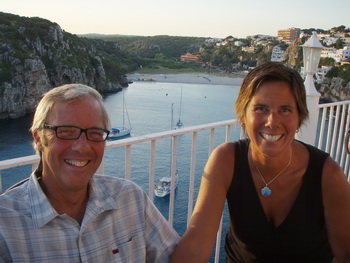 We enjoyed a pleasant dinner in the restaurant above the cala
June 23, 2008
With winds from the east we headed east to Mahon sailing in 15 - 17 kts. in a bit of chop. We moved along nicely under reefed main averaging 5.5 kts. for the 30 mile trip. Tenaya would have sailed faster under full sail but we wanted to see the effects of reefing earlier than usual as we were in no hurry. It was very comfortable and relaxing.
Mahon is one of two cities on Menorca, the second largest in the Balearic Islands. Much less developed and much less commercialized than Mallorca or Ibiza its charm lies in the natural beauty and large concentration of prehistoric remains.
Puerto de Mahon is a magnificent natural harbor in a strategic location. Consequently it has been coveted by maritime nations and has changed hands frequently. The Phoenicians, Carthaginians, Greeks, Romans, Vandals, Byzantines, Visigoths and Moors all invaded and colonized the island. Later, in the 18th century, aside from a few years of French and Spanish rule, the British held the island until the Spanish regained control on February 5, 1782.
Mayonnaise was first prepared in Mahon. Legends abound about its introduction, all involving the French. One story has a peasant woman dressing a salad for a French general, another has a housekeeper disguising rancid meat from the taste buds of an officer, still another has it being served at the French victory party in Paris after Richelieu's successful invasion in 1756, his chef having invented it while on the island.
We are settled in a delightful berth on a small, square floating pontoon called Isla Clementina just a short dinghy ride across the harbor to the city center. The floating dock holds 25 yachts, has water, electricity and trash disposal. A shower, BBQ, and benches provide a reprieve from being on board. A friendly, relaxed atmosphere flourishes as we are all temporary inhabitants of this small island.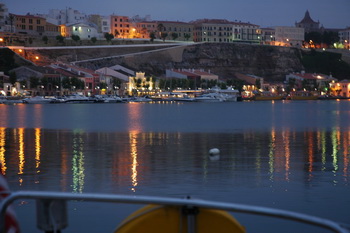 Evening in Mahon as seen from Tenaya at Isla Clementina berth
The island is less mountainous than Mallorca but is still laced with rocky coves. In 1993 Menorca was declared a UNESCO Biosphere Reserve thus protecting over 40% of the island. We rented a car for two days of exploring. Driving across the rural island's two lane road past green hills, rolling fields and wooded ravines was quite scenic. Thousands of stone walls partitioned the landscape, mostly remnants of working fields from long ago. They were built to protect the fields from the vicious tramontana wind from the north which can besiege the island.
Armed with a map of the island marked with the best restored prehistoric monuments and a flashlight we took off in our efficient rental car. The monuments were our main objective but we also wanted to get a feeling of the place and see other sights along the way.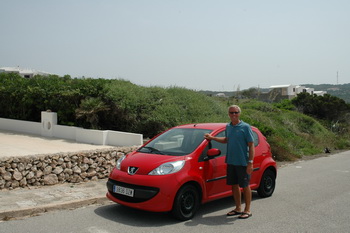 Jim and our rental car. Glad we upgraded to the larger 5 person model!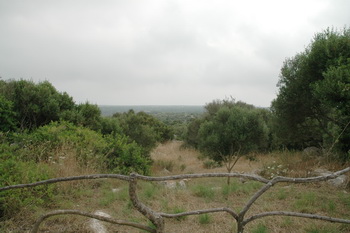 A peek at the countryside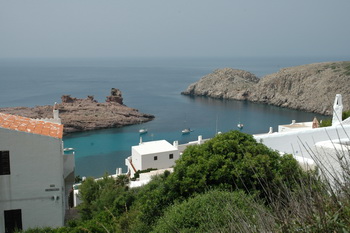 Cala Morell on the northern coast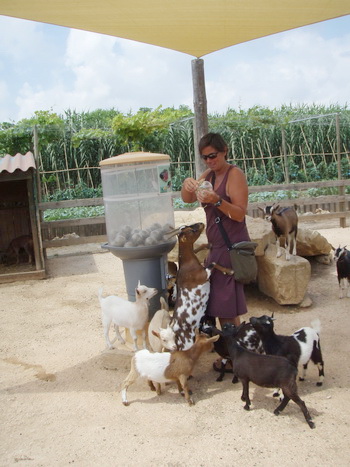 Katie feeding the goats at the zoo
.

Menorca is covered with fascinating archeological sites. Prehistoric monuments of weathered stone remain as evidence of an early sophisticated culture. The earliest of monuments are thought to have been built during the second millennium BC, a time known as the Talayotic period. Settlements were constructed from the Iron Age through Roman times and were used until Medieval times.
Talayots are conical shaped rock mounds found in many locations around the island always at high points. Many believe they served as watchtowers although only a few are found along the coast.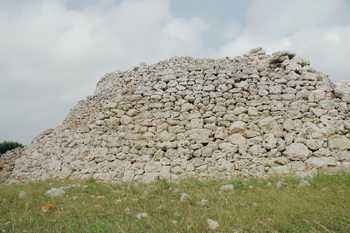 Talayot at Torre d'en Galmes
Taulas are megaliths made of two large stones. The lower is set vertically and is topped with a smaller stone set horizontally to form a T. At 15 to 18 feet tall they are impressive, puzzling structures with no obvious function. They are almost always found alongside a talayot.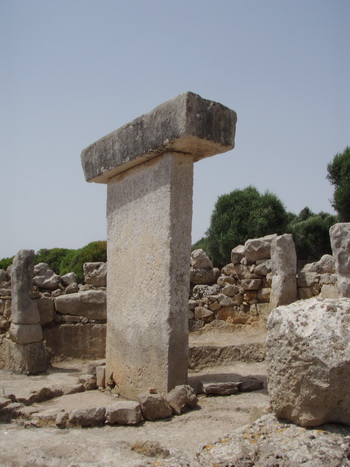 A taula at Torralba d'en Salord
Navetas are shaped like inverted boats made from slabs of stone. The opening is at the flat stern shaped end where it is taller and wider, tapering gradually to the bow shaped opposite end. Many have false ceilings. It is possible to stand up inside, barely, so most likely were used as communal pantries or tombs. Navetas date from 1400 to 800 BC.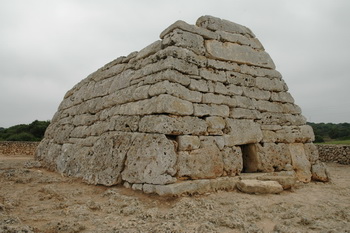 Naveta d'es Tudons
The living areas of the settlements are very organized. The public area includes the talayot and taula. The dwelling area is a series of circular structures sometimes attached. Dwellings are constructed with radial walls separating the individual rooms which converge into a central patio, often with a cistern. Many settlements have some sort of rainwater collection system made up of holes dug in the rock or designated small caves. Stone walls completely enclosed the settlements.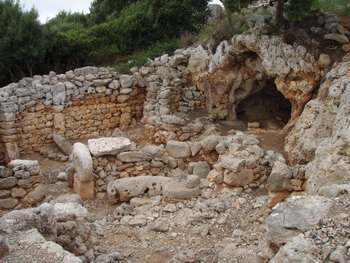 A recently excavated dwelling that incorporated a cave
We visited several sites around the island including Torre d/en Galmes, Torralba d'en Salord, Naveta des Tudons, Talati de Dalt, Cala Morell and Calas Coves.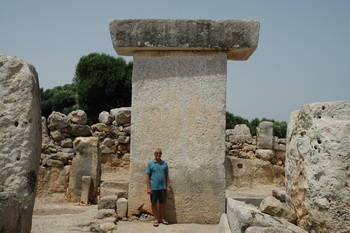 Jim is dwarfed by the taula at Torralba d'en Salord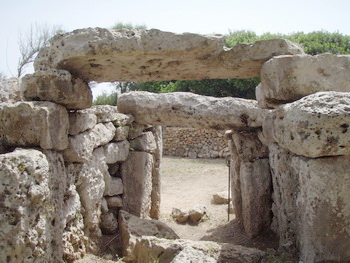 Large stones were used to create roofs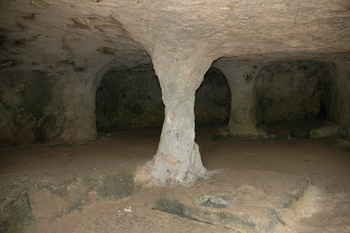 Supports were left as caves were dug out of the limestone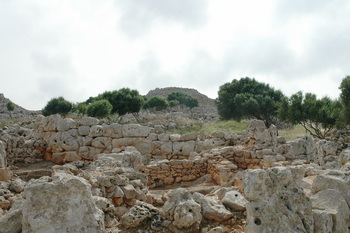 Torre d'en Galmes settlement with the talayot in the background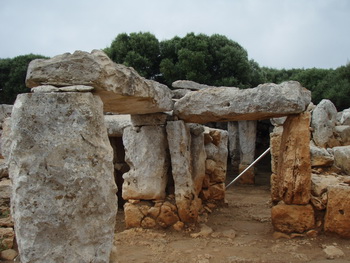 Large stones form the framework of structures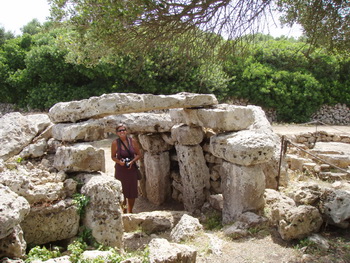 Katie passing through a structure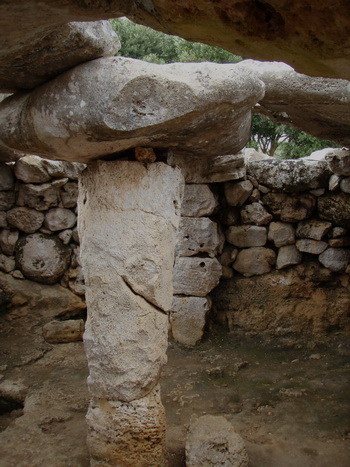 Branches enclosed the roofs above horizontal slabs of stone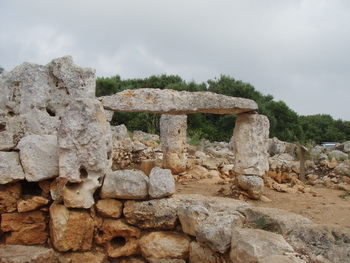 Red dirt encrusted rocks show sections recently excavated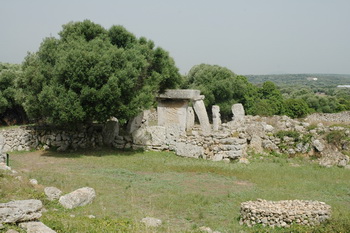 Taula and stone wall at Taliti de Dalt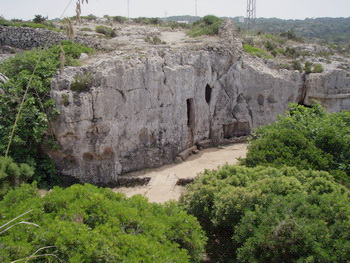 Cave dwellings at Cala Morell
Driving on a small road to the northern fishing town of Fornells we passed through gorgeous scenery lush with cultivated fields and vast stands of tall trees. Fornells is touristy by Menorcan standards but very pretty and restrained. It sits at the mouth of a large bay full of aquatic activity. How strange it felt being in a harbor without Tenaya.
One of the traditional foods of the island is caldereta de llagosta, a delicious lobster stew. Fornells has several restaurants serving this delectable treat so we chose one where the lobster is caught by local fisherman. As always with lobster the tastiest morsels required precision work and I am pretty sure I got every last bit. Both the lobster stew and Jim's seafood paella were absolutely delicious and well worth the extravagant fee for lunch. No dinner was needed that night.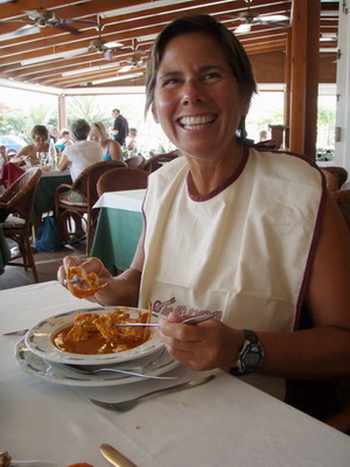 Katie devouring caldereta de llagosta
June 27, 2008
We have enjoyed our visit to Menorca very much. As soon as we have a good weather window we will set off for Corsica 3 days and 2 nights to the east. Our fingers are crossed for a Saturday departure.
Find Mahon, Menorca on Google Earth
Go to July 2008 Part One - Crossing to Corsica
.