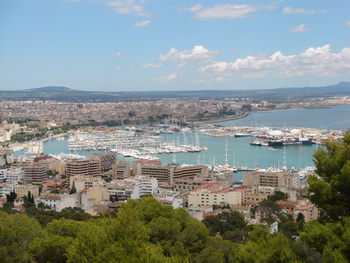 The port of Mallorca de Palma

June 6, 2008
We arrived at Real Club Nautico in Palma de Mallorca on June 2 after 10 hours of motoring from Ibiza in light winds. A few maintenance problems needed attention and Palma is an excellent place for service and supplies. We docked at the reception pontoon and were given a berth. I guess we were lucky, others we've talked to were not able to get a space. We reserved a berth for 4 nights and then added 4 more nights. Plenty of time to explore the town and beyond while doing our projects.
Tenaya on the left (fenders) is dwarfed by huge sailing yachts
This is the land (or water) of big yachts. I mean really big yachts! Both power and sail. I didn't know why some of the sailboats had red lights at the mast tops. Jim explained they were for aviation. The masts are so high that planes must be warned. Wow! Tenaya's 60' mast is dwarfed by them.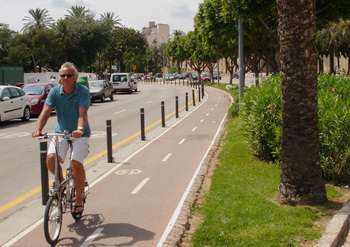 Palma is a nice place to use our foldable bikes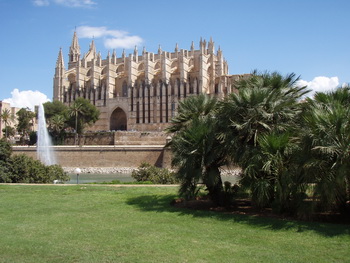 The cathedral took 500 years to build. It was the only one in the world to be reflected in the sea. When the town built a road along the shore at the beginning of the 20th century architects and artists, including Joan Miro, built a park below the cathederal containing a reflecting pool of salt water.
The front of the cathedral
The castle on the hill overlooking the town of Palma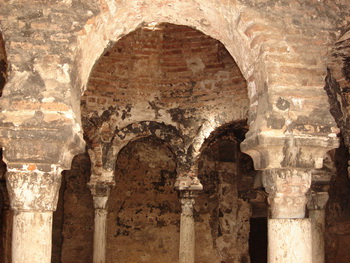 The Arab baths are the only remains left in Palma from when the Moors occupied the area
Our Spectra watermaker had been giving us a failure warning. It was still possible to run it manually but we preferred to fix it since there is a distributor here in Palma. As their location is difficult to reach without a car Wendy delivered the part on her lunch break and Jim installed it. It worked for about an hour then failed. It seems Spectra received a faulty batch of salinity sensors. Mark, the technician, came out promptly. He replaced the part Jim had just replaced and now it works fine. Sometimes things go wrong but the way companies deal with problems leaves a lasting impression. We are extremely impressed by Spectra's excellent customer service both from their headquarters in California and here in Spain.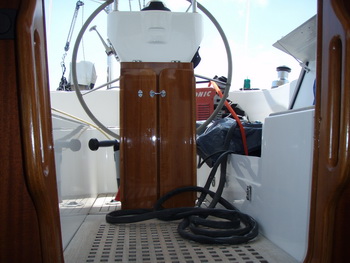 Tools for the welder working in the cockpit locker
We finally found out the source of the mysterious water in the bilge. Jim checked one day found the water there was warm. Now it was obvious the hot water heater had a leak. Jim pried off some insulation and found water seeping from a welded joint. Normally this would not present too much of a problem, just unhook the hoses, unmount it and take it to a welder. In our case it is impossible to get it out without first removing the generator - no easy feat. The only way to reach it is to crawl into the cockpit locker and open a small door directly above it. So, out came everything from the locker. This is our "garage" and is filled with all kinds of stuff. It holds a great deal. For 3 days Tenaya looked like a yard sale with stuff piled up and down each side. The welder came on board bringing his welding gear and a collegue to operate the water hose should the flame catch the insulation. It was very difficult for him to repair because new leaks kept appearing. Apparently the interior of our 40 litre hot water tank is quite rusted inside. After quite some time and a few outbursts of german swearing he was eventually able to weld all the leaks shut. However, he was very non-commital on the longevity of the fix. He did a terrific job on a very difficult project with his body all folded up in the cockpit locker working through a hole not much bigger than his head.
Ensaimadas are a delicious local pastry. I have fresh squeezed orange juice at every opportunity.
.
Spanish priest Fr. Junipero Serra travelled to the new world to spread Christianity. He built many missions along the coast of California, the distance being a days travel by horse. San Diego, San Juan Capistrano, Los Angeles, San Fernando, Santa Barbara and San Luis Obispo are a few that were the beginnings of various sized cities. We have a street named for him in San Diego.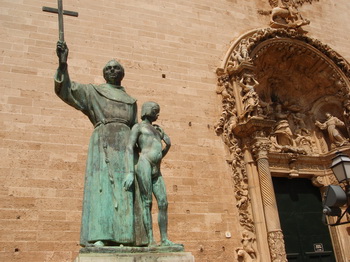 Statue of Fr. Junipero Serra and a young native American at the Basilica de Sant Frances.If made today I bet the statue would not show him with a boy.
.

With our projects completed and having explored Palma, we decided to take a trip across the island for the weekend. A vintage 1912 narrow-guage electric train runs from Palma north 27 kilometers through the Serra de Tramuntana mountains to the northwestern town of Soller. It is a lovely trip through the Mallorcan countryside past olive, almond, lemon and orange groves, through the lush pines and steep mountains to the valley of Soller. The train was originally built to transport fruit grown in the mountain valleys down to town but now it the most agreeable way to visit this quaint town.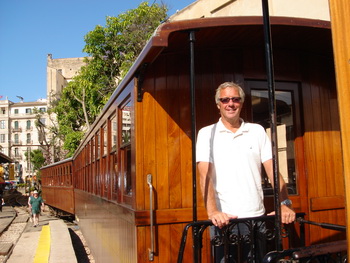 Jim on the train to Soller while still in Palma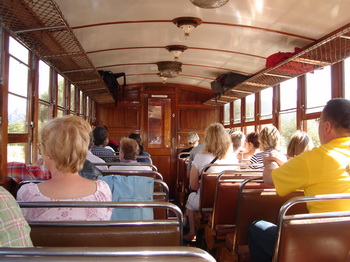 The interior of the narrow-guage railway car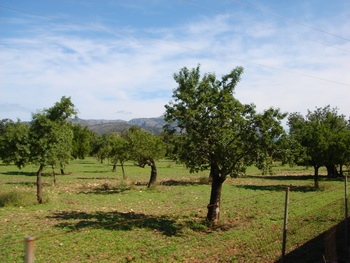 Rolling through the countryside just outside of Palma
Soller is a pleasant town of narrow, sloping streets nestled in a valley surrounded by tall peaks. The Moors settled here in the 8th century. They built canals and irrigation ditches, terraced the slopes of the Serra de Tramuntana and planted olive and orange trees. The town became wealthy because of these as well as vineyards which enabled wine production.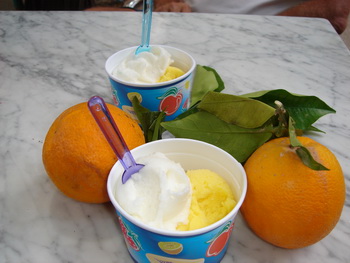 There is a small, traditional ice cream factory in Soller which makes more than 40 flavors including fresh orange. Of course we had to try both their orange and lemon ice cream. Delicious and refreshing!
We stayed at the charming 2 star hotel El Guia near the train station. Built in 1880 it is one of Mallorca's oldest hotels. Under the same family ownership, the third generation is now running it. We had a delicious meal of roast lamb, potatoes, sauteed aubergines and red peppers prepared in the traditional way in their restaurant Saturday night. My starter of green beans and dried ham was incredibly yummy and Jim was thrilled with his fish soup. Almond cake and almond ice cream and orange liqueur finished off the meal.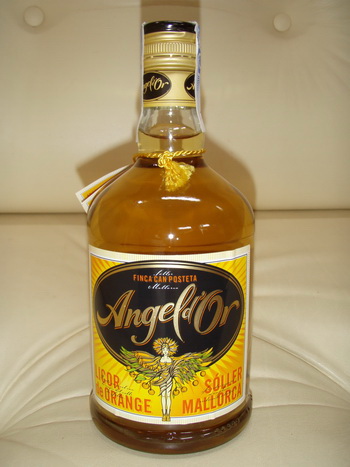 This delicious naturally fruity liqueur is made from local oranges. It is best served over ice. Perfect for summer!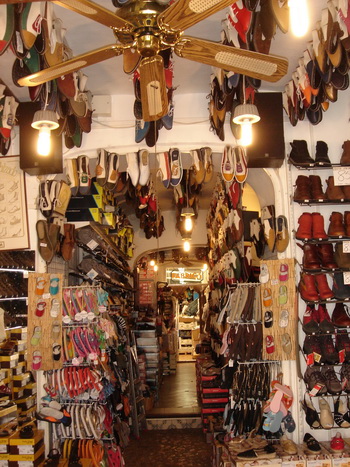 There are several shoe makers on the island.
An electric tram takes visitors from Soller down to the Port de Soller, a touristy but attractive natural port.
Sunday morning we caught the bus to nearby Deia, a picturesque hamlet set amidst the terraced mountains. After 4 hours of walking the narrow, hilly streets we caught a bus to Valldemossa and then on to Palma.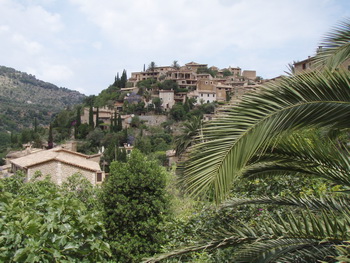 Deia neighborhood perched on a hilltop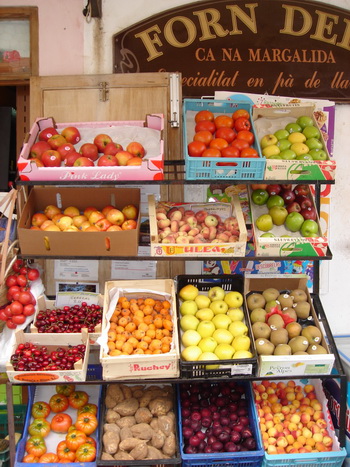 Market in Deia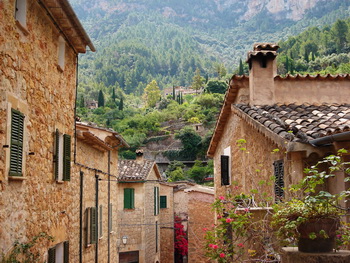 Houses in Deia
Watch video of train to Soller and folk dance
Find Tenaya's location in Palma on Google Earth
.