May 18, 2008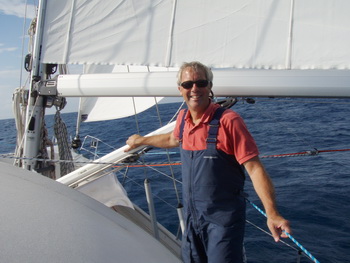 After exploring Cartagena we headed for Calpe. It was a relaxing trip with winds 10 to 17 kts. for the first 8 hours. At 8:00 pm the wind died and Jim fired up the engine. He slept from 9:30 pm until I woke him with a question at 11:00. I'd been watching lights I was sure was a sailing yacht and another set of lights very low to the water that I thought was a small boat but it was alternating red and white lights. As I got in between the two sets I worried that maybe what I'd thought was a sailing yacht was really a fishing boat and the other lights were something attached to it. I panicked slightly and woke him. Turns out I worried for nothing. Looking through the binoculars I saw the first was a ketch and later realized the other was a fish pot. They are marked with lights here which is really nice. False alarm so Jim went back to sleep until I woke him again at 2:30 am.
There was a full moon and it was incredibly peaceful and serene sitting alone in the warm spring air. Tenaya was barely rolling and the music from my iPod playing through the cockpit speakers drowned out the engine noise. I was completely content.
At 2:30 I decided it was my turn to sleep so I woke up Jim. He came up on watch and I crawled into our sea berth in the main saloon. It is so comfortable! I slept soundly for 5 hours and awoke as we motored slowly into Calpe. We would have arrived earlier but he had slowed down so I could sleep longer. He is always very considerate. We docked about 8:00 am. The 112 mile leg took 20 hours and 40 minutes.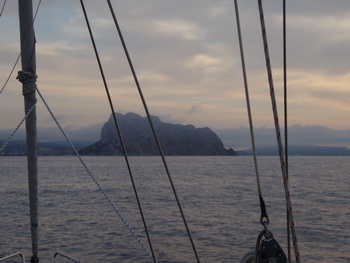 Arriving at Calpe with a good view of the Ifach Rock.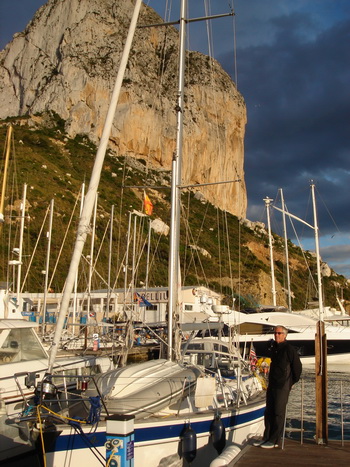 In the marina looking up at Ifach.
Once we had secured Tenaya and checked in at the office we slept until 1:00 pm. After a quick lunch we hiked up the prominent Penon de Ifach, the rock jutting out from the sea.
Penon de Ifach is a natural park and the rock is 332 meters high. Signs warn to wear proper shoes and that the trail becomes very steep. They weren't kidding. The trail began as a nice, fairly low angle path winding through native plants and trees. Besides the obvious rock feature the park also contains an extensive botanical preserve. Once through the tunnel the path becomes a trail over slick, polished limestone. We both were wearing our trail runners with Vibram soles but they were still slippery. We missed some of the gorgeous scenery because our eyes were searching for sharp edges to plant our feet.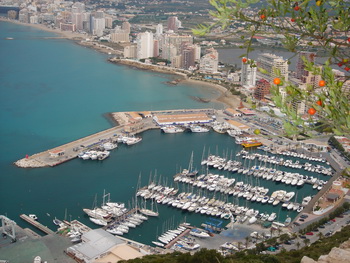 A lovely view of the marina and town, looking west, from Ifach rock.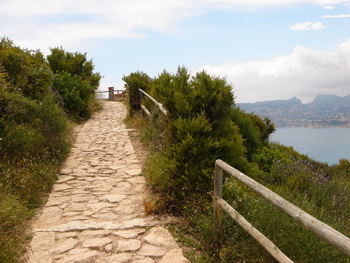 The first part of the path up Penon de Ifach.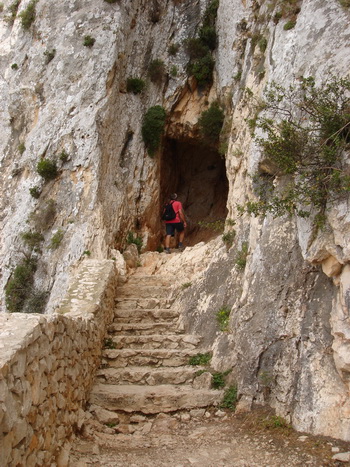 Jim enters the tunnel. A rope helps navigate the steep, slick limestone in the dark.
Katie hiking above the tunnel where the trail steepens.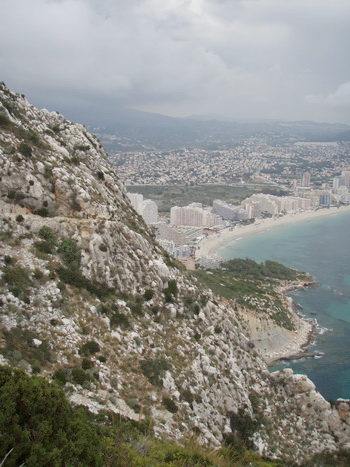 Looking northeast from about half way up.
Penon de Ifach is home to thousands of seagulls. At the moment they all seem to be guarding nests and chicks. They squawked as we approached. If we got too close to a nest they would dive-bomb our heads ruffling our hair in their wind. We did not want to disturb the chicks and never came too close but we also could not deviate from the trail. It was too exposed. Jim got some video of them scolding us. It sounds as though they are saying "out, out" which I imagine is pretty close to what they meant.
A mother gull and her two chicks.
After hiking and stopping for photos and gull avoidance we reached the summit in about 1 1/2 hours. Thunder boomed nearby and the clouds were darkening. We did not want to be stuck on the mountain and on the slick limestone in rain. We hiked back down as quickly as my inflexible knee would allow and made it down in about an hour. As we were leaving the park the first sprinkles fell. By the time we reached Tenaya we were drenched.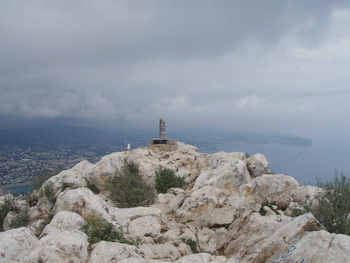 The summit marker.
.

May 19, 2008
My knee was not working too well today after yesterdays hike so I spent most of the day working on our website. The fishing boats began returning to the harbor about 5:00 pm. We noticed the doors were open at the fish market and decided to go have a look.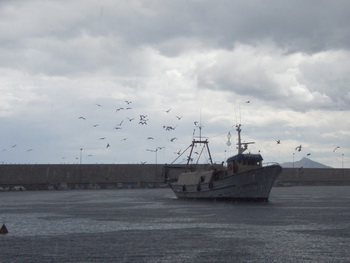 A fishing boat returns to port. Looks like he caught some fish!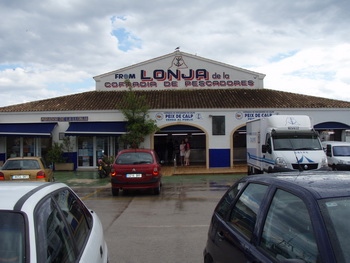 The front of the fish market and auction house in Calpe.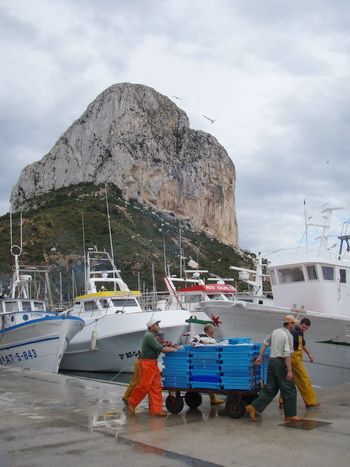 Fishermen unloading their catch and wheeling it into the auction house.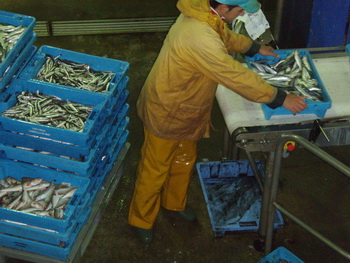 Each boat's catch has been sorted and is loaded onto a conveyer belt run though the auction room.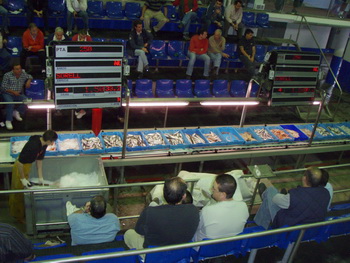 Buyers bid on the fish under the red arrow.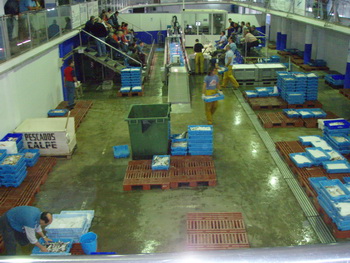 Once purchased, the fish is sorted by buyer.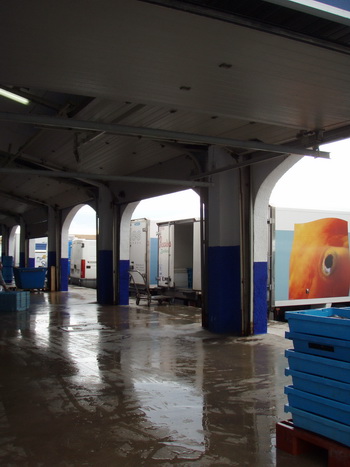 Next it is loaded into the buyer's truck.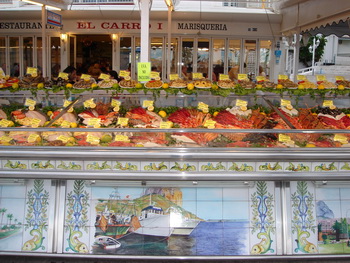 Finally it is taken to markets and restaurants in the area.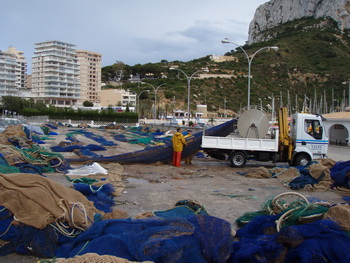 Nets have been unloaded from the fishing boats. Workers unwind the large spools and lay the nets flat.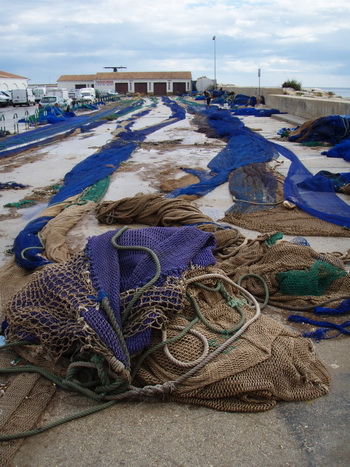 Fishing nets are dried and repaired next to the auction house.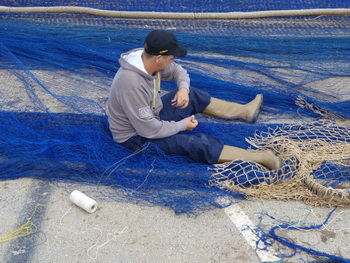 Later they are recoiled and loaded back onto the boats for another day of fishing.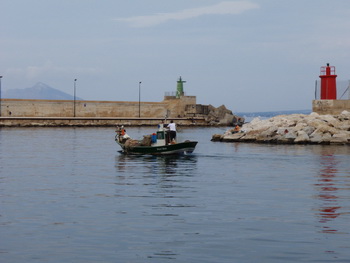 A small boat goes out fishing.
Besides climbing Ifach we took a tour in a glass bottom boat, had a delicious dinner in a harborside restaurant, took several walks around town, relaxed and updated our website. Calpe is a charming town. We are pleased that we stopped here for a few days.
Sailing from Almerimar to Calpe
Go to May Part Five - Isla Espalmador
.